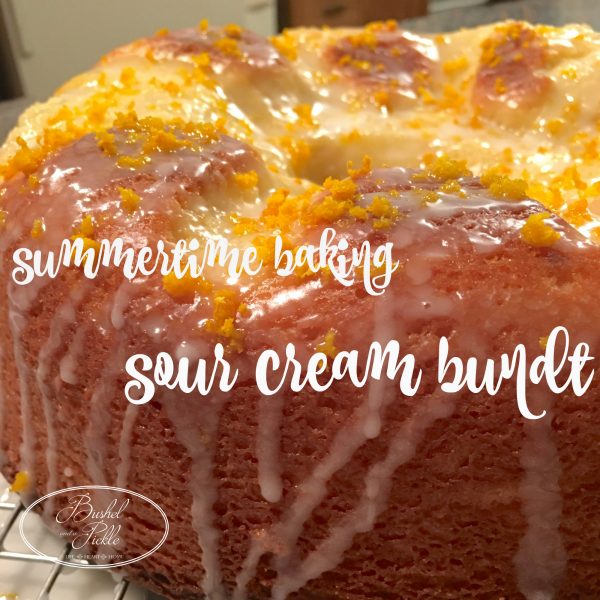 Meg loves to bake.   She is learning to make our favorites from the past and new ones that catch her fancy!
Last night she was explaining that she wanted to build a list of recipes she likes.   Gosh, that is a goal of mine for this blog… to record and share family favorites.
One of the legacies Mom left us was her handwritten collection of favorites.  I am doing the same here.  There is a story to be shared with some; others are renamed for the person who gave us the recipe like Aunt Ellen's Waffles.
This recipe of Sour Cream Bundt Cake is from Southern Living years ago.  It is a favorite of Meg's.  She made it for the first time last night.
Delicious.  No one left crumbs on their plates.
It's a winner! 
The cake which is very moist did not pop out cleanly from the silicon bundt pan.  Maybe more flour and cooking spray next time.  That did not take away from the prettiness of the cake.  She drizzled glaze on top  and sprinkled on top for summer pop fresh orange zest.
  We ate our dessert while watching Seven Brides for Seven Brothers, a fun 1954 musical.   The oldest granddaughter told us it was a lesson movie as she digested the idea of "stealing" the women otherwise known as kidnapping.  The lesson?  Don't steal!  Another one spoke up and said the Bible says not to steal.  Oh,  the joy of watching movies with very observant young kids.
Delicious.  
What are you doing for family nights this summer?
linking
http://theessenceofhome.blogspot.com
http://www.adelightsomelife.com/2016/06/home-garden-thursday-138-16.html
http://katherinescorner.com/2016/06/29/thursday-favorite-things-link-party-244/
www.stonegableblog.com/scoop-229
http://designsbygollum.blogspot.com/p/foodie-friday.html
http://www.adelightsomelife.com/2016/06/home-garden-thursday-138-16.html