A few days of not cold temperatures and a few early blooms and tiny green leaves showing up in the yard makes me yearn for spring!
I'm in the process of the usual spring cleaning. Plus Amy is moving to NYC in 11 days. Eleven! So excited for her and I'll confess; I'm trying not to dwell on how much I will miss her.
This week is busy but next week is packed with meetings, doctor appointments and helping Amy prepare to move when she needs it. Her dad will help when she heads to the attic. He pretty much knows where everything is including extra bedding, the odd pieces of furniture and art.
When your kids move out for a new job, a new place of their own, it is just not the same as sending them off to dorm living! Amy is ready and prepared for living on her own. Yes, she has life skills. You know those skills other people claim her generation don't have. She does. Will it be smooth sailing? Was your first foray into the 'adult' world?
So I haven't thought about spring decorations or special tablescapes. Over the next few weeks, I'll be sharing some spring posts from previous years adding a little bits of updates until life settles down for me!
Early Spring Pansies
I'm sharing my tips to set an early spring table. Who doesn't love pansies!
Have you welcomed spring into your home yet? It can actually be fun! Buying flowers and early blooming plants may take a few trips to your local garden center and grocery store. Coming home with fresh flowers always brings a smile to my face!
To be clear, I use artifical flowers too!
ç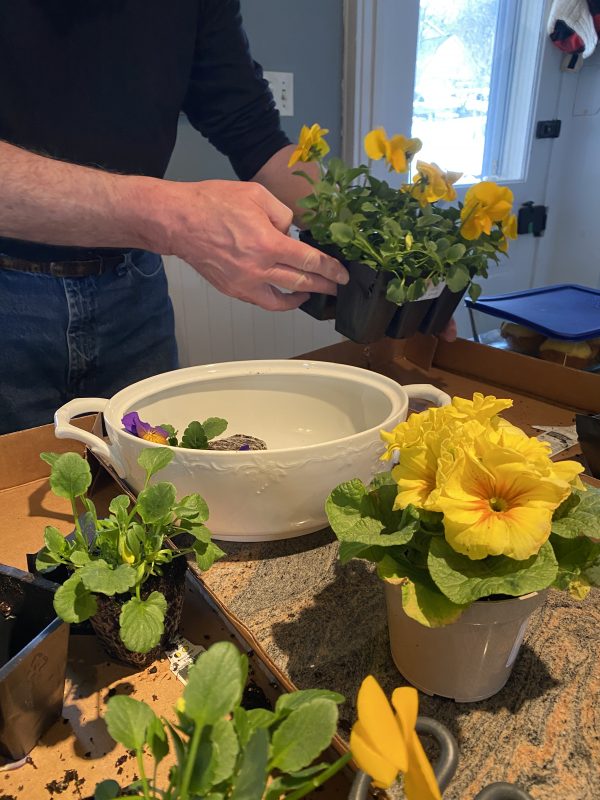 early spring plants for centerpieces
Only primroses and pansies would!
It took visits to 3 stores to find them! It was a little early for most places. I filled two flat boxes with 6 small ones and 2 starter packs. Jim cut the plastic apart and gently removed them to place in one of the small containers and soup tureen I had collected on the kitchen table.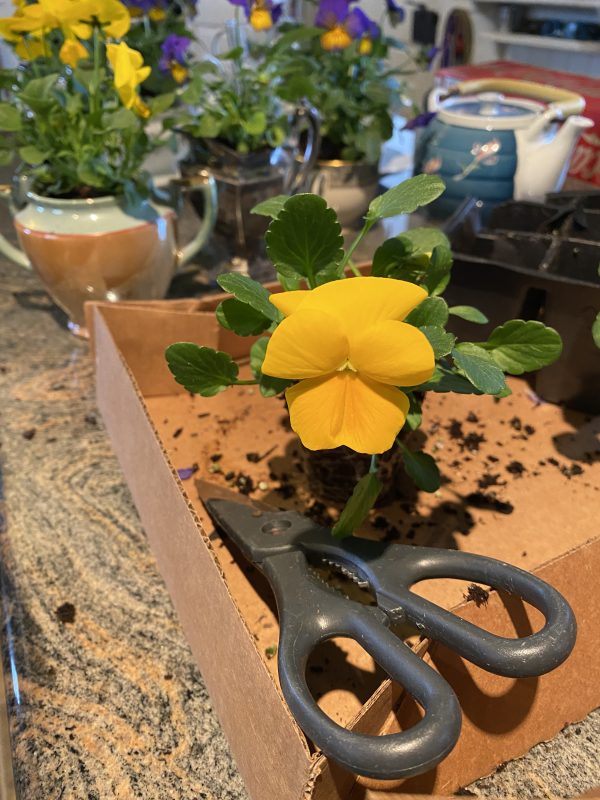 it's amazing what you can find if you look beyond the original purpose of the piece. Glasses, mason jars, sugar bowls and creamers. Don't forget those awkward gravy boats!. Soup bowls and tureens. Maybe just a platter os 2 with the plants clustered on them.
I gathered up them all up to see what would suit. I also found a little tinket and jewelry covered dish, 2 vintage candy dishes including one on a stem that were Mom's.
The beautiful German porcelain pot with pink and gold wa a gift from a dear friend. We weren't actually repotting them with new soil so the plants had to fit with the original dirt and shape. My tea cups though lovely were too short. The white cake stand was added for depth and height to the centerpiece.
Setting the table
After a table leaf was added, I spread out the black and white buffalo checked tablecloth. If we needed 2 leaves, I would had use the other tablecloth the same width but not length. I always by the longest one and add the next size if it is one I think we will use often when company comes.
For this celebration there were 8. Did you know 8 makes for a crazy mad Monopoly game?
Due to a pesky tummy virus, our daughter and husband weren't able to come. They were missed.
Next I arranged the plants down the center of the table, moving, adjusting and switching until it was just right. Just right is what balance I liked!
step by step setting the table
After I spread thetablecloth out, came the plates. These were Great Aunt Daisy's. I love using our Bavarian crystal wine glasses and silver. I use use the china and crystal often. Yes, sometimes even for an ordinary supper.
Disclaimer…I love dishes. We have inhertied sets and some I have bought when we lived overseas.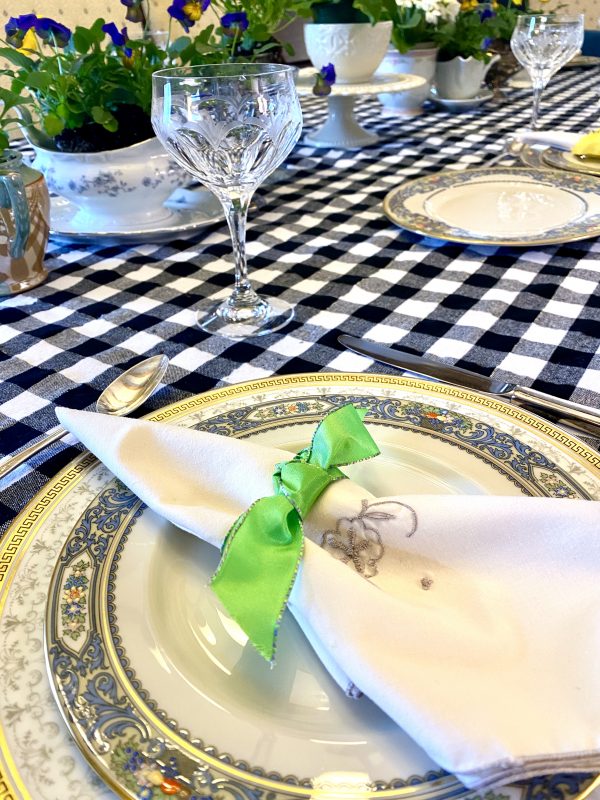 Can you see the 2 gravy boats? Nothing matches in size or patterns for the containers.
I wasn't sure if the china would work or if I would have to use the plain white day to day. plates. This was a grown up lunch for a 21st birthday! I wanted the table to be as special as our girl for her day.
Turns out Aunt Daisy's simply elegant gold trim plates and the Lenox Autumn really did look so pretty on the black plaid. I love when the elegant traditional goes with the simple and casual parts.
That's why I love how our dining room furniture goes with the origianl brick walls.
The creamy napkins with bright colored ribbon of lime green and canary yellow looked so pretty with the flowers highlighting those early spring colors!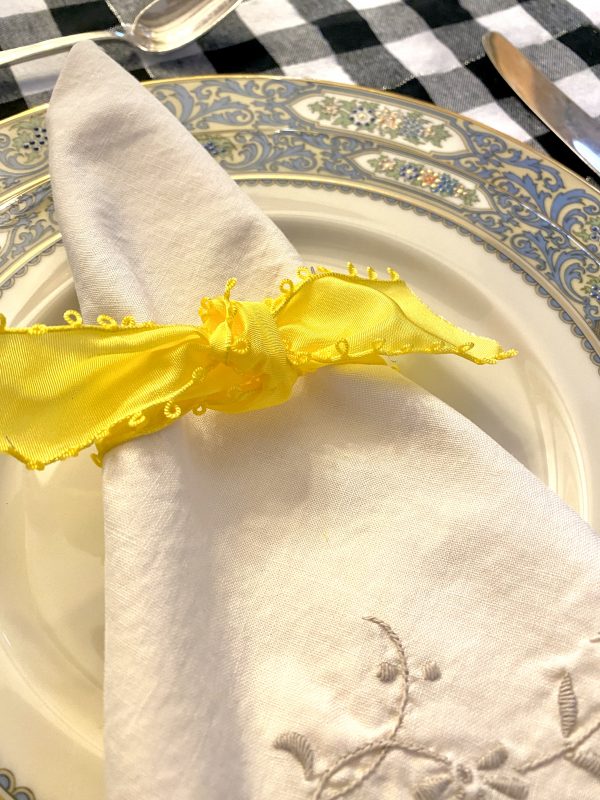 The yellow in the china is highlighted by this pretty ribbon. The green does the same. This combination was surprize in how pretty it all looked!
This sugar bowl is from a Japanese tea set I bought at an auction years ago. I typically use it in my autumn decorating but it is so spring like in this setting!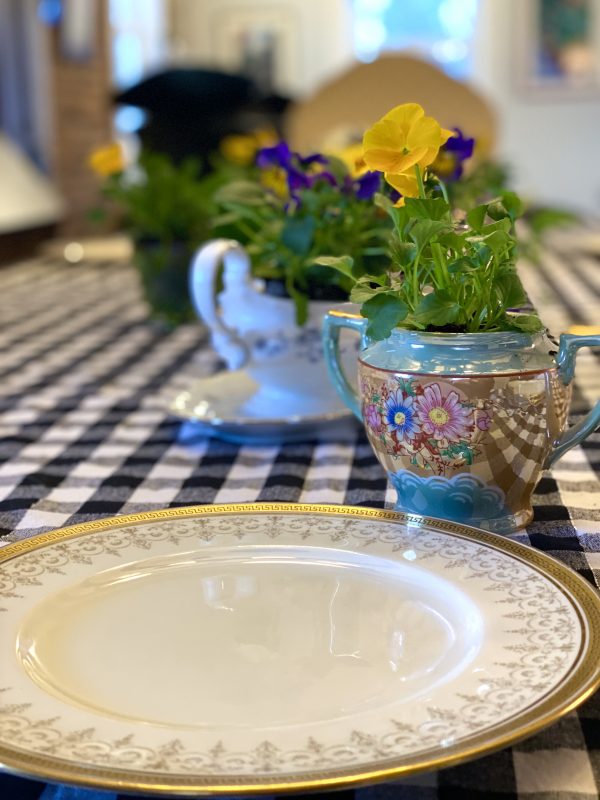 Since we eat at the tablescapes I make, I don't always layer but the meal I was serving called for a salad plate and room for a hot roll. So I put those out too.
make it SPECIAL and welcoming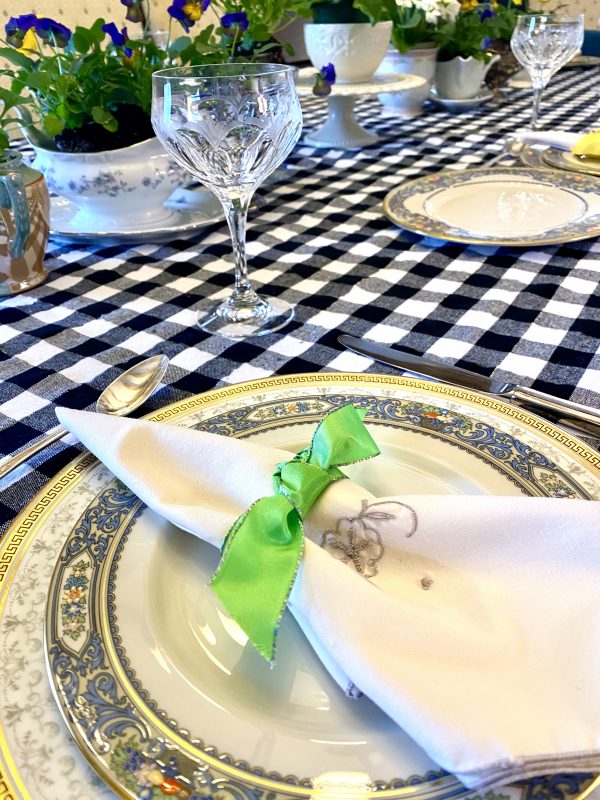 I have always set the table using our 'good' stuff for many meals even when there are little children at the table. Desert plates for the youngest, lunch plate as they get older and want more food eventually using the inner plates.
Different crystal glasses are set out for every one except when they are so little, the 'highball' tumblers are to wide and heavy for them. As my dad always sad, how will they learn to eat with manners and good behaviorat the table unless you give them the opportunity. Mom did it. Dad took us and then our grandkids out to nice resturants. Frankly, there was a time I felt like even fast food places were too nice for our busy active kids.
Mixing a these pattern works. One is cream and the other put white. MIxing up patterns is not a rule breaker so go for it!
What if I don't have lots of china and dishes?
If you have white dishes (or any of your everyday dishes) and a limited budget, you could buy different pattterns salad and dessert ones to mix it up. Add napkins and ribbons too. There are so many pretty paper products today to use! I have a freind who is the best table styler for parties. With china, she often mixes beautiful paper products and extra fun ones for her tables regularly.
Thrift shops and the Dollar Store has a plethora of choices! To have the variety you want, but the small salad or dessert size plates. Colored ribbons and paper products can help you add the flair and unique look you want. Home Goods is a place I pick up up the odd dish too. I wanted more white dishes due to loss through breakage. Home Goods had white plates I liked so I bought a stack. Nope, not one other dish! Just simple pretty desined white plates.
If you are nervous about soiled napkins or broken crystal, don't use it! But do try to get past that so you and everyone can enjoy the gathering.
a final look
Your table should be both welcoming and special for your guests as well as comfortable.
Meg, the birthday girl complimented me twice. Twice! She loved how pretty the table was. She had a fun day of celebration and fun with her family. It only lacked her older sister and BIL who were not in town that day.
Early spring is here. Hope you've been inspired to make your table Welcome Spring!
Thank you so much for coming by. Please leave a comment to share your thoughts.
~~~~~~~~
links for same and similar products
I have linked products I used that are the same or similar. Please note I may recive a small commission for purchases made at no extra cost to you. Thank you for your purchase!

~~~~~~~~~~~