Gold and green for Saint Partrick Day, gold for the leprechauns and green for Ireland's adopted home of Saint Patrick. And the colors are so pretty for the spring season.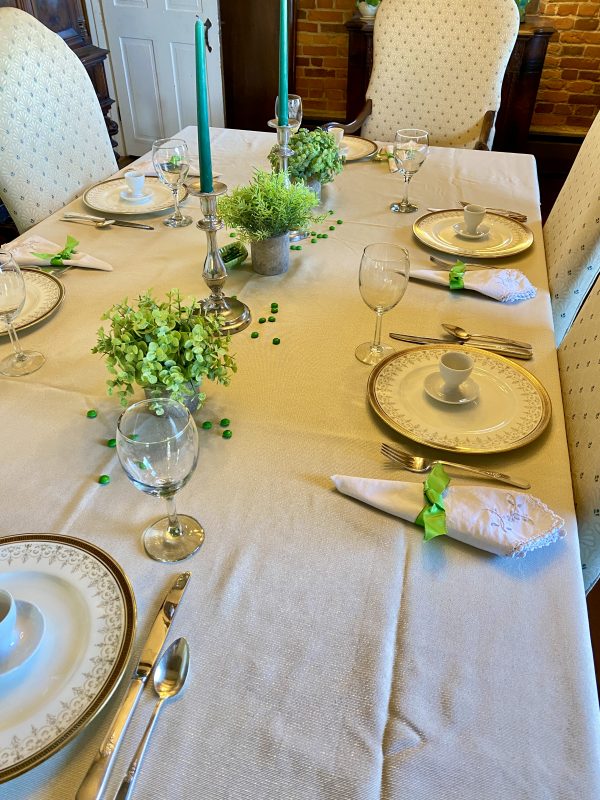 March 17 is a special day for green and gold decoration, Irish influenced meals and children search for the pot of gold at the end of the rainbow.
It is a day for smiles and fun!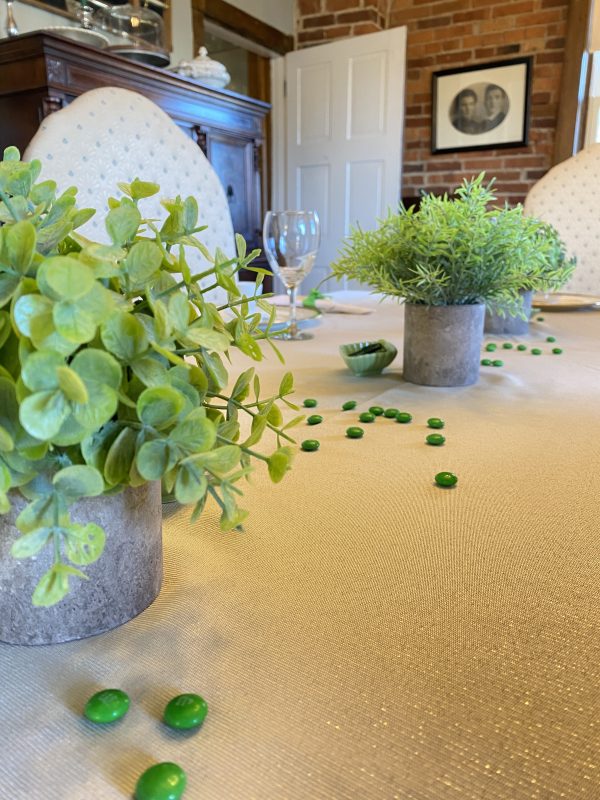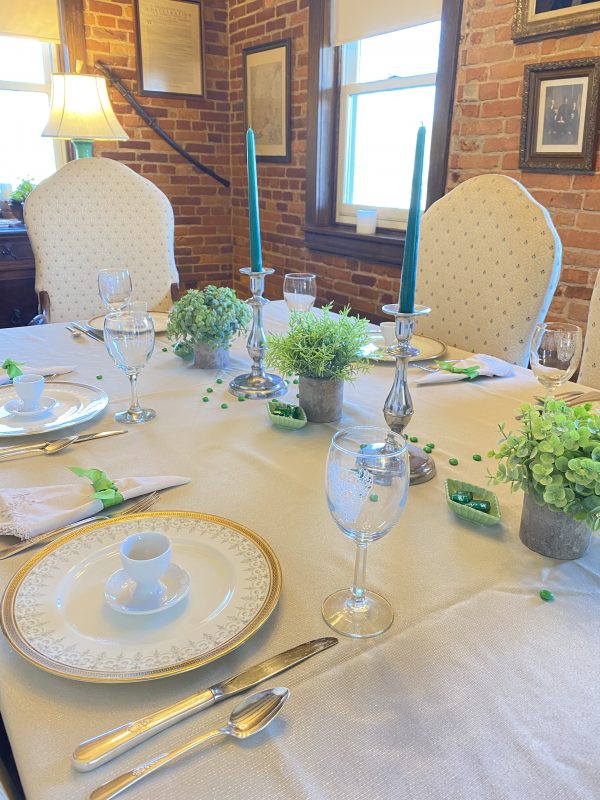 who is Saint Patrick?
Why does Saint Patrick captivate the hearts of the Irish? He is the man credited with bringing Christianity to the Emerald Isle in the late 4th C. or early 5th C. He's also credited with chasing all the snakes off the island. Well, I don't know about that but history confirms he brought Christianity to Ireland.
One thing that is not in doubt is his authenticity was a real person, not a myth.
Besides casting out snakes from the island, his use of the shamrock to explain the Trinity is timeless and simple.
Mischievous Leprechans
Irish folklore of leprechauns is a big part of today's celebrations; lots of revelry and maybe a little sneakiness can be part of the fun. Of course, all of this is to mislead the searcher from finding his pot of gold at the end of the rainbow.
no fooling…it's also gotcha day
Our family has another reason to celebrate Saint Patrick's Day. It is Amy's Gotcha Day. The scrapbooks get pulled out and family that is available comes together for that special day for each of us. We didn't see her last year because she was at school.
I did send her a necklace since we wouldn't be together. It is a reminder she is the child of our hearts.
Our two Gotcha Days are family celebrations. If there is a gift, it's often a book mark; a fancy store bought one or some made by the nieces.
Green and gold table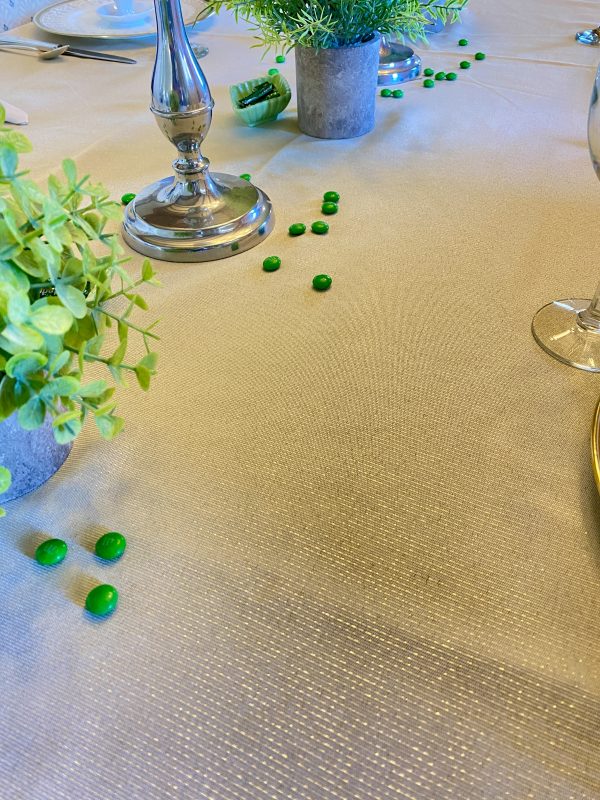 For this Saint Patrick Day table, I used a tablecloth that appears creamy but it is actually shot through with gold. I found it when I was going therough the stack of clothes. I had forgotten I had it. Usually, it would be with the Christmas ones though many of my cloths will work for many seasons and gatherings.
Next I add the decorations. That may be objects, real or faux greenery and flowers. Adding layers for height, but not too tall and depth give the arrangements more visual impact.
Honestly, grocery store flowers aor yard greenery are good choice for your centerpiece too!
The faux greenery in pots is usually in the guest room. Left over Christmas MmM's green only were the candy I used sprinkled down the center randomly. There are tiny dishes tucked in next to the pots we typically use for soy sauce or olive oil dipping. Today I put in Andes Mints.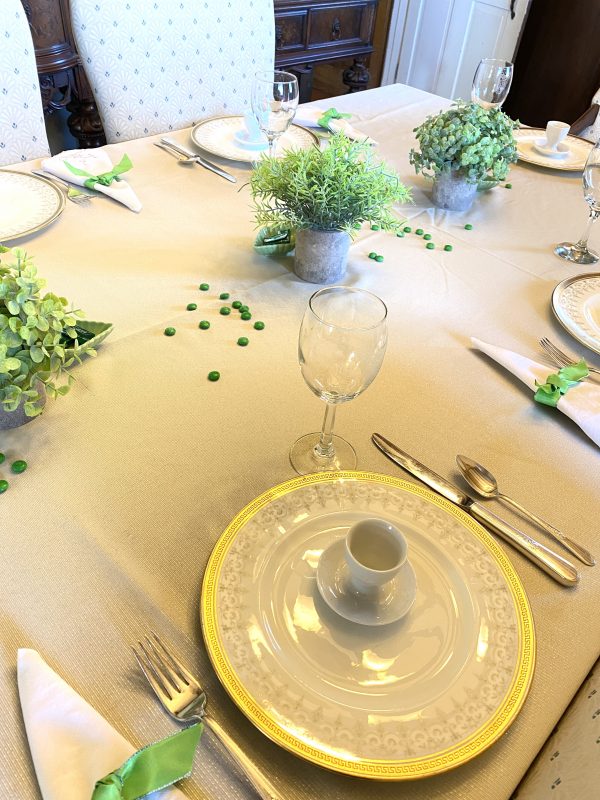 For now, the MnMs will do since there is no pot of gold. Just the vintage gold trimmed china plates.
Maybe later, we'll have a search with the grandkids.
Remember the napkin rings I made out of lime green ribbon? Don't you like it when you can use items in a different setting? I have a cute box for odds and ends of ribbons and ribbon napkin rings. It comes in handy. Have a look at this post. Tips for Early Spring Table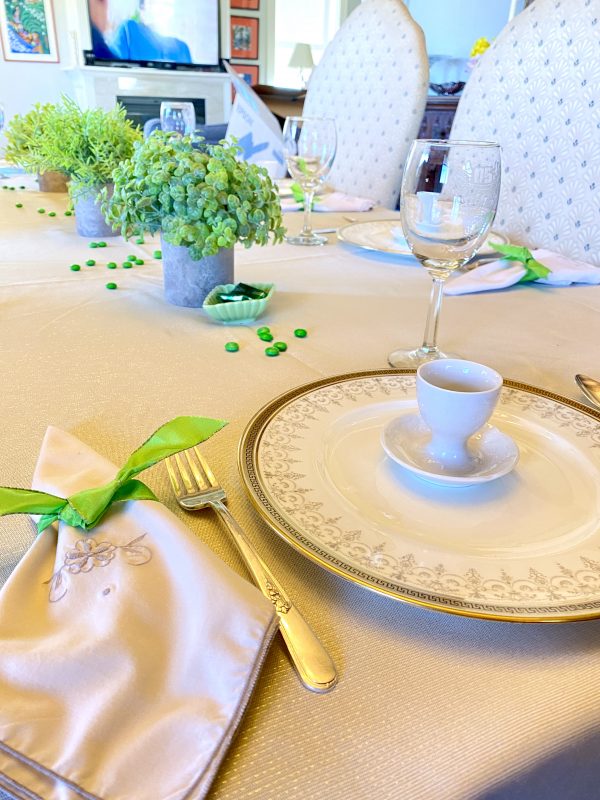 I set this for a breakfast meal with the family silver with the gold rim china. Adding the egg cups and wine glasses for OJ make the breakfast setting a little fancy.
Leprechauns like fancy! I'm sure of it!
Using my DASH Egg Cooker makes this breakfast easy to prepare. Best small appliance ever!
Try Aunt Ellen's Waffles for a delicious breakfast too. Adding whipped cream and sprinkles make them holiday special!
add candles for the evening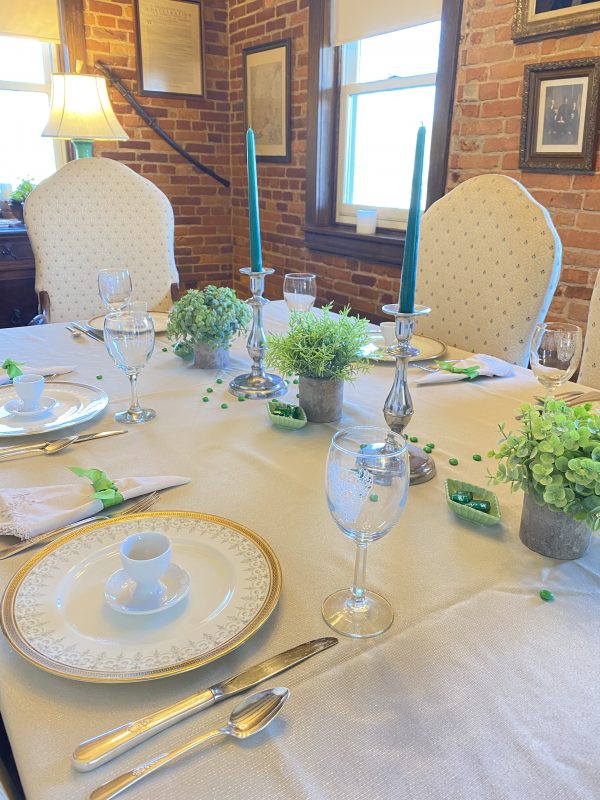 The pewter candlesticks with green candles was a later addition to change this table for an evening meal. The green candles are left over from a floral arrangment I recived as a gift at Christmas.
This pretty tablescape was fairly simple to set. A little gold with green MnM's and greenery together! Maybe some faux plants? Tall candlesticks with green tapers.
Maybe we'll talk about the ledgendary acts of Saint Patrick or the trip Will and Haily took to Ireland. Maybe we'll tell baby stories. Whatever the conversation is, it will be lively!
Shhh. Don't tell! There is gold hidden around the yard!
And don't forget to wear green so there will be no pinches for you!
~~~~~~~~~~~~~~~~~~~

~~~~~~~~~~~~~~~~~~~