Plan, prepare ahead, and participate! Don't get stressed out or stuck in the kitchen when hosting! You want to serve with love, don't you? Serving with love even if sandwiches is totally easy! Make these 'sliders' for holiday leftovers with a side salad is just about the easiest and best!!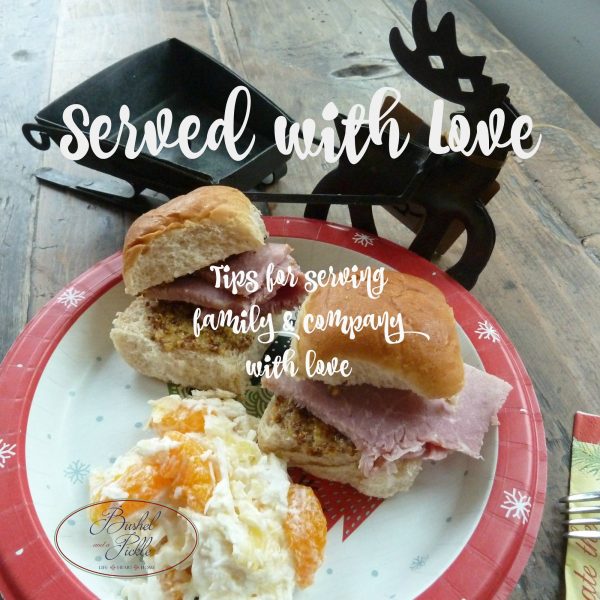 easy eats for GATHERINGS
Do you have days with a house full? Are you and extended family together after large holiday meals on game days?
Those are days that are fun and call for easy meals. After all, you want to be part of the gathering, like in person and not just in the kitchen. Is game day for your house "Settlers" or other board games?
We do both. I like to have food that is more than an appetizer but less effort than a fully prepared meal.
Turkey, ham and beef sliders are part of my "go to" options. I set out the makings and condiments. I like the dinner rolls size over the Kaisers or other sandwich rolls which tend to be big. The ones pictured are Hawaiian. The meat maybe left overs from the meal the night before earlier in the week. When we have weekend company, I often plan to have ham or tenderloin leftovers for sliders and sandwiches.
This wednesday we are having beef tenderloin for sandwiches. Arrival times are flexible for this day!
Beef tenderloin sliced thinly is delicious for sandwiches.Add a little horseradish and it's a taste explosion!
Turkey with cranberry sauce is a favorite of a DIL.
Ham is turned into a deli delight with an assortment of mustards to choose from. Buy a good quality dinner rolls that don't turn soggy.
Another short cut is to purchase sides at the deli counter. The easy, easy to make 5 Cup salad is the best and can be made a day ahead. It is pictured with the ham slider. The recipe is below. Yes, salad and I am from the south. Trust me on this…it is delicious with ham and turkey!
Bonus is it is so easy little ones can "make" it.
sturdy paper plates are okay
It may come as a surprise to those of you who know me…I do use paper plates!
In years past quality sturdy paper plates were extra expensive. Like many others I had the woven bamboo paper plate holders that kept the flimsy things from flopping. We lived in Asia for 13 years. Their paper products were not good so I kept a plethora of plates in a variety of sizes. No paper ones!
With places like Party City, finding plates that are both sturdy and pretty is easy. I use both paper and the plastic ones. I mean, who wants to be doing dishes or cooking the entire time when everyone else is having fun!!
casual buffet
Also on these days, food is set out in the kitchen on the table and drinks on the counter. Everyone knows where the trash can is! If is up to each person to find a place to perch!
Why am I sharing this? I love to host. However, it can tie me in knots so I have learned the 3 P's.
Plan, Prepare and Participate
Plan manageable menus, timelines and shopping lists that suit the occasion and will make for an enjoyable time for your family and guests. See here for more details about planning.
Prepare prior to guests' arrival. Sure, you don't want to grill until it is time or actually prepping and cooking the entire meal when guests arrive. Appearing to not be ready or not to have a plan can make some uncomfortable. You do want the food to be the right temperature too. Cut up vegetables, mix the dip. Follow your time line. Have the table ready.
Participate in the joy of coming together. No one wants to sit down for a meal and have the hostess constantly hopping up. You don't want to be doing that either. For casual occasions, have the drinks and food and refills ready to set out. Does my family help out? Yes. I don't do it all by myself. However, my planning makes it easier for everyone to pitch in.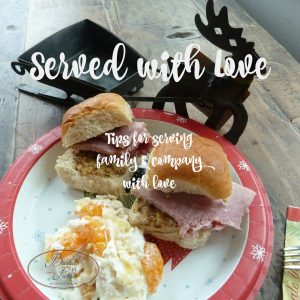 Serve With Love Tips
Tasty combination of fruit, sour cream, coconut and mini marshmallows
Ingredients
1

cup

pineapple chucks in real juice drained

1

cup

Mandarin oranges in unsweetened juice

1

cup

sour cream

1

cup

coconut

1

cup

mini marshmallows
Instructions
Drain fruit.

If you use more than 1 cup fo fruit, add a little extra of the other ingredients

Put in large bowl

Gently mix together by folding ingredients together

Chill for several hours before serving
After all, for us, having guests, family or friends is a family affair!
What are your tips for serving with love during the holidays?
~~~~~~~~~~~~
~~~~~~~~~~~