Helping a Friend
Yesterday I went to my friend Tracey's home to help her set up for a special tea party. For quite awhile she and her granddaughter who is a third grader have planned to do this. Why the delay? Because finding good date for everyone is often difficult.
Today is the tea party day! Wonder how it went?
insight for making tablescapes
I want to share a little insight on putting this beautiful table together. First, do you have everything you need? Tracey had all ready gathered up all the things she thought we might use. We just had to figure out what and how to use as we chose different items and tired them out before making a final choice.
Tea party table settings are usually a feminine and somewhat romantic style. Now, that doesn't always mean over the top! This setting is feminine, pretty and full of soft pinks. The pops of color come from the teacups Tracey selected from her fabulous collection.
not fussy
Fussy does not equate to romantically feminine. Because using the pure white lace table cloth was the jumping off point for everything, I thought a simpler centerpiece was called for.
Keep in mind, using things you have on hand makes most tablescapes inexpensive and easy to do. Often buy accessories for gifts or napkins and cute plasticware, cups and plates when they catch my eye. Even better when they are on sale. I'll also admit, I do love china so when I find random pieces I might buy those too.
My older kids with their families are regular visitors so nothing that involves food or gifts stays around long! Sometimes meals are fancy and sometimes they are not!
I took a random piece of a grosgrain wide pink ribbon to lay out down the center of the table breaks up the pure white and dresses down a bit all the lace.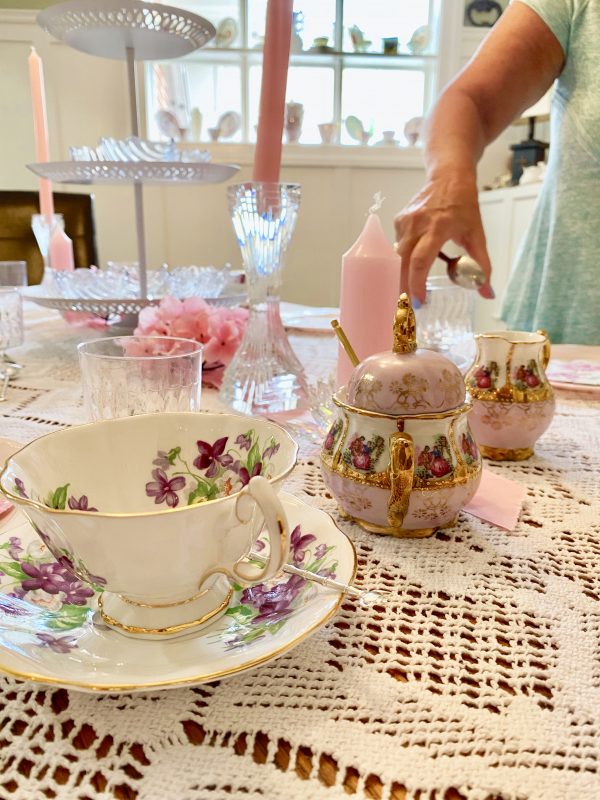 Creating space for comfort
Crystal and glass is the ultimate in sophistication and romance. These candlesticks with angles paired with the lotus candleholders pairing is great combination. Having the pale pink with the deep pink ribbon looks really pretty. We decided because of the size of the table to put the tier in the center and move the votive candle bridge to the kitchen island. Laying a single hydrangea bloom on each side of the tier was a final touch. They were 'robbed' from an arrangement. No need to buy fresh flowers.
typical elements
Because using cocktail sized napkins made more sense for the 9 in pink doily trimmed plates that's what we did even though the others were pretty too! Besides, the design and pinks was a better match with the centerpiece to create a cohesive flow of the tablescape. Even when you used many colors it needs to have a cohesive look.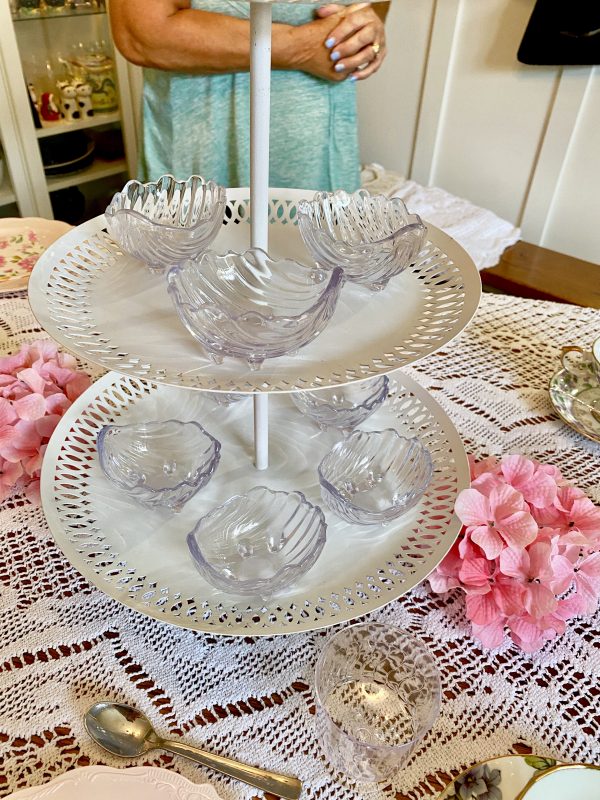 Placing the teacups and turning the handles just right with the special spoons added elegance and colors. The glasses are tiny plastic goblets. By the way, the plates are plastic too. Don't forget, details matter!
do you have a good traffic flow?
When the table turned at an angle, it makes the flow for guests is better. You always try to make the flow from food, drinks and seating as comfortable, roomy and workable for guests as possible. When you come through the front door to the kitchen dining area, the large island is the first thing you will see. Because of that, it would also need to be decorated. A runner with small pink flowers and other nature touches was put down.
use what you have
There were beautiful pieces to use in addition to the runner. Two beautiful teapots are stunning and quickly catch you eye. The princess gift bags were filled. They look so pretty with the tissue paper peaking out sitting there waiting to be handed out to the girls before they leave.
sample menu
What will be served? Lemon scones with lemon curd will be on the cake plate. Traditional triangle sandwiches, vegetables with dip for the savory with be on the tier, Iced water or a choice of 2 teas with be poured from tho beautiful tea pots.
After a quick wipe, Tracey will fill the tier with sweets. Tiny pots of chocolate or vanilla pudding garnished with whipped cream and mini chocolate chips, small layered cookies and shortbread round out the choices.
Who wouldn't feel special and delighted to have tea at this beautiful table!
~~~~~~~~~~