There is so much I want to tell about my mom. She was spunky. She loved life, her family and had fun!! She never met a stranger. She was an adventuress.  She was ahead of her times. She left home at 16 after high school to go north to work. She came back to Arkansas. On a drive after seeing the recruiting poster "Join the Navy and See the World", they did, right then!  After the war, she painted her nails, wore high heels after the war went to college, worked and married my dad. She went back to work later to buy us a piano. When it was time for us to go to college, she returned to teaching. She was amazing.  She was my mom.
This is the note Mom left in her mom's white pitcher.
Belonged to my mother  came off a Dredge Boat near farm 3 mi from Peach Orchard [Arkansas] The boat was left by co-  Ti Ti and my mom looked after it for a time. The oak library table was a part of parlor furniture bought with money they were paid-  Possibly around 1920's.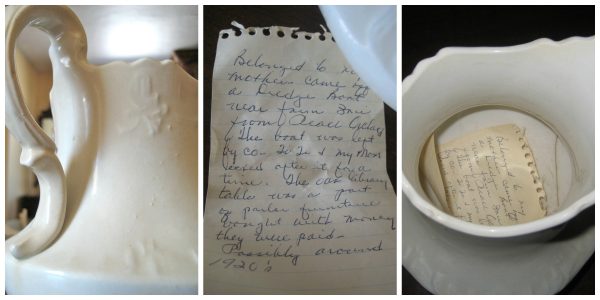 I love this pitcher.  It does not match anything except my heart.
My mom left a legacy for us women in our family.  Steadfast, hardworking, generous and believing.
Mom treasured this white cracked pitcher. Her mom died when Mom was 11. Mom was a child of the depression.
The note's a piece of the story of a family living in the Arkansas delta. Dredge boats used frequently in the north Arkansas delta. Her mom, Alma was pretty like Mom and sang at all the revivals.
Surviving family pictures match the stories of a poor family in the depression years. Alma is the one with the songbook.
So here on a snowy day, I remember my mom and her story.
Now, I treasure the white pitcher.  I miss my Mom.
blessings, linda
linking here
 Savvy Southern Style  Wow Us Wednesdays                                                   http://www.savvysouthernstyle.net/2014/02/wow-us-wednesdays