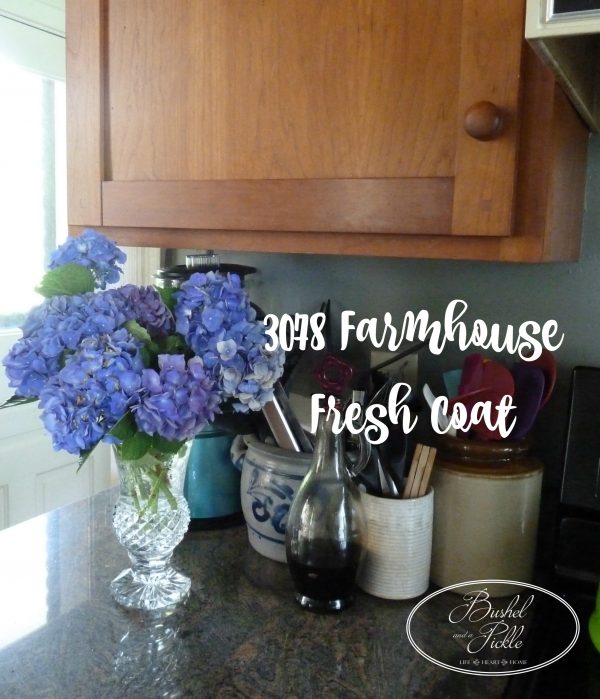 What do you do when your kitchen just doesn't want to follow the crowd?
We have an authentic farmhouse kitchen…at least in the bones.   This room just wants to be simple without fuss.
Truth is old houses just don't always want the changes you have in mind.  Going with a white kitchen wasn't right.  Neither was the idea of mimicking a Tuscany one when I painted it Sienna Clay BM.
The renovation we did about 9 years ago turned out great.  We turned the smallish misplaced island to make a peninsula, peeled away the history of linoleum and ditched the old tired formica for new granite with new sink and faucet.  And we painted the walls several different colors with the bead board always being Swiss Coffee Behr.  
The kitchen was a light cream color and was just blah.  The barn wood shelves made from  the torn down one on the lot years ago were lost in the sameness.  They have been painted over many times.
 The cabinets were blah and needed something to make it shine.  Painting was not an option.  Nor were new ones.
Maybe you are like me… you search favorite and new blogs for inspiration.
Then there was that day I found the inspiration!
 21 Rosemary shared her newly painted kitchen.  Her similar cabinets were like mine, honey oak.  She painted her wall dark grey.  I showed it to my husband because I just knew this was the perfect color.
Off to the BM paint store.
I bought samples including the dark one on the color strip of Grey Owl BM, living room wall color.  Using a dark color was a bold choice for me but when it's right, it's right.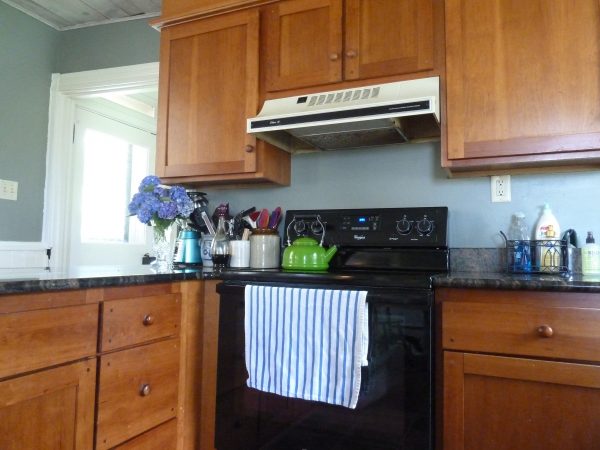 Desert Twilight BM is just the right modern look for our old house.
 It makes our cabinet wood look richer in color.
Sometimes it has green hues; sometimes a blueish cast.  I love that it changes colors, like its name, Desert Twilight.  I watched the late afternoon stormy sky today as the blues and greens rolled together for rain twilight.
I'm not finished.  I actually like the bare walls for now.
I am loving the clean soft lines.  We will get white roller shades for all the windows that reflect the Amish influence in our area.  (They use green though.)
How do you think  black and white photos framed of family and favorite places would look on the larger wall.
The mason jars full of candies and chocolate chips sitting in a row with the painted barn wood behind and underneath are both beautiful, simple and functional.
 This is a room at peace and that will continue to be full of life and changing as our family grows and our uses and needs change too.
I absolutely love the deep blue hydrangea on my counter.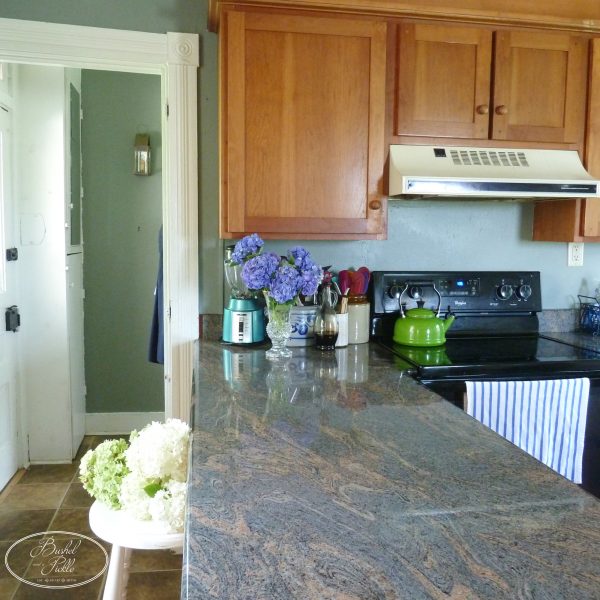 Love to hear how you chase the blahs away in your home…
Linking here:
Foodie Friday & Everything Else