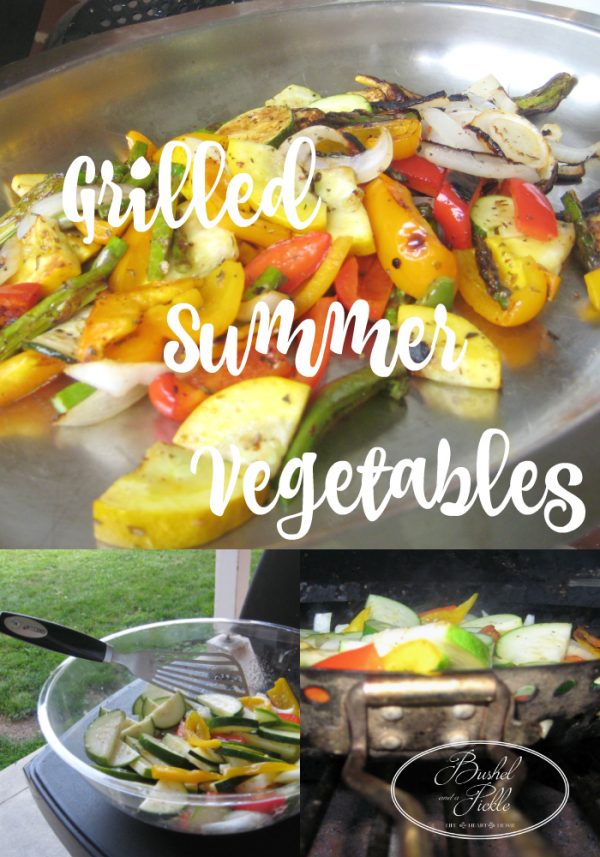 Looking for easy meals for the summer days that can be hot and busy?
Me too!  I head for the grill.  It's quick and easy clean up.  My kitchen doesn't heat up which is already warm as the afternoon sun floods in.
Fresh summer vegetables are so delicious.  My husband has a vegetable garden.  What he doesn't grow I buy locally at markets and the special bins at our local grocery store.
Grilled Vegetables are a seasonal favorite.  What to include?  My typical selections include a mix of any of these… sweet pepper, squash, zucchini, and onion.  Extras might be green beans, asparagus and small whole tomatoes.   Medium squash, zucchini, onion, sweet pepper is enough for my family of 4.
Equipment needed is a large bowl, metal spatula and a grill pan.  Ingredients are season vegetables, extra virgin olive oil, and herbs.  My choices are fresh or dried oregano, basil or a blend of Italian herbs.  I do not add salt or black pepper.
It's important to turn or stir vegetables while cooking.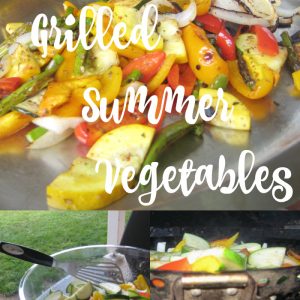 Grilled Summer Vegetables
Seasonal vegetables prepared on the grill for a delicious side dish
Ingredients
Summer season vegetables

1 cup each

Onions and peppers

include for flavor

1 - 2

teas herbs of choice fresh or dried oregano

basil or Italian blend

1 - 2

Tbls

Extra virgin olive oil
Instructions
Wash vegetables

Slice vegetables into 1/4 in slices

Try to make all vegetables as equal in size as possible for even cooking

Place vegetables in a large mixing bowl.

Add 1 - 2 Tbls extra virgin olive oil to coat the vegetables

Sprinkle 1 - 2 teas to taste herbs of choice

Toss together to coat all the vegetables.

Pre-heat grill

Lightly coat pan with cooking spray

Put vegetables in grill pan without overcrowding

Cook on high heat for a few minutes then lower to medium high.

Cover with grill lid or foil

Check after several minutes to avoid overcooking or burning

Uncover and stir to finish cooking vegetables (and maybe add a little char)

Remove and serve
Here is another favorite that makes this dish a meal… add shrimp midway through cooking the vegetables to avoid overcooking.
A grill pan with holes is available at many stores and on – line.
I think I got mine at Home Goods.   I actually have 2!  One is a skillet and the other is flat.  Having 2 comes in handy when we have company.
This is an example from Amazon.  I am not an affiliate.   One of mine is non stick and the other is not.   I also use them for shrimp, the flat one I use for grilling salmon.
And nothing like summer fruit for dessert!  Don't know how to buy a watermelon; check out Kathy's post here.
Hope this is helpful as you think about grilling and good side dishes.  Enjoy these summer days!
Linking here: