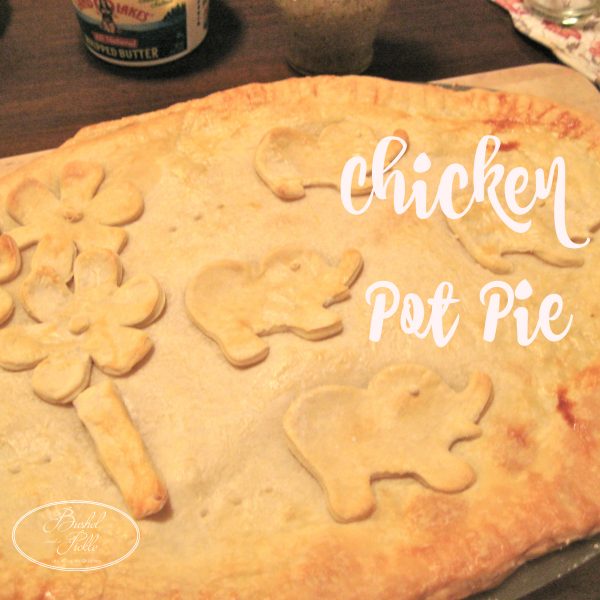 It's a favorite!  Over the years, I have combined several recipes to come up with what we love.  When company and the girls' friends during the school lunch hour ask for the recipe so their moms can make it,  you just know you've got a hit.
Last night we tried cupcake chicken pot pie. It was our meal but could be a delicious finger food for a party!
That is Will's contribution. Meg assembled them for our last night's dinner. First she sprayed the muffin tins and didn't skimp. That was important so you can get the pies out without tearing the crust.
She gently rolled out the pie crust to about 1/8 of an inch. It should not be thin but about 1/8th of an inch to prevent the filling from seeping throughthe crust as it bakes. She cut the pie dough into squares wider than the individual cup and tucked them into the pan with the edge higher than the sides.  Though she used made from scratch crust, store bought works too.
When filling each cup she let some of the sauce drain out through a slotted spoon.  For the cupcake pies, the filling should  be fairly thick. She then drizzled a little sauce on top. Using the extra dough pieces for tiny trims for the top is cute too. Hint…it can give you an indication of the over all crust doneness.
The finished little pies were perfect for finger food. The grandkids thought is was fun to eat! No fork needed!
It is all about the ratio my kids tell me. One like crust, hence the little pies, one likes more sauce which suit a larger pie serving but mostly we just like chicken pot pie.
The addition of tiny bites of potatoes is from my Aunt Maxine. She was one heck of a cook!
Adding tarragon is a Silver Palate Goodtimes Cookbook addition. That makes it French and fancy.
Actually, it adds an excellent taste of flavor to a tried and true classic basic dish.
Linda's Chicken Pot Pie
Classic comfort dish with a twist of flavor
Ingredients
2 1/2

Tbls

butter

3 1/2

Tbls

flour

2

cups

hot milk or half and half

1/2

tsp

salt

1/4

tsp

white pepper

flavor is more delicate

1

Tbls

tarragon

1/2

cup

chicken broth

2

carrots

1 medium sized onion, 2 stalks of celery chopped into small pieces

2

medium sized white potatoes peeled chopped in into small bite sized pieces

2

cooked chicken breast

cut into bite sized pieces

2

Tbls

butter

1

egg white

Pie crust
Instructions
Blend the butter and flour throughly in a medium heated skillet. It should not brown at all. This is called a roux.

Slowly add the hot milk while blending. The hot temperature aids in the blending the sauce without lumps.

Boil the potatoes in the left over chicken cooking broth until lightly softened but not too soft as they will mash up when baking.

Next boil the carrots until soft in the same liquid. It will turn orange!

Saute onion and celery together in 2 Tbls of butter.

Add vegetables to the sauce.

Adjust sauce thickness:

To make more thick, add a mixture of flour and sauce that has been mixed throughly into a thick mixture and slowly add while stirring into the pie filling mix a little at a time. The sauce will thicken more as it simmers on low.

Cook at low heat for about 10 minutes, stirring often from the bottom up.

Add extra liquid as needed while stirring if the sauce is too thick.

Put pie crust in casserole dish pushing sides covering the edge.

* for cupcakes, spray pan fist then press squares of dough into ach cup.

Bake at 350 degrees for 45 minutes or until crust is golden brown.

*for cupcakes, cook at 350 for 20 -25 minutes.

Cupcake yield is 18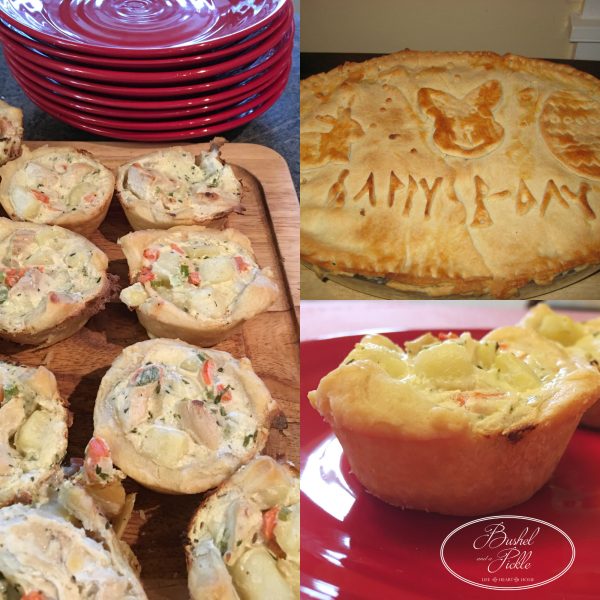 Linking here