Eight tasks to begin making Meg's house move in ready is just for the work she is doing prior to movng in. Making lists at different stages will help us to stayed focused on all the to do's ahead.
The azalea bloomed! Doesn't it look pretty against the grey and black exterior?
Anyone who has DIY'd renovations or contracted for the renovations knows it is a lengthy process typically often taking days, even weeks completion. Hers isn't a super major project but when you are doing the work around your work and appointment schedule it can seem like for ever!
Besides, who doesn't love crossing off items on a list to make yourself feel like lots has been accomplished!
8 tasks making Meg's home move in ready list
Change locks
Pull up carpet in Living Room and Bedroom
Free Appliances (to pick up and install)
More Free Stuff
Clean appliances
Remove stair carpet
Have upstairs carpet professionally cleaned
1. change the locks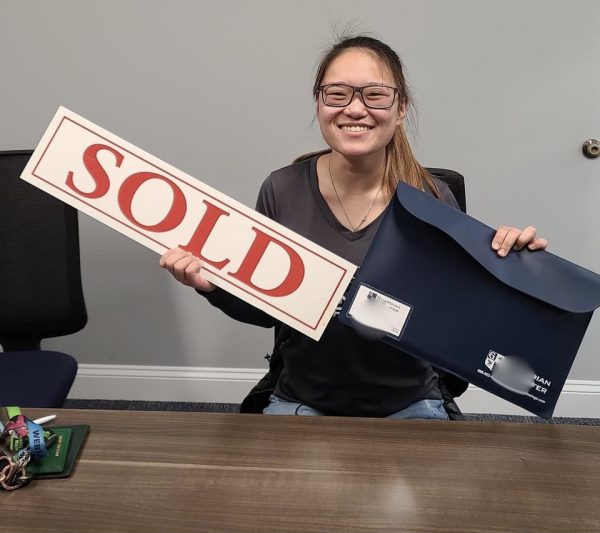 Meg signed the papers without us by her side. This was a symbolic big step. As parents, we are trying to keep balance between advice and help and giving her space to make her own decisions.
The locksmith was there when we came over after she got the keys at closing. She wanted to have new locks, a smart move.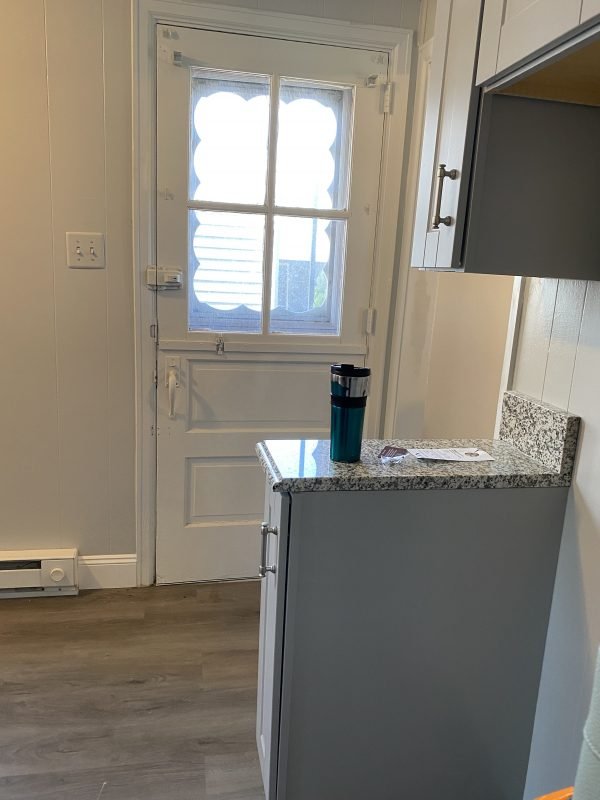 Yes, there is a Dutch door!
2. pull up carpet in living room and bedroom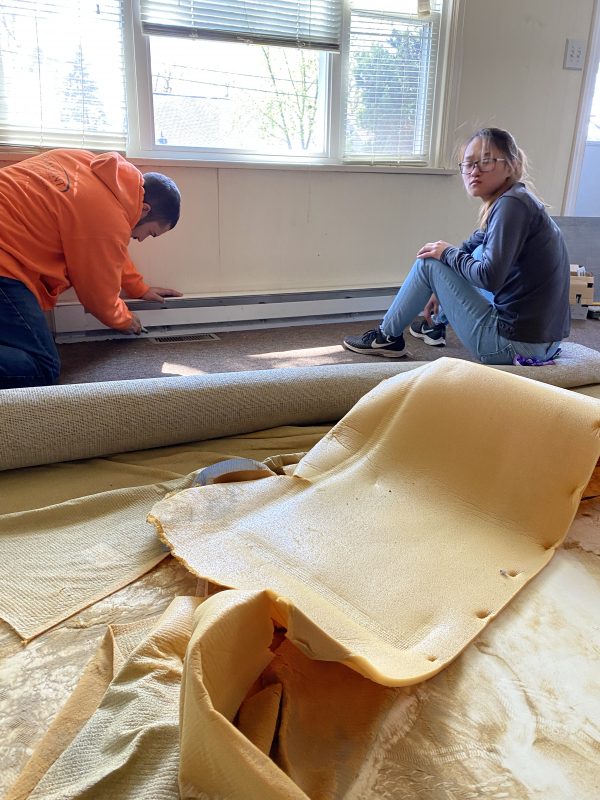 It was dirty work because the foam pad was disintegrating into thick dust.
There was an assortment of vinyl sheets under the old carpet It reminded me of when we redid our kitchen floor. Older homes often have muliple layers of padding, vinyls, and other flooring types.
The new flooring with cover the space that includes old tiles. None were broken in the removal process thanks to dried old glue.
3. free appliances to pick up & install
Friends and family who have assorted big items to give a girl starting up a household for the first time are the best!
With her boyfriend's help and borrowed trailer, they picked up a nice almost new black stove. It just needs cleaning.
Jim was able to get a free fridgerator that is the right size, small. It works! The almond colored fridge sat outside by the side door overnight until Meg and Braydon came with the stove. A new neighbor from down the street saw that they needed help and came to pitch in!
It's nice to know she is moving into a friendly neightborhood. That was the third neightbor she has met so far.
4. more free stuff from siblings
Will and Hailey gave her the table, easy chair and dishes.
She just looks like my baby in this photo.
The chair is at our house. Dishes are in the attic with other kitchen items we have kept just for these times. More help from family will come as she establishes her home. Once everything is clean and the floor is down, all of it will be moved.
Being single and moving into a new first time home doesn't come with wedding gifts or several years of accumulations while living in apartments. She is thrilled with family contributions. The free appliances were unexpected! An unexpected blessing.
5. bringing the ducks home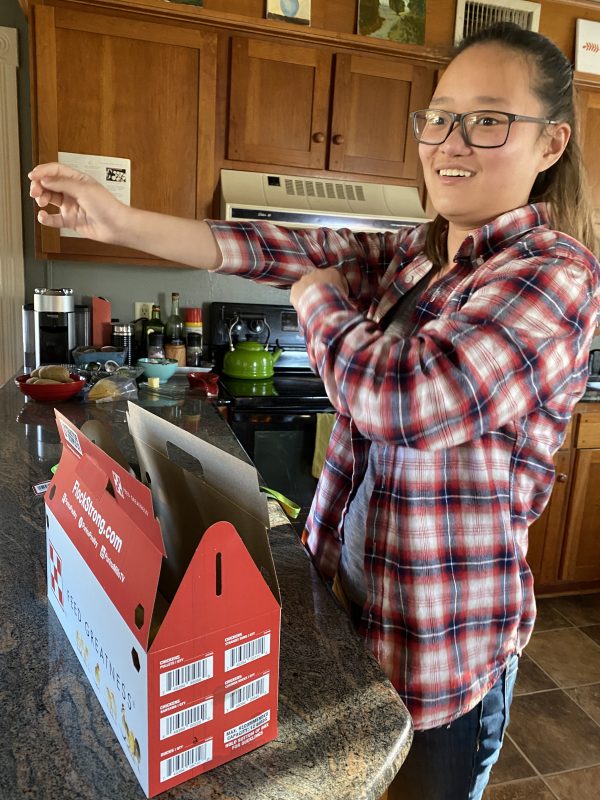 Meg went with a friend for a milkshake one night and came home with 2 ducklings from our local Tracter Supply Company. She kept them at the friend's house in a chicken hutch they had,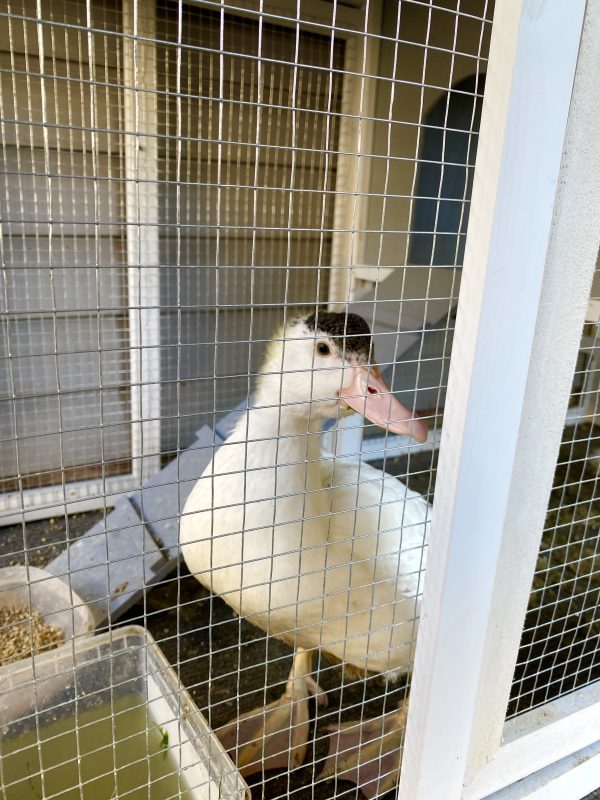 Those ducks grew really fast but still have a little down. Setting up a large pen with a house and pond is on her list!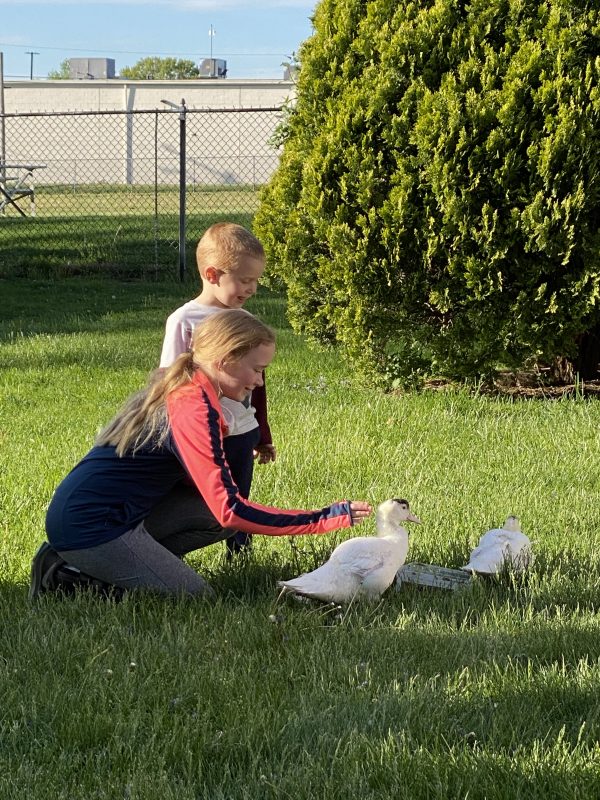 The nieces and Cor were so excited over them! The ducks are very adventuresome. They did make a little run for the side yard. When Meg took their food and water bowls to the yard they followed her.
6. more cleaning
Lots of progress has been made but more clean up is needed. The 3 of us are going to work there on Meg's day off. We'll wear our special masks, use brooms, and shop vac. All the debris and other trash will go into the heavy duty construction trash bags. Then we'll use the Heavy Duty Swiffter pads to insure the floors are extra free of dust. Yes, they will go into the bags too.
Don't worry. We are taking care and appropiate precautions during this process.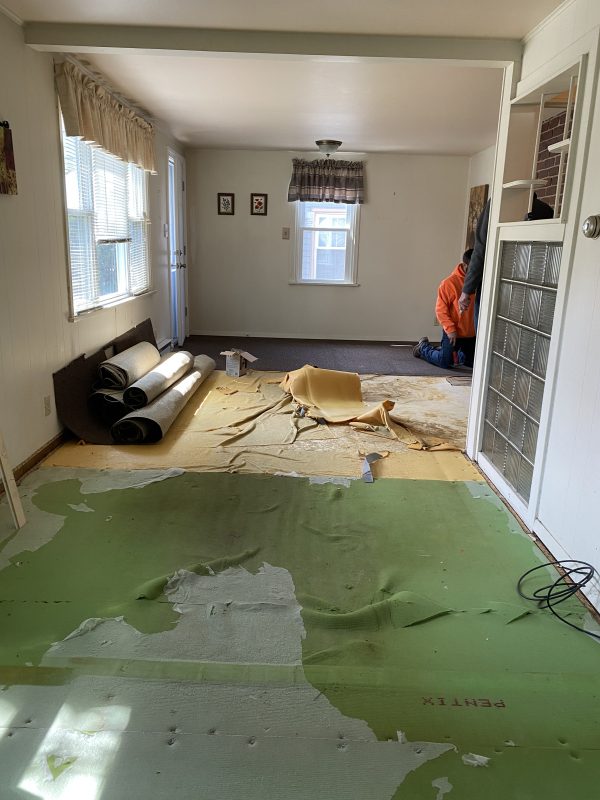 Cleaning the appliances is my job. We cheered when they worked when we plugging them in! There was the nagging thought that they might not! The refrigirator and stove both need deep cleaning.
As we finish the removal of carpet and other debris, we'll be doing general cleaning. Mrs. Meyers is my go to cleaning product. We'll be using that.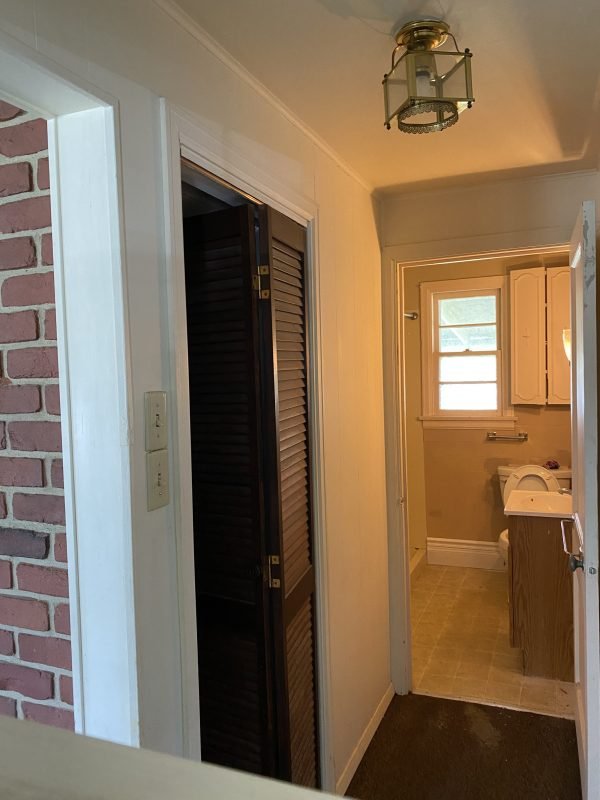 The bathroom needs a deep clean but it's not nasty! Wiping is good for now. The hall lighting and all the lighting is dated. Changing each one is part of another phase list.
7. remove stair carpet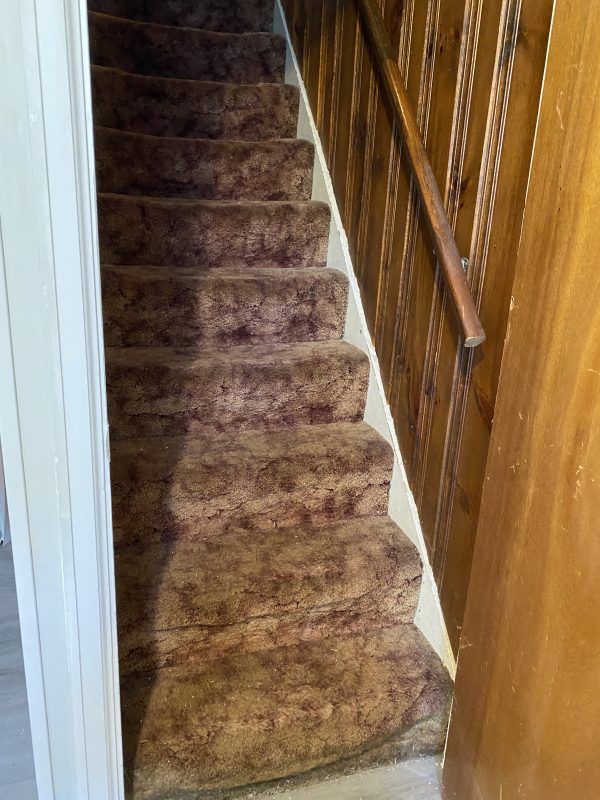 I'm not sure if we will get the stair carpet up today. In fact, I am confident we will not! But hopefully it will be a minor project comparatively speaking. We will move it to the next phase.
8. have attic space carpet cleaned
The attic is a finished area without air conditioning. The carpet is dated but not worn so it stays until she can afford to replace it. The built-in cabinets and fake beams' paint is a dark rather ugly brown. Painting will be later.
I was surprised to see all that brown. It was like the paint in our first apartment in China. All the trim was painted in oil based brown called mahogany. It was supposed to imitate wood. It definitely was not. I had it painted over when we moved in.
After everything in the house is swept and wiped down, a professional carpet cleaning will be scheduled.
Meg plans to make the attic her room.
It is a process to move in. Like her brother in law said when he came to check out the floor to make sure it was level before laying the floor, "Well, we knew it would be a fixer upper."
The floor is level. Whew!
looking ahead
The house was came with a new kitchen. The flooring included the laundry room. Other than the old poorly laid and dirty carpet it was pretty much move in ready. That is not to say more isn't needed to bring this cute house to its full potential of beauty and livability!
We didn't expect such a mess with removing the foam padding and vinyl under the carpet. It is taking a lot of time. Meg is doing nearly all the work on her own with some help from her boyfriend. We're helping too.
Receiving free appliances and furniture is wonderful. So far, the only new purchase she must make is flooring.
lots of changes for us
Oh boy! Lots of changes are ahead for us. Lots of emotional tugs on this mom's heart! Above all, Jim and I are always praying every day for each one oif our children and their families.
The emotional tug of war begins in your heart. Sometimes it is happy, sad, anxious, confident.
My heart is excited for Meg! When I need a hug, she is just mere minutes away!
~~~~~~~~~~~~~~~~~~~~~~