Honor Mom and Grandma Table on Mother's Day yesterday was set by the children. My son in law prepared the meal with help from the girls.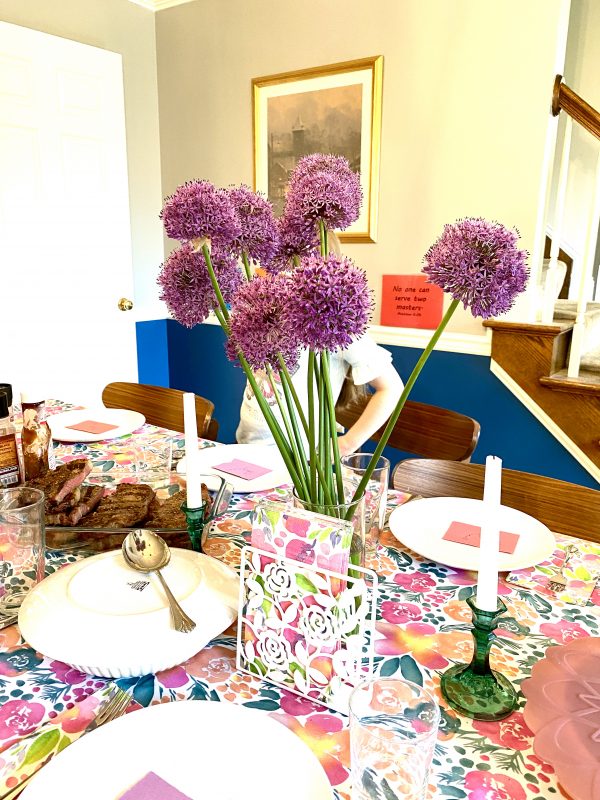 made with love
When Jim and I arrived the table was set. Once Meg called and said she was held up at work so go ahead and eat; the steaks were added to the rest of the food.
I snapped a few photos before we all sat down. This tablescape that was carefully set for us includes the full serving dishes. The siicon lids covered the bowls keeping the vegetables warm. I couldn't find ones with the floral design on Amazon. This links will takes you to similar ones.
Place cards were made with coordinating paper for each of us. I got to sit at the end! Nancy was at the other. Handmade cards were at our places filled with messages of love.
floral theme setting
Nancy found the bright spring tablecloth at Home Goods a couple of weeks ago. The large floral paper napkins match.
The candleholders were a vintage find at a local shop I gave to Nancy several years ago.
dramatic allium
The long showy allium blooms are from Jim's garden. The dramatic blooms are from bulbs and require little maintance after planting.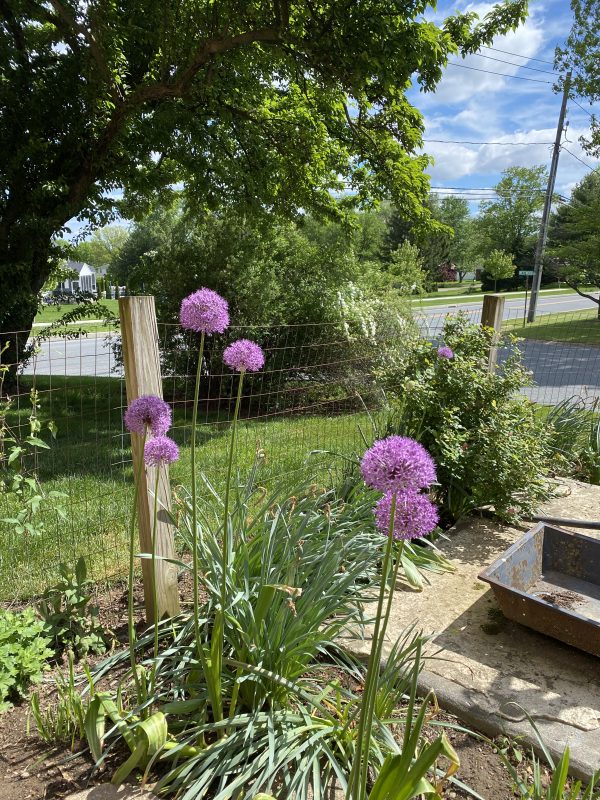 white dishes with multi-floral table
Though this was a special day, the girls chose to use the every day white dishes. It makes setting and clean up easier for them. Yes, all 5 of the kids clear the table and load the dishwasher after meals. The exception is for a birthday child's meal.
My mom always had white dishes and gave us a set when we got married. They don't need to be expensive. Nancy's set is her second. Walmart, Home Goods and Amazon are great place to buy yours. If you don't have white dishes; I highly recommend them.
They are the plain Jane's that can be your go to dishes, like the little black dress in your closet. when you love to set a nice table and and really enjoy making tablescapes, white dishes can be the layer to build on!
tip for centerpieces
The allium stems in the cylinder vase were truely gorgeous on the table. Just one probelm though…Nancy and I couldn't see each other! It was moved to the kitchen island. Tip for tablesetting for dining. Centerpieces and decorations should not obscure the view of the diners with each other. They must be low or on a high enough base to lift it. That's why you see arrangmeents on stemmed items at banquets and weddings.
special day ends
At the end of the day, I sure did feel showered with love from my kids with phone calls, flowers, cards and notes. it was a very nice day full of love and joy.
For moms, hope you had a good day and and look forward to a great week!
~~~~~~~~~~~