Reflections…it's that time of year. Actually, I am writing this on day one of 2022.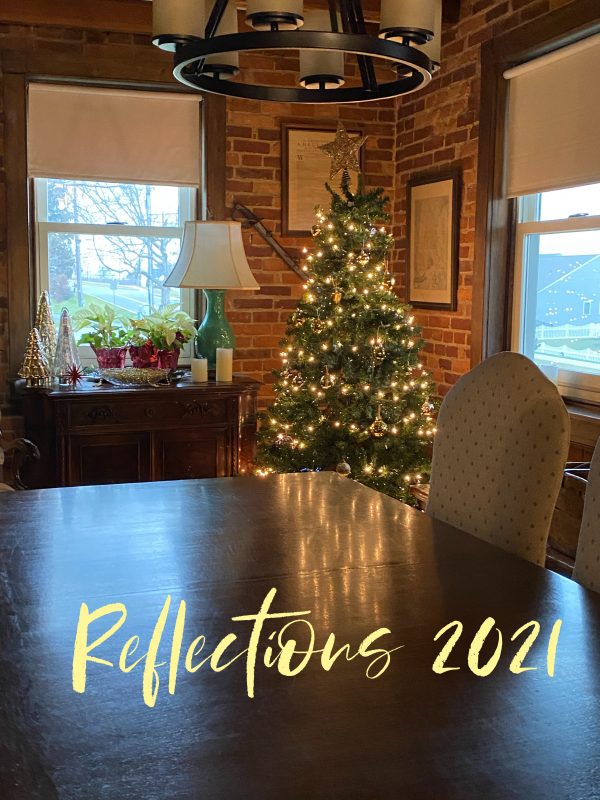 My way of reflection on New Year's Eve 2021 was to go through photos. My kids tease me about how many I take but they do like them.
Reflection…I LIKE taking photos of family, places, our home and food. The kids may fuss a little but they want to see them!
reflections 1
Christmas Day. There was a tumble of tracks given to the grandsons by a neighbor. Their children had outgrown the Thomas train set. Amy spent hours laying them using all the bridges and roundhouses. Wonder how long it lasted into the next day?
A cute photo capturing Aunt Meg puttting together the Playmoblie Zoo City we gave the oldest grandson. He is about the age when Will, our youngest son first got his Playmoblie set decades ago. He would play for hours setting his up and playing in his room. I hope is my grandson will too.
Note, no parents were involved in these aunt activities!

Will's brother Rob, the dad of the one receiving the Playmobile Zoo City was already playing with Legos He was 4 years older. It would be awhile before Will would start enjoying the Legos.
Reflections 2
Even with limitations, Jim and I managed to travel. This is us at the Frank Lloyd Wright Kentuck Knob in Central PA's Laurel Highlands. Simply beautiful. I'll be posting about that trip later.
USMA class reunion is always a fun weekend. The attendee numbers were down mostly due to not wanting to travel. The rain on the Plain didn't dampen of our enjoyment.
reflection 3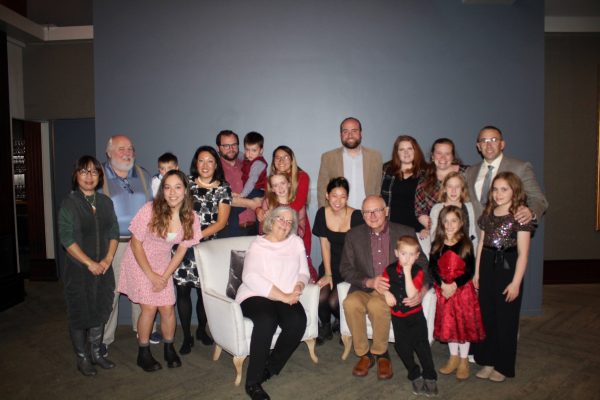 Surprise!!

My kids planned a surprise party and boy, did they surprise me!
I had no idea.
Family flew in, friends came. I thought we had crashed someone else's party until a friend's face registered and looked more at the crowd. Then, the grandkids came running up for hugs.
We had dinner, great conversations and a sweet video Amy put together of friends from around the world who sent birthday greetings.
My heart was overflowing!
reflections 4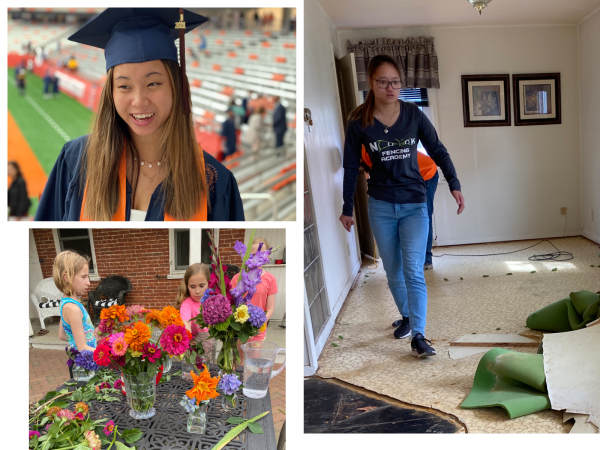 Amy graduated, Meg bought a house. We had an overflowing bounty in our garden. It was a year of joy, happiness, new beginnings but as usual,not always rosy. I had to make adjustments with Amy and Meg's new phases of life like any mother does. There were the usual ups and downs. Jim had some health issues. It was like most years.
We also experienced heartbreaking losses too.
reflection 5
Today is the first day of the coming year as I am writing this. Time to look forward!
As my DIL recently told something that she read…
"No resolutions, just new routines."
I can get on board with that! First, I really need to reflect a bit more on what routines I need to restart and new ones I just might need to begin.
How about you?
Happy New Year dear family and friends!
~~~~~~~~~~~
Included in ths blog are affiliate links for you for shopping. I may receive a commission for purchases made through these links at no extra cost to you. Not all products are the same but similar to ones we use. Thank you in advance for any purchases you make!


~~~~~~~~~~~