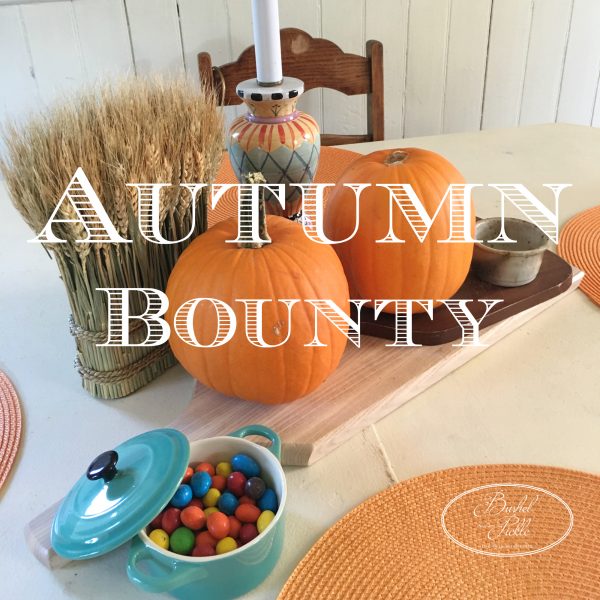 Autumn is a time to celebrate bounty and in our house that may mean PIE! 
Autumn is here!
Autumn is here!
Cool mornings, hot afternoons.  Orange pumpkins and leaves beginning their annual show.
I love it!
I made a fun discovery this autumn.  Orange accents look fabulous in our newly painted grey kitchen with maple cabinets!
Would you take a moment to subcribe for regular email updates On the side margins of this post? Thanks! 
Talk about popping! 
If you are like me, you'll see so many amazingly beautiful porches and table decor and think, "I can't do that." Or do you think "I can't afford that"?
One of the great things about fall decor is you don't need much.  A mum on your stoop, an orange ribbon around your porch light.  And the show stopper…
orange pumpkins!
Don't you love these orange round placemats?
The tiny pumpkins are fun and affordable are your local grocery store.  They tuck in just about anywhere for a burst of color.
Stack a couple of cutting boards of different colors. A small pottery bowl made by Amy adds texture.  The little aqua dish with M&M's makes it fun.  I moved the lamp from my desk for some soft light in the evenings.  Perfect.
A mason jar full of candy corn, a October must have at our house is a quick festive addition.
Snack and pecan pie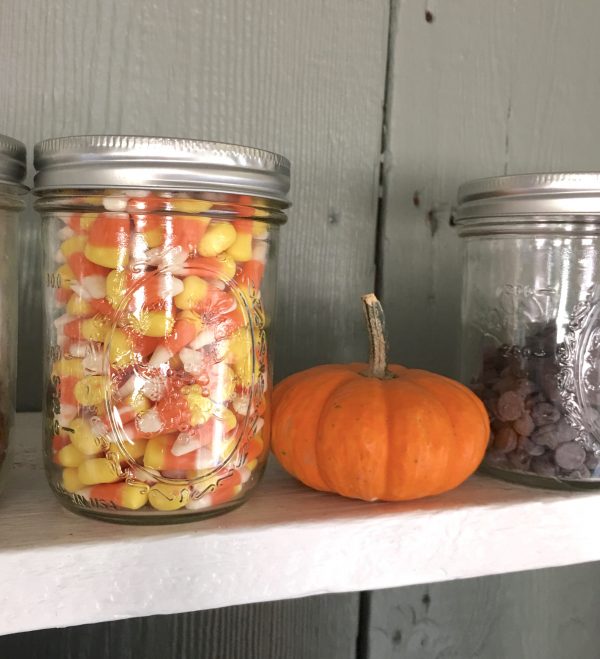 Place a bowl of apples there instead of pumpkins if it suits your family snacking because autumn is harvest time for those beauties.  Bonus, you can make a pie with them!  Check out this apple pie recipe for some deliciousness.
With autumn bounty come thoughts of a favorite holiday, Thanksgiving.  A time for family and focus on thank you God for the bounty and blessings.
Here is a family favorite recipe.
Linda's Pecan Pie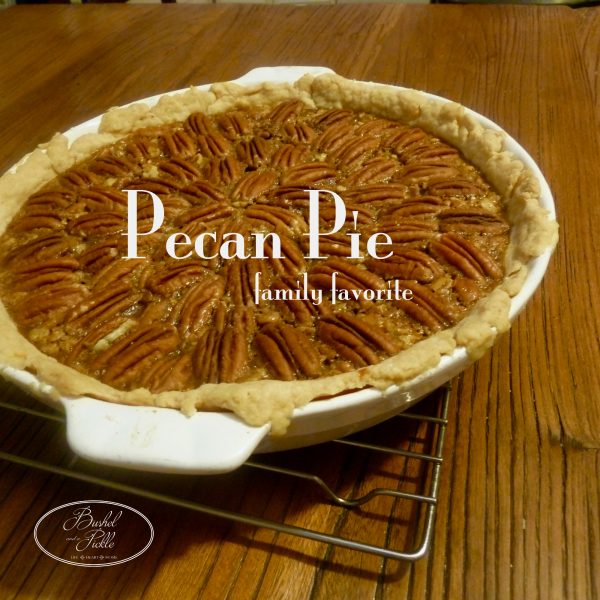 I serve it with fresh whipped cream or ice cream.  Never ever Cool Whip.  I make it every year with a few exceptions.  I used to bring pecans, pounds of pecans, back to China tucked in my suitcase along with Ranch dressing and Sloppy Joe packaged mixes whenever we returned after a home visit.
The shallow fluted tart pan is an extra festive touch.  Somehow I lost the ones I had.  Honestly, I have no idea what has happened to a lot of our stuff!  With each move, we sold or gave away stuff; can't keep track!
It is a combination of 2 from  Virginia Hospitality.  This wonderful cookbook I bought as a newly wed 35 years ago at Williamsburg.  Jim and I would visit the town frequently for lunch or dinner and afternoon strolls.  We were both stationed at Fort Eustis about 20 minutes away.  I love cookbooks and this one is one of my 2 top choices.  The other is Julia Child, The Way to Cook I bought in Hong Kong on a visit to get our visas changed from tourist to a year long business one in order to live in China.  Yes, even my cookbooks have stories.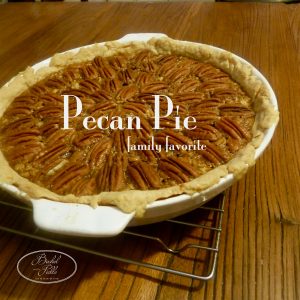 Clessic Pecan Pie
Classic traditional Pecan Pie
Ingredients
1

cup

white corn syrup

Golden's or Karo

1/2

c

brown sugar

1/2

c

white sugar

1

c

milk

1

c

chopped pecans

3

eggs beaten

don't skip this part

3

Tbls

flour

1

teas vanilla

dash of salt

9

in

pie crust

pre-made or your own recipe
Instructions
Preheat over to 400 degrees

Prepare pie or tart pan with pie crust.

Mix all ingredients well

Pour into 9 in pie or tart pan

Bake in preheated over for 10 min

Reduce heat to 300 degrees and bake for 30 minutes or until firm in the middle
What are your favorite pies for autumn?  
Linking here:
Foodie Friday & Everything Else
For your shopping ease, I have provided links for items in this post are similar to those I used.
This site contains affiliate links to products. I may receive a commission for purchases made through these links at no extra cost to you.