We really didn't have pie tyranny. What we had were some rebellious children led by one of the adult siblings that Thanksgiving morning who just didn't want to wait for dessert time! You know, after the turkey when you think you can't eat another bite.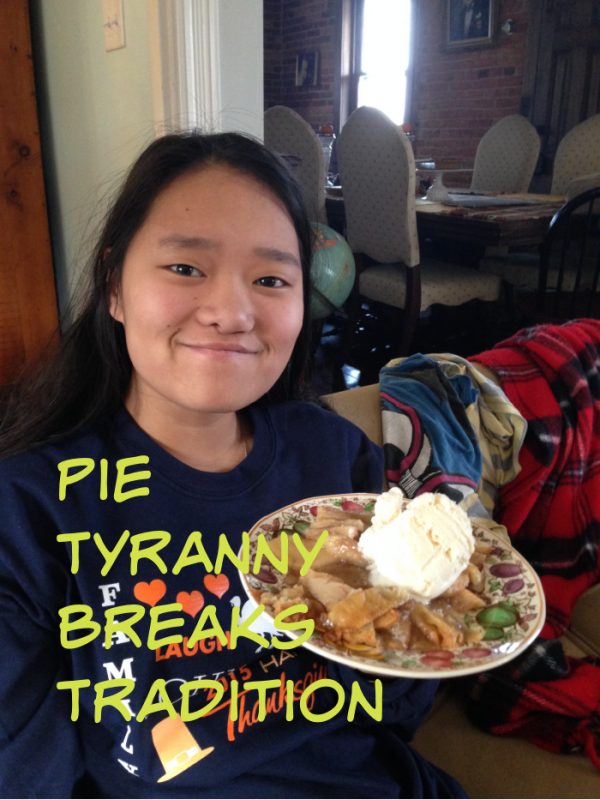 I mean, really, dessert leftovers actually make the best post-feast day breakfast! Wouldn't you agree?
pie temptation

Robert didn't agree that morning when we were beginning to cook the "meal".
Before I knew it, he had marshalled his forces…siblings behind his rebellion! Traitors!
Evidently I am now a reformed Pie Tyrant. I had no idea I make everyone wait to eat pie after the savory groaning table meal. Imagine that! Pie afer the meals as dessert.
Rob wanted to break the pie tyranny. I asked him if he recalled what tyranny really was. Rob told me yes and that I was a pie tyrant! He shook his fist!
And he says his sisters are dramatic!
There they sat on the buffet, the pies. Two of each. Apple and pecan. Nancy brought the pumpkins later.
PIe before dessert was the demand!
adding jessica's apple pie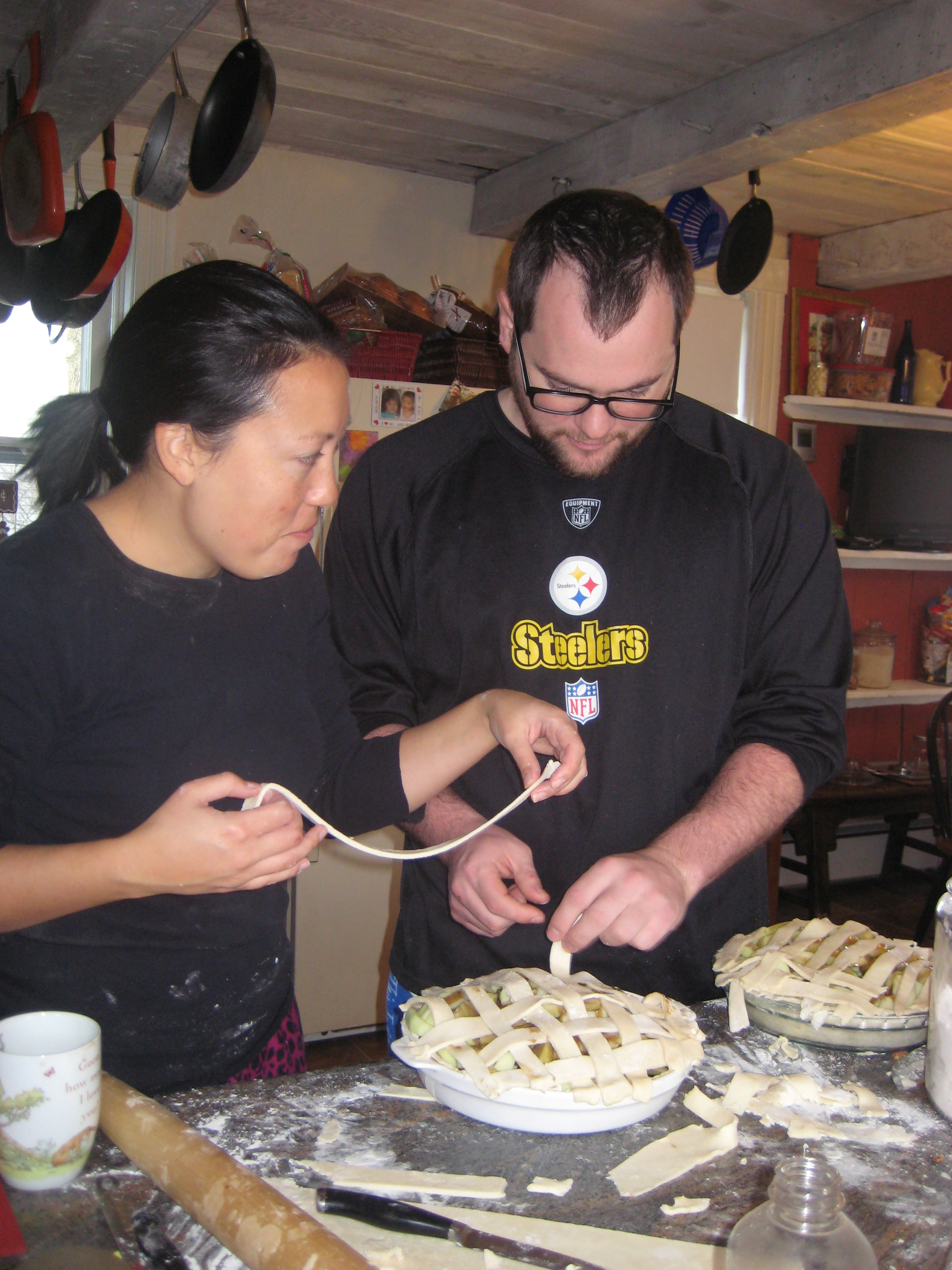 This year Jessica made the pies. Rob helped with the latticing.
It now has a place in our Thanksgiving menu!
Her special touch when making the warmed syrupy sauce using traditional spice flavors was just about perfect!.
memory making recipe naming
Once we make dish a few times the dish is called by the event name or a person's name who made it for us like my great aunt Ti Ti's peanut brittle.
It's a nice way to remember good times and good people. Making a little family history through food is memory book of its own. Plus we have my mom's apple pie recipe called, you guessed it, Mom's Apple Pie in our family recipe box already. Both are especially yummy!
It is amazing how adding a year to young teens' lives means more sleep. Amy and Meg were no shows this Thanksgiving Day until later. They ready to join the rebellion. Pies go in the oven first. Then the turkey.
They were beautiful pies. They were yummy pies.
Breaking tradition
There they sat on the counter in the kitchen cooling, Apple, pecan, and pumpkin, tempting.
They were half gone by midmorning.
This pie tyrant broke under the pressure. That was 2013, The rebellion won so now it is tradition!
And that was the "let the eating begin" opening act. We had a spiral ham with hot rolls for lunch. Fresh veggies and dip. And all before the main attraction.
A break with tradition can be good from time to time. Wouldn't you agree?
Jessica apple Pie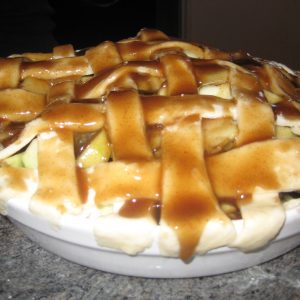 Apple Pie Tyranny
A twist on traditional apple pie with heated sauce to pour over the apples prior to baking!
Ingredients
1

recipe pastry for a 9 inch double crust pie

1/2

cup

unsalted butter

3

tablespoons

all-purpose flour

1/2

cup

white sugar

1

teas cinnamon

1/4

teas ground cloves

1/4

teas nutmeg

1/2

cup

packed brown sugar

1/4

cup

water

8

Granny Smith

or pther firm apples - peeled, cored and sliced
Instructions
Melt butter in a sauce pan.

Stir in flour to form a paste.

Add white sugar, brown sugar and water; bring to a boil.

Reduce temperature, and simmer 5 minutes.

Meanwhile, place the bottom crust in your pan.

Fill with apples, mounded slightly.

Cover with a lattice work crust.

Gently pour the sugar and butter liquid over the crust.

Pour slowly so that it does not run off

Bake 15 minutes at 425 degrees F (220 degrees C). Reduce the temperature to 350 degrees F (175 degrees C), and continue baking for 35 to 45 minutes.
This apple pie is over the top delicious and so pretty. It's tempting! Breaking a little from tradtion with a little pie tyranny has been a good thing!
~~~~~~~~
This site contains affiliate links to products. I may receive a commission for purchases made through these links at no extra cost to you.

~~~~~~~~