It was an evening of sharing stories and celebrating sisterhood. One where we could talk and encourage one another. Come on in!

Whenever you get women together for a reason you want the venue to shine! To welcome! To invite each woman in! Creating a welcoming atmosphere is important. "The Barn", our autumn venue with reclaimed barn beams and crystal chandeliers was part of that atmosphere. Even with a large plain room, with some creativity and lots of hands, you can make a room welcoming!
For this event I was responsible for the decor and food. Other teammates made venue and program plans. We are a small local ministry for community women.
First, there was no money in the budget. We often don't have money in the budget for decorations. What we do have is women with stashes! I share this so you know with creativity and planning, making an event look welcoming and pretty you can shop your home and possibly your friends too. Mine is an accumulation of seasonal decor collected over many years. Decorating my home is pretty much my hobby. I have storage space in my attic and lots bins. I am not crafty by the way but cohorts are. Decor does not always have to be purchased or expensive to have the perfect look! My husband carried the bins down for me to go through. Fortunately between me and others, we had enough for an Autumn Welcome!
Disclaimer. I did buy for myself use later at home a pumpkin, pomegranates and hay bales! When I do these events I try to not personally purchase items unless I can use them later.
The floral arrangements came from Joleen's home. The signs were a donation from a fellow creative cohort. She couldn't resist them. I think the one on the welcome table says it all. Three of us decorated and another 3 prepped and set the food out. A collaborative effort.
Two 10 person round tables for food and 6 table tops in addition to the rows of chairs for the program were set up when we arrived as arranged. I wasn't responsible for the podium stage but here is a photo. Another cohort did it. Again, it was simple and from her stash plus the new signs and fresh pumpkins and chrysanthemums.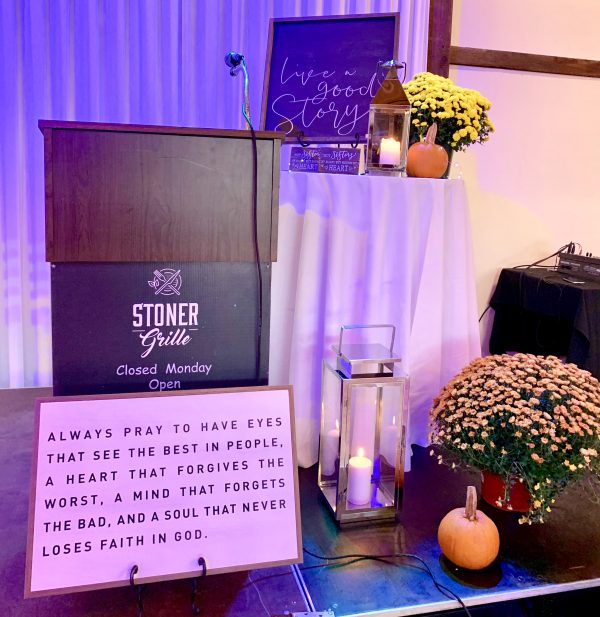 I knew what the venue would be set up. Be prepared for hiccups. It always happens, at least to me! Long serpentine tables for sign in and welcome, the drink tables against the wall needed big decorations. By the way, know where the plugs are. It can be important if you need a plug for crock pots full of hot cider!
The welcome table had the large cascade of pumpkins, garland, battery candles, a few small photos, fresh fruit and a welcome sign.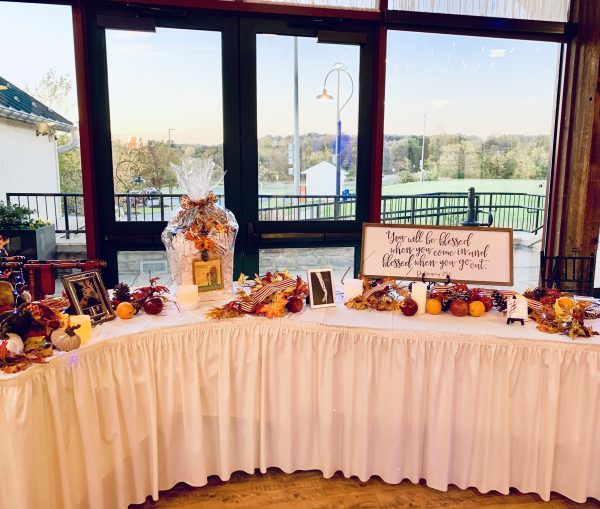 The drink table like many long ones needed some height. The wooden wall was a perfect backdrop. The bales I purchased were perfect to give depth and height. Decorations are always better with several layers and dimensions. Pomegranates, oranges and a large pumpkins added pops of color. The black table cloth covering drink racks added more height.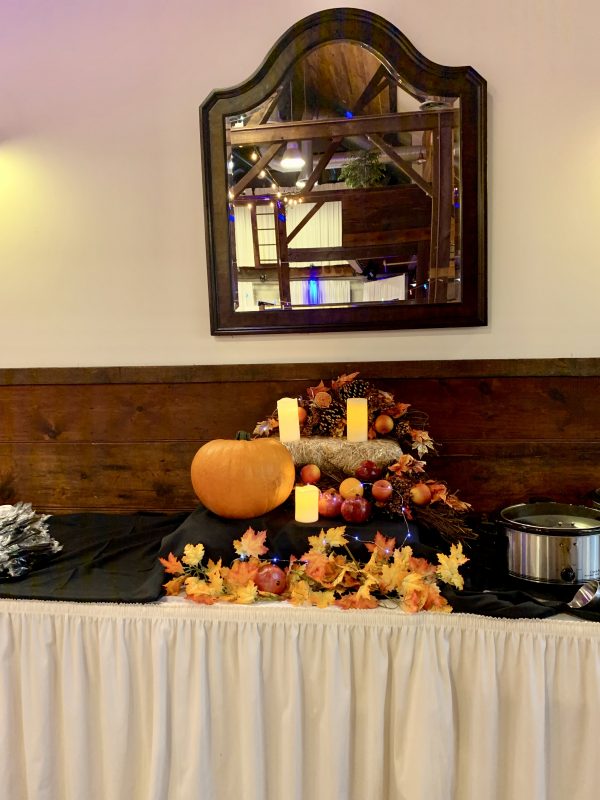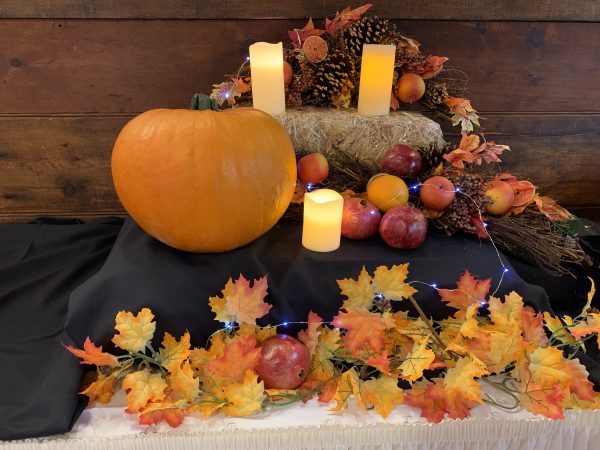 Sliced oranges added flavor to the hot spice cider. There was also hot water for tea and coffee. Simple center piece for one of the food tables is affordable and so pretty. Sprinkled brightly wrapped candy and cups of mixed nuts combine for the finishing touches!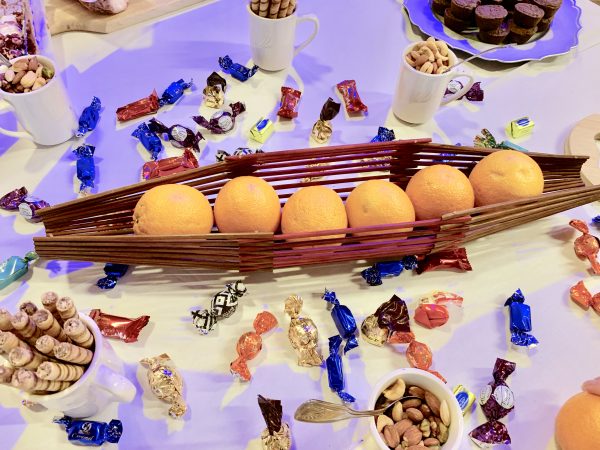 The menu was assorted cheeses and crackers, apple slices, cookies and brownie bites with wrapped chocolate candy and mixed nuts (no peanuts). Nothing was home made. Lily and I went to Costco. Every one of us on the team often are very busy and making food for large events is just not possible. Purchasing tasty food really is fine! We had a strict budget and came in under by $13 thanks to Lily keeping track as we shopped.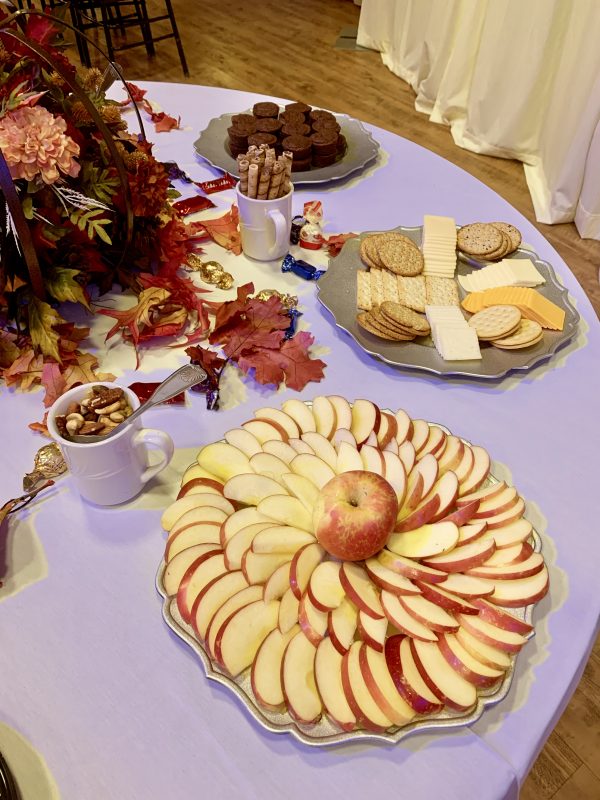 Food is an important part of events and gatherings. This was not a business meeting. And it was not a dinner substitute. Offer the appropriate food for the gathering. You don't have to have excessive food or decorations. If you tend to over buy food, do what I do. Take a price conscious person with you who has a calculator to keep you on target!
We were meeting for fellowship, conversations and sharing.
That's why we used table tops instead of larger banquet tables. We wanted to promote movement around the room for conversation. The photo gallery of Women with Tattoos who shared their stories was a focus for the night. Along with our speaker, a few women would share their story behind the tattoos. It wasn't a long program on purpose allowing time for interaction afterwards.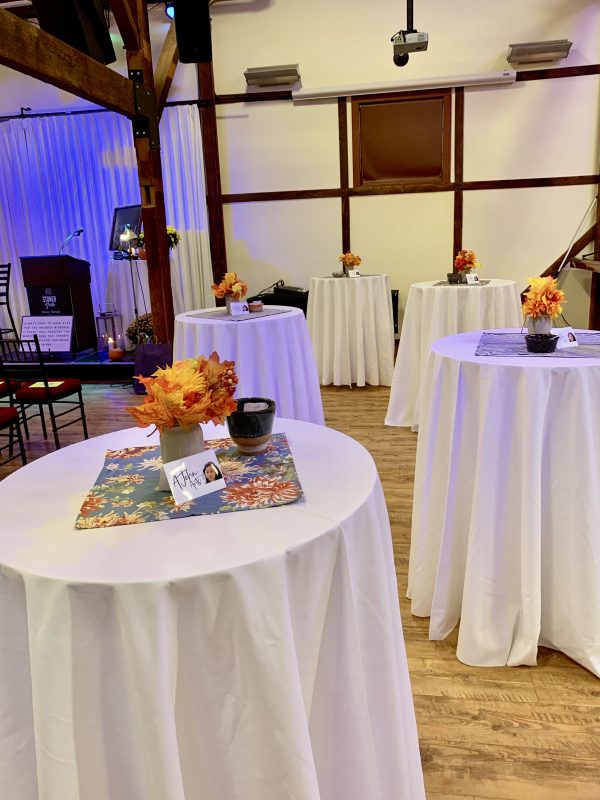 It wasn't a long program on purpose allowing time for interaction afterwards. The food stayed out and the candles were bright so not one felt they had to rush out. We were able to quickly pack up afterwards with everyone pitching in.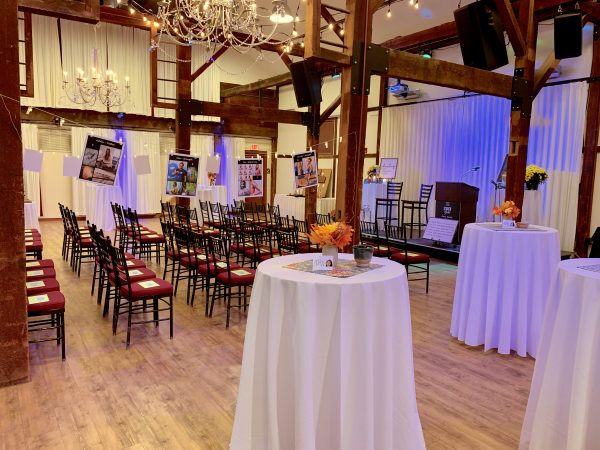 The team graciously allowed a display and sales of Amy's handmade ceramics who is currently a junior working toward a major in studio art. Yep, she's one of my amazing beautiful daughters. It's a start for her to sell her work. Starting a business is not necessarily difficult but it is involved! Other woman owned business had their cards display too.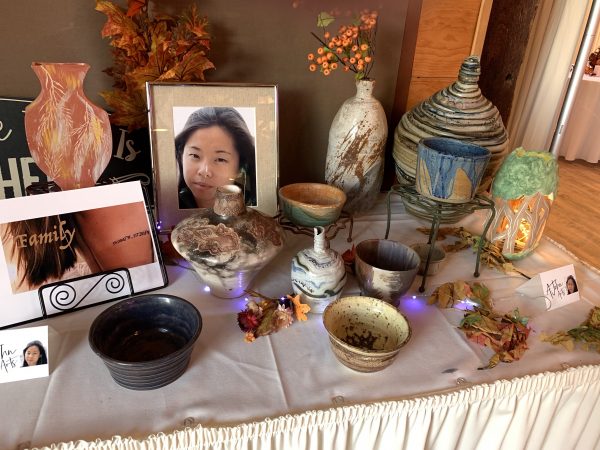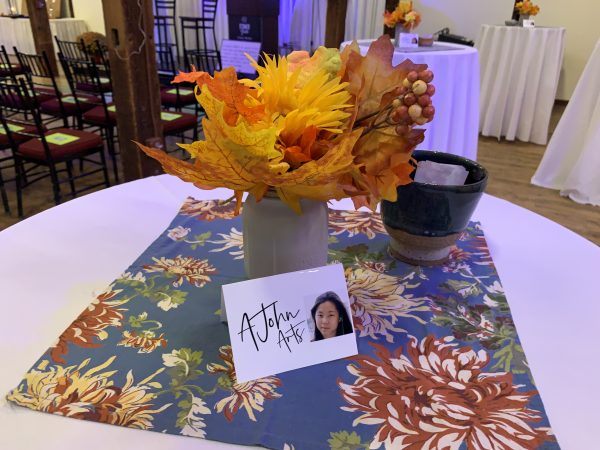 Reminder cards for our next event were placed in her bowls on each table top. Note these pretty painted mason jar table arrangements were perfect and affordable. We used them last year.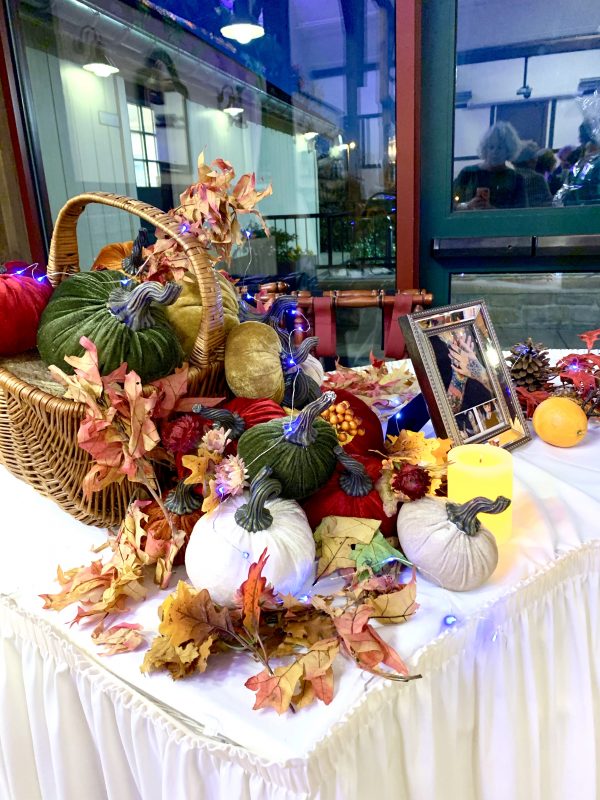 As I emptied my autumn bin in the hallway I sat on the floor inspiration struck. I tried out this cascade of pumpkins with the old German market basket just sitting on the floor to see if how it might be a good large arrangement for the welcome table. I think it turned out fabulous. It was not anything I had in mind until I was checking out what I had in those bins! Of course we added fairy lights. Having the larger basket on the side gave depth and height to the cascade arrangement. Individual leaves scattered added more depth to the richness.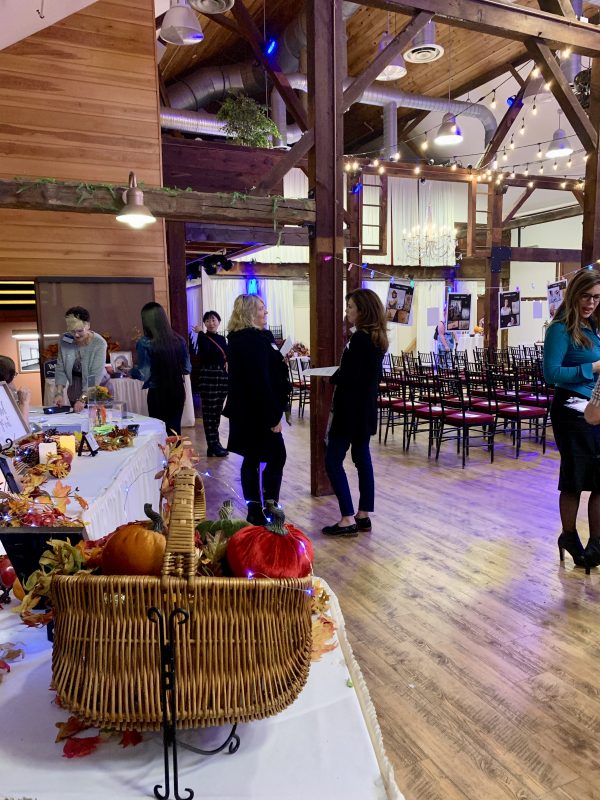 Hopefully, this will help anyone planning for a large even in a venue or your home. It can be a lot but you don't have to be an event planner to decorate beautifully. Cohorts, a creative touch and a budget or a stash are wonderful to have working together.
Nearly 35 years ago when I started doing this for church and other events and for our home, I had no stash and no extra money. Often there was no reimbursement. My cohorts and I dragged in wildflowers and stripped our yards and gardens. Dried leaves and our collected brass candlesticks graced the tables. I hunted down cheap and pretty decor with themes in mind. Coupons were my shopping buddy.
The search can make for great memories. I love the time one of the older women in our church who always was dressed for our events jumped a huge highway side ditch to get the Black Eyed Susans for our tables. We helped pick the burrs that attached themselves to her beautiful suit! Out of the box thinking!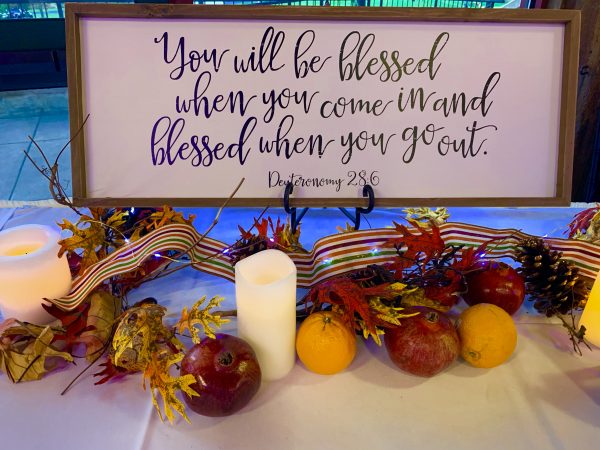 Creating a welcoming atmosphere and blessing attendees is pleasure. It does take planning and work but oh so worth it! Hope this helps as you plan for your home gatherings or the next event!
~~~~~
Signs: Hobby Lobby Pumpkins and other decor: Home Goods, Michael's, Pier One, AC Moore Event sponsored by Lancaster HUB, Stonecroft