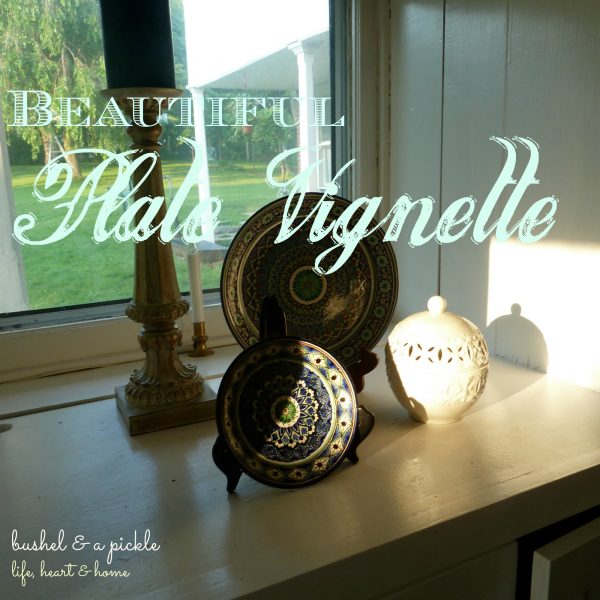 Plates are an easy way to create a beautiful vignette.
Plates often attract my eye in the markets, Home Goods and yard sales.  Sure, I have sets of dishes and I also have individual plates and platters collected from years of homemaking here and abroad.  I like to display our souvenirs from homes abroad and stateside.
A beautiful vignette pleases the eye and is not jarring. Here are some of my rules
but they are not hard and fast!
I. Use plates of various sizes with complementary colors and designs.  
2. Have multi-sized plate stands on hand.  
I prefer wood ones over plastic.  Pier 1 and Home Goods and other home decor or craft stores usually have these vignette necessities.
3. Add other elements of varying heights, shapes, colors and sizes.  
In this one, I used a tall candle holder and a lidded jar.  The jar is a neural element allowing the intense plate design and colors to stand out.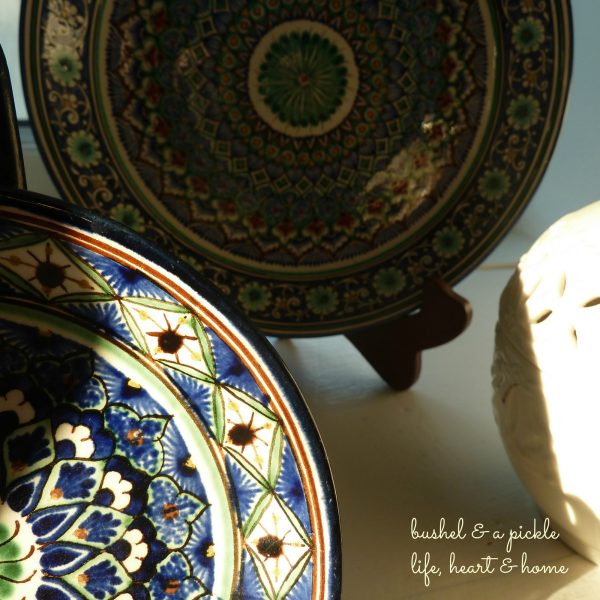 4. Vary height and sizes of elements.
5. Usually group in threes.
Why the candle stick or jar? I had the preverbal  three in this deep window setting but needed a place for the tall chunky candle stick while I was making some changes in another room.  So I stuck it in the back and loved it so much, it has stayed.  It helps fill the space.  So even it is!
6. Consider the scale of the spot you are placing the vignette. 
This spot is deep and tall, the bottom half of a window is the back.  Vignettes that are too small or too short are lost in the space.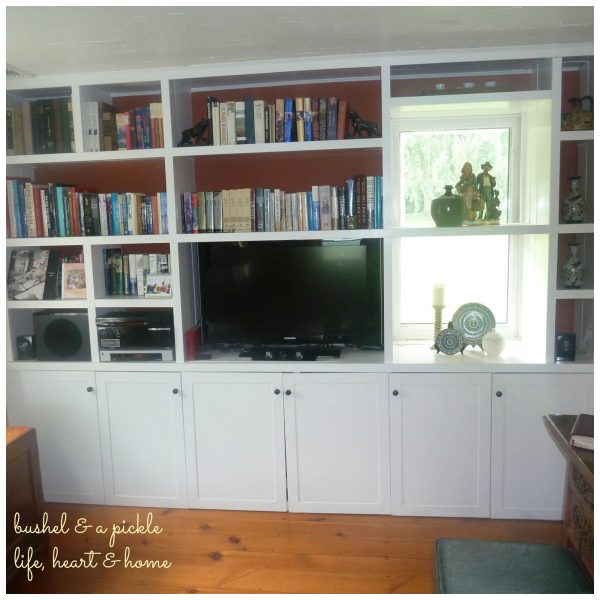 Enhancing the beauty of our farmhouse living room is a plus.
Don't you just love the intense colors and amazing designs?  They shine in this space!
Plates  Central Asia markets
Candlestick & jar  Home Goods
Plate stands  had for years
Ivory candle  AC Moore
This is not a sponsored post.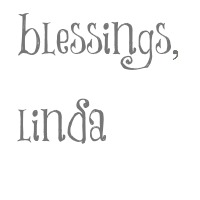 linking this week
Wow Us Wednesdays    A Delightsome Life
Thursday Favorite Things Blog Hop