Bringing Autumn Inside is from a previous year but today I'm resharing it for my readers, you to hopefully inspire and help you to think forward to cooler days. Autumn is a favorite of mine! Looking forwardto getting my pumpkins out.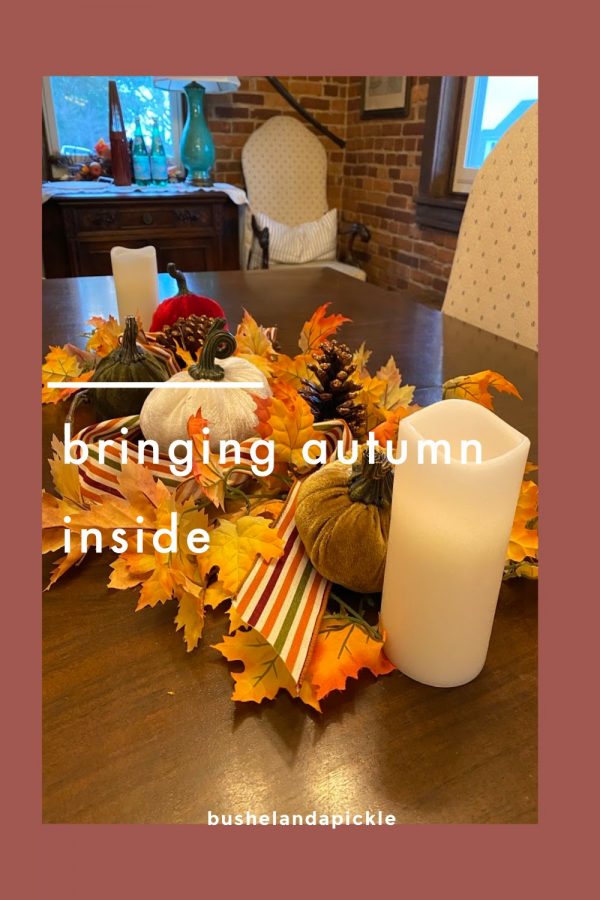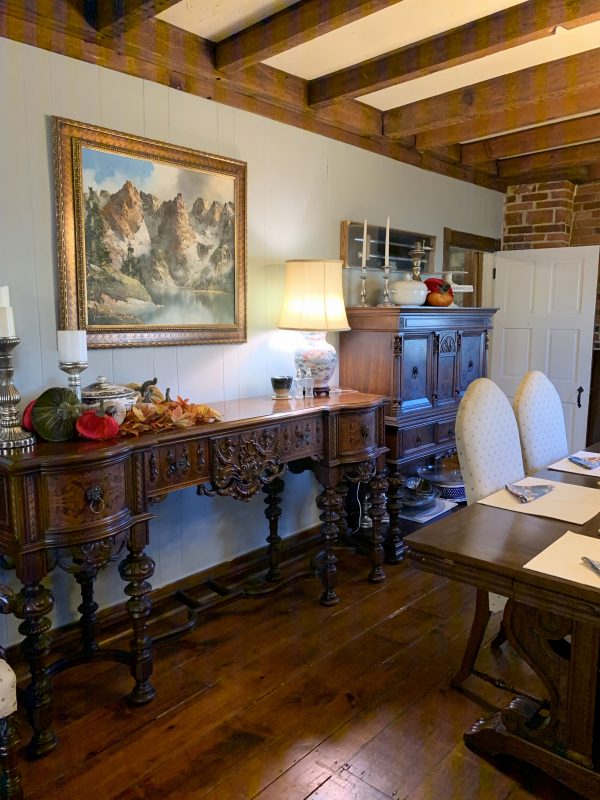 Gosh! All of a sudden, it is fall! The cool weather came on us so quickly the leaves have not changed yet. I have managed to put some touches of fall around, mostly in the dining room. It's just so easy to decorate with all the flat surfaces of the amazing reproduction Italian renaissance dining furniture. It was Jim's great Aunt Daisy's. As a child when he visited her NYC apartment, he loved pushing the servant button discreetly placed under the table top with in easy reach even for little fingers. Aunt Daisy's maid did not love it. Nothing happens when I push it!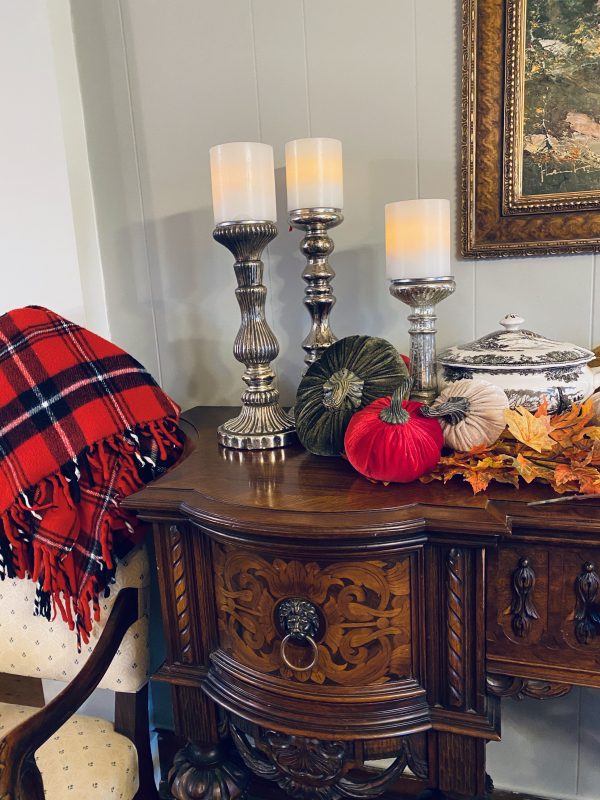 Velvet and soup tureens
The beautiful velvet pumpkins I've collected over the years were part of the arrangements on the buffet and china cabinet. I used my Friendly Village soup tureen on the buffet surrounded by golden leaves and mercury glass candlesticks. My daughter and SIL gave the tureen to me ten years ago. She knows what I like!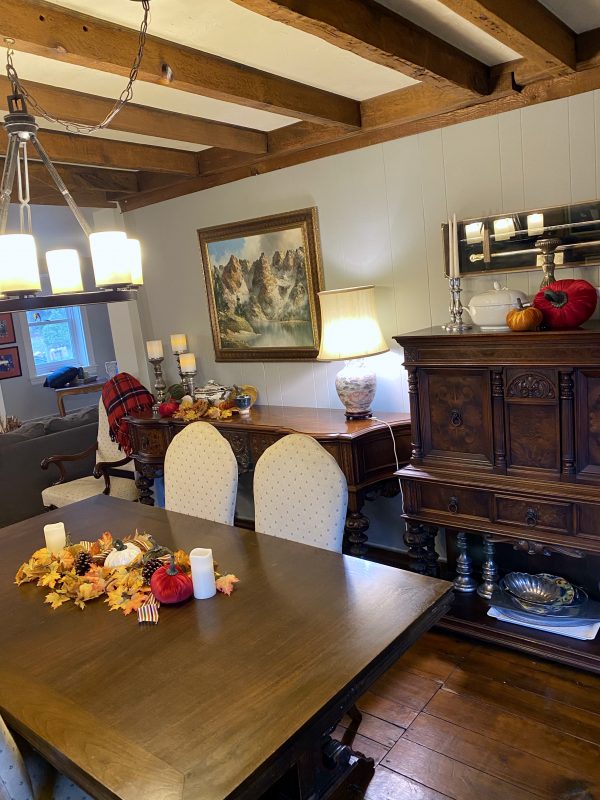 The table centerpiece is long and narrow leaving room for placemats when we eat in there. I don't have to move it each time. Even if I did have to move it, the arrangement is a simple one. There are 2 battery operate candles at each end with the pumpkins and leaf garland cluttered together in the middle.
I love how every time I walk in these main rooms I see the rich colors of my favorite season. On top of the china cabinet are a large and small velvet pumpkins with a white Rothschild soup tureen and tall pewter candlesticks.
hand made pottery in the living room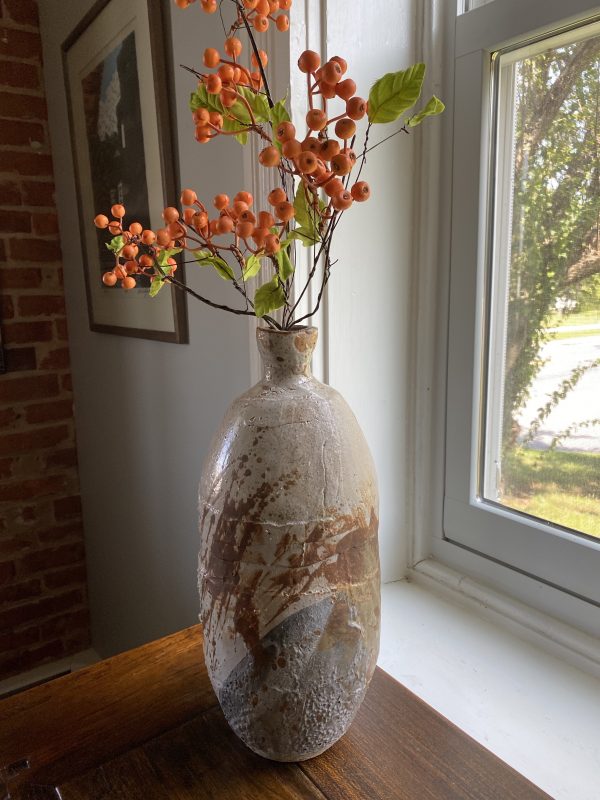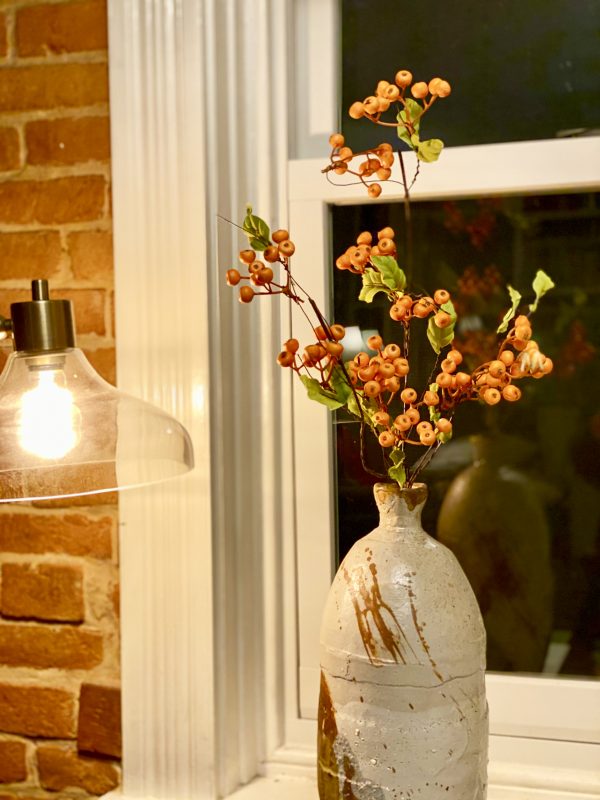 Sometimes just a branch in a large tall vase is all you need for big impact! This one is hand thrown pottery by AJohns Art. The artist is my daughter.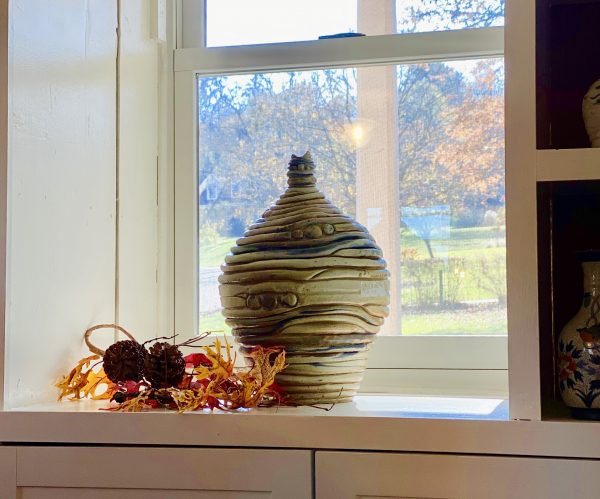 This is another of Amy's pieces, a hand coiled. Can you see the different browns and blues in the swirls of the coils? It represents the strata of the earth. I only added a swag piece of leaves and pine cones bent to suit the space.
Give thanks to the Lord, for He is good; His love endures forever. Psalm 107:1
Enjoy every day of this season!
Don't forget to sign up below to have new blog posts delivered to your inbox!
~~~~~~~~~~~~~~
As an amazon affiliate, i may receive a small commision from purchases made through links provided at no extra cost to you.
These items are similar to those I used but purchased several years ago.