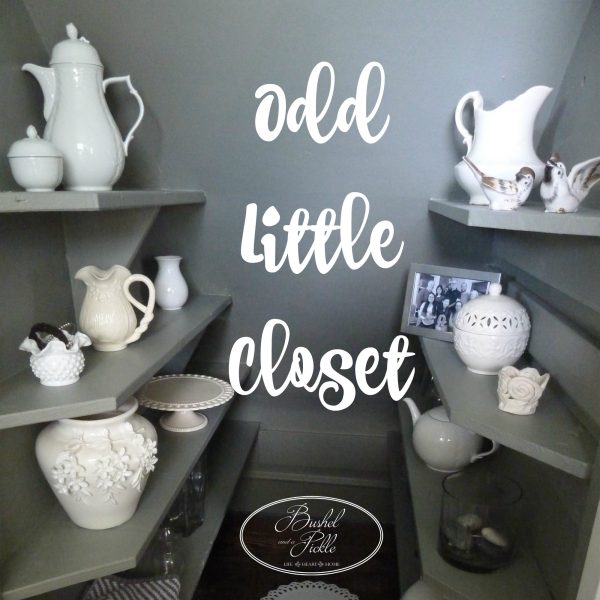 Summer is over! In the oppressive heat we are experiencing in central PA, I long for the pool to be open.  Tomatoes are falling off the vine. We can't collect them fast enough.  After a prolonged hiatus from blogging I finally am posting again!
Hope you like this one.  It is releated to repainting our kitchen.  Gosh, it take ages to get it all done.  I love our deep grey as a neutral for whites and pops of color.  I do love seeing the white rooms and soft palates but ultimately, gimme some color!  Some drama.
Does that  mean I am a drama queen?
Here is my solution to an odd little space….
One of the charms of old houses are the quirky  jewels often other wise know as "What the heck do I do with this?
This odd little closet is under the back staircase off the kitchen in the half bath.  It may have been added in the mid – late 1800's or it maybe a more "modern" addition as circa 1920's.  The back of the house including the stairs is an antebellum pre-Civil War addition.
There wasn't a door on it when we moved in.  It looks like a canning closet; the homemaker would use it to store  canned jams and vegetables she put up each year.
Somewhere along the way a fully plumed half bath was added.   The cabinet is situated in the window frame that was closed and covered.  There is no insulation so our toothpaste often freezes in the cold, cold winter!  Brrrr!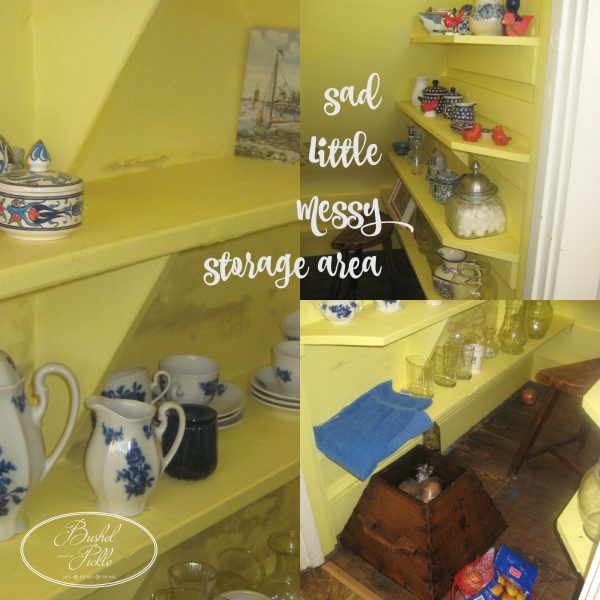 It is one of those areas you just have to embrace or spend tons of money.  I have used it for a display area of a variety of accessories we have collected over the years through travel and living in many locations.
This paint was a color mistake!
While I like seeing some of my favorite things displayed; I do wonder what took hold of me to use this "Bicycle Yellow" paint.  This and the mudroom just became an area I turned a blind eye toward.  I was stumped.  Not being happy with the kitchen paint color didn't help either.
As an aside, painting those shelves is not easy at all.
Not at all!!
My dear husband did the painting with all the bends and squats.
I gathered some of my white pieces.  I don't have ironstone.  I have picked up the Rosenthal at a warehouse in Germany.  The white china matches 2 other sets we have that are also European pure white.  The coffee set, teapot and soup tureen are Rosenthal.
Some of the pieces on the shelf are very old.  Others are right from Home Goods.   The small pottery piece is an elementary art project gift from one of my older children.  The collection of stones are stones of memories for my younger girls.  They were shipped from China when we moved back.
The deep blue hydrangea is on the odd little shelf next to the toilet under the window.  The tile, portrait and a needle point are the only touches of color.  I quite like the soft aged gold.   Yet another quirky shelf.
How do you handle quirky spots in your home?    And where do you find your inspiration?
Towels  Wal-Mart
Decorative accessories  Home Goods
Paint Desert Twilight
Birds  My mom's estate
Other items are vintage