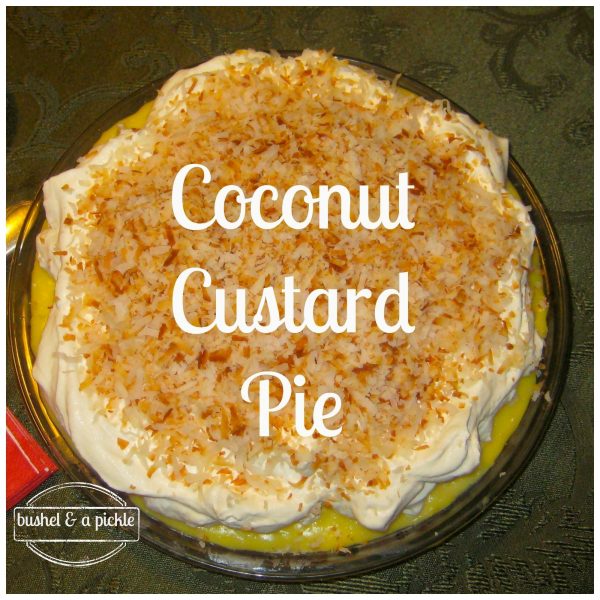 There seems to be a story behind many of our favorite foods even a coconut custard pie.
My husband likes pies with whipped cream or meringue on the top. I don't make them.
Years ago I found I could not measure up to many of the wonderful southern cooks who always brought stunningly beautiful and delicious pies to pot lucks and served to top off a great meal. My specialities lay elsewhere.
This Christmas I ran across a blog, Add a Pinch. I read a few recipes and knew this woman HAD to be a southerner. She posted recipes that mirrored many of my own family recipes.
Robyn is a southern woman from several generations of southern women! I am too by the way.
She had a pie recipe that I knew would make my poor deprived husband drool. Shh, I had to change the name because he only wanted coconut custard pie.
For this year's Christmas dinner, I asked Jessica, our soon to be DIL and a very good cook to make the pie. Last Thanksgiving she made an incredible apple pie. See here for that recipe.
This Christmas, I asked her to make THE pie. It was so good she had to make another pie the day after.
We went a just little overboard.
There is more behind the story. Over the years we have hosted many people on holidays who like us are far from home. I try to ask what would you like to have; what is a favorite dish on this holiday? Then I try to add that to the meal.
I thought I asked Jessica but I don't think I did this year for this holiday.
When I asked her to make the pie she told me it was one she and her mom had at Christmas!
They added bananas which we left out. It will now be part of our annual menu!
A new tradition!
A very delicious new tradition!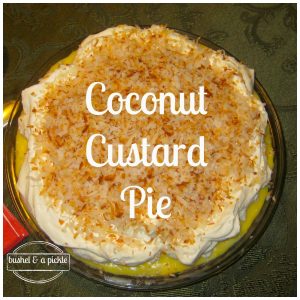 Coconut Custard Pie
Delicious classic custard pie; a family favorite from Robyn @ Add a Pinch
Ingredients
1

pie crust recipe or graham cracker crust recipe

Pie Topping:

1/2

cup

flaked sweetened coconut

Custard:

1 1/2

cup

coconut milk

1 1/2

cup

half & half

5

egg yolks

microwave the whites for the dogs

3/4

cup

sugar

4

tbls

cornstarch

1

tbls

butter

1 1/2

cup

flaked sweetened coconut

freeze left over, keeps beautifully

1 1/2

teas vanilla

Whipped Topping:

2

cups

whipping cream

1/4

cup

sugar

1

teas vanilla
Instructions
Prepare crust according to instructions

Topping:

Spread coconut evenly on baking sheet. Bake at 350 degrees for 8-10 minutes until coconut just starts to turn toasty brown

Set aside to cool

Custard:

Pour together coconut milk & half & half in liquid missing cup

Whisk in egg yolks

In a heavy bottom sauce pan, add sugar , cornstarch.

Over med-low heat slowly add while whisking in egg & milk mixture

Whisk constantly!

Constant stirring will prevent scorching or curdling of custard mixture

Bring custard mix to a boil.

Continue to stir constantly using a wooden spoon or heat resisting spatula

Boil for ONE minute

Remover from heat

Add butter, coconut and salt blending well

Spread custard mix into cooled pie shell

Cover lightly with plastic wrap pushing wrap lightly close over custard mixture and refrigerate for 30 – 45 minutes

It will not make a firm set; this is custard

Whipped Topping

Add sugar to whipping cream in a large bowl

Whisk with electric mixer until stiff peaks form

Add vanilla; whisk until blended in

Spread off cooled custard pie

Sprinkle cool toasted coconut evenly over top

Enjoy!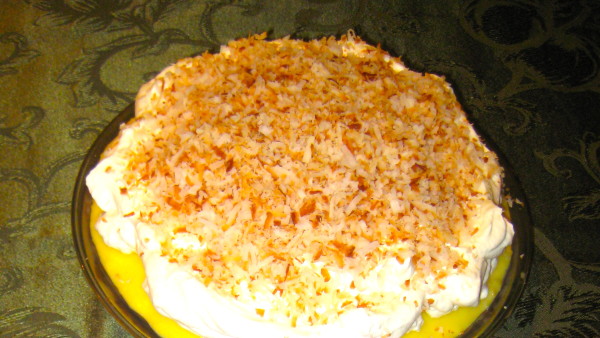 This pie makes a beautiful presentation but once you cut, the yummy custard covers you plate for a "very m m m m" satisfying taste! Remember it is so good we had to have another one the very next day!
Now, what shall I call it?
What new recipe did your family fall in love with recently?
~~~~~~~~
This site contains affiliate links to products. I may receive a commission for purchases made through these links at no extra cost to you. The products are similar and items  our family enjoys.                             Thanks for your purchases.

~~~~~~~~~~