We are mere days away from Thanksgiving. Is it too late to decorate? No!!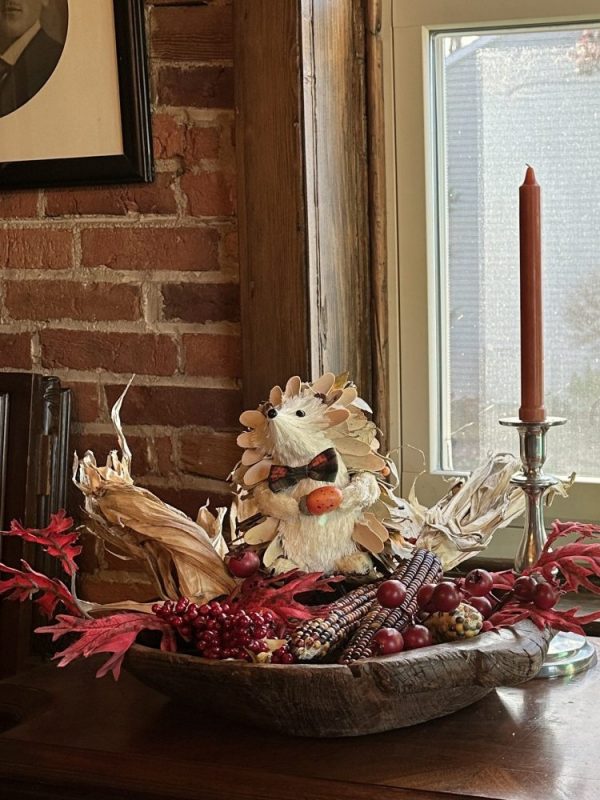 I finished adding fall decor to our downstairs this week. I had several goals.
Make our home welcoming for the season and family visiting
Use only decor I really like and are nice quality
Toss any items that were damaged and not loved
Enjoy the process
Traditional Elements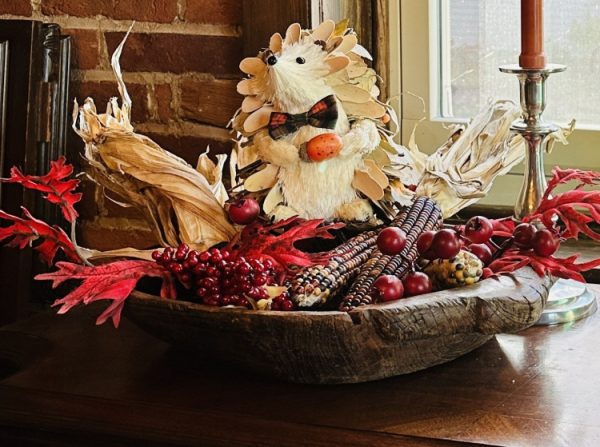 I often use my antique dough bowl from our years in China. Indian corn, stems of traditional fall leaves with a few large deep red berry stems were tucked in around the dried corn. I have had those ears of corn from our local grocery store for more than 7 years.
The cute hedgehogs made with natural elements nestled in the arrangement is new from last year.
Often a mistake in making arrangements is to not add enough fullness of the stems of leaves or flowers. Or worse, making do with stems that don't work at all. Use more or use a small container. I decided to not keep the leaf garlands that were missing leaves or delapidated wreaths. Out to the trash without regret. Better quality and what you love is better the having decorations you can create vignettes you love!
I did not include a candle in the dough bowl. If I do It is always a candle in a jar so there is no open flame that would have any contact with the foliage. I sure don't want an accidental fire. The addition of the brass candlestick with coordinating candle finished the vingette on the cradenza.
Trash or Treasure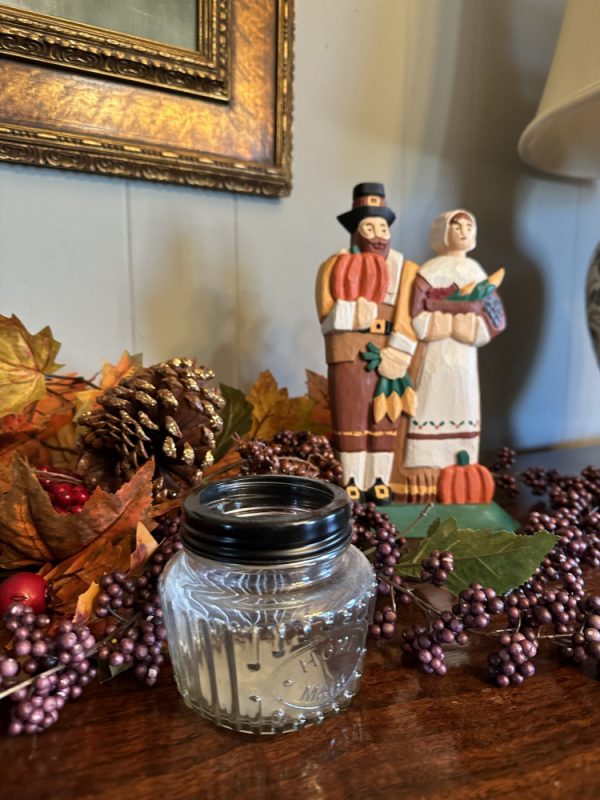 The question when sorting through seasonal decorations is Trash or Treasure. Just how long to I hang on to something just in case?
We are at the stage of life where most items should be going out without only very specific ones coming. I took two wreaths not used in more than 3 years straight to the trash can. How many times have I kept items in case I might use it some day? Sad looking stems of leaves and garlands were trashed too. Just maybe there will only be one bin to take to the attic.
My Pilgrams won't go in the trash unless they get broken. I am slow to throw out sentimental items. This is purely a judgment call that does involve sentiment.
I also recommend building your decor collection by shopping the past season sales.
When to decorate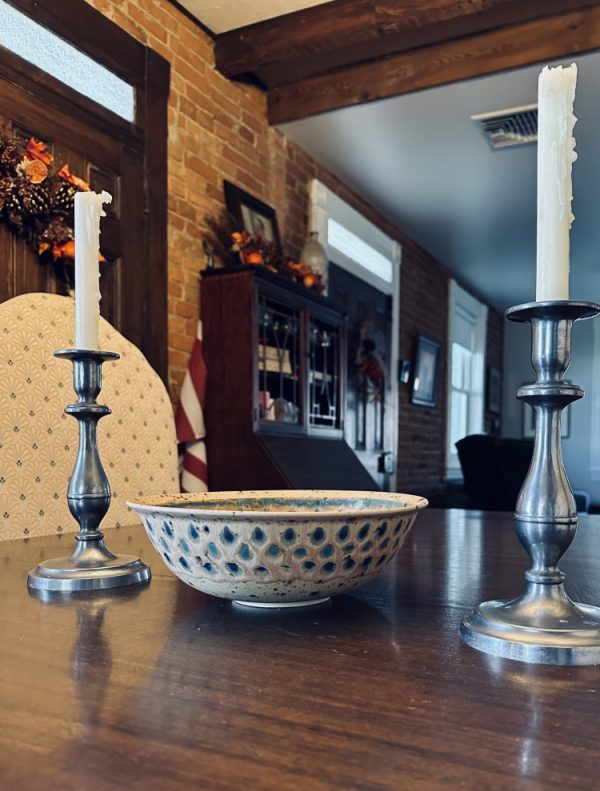 This bowl was made by Amy. It is a beautiful peacock design and is timeless. Pairing it with pewter candlesticks makes for an elegant table decor. I can use this year round.
Doesn't it look beautiful on our dining table!
Though I am a blogger I can't bring myself to do Christmas or any season decor way ahead of the actual day. Autumn's long season; I was just too busy to do it earlier! My family concurs with no super early decorating.
That said, I do love bloggers who inspire up for each and every season to help us make pour homes even more beautiful!
We start Christmas decorating Friday after Thanksgiving. This year it will be the same. Our two youngest grandsons who are those fun years of wonder will be here with their parents. I'm looking forward to decorating with them!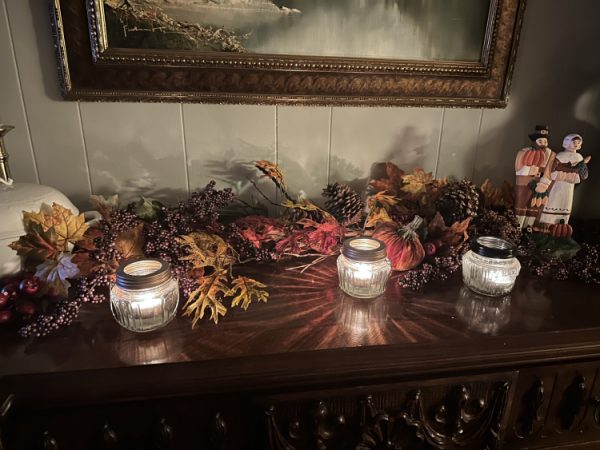 ~~~~~~~
This site contains affiliate links to products. I may receive a commission for purchases made through these links at no extra cost to you. The products are the same or similar to what I have used. Thank you for any purchases you may make!

~~~~~~~