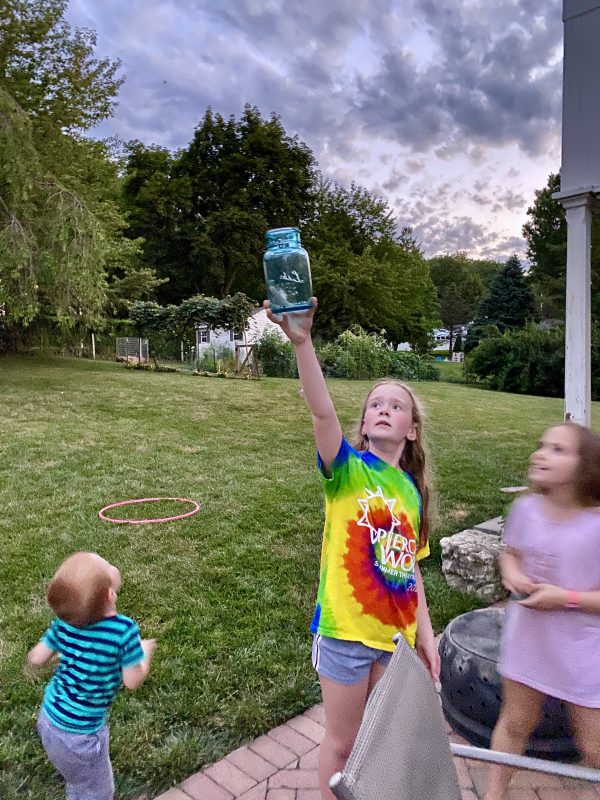 Summer is drawing to an end. Fall is in the air! Cooler mornings!
Fall also means leaves will be falling soon, I promise! If you need to seed your yard for grass, that time is coming soon. Spring flower blooming bulbs must be planted in the fall before the first frost.
Jim has created an oasis of peace and place to play for our family!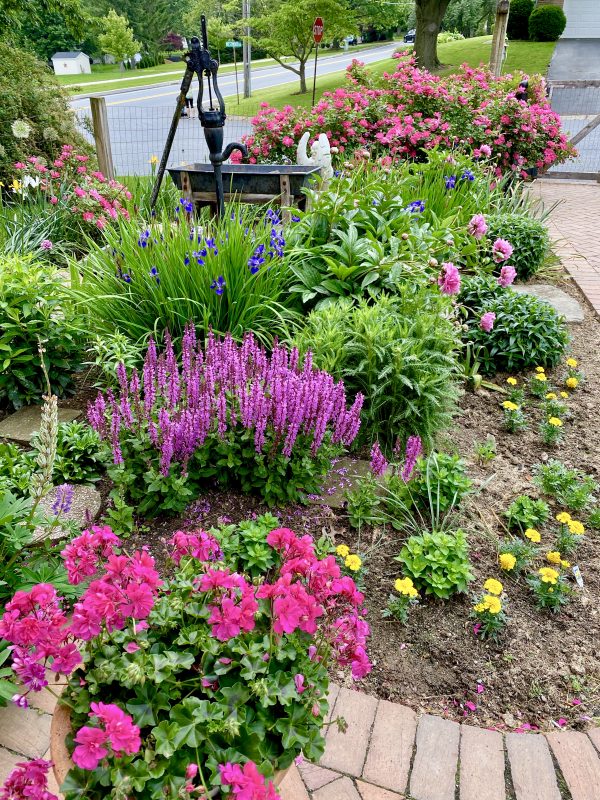 It has taken years to get it to our dream yard for our farmhouse home. When we moved it was was overgrown. After a lot of hard work, we finally had it cleared.
Jim has created an oasis of peace and place to play for our family!
You've seen the side flower garden and patio. You've had peeks of the vegetable garden.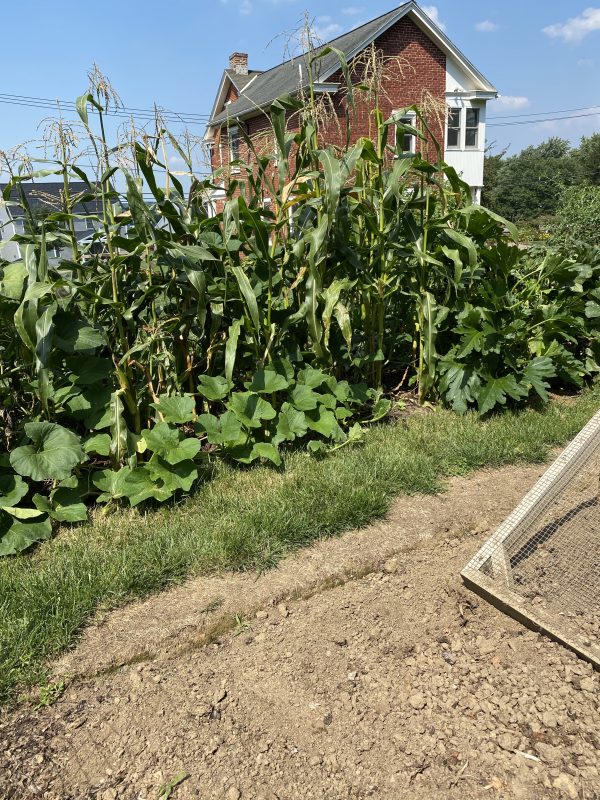 Today, I want to share with you what Jim does to make our gardens so productive and beautiful. Also, how I support him in making this happen.
It's a lot of hard work and passion for his gardens. It's also Composting!
Why compost?
Composting is organic.
Compost is made from yard clippings and leaves. No bagging for trash pick up.
Kitchen scraps are collected and added in.
Compost enriches the soil naturally.
It is friendly to the environment.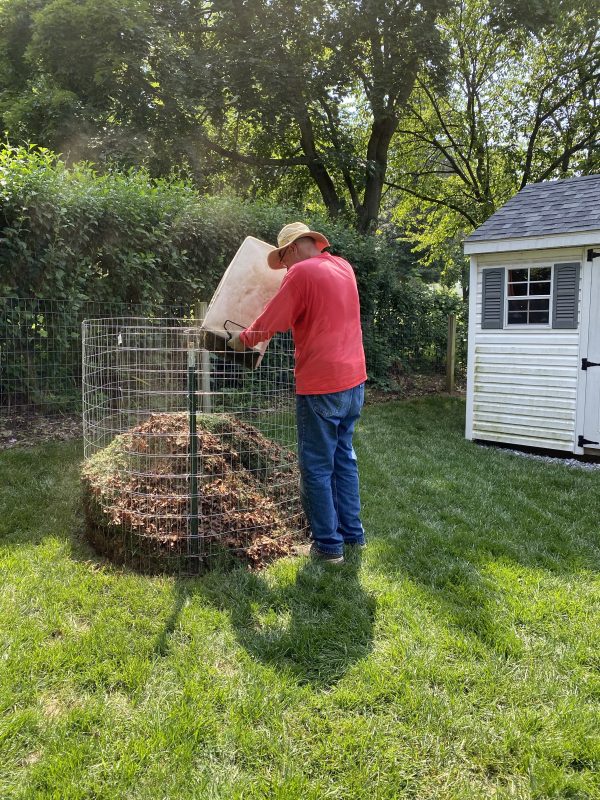 Composting starts in the kitchen. It grows with grass clippings and fallen leaves. That meant my kitchen!
He had tried composting earlier but I wasn't very supportive. It was a mess of kitchen organic scrapes that frequently smelled. There was not a container with a lid.
I'll be honest. When he started he wanted me to save the kitchen compostable items to add to the pile of grass clipping and leaves, I wasn't thrilled. Collecting kitchen scraps is messy. Because I love him and wanted support his hobby, I agreed. But there had to be some rules!
Here are rules we established.
1. I would not do the dumping.
2. The container would be dumped before it started stink.
3. I would add kitchen scraps and coffee grounds regularly.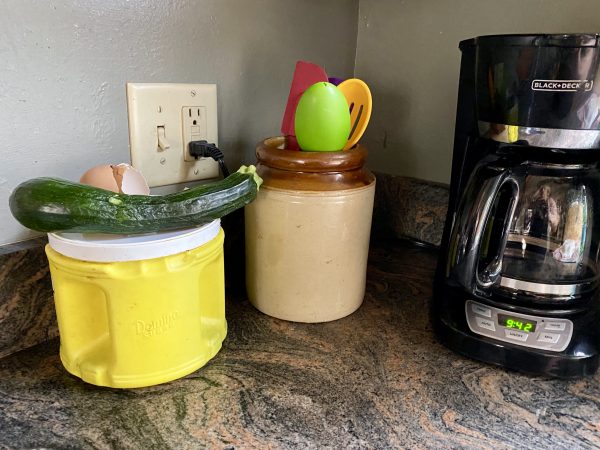 I thought about buying a cute container for the counter top. Before I could find one, Jim set out a plastic Domino Sugar canister. It is easy to rinse before adding to the dishwasher and I like the pop of yellow!
A key for an organic gardener like my husband is compost. His gardens are organic which means he does a lot of composting to make the soil rich with needed nutrients.
The rich dirt in the beds didn't happen naturally. Over the years he had to dig up rocks, large and small. When the yard has been a barn yard, gardens and who knows what else during its 200 year history it needs cleaning out! He planned and defined the beds in his garden. Jim is continually building up the soil by adding lots of compost!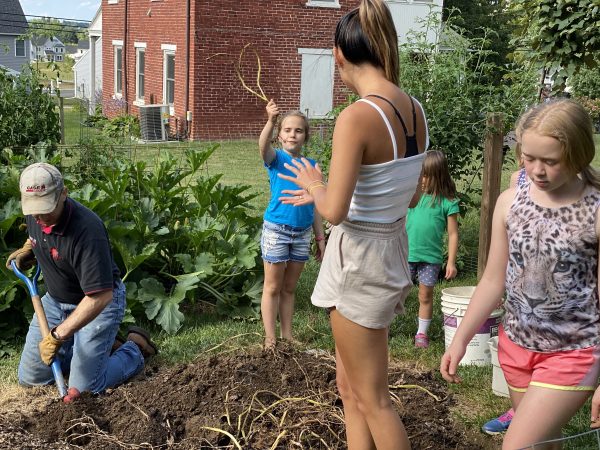 Originally we considered the drum style but his dream garden would need a larger space. So he bought chicken wire and metal fence posts at our local hardware stores and on Amazon to erect 2 pens. They are inside the garden since to keep the dogs and other critters out!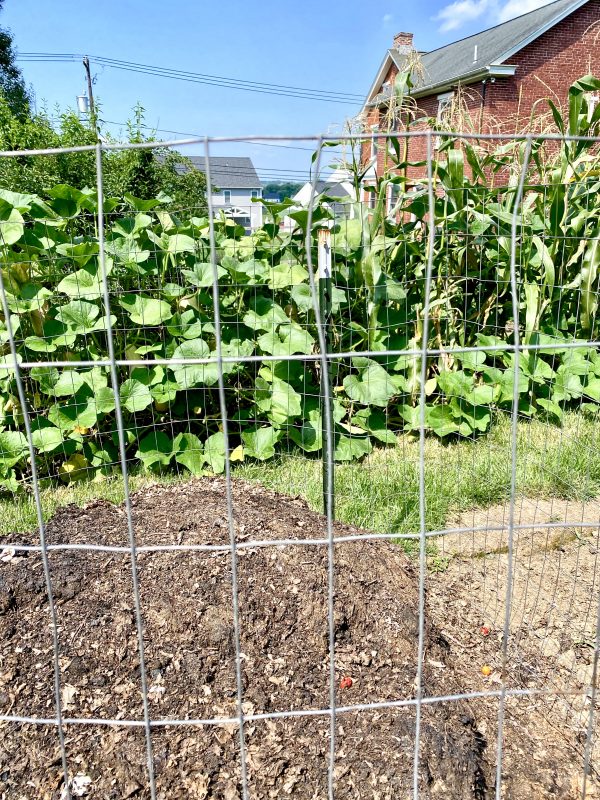 One is for leaves and grass clippings. The kitchen container is also dumped there. It is stirred in. Eventually after decomposition, it is moved to the other pen.
It sits in the corner of the sink and coffee maker. That makes saving the coffee grounds a snap. What do I add besides coffee grounds? Egg shells, old but not rotting vegetables and fruit and the peels. There are some very important don't adds!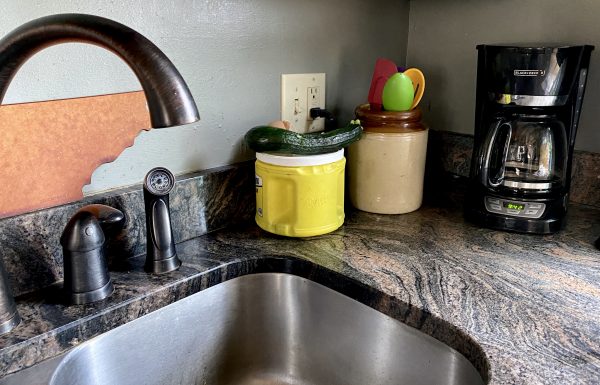 Do not add to your compost!
No
kind of feces at all!
meat, bread, rice or other gluten products
dairy products
deceased plants
Only certain organic matter should be added to the compost pen.
Add
Kitchen scrapes
leaves, wood chips
grass clippings
It has to be stirred often or you and your neighbors may complain about the intense smell. Think back to chem classes when the experiments had a strong burning sensation smell. The stirring promotes the decaying process.
Carbon is produced by leaves or wood chips. Nitrogen comes from grass clippings. A bag of extra organic soil acted as a starter. Layer it and wait for it to begin to heat up then mix it with a shovel. It's called cooking. Continue to stir after adding new ingredients.
Please note if you want more details on organic gardening please google for more information.
His second pen is mixed and put through a sieve before turning into the dirt and beds. Yes, it is a lot of work. Work that being him pleasure and satisfaction. Here are some fruits of his labor!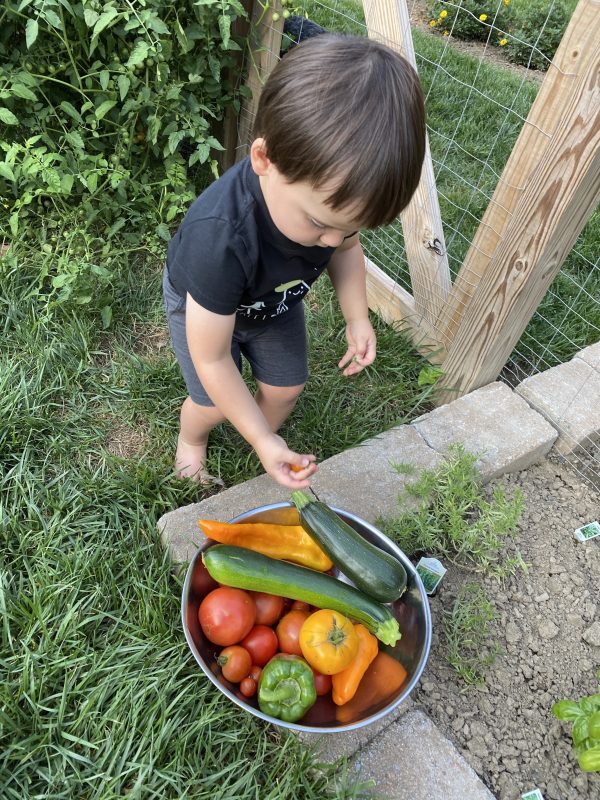 Soon, the autumn vegetables of his labor will be ready for Harvest feasting!
~~~~~~~~~~~~~~~~~~
Don't forget to sign up to subscribe to receive regular notices of future posts! Thank you.
~~~