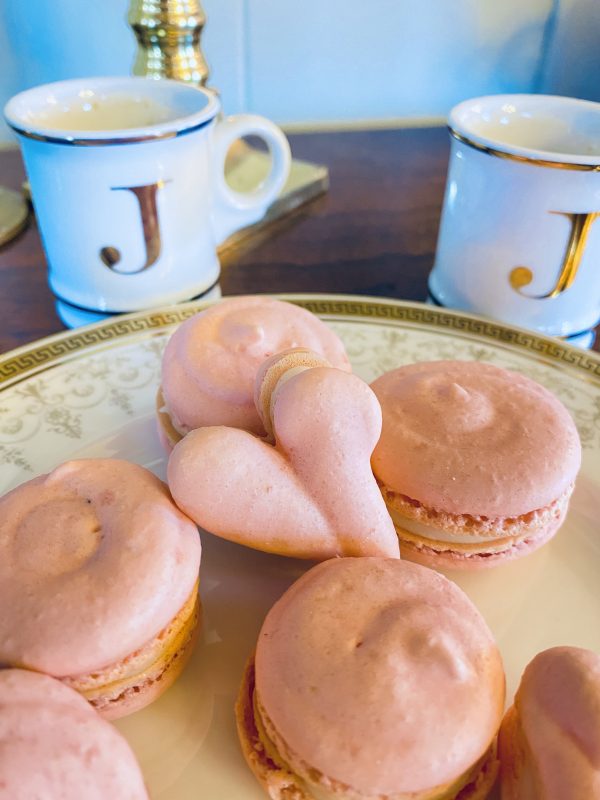 Valentine's is coming soon. Do you have somethinng special planned? I did sort of..
Aren't these macarons pretty? Dainty and romantic too.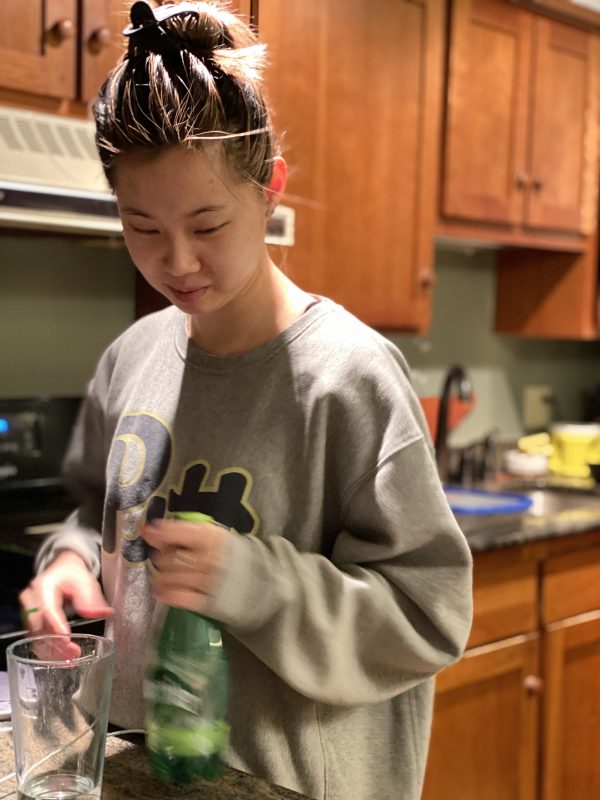 Both my girls like to bake. Amy made these sugary delights 2 nights before she left to return to school. Snow storms held her up. When you go to a university in the snow belt, you watch the weather in the winter months very carefully before traveling.
I set some aside for later.
They didn't last. Do delicious sweets last long in your house?
afternoon esspresso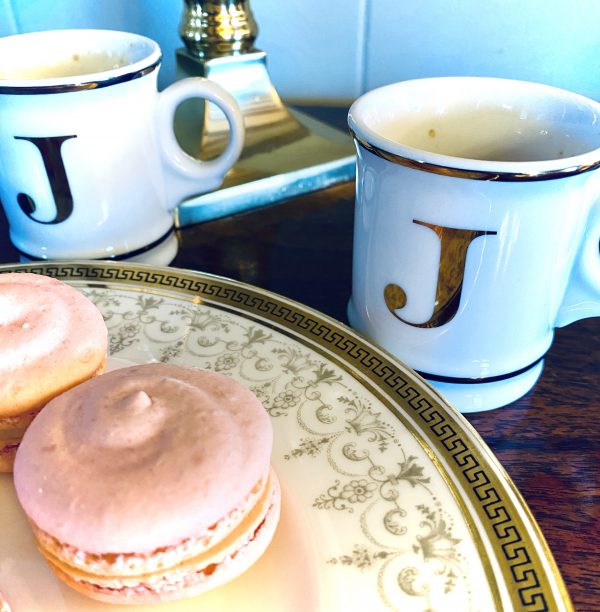 Jim made espressos yesterday afternoon. Sweets are a perfect pairing. He found those macarons I had sort of hidden in the fridge.
I was planning of a special Valentine post using the macarons. Turns out yesterday was the special time!
Love the gold trim on the time espresso cups. Meg gave them to us for Christmas a few years ago after I bought myself a fancy Nespresso coffee machine for my November birthday.
I almost felt guilty then decided not to feel guilty. I love it! When family comes over, they love the esprresos and flavored cups of coffee in the afternoon too.
kitchen connection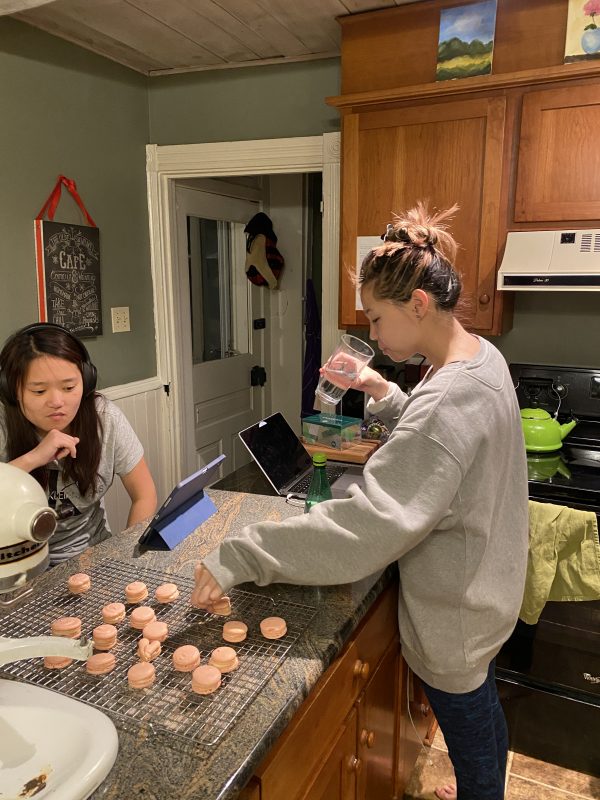 Often, when they're both home at the same time, the kitchen is the place they connect. It makes my heart sing.
When kids begin to drive, go to school, college and work, the kichen is often where connections are maintained. And at random times. Normal dinner times somehow are not normal times any more. They are growing-up. If it takes sitting in the kitchen at weird times and it seems to be a good time; Jim or I will join them together or separately.
Our Kitchen Aide mixer gets a lot more use when they are home these days. It's oldie but goodie for over 30 years.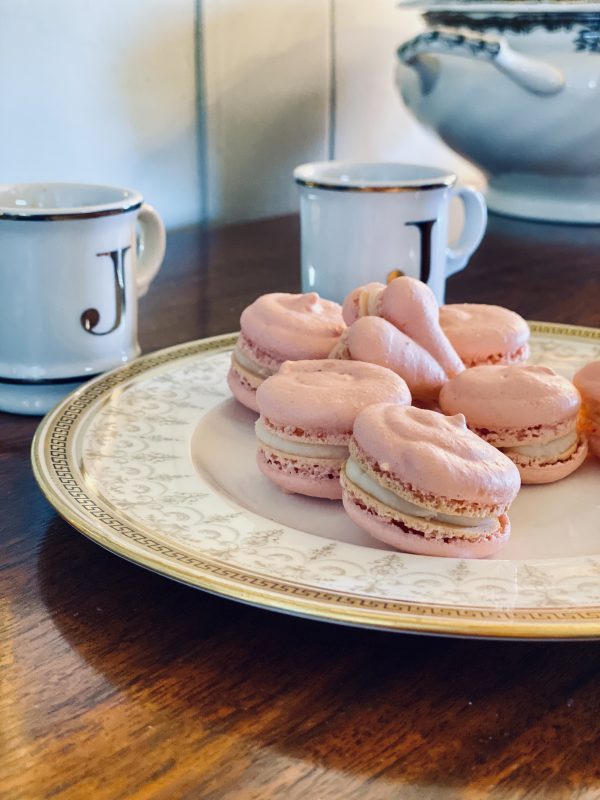 a SPECIAL touch of pretty china and cups
I put the pink macarons on a pretty china plate just to make the afternoon coffee feel a bit more intentional and a tad special.
Isn't so easy to just grab a mug and a cracker or cookie and to not take the extra mintue to add a touch of special.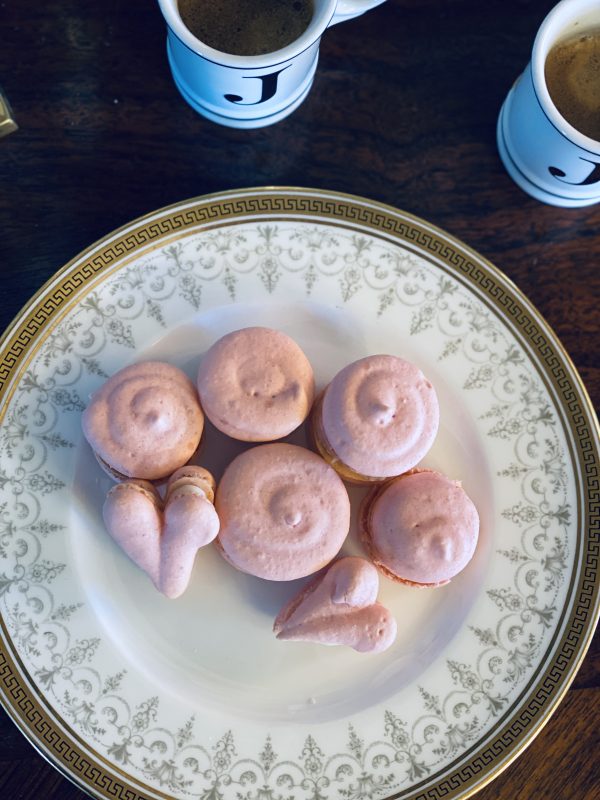 There were only 2 heart shaped ones. The filling is puréed fresh raspberries and cream chesse mixed together with powdered sugar.
Totally decadantly delicious!
enjoy afternoon breaks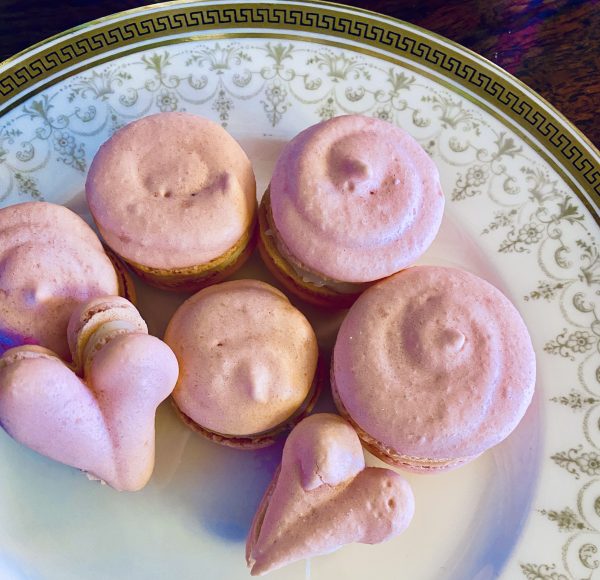 So.
Go, enjoy a cup of coffee or tea with a special treat.
Don't wait for Valentine's Day! Go ahead; have that special coffee break now.
happy Valentine's Day early!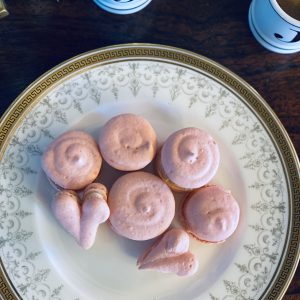 Pink Macarons
A French inspired sweet meringue-baked confection
Equipment
Food processor, baking sheets or parchment paper, cookie sheets, 2 pastry bags with round tip, sieve, electric hand held mixer with whippimg attachment, cooling racks, 2 mixing bowls
Ingredients
1 1/2

cup

powdered sugar

1

cup

almond flour, finely ground

2

1/2 teaspoons

salt

1/2 teaspoon added at two different times

3

egg whites, separated

must be room temperature

1/4

cup

granulated sugar

1/2

teas

vanilla

2

drops

pink food coloring gel

a little amount of color goes a long way! Substitue liqiud red dye with one drop. Take care to not add too much liquid.
Filling to make while macarons are baking
1

8 oz

block of cream cheese

1

cup

powdered sugar sifted

No lumps please

1

teas

vanilla

1

teas appx

raspberry jam or preserves
Instructions
Prepare baking sheets with silicon baking sheets or parchment paper

Mix powdered sugar, almond flour and salt together 1/2 teas salt in the food processor on low speed until super fine

Sift through a fine mesh sieve into a large bowl

In a seperate bowl, beat the egg whites in a seperate bowl until and other 1/2 teas salt with the hand mixer until soft peaks are formed. Gradually add the granulated sugar beating until fully incorporated. Beat until stiff peaks form. If in doubt, check by turning the bowl upside down without anything falling out!

Add the vanilla folding in until mixed

Fold in food coloring until just combined. You dont want the egg whites to fall.

Using a spatula, add 1/3 of the alomnd flour mixture at time to the beaten egg whites gently folding it in until all is combined. After all almond flour is combined, slowly continue to fold until the batter falls into ribbons and you can make a figure 8 while holding the spatula up.

Add batter to pastry bag with round tip

If using parchment paper, put a dot of the batter on each of the 4 corners, then put the parchment paper pressing it down. This will keep the paper from slipping. The silicon sheets don't slip so skip this step if using them.

Pipe the macarons onto the parchment paper / silicon baking sheet in 1½-inch (3-cm) circles, spacing at least 1-inch (2-cm) apart. Tap the baking sheet on a flat surface 5 times to release any air bubbles.

Let them sit to dry to the touch at room temperature about 30 minutes to one hour.

Bake in preheated over for about 17 minutes until the puffs in the corners rise. Macarons should not stick to the prepared baking sheets

Transfer macarons to cooling rack. Cool fully before filling

Sift powdered sugar to remove lumps

In the 2nd mixing bowl mix the block of cream cheese until totally soft and mixed

Add sifted powdered sugar very slowly, a little at a time while beating into the filling

Stir raspberry perserves or jam into filling mixture

Add the vanilla and mix throughly. Add small amount and mix to check thickness. Only add a little more if needed so the filling is a good consistancy to pipe on to the bottom. Take care to not make it to soft or soupy

Prepare fresh clean pastry bag and fill it with the filling

The macarons will split natuarally. Pipe on to the bottom of each macaron dollop. Put top on.

Store in air tight container for 24 hours to set. Store up to 2 weeks in the refridgerator
~~~~~~~~~~~~~