Looking for easy meal options? Me too. Pan seared park medallions with pineapple rice meets the easy meal requirements.
Easy flavorful meals are popular options for us. This one was inspired by a special lunch outing with a friend to PF Chang's. Special because it was my birthday! We had a seasonal special…short ribs with pineapple rice. I was surprised at how delicious it was!
copy cat meal
This is my modification of that delicious meal. First, I seasoned the pork medallions with McCormick garlic and herbs seasoning. Find that here.
Sometimes I mix my own. Try this one from fellow blogger at My Home and Travels here.
I seared them in my favorite skillet in a little olive oil. The skillet is heavy bottom and the heat spreads evenly. Bonus; it is so easy to clean! A little oil for the lean pieces of meat prevent sticking and does add to the flavor.
Pork medallions cook quickly. If overcooked they dry out.
Before I cook the pork medallions I prepare the white rice in my rice cooker. Before we lived in China, I used a Le Cruesant pan to make rice. It is now a key small appliance in my kitchen. Rice takes about 20 minutes.
Canned or fresh pineapple chunks or tidbits were added after the rice cooked, I stirred it in. It was good. Amy who eats a lot of Asian food out thought it needed coconut milk to give it a sweet flavor. I confess I have not tried it or ever cooked with coconut milk.
serving ideas
I like to ry to serve food on attractive platters or in bowls for our meals. Not every meal; sometimes we do go a semi buffet style for our evening meals. When we eat in the dining room, I do put the food in attractive dishes.

For this meal I scooped the pineapple rice into mounds on the oblong platter topping it with the pork medallions. I surrounded it with steamed broccoli.
Isn't it pretty!
It is easy to prepare delicious meals that look like you took extra effort but this is a meal that is really easy with great results. Serving it on attractive serving pieces to your family and friends means good food is waiting for you!
We routinely eat our evening meals at a set table. That's true if it is in the kitchen or dining room.
That's always been our practice for our dinners. Parenting tip…it is a subtle way to teach table manners.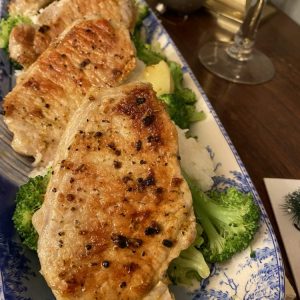 Pork Medallions with Pineapple Rice
Easy to make flavor filled meal
Equipment
heavy bottom skillet

rice cooker

1 knife

small cuttting board

sauce pan
Ingredients
4

pieces

pork medallions

seasoning blend with garlic and herbs

2

teas

olive oil

2

cups

white rice

4

cups

water

2/3

12 oz can

Pineapple chunks or tidbits drained

2

cups

broccoli pieces or 8 – 10 stems
Instructions
Prepare rice according to instructions, usually 1 part of rice to 2 parts of water or liquid in the rice cooker. Typical cook time is 20 minutes.

Sprinkle pork medallions with seasoning

Using the heavy botton skillet add 2 teas olive oil. Heat at medium high

Add seasoned medallions to heated skillet

Brown on both sides, about 5 -7 mintes per side. Take care to not over cook. It will dry the medallions out

Heat water and steam broccoli stems or pieces.

Add drained pineapple (or chopped fresh) to the cooked rice and toss

Mount rice in individual servings. Top with prepared pork medallions. Surround with steamed rice. Serve.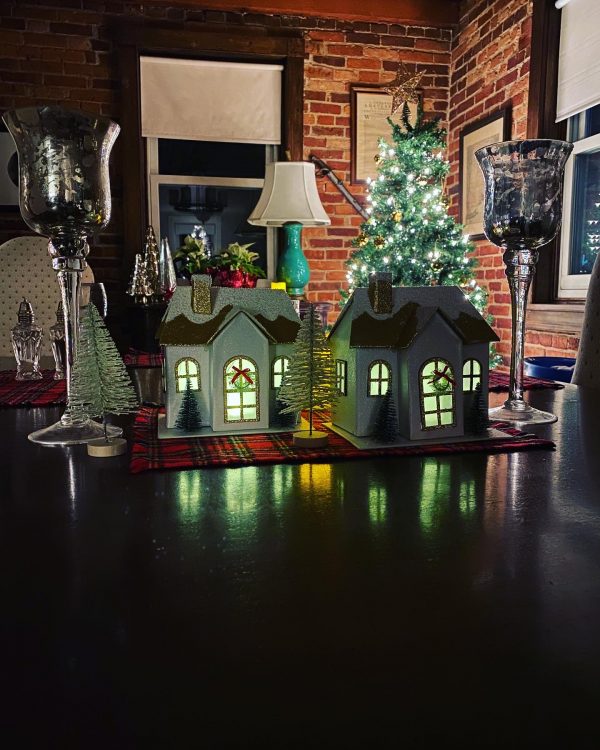 Serving delicious meals for my family is important to me. Not spending lots of time making those meals is too. Hope this easy meal is one that makes you daily meal prep easier!
Merry Christmas and Happy New Year!
~~~~~~~~~~~
This post contains links for shopping items I use. Some may not be exactly the same but are similar. I may receive a small commission for any purchases you make without extra costs to you! Thank you for any purchases ahead of time!

~~~~~~~~~