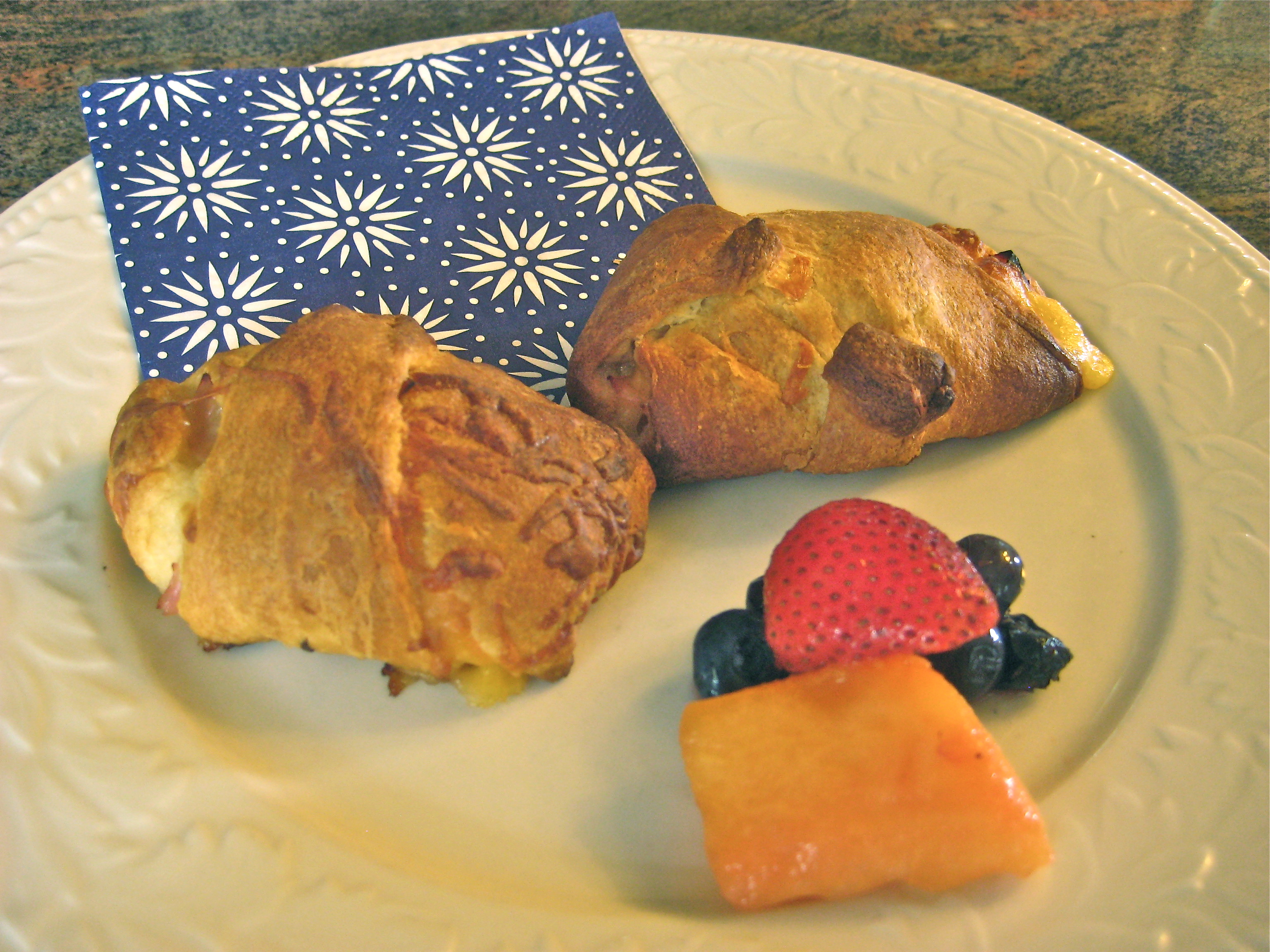 Stuffed ham and swiss roll ups with fresh fruit
Having company for the weekend?
easy blast from the past meal
Here is a quick easy blast from the past meal with an update.
Stuffed rollups with deli ham and swiss cheese!  Delicious, Easy to make. Easy to serve. Easy clean up. Perfect.
When our adult kids come visit, they like to play an early morning round of golf. This is a perfect for a bite when they come back before they go to the living room to snooze.  We are more than happy to have the grands to ourselves!
School mornings. Yep, that too. I don't know about you but I run out of ideas and we just don't like cereal all that much to have it more than once a week if that.
When the girls head out to work, hand held food is best!  This's fits the bill.
Easy Breakfast or Lunch Roll Ups
I do not like to make lunch. Unfortunately my family likes to eat lunch.
On Saturdays we have our special breakfast but sometimes we need a quick breakfast, easy clean up on our way out the door breakfast.
I do not like to make lunch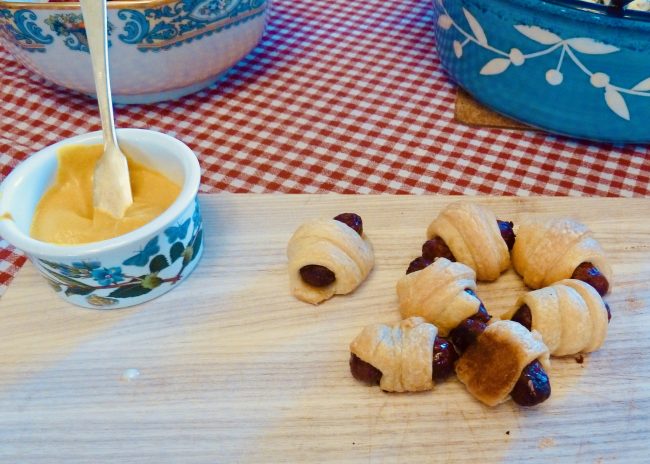 Then there is lunch time. We all get a bit hungry and want to eat.
So easy options like a pots of left over soup is one of my solutions when more than our usual 3 are here.  In fact, any left overs will do.
Besides nachos that is. Nachos are a no brainer when the grandkids are here. They ask for them. Easy because they only like chesse microwaved on the chips.
Here's a classic from the early days of refrigerated rolls. Pigs in a blanket. This is served with a side of mustard. Al la Auntie Anne's pretzel style.
It was a fancy hot dog for lunch. Sometimes you would add a cheese slice down the middle of a split dog.  For super fancy treat, it was wrapped in bacon. Yum. I remember this recipe being in many children learn to cook books.
This version has Hormel Little Smokies wrapped in slices of the cresent roll dough.
i usually have swiss and deli ham in the fridge. I just have to remember to add the cresent rolls ot the list.
Adding fresh fruit to the plate is a nice to round out this easy lunch.
serving options
When the kids need a grab and go meal, like when heading to work or the golf course, these fit the bill.  Wrapped in a napkin is no fuss, no mess perfect way to 'serve'.
If it is for a larger group. why not pull out a seving platter? The cookie sheet is fine too.  I also use my cutting boards. Add a little mustard in a ramekin which only takes a little effort that everyone appreciates.
If serving fruit, you need plates and forks. Casual dining may be to carry the food into the family room to watch a game or play one. if the weather is fine, outside is the destination.
Make holiday gatherings easy with planning some easy meals. Make lunches and grab and go meal easy using this recipe and serving ideas.
Ham and Cheese Rollups
Ingredients
1

can crescent rolls

Swiss or cheddar cheese slices

Thin slices of ham

Optional: egg wash
Instructions
Preheat oven to 350 degrees

Cut unrolled dough according to the precut lines.

Place ham and cheese slices on dough sections.

Trim and fold  as needed.

Roll gently and pinch to seal.

Optional: For a shiny crust that flakes brush with an egg wash.

Bake for 16-20 mins until golden brown. Use parchment paper for extra easy clean up.
Notes
Serving suggestions: fresh fruit, raw vegetables or  a simple salad.  For lunch use mustard for dipping.
What are ways you make your lunch and breakfast options easier?  I always interested in making things easier. How about you?
~~~~~~~~~