Soup and stews makes for an easy meal on a busy day.
Fall and winter is the time of year for stew and soups. Busy days and cold nights are made for a soup supper. Easy to prepare and simmer until the dinner hour says comfort!
planning for easy meals
Busy households can benefit from weekly meal planning. Easy dishes are a must! My beef vegetable soup (or stew) is one of those meals! It also good over seveval days. Make it for Friday night dinner and your Satueday lunch is ready too!
saturdays made easier
Weekends when the older kids and families were coming to visit I like to have Saturday lunch prepared so when they arrive, it is ready! In the cooler days, that usually includes soup.
Saturdays can be lazy days, catching up on sleep, homework and with friends.
One thing I have done to make those Saturday lunches is to have a large pot of soup on the stove or in the crock pot. As the kids grew, their schedules changed with sports and jobs. It's a serve yourself Saturday.
I could be preparing food and washing dishes all day long!
Though I enjoy preparing delicious food for family and guests, I do not like making what can seem like endless meals. I have a repertoire of just the kind of recipes that are tasty, easy preparations and cost less. A meal made in larger qualities that reheats well is a must.
Very handy as we all come and go!
serve with…
We love Jiffy Corn Muffins or traditional skillet cornbread with this. A 'loaf' bread like Italian or French is delicious too.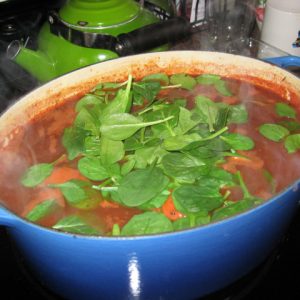 Linda's Beef Vegetable Soup
easy one dish meal to make in soup pot or crock pot
Equipment
large pot

knife, vegetable peeler, cutting board
Ingredients
1

pound

beef stew meat cut inot bite sizes pieces

1

med onion sliced or large chopped pieces

3-4

stalks of celery chopped

1

package of Lipton Onion Soup Mix

2 32

oz

cartons beef broth

1-2

large cans crushed or diced tomatoes

chopped fresh tomatoes

2-3

potatoes peeled and cut into chunks

1

cup

sliced carrots

fresh spinach, optional
Instructions
Use large soup pot with lid.

Simmer 1 lb or less chopped stew meat until cooked

Add remaining ingredients

Season with salt, black pepper

Slow simmer covered for several hours.

Simmer to heat throughly prior to serving.

Make in crock pot and extend cooking time for several hours
Hopefully by using this recipe your week and weekends will leave more time for your family and less stress!
Would love for you to follow Bushel and a Pickle blog on Instagram HERE or if you are on Facebook follow me HERE. Also sign up to receive the blog in your inbox each time a new one is posted. Thanks!