How has your garden grown? We have squashes and tomatoes. Our neighbor made a mideastern dish with the ones we gave her, Nancy made salsa.
Served in salads or sliced, every bite is delicious.
End of summer garden dish
What's cooking in your kitchen?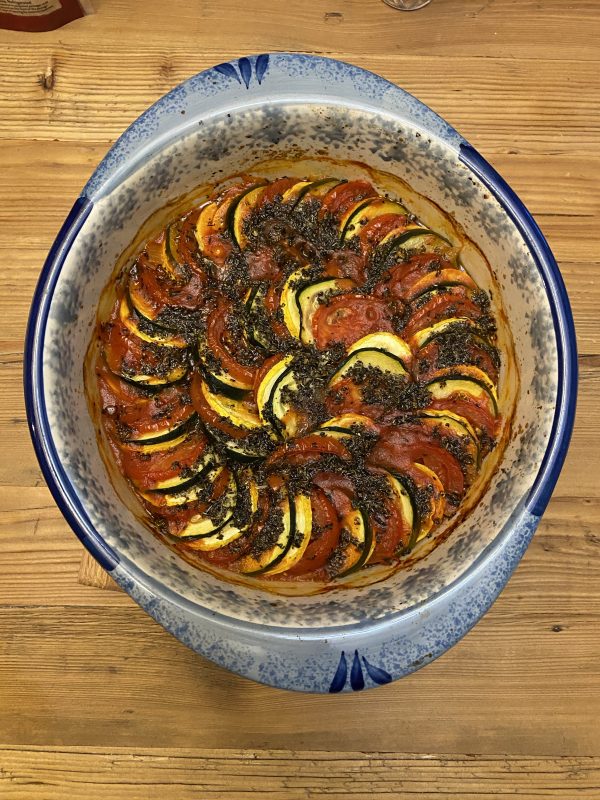 use the last of garden vegetables
Meg's Ratatouille so good! Do you have end of the summer produce that you have just run out of ideas on how to prepare? Give this a try! Zucchini, tomatoes, eggplant with a basil tomato sauce come together for a burst of flavor to delight your taste buds!
We serve it with cheese grits. That makes it a vegetarian meal. We enjoy meat in our house but did not feel our meal was missing anything!
Another plus is it is very affordable!
This is just such a good dish! It is a particularly extra good to make in the wanning days of summer gardens. We have basil, tomatos, zucchini and yellow squash we still are eating from our garden.
One happy benefit of having the Core 4 (us and our 2 youngest still at home then) is to take a turn to make one main meal a day. Amy threatened to serve hot dogs and Mac 'n cheese, a classic menu!
I knew she wouldn't. She makes us tasty meals. One was a charcuterie board first followed by chicken and waffles.
Meg is also a good cook. Her fresh Ratatouille was perfect for the fresh vegetables currently in our grocery store and farm stands too if you don't have a vegetable garden. She used produce from our own backyard garden.
Lancaster County is farm county with a bounty of fresh foods.
cheesy grits side dish
Meg loves grits so she served cheese grits for our side dish. It's a basic recipe anyone can make by following the directions on the box. Add shredded cheddar cheese, stir and serve hot! Be careful to not make the grits so thick they are dried out and form clumps.
A touch of garlic would not go amiss.
Don't like grits? Rice or noodles are other options.
Prep Effort and variations
The ratatouille takes a bit more effort. Prepping involves quite a bit of slicing of each vegetable! It is worth every bit of it!
Jim made it last night for our dinner. He cut the each vegetable into pieces instead of slicing. He sauted each vegetable separately. To finish the dish, he added the tomatoes to the vegetable mix in a large deep skillet to low simmer on top of the stove.
Jump to Recipe
Ratatouille
Delicious dish for summer vegetables. It can be a main dish; it is so good.
Equipment
cutting board, knife, 12 in baking pan or iron skillet, foil
Ingredients
2

eggplants, optional

6

roma tomatoes

2

squashes

2

zucchinis
Sauce
2

tbsp

olive oil

1

medium

onion, diced

1

red bell pepper, diced

1

yellow bell pepper, diced

2

tbsp

8-10 basil leaves, chopped

1

teas

garlic minced

2

tbsp

fresh parsley, chopped

2

teas

fresh thyme

salt, pepper to taste

28

oz

can of crushed unseasoned tomatoes

or use fresh ripe tomatoes
Instructions
Slice summer vegetables into thin even slices, thinner that 1/4 inches

Make the sauce by sauting diced onions, garlic, and peppers until soft about 10 minutes

Add salt and pepper to taste

Mix the prepared herbs together in olive oil

Arrange sliced vegetables in overlapping manner either circular or in rows depending on the pan used in lightly oiled baking dish

Cover with foil and bake for 40 minutes. Remove the foil and bake until vegetables are soft, about 15 -20 min.

Remove from over. Drizzle heated sauce over the top evenly then serve.
Meg didn't make any meat and to our surprise we didn't miss it at all! There were leftovers. We had with grilled chicken and salad the next day.
Isn't it pretty?
How do you use up your end of summer produce?
~~~~~~~~~~~~~~
Below are affiliate links to products for your shippng connivence. I may receive a commission for purchases made through these links at no extra cost to you. Thank you!

~~~~~~~~~~~~~~~