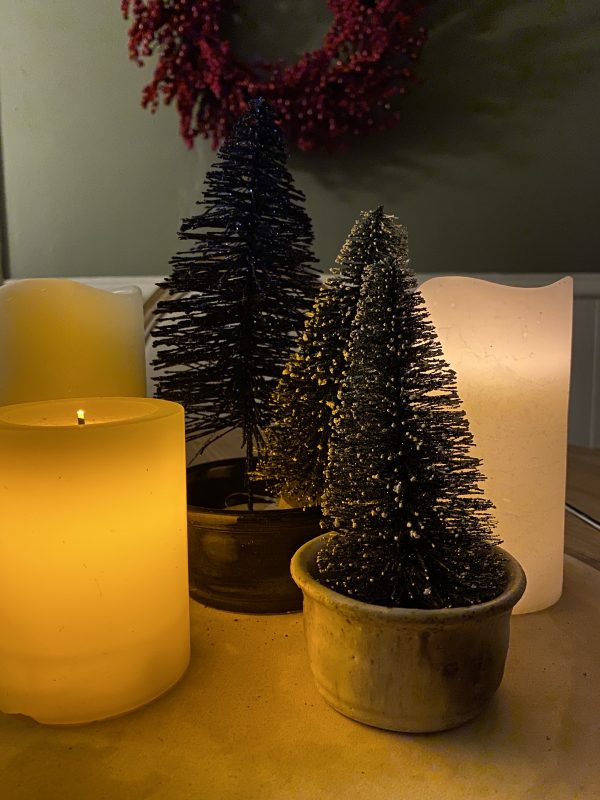 My kitchen was feeling a little dark and empty. After having family and friends during the holidays filling it up with love and delicious smells being in there was a little empty feeling.
I like a homey warm feeling kitchen but right now, I don't have the inclination or time for a total re-do! Our Amy is leaving Monday for Study Abroad. She's going to Florence for 4 months! How exciting it that for a arts major?! I mean, our decorations are still up!
A few nights ago I was actually preparing supper and thought this is just a sad dreary room. I don't usually feel that way but winter shadow can bring in the dreary.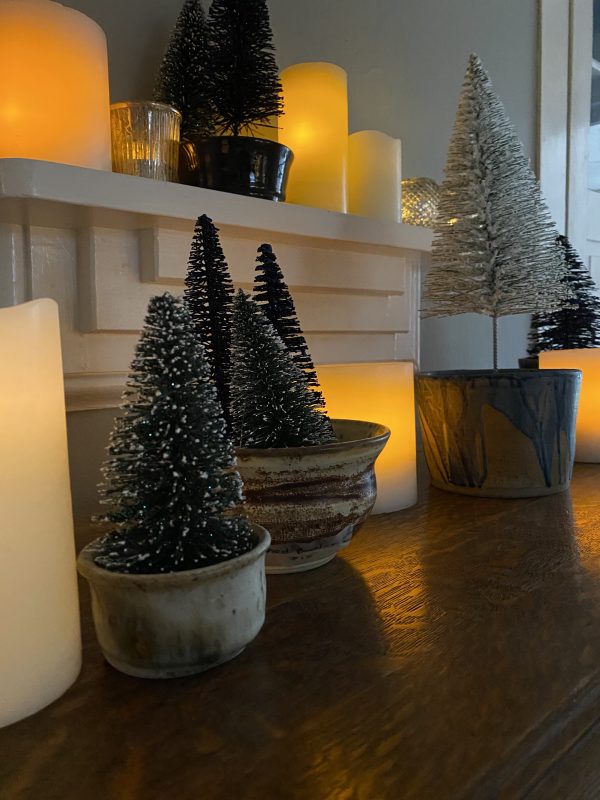 Candles are always my go to to add warmth to our room when winter comes. In central PA, the daylight fades away early. Candles were scattered through the rooms as part of the decorations. The ones on the bookcase would be just right.
The only new decorations I bought this year were bottle trees for the bookcase vignette. After being inspired by a photo of crocks with bottle trees I knew Amy's pottery bowls would be perfect!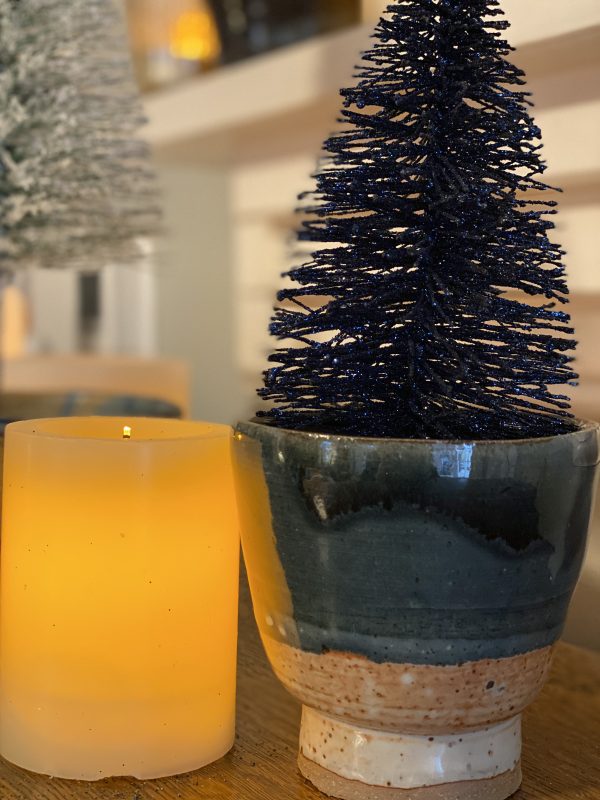 I downsized the grouping bringing three candles and 2 bowls of trees to make the kitchen table vignette. I rearranged the rest to stay on the bookcase for now.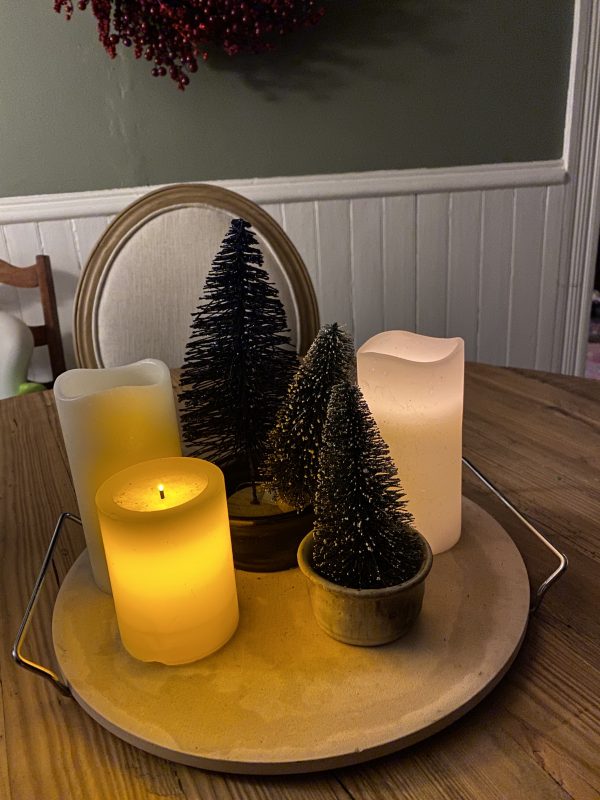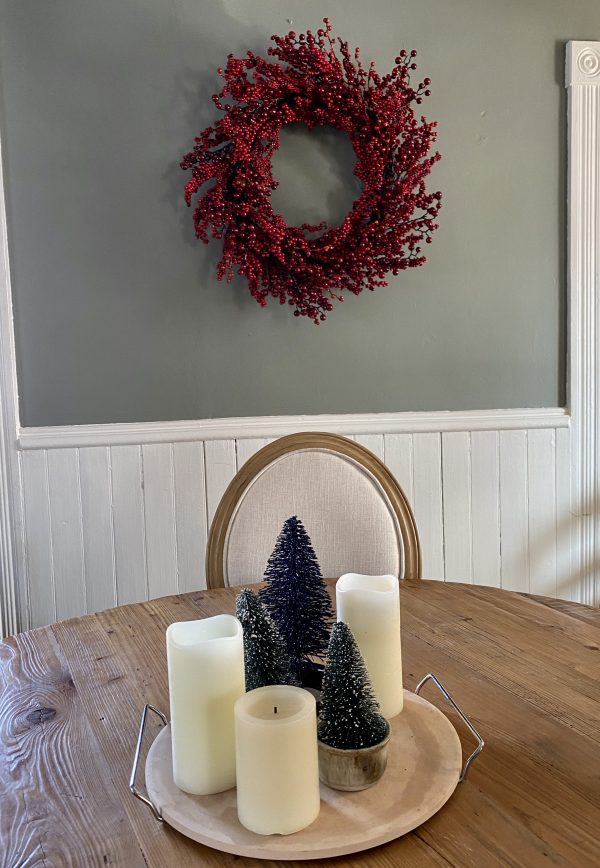 Though our table is made from reclaimed wood and rustic, this arrangement needed a base to be both cohesive and easy to move. Meg's pizza stone was perfect in size and shape!
The neutral earth tones of the trees, pottery and light color stone are pretty day and night. Our kitchen is BM Grey Owl and Home Depot Swiss Coffee. The large deep red berry wreath is a touch of sophistication for our farmhouse kitchen.
This was so easy to select wintery accessories from the Christmas decorations to made our home feel warm and homey. It doesn't cost extra and I love the coziness it adds.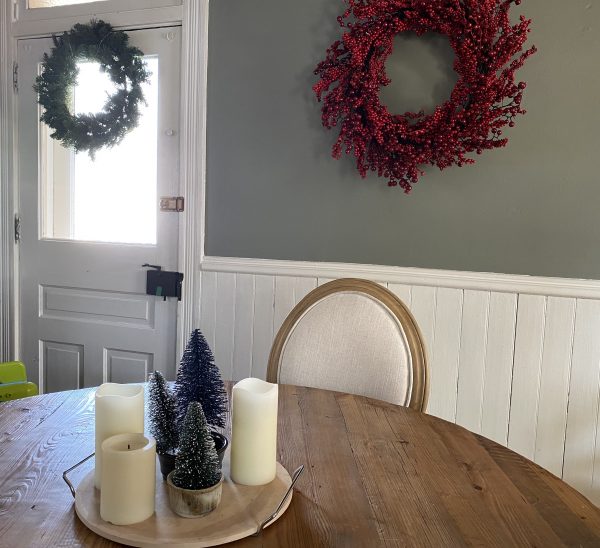 This is the sight that welcomes us home day and night. The candles glow warm light nights. Pretty sure this vignette for our kitchen table will be here until the ice and snow are all melted and no more expected. Then, maybe some crocus!