Wine and charcuterie board with girlfriends on a Friday night is easy to set up!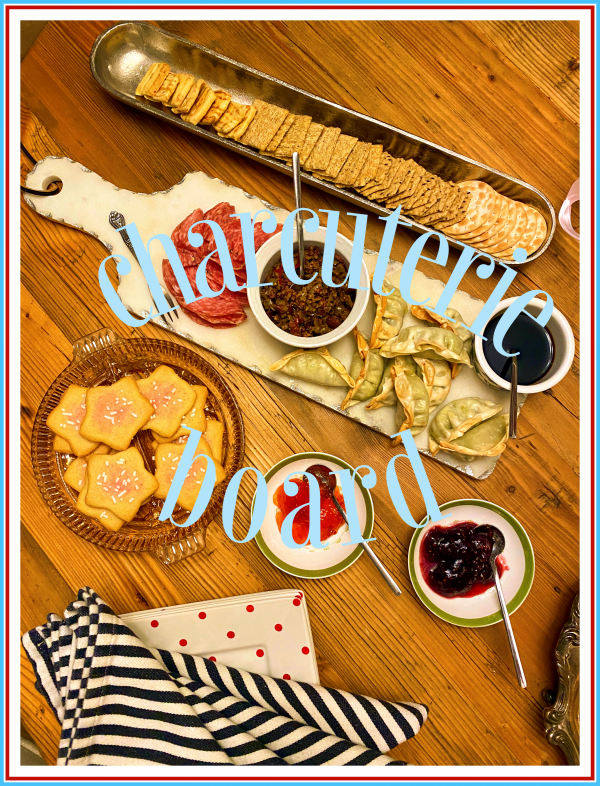 It was a last minute decision. Girlfriend Friday Night Get Together's for Wine and Charcuterie is always a good idea!
Really, we all know this would be good for get together! It could be a break from cooking or the usual. It could be appetizers or a simple evening meal by the fire.
Warmer weather will be here soon. Imagine sipping a glass of wine paired with a charcuterie board sitting outside enjoying the evening. I can't wait!
Could this be a dessert charcuterie board? Yep! Minus the meat, it could be the European style fruit and cheese board for dessert. Yes, dessert! I always loved a little blue cheese with apples and other fruits after a meal!
amy's choices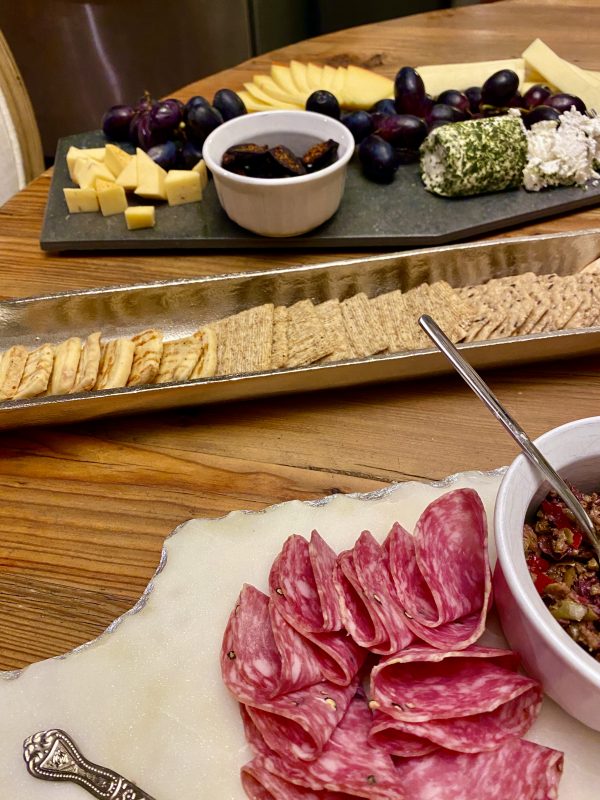 There is a reason charcuterie boards are so popular. They are easy to lay out with big taste and flavors to enjoy!
Amy stopped at Whole Foods on the way home from work. One stop shopping to include wine and great cheese selections is just one reason Whole Foods is a popular store!
And we all know there are good fruits, preserved meat and cheese choices at your local grocery store too.
Traditionally charcuterie boards must have preserved meats. Add your choices of a variety of cheeses, soft and hard. Fruit and sweets are a contrasting but complementary taste. Jellies and preserves, nuts plus pickled foods are good for more flavor experiences.
Having these flavor filled choices for your charcuterie board for your guests be it friends or family is a great reason to have small amounts of those special foods you don't normally keep on hand. Great charcuterie selections can often be more expensive than the usual variety of ham and salami. Having a board with small amounts make this more affordable even with expensive items.
Buy a chardonnay and head home to lay it all out.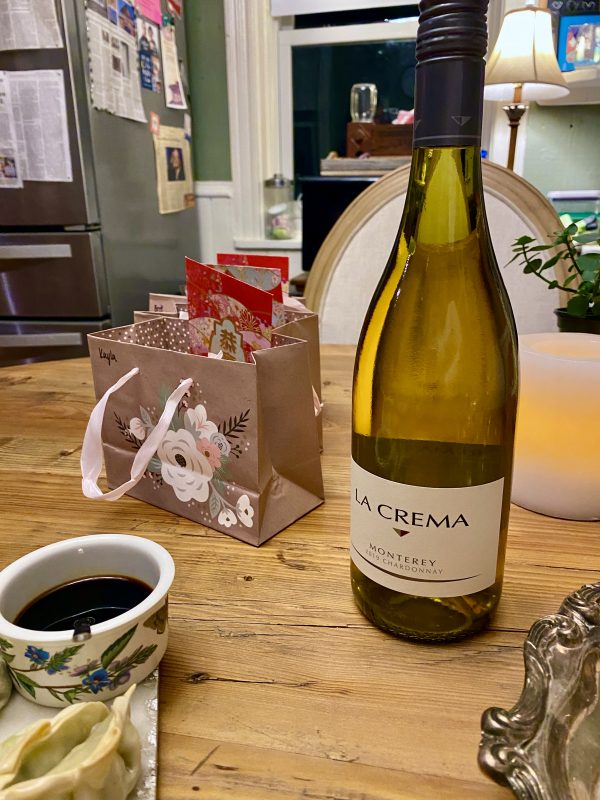 The small gift bags included the Chinese New Year red envelope for her girlfriends plus a few other goodies. It was Chinese New Year which is why she included the Chinese dunplings. Strickly speaking the red envelopes go to unmarried children and have money inside. It was a nice nod to the Chinese New Year customs.
creating beautiful boards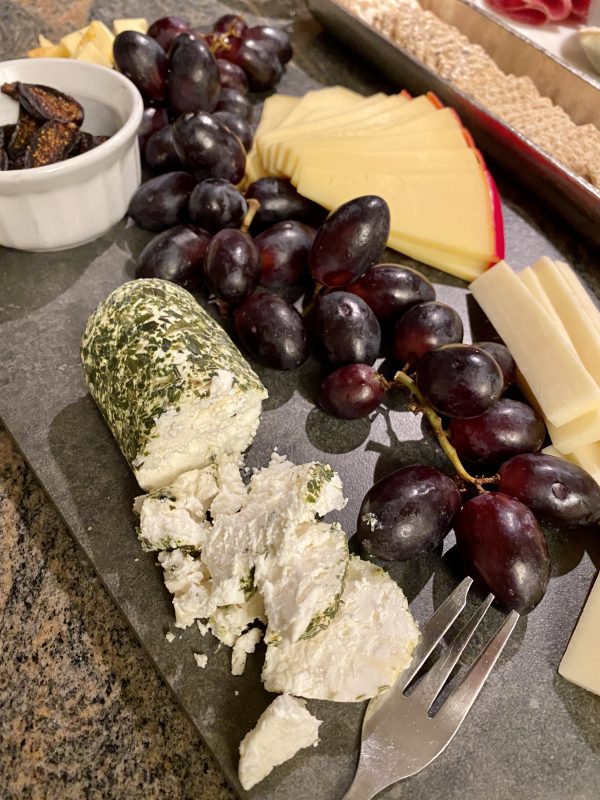 Amy chose the black Jeffery Court tile from Home Depot. Add felt pads on the botttom and you have a beautiful 'board' to display your foods in a dramatic way! Bonus, cheaper that those beautiful wooden boards. Check out the open boxes and sale items at your local home supply store.
Any large mostly flat platter or dish will suit. Cutting boards work too.
I love how the white soft cheese log with herbs and black pepper looks paired with the deep color of the purple grapes and other cheeses look!
Consider color for food you select. Taste paired with color can mean a more delicious experience.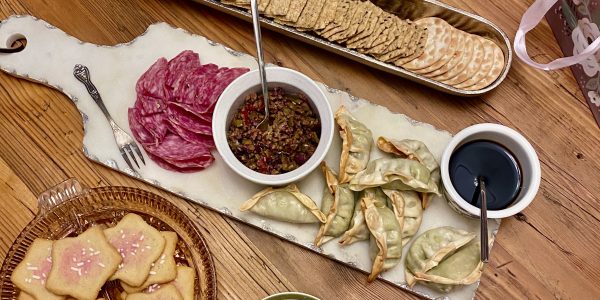 The white board is for the meat and jaozi (Chinese dumplings) vegetarian choices. The meat is sopressata salami. The slices are folded and stacked to make a floral arrangement. The dumplings are stuffed with edamame. Most delis will give you a sample of meat and cheese to help you make your choices.
On the side in small ramkin cups are soy souce and olive tapenade.
The cracker tray is a Target find from several years ago. These other items are similar to what I used. Perfect for your charcuterie party!
Disclaimer: For any item purchased I may recieve a small commission at no extra cost to you! I appreciate your purchase(s) very much!

~~~~~~~~
Easy to make star cookies
There is nothing wrong with using Pillsbury sugar cookie dough. Amy is a working girl. Having packaged cookie dough is the best when you just don't have the time to bake! Here a link for the Best Sugar Cookie ever to use when you want to bake cookies from scratch!
So, how did she make those star cookies?
Cut the roll in half.
Cover the other half and return to the refrigerator.
Grab your rolling pin and marble slab or wax paper and roll out the dough to desired thickness.
Cut out star shapes and put on cookie sheet
Spinkle with decorative sugar or sprinkles.
Bake according to package directions.
She served them on Grandma Omega's vintage pink depression glass dish.
The candy dish that had a cover once upon a time was Grandma Omega's too. The cut glass is definitely vintage!
Shopping list suggestions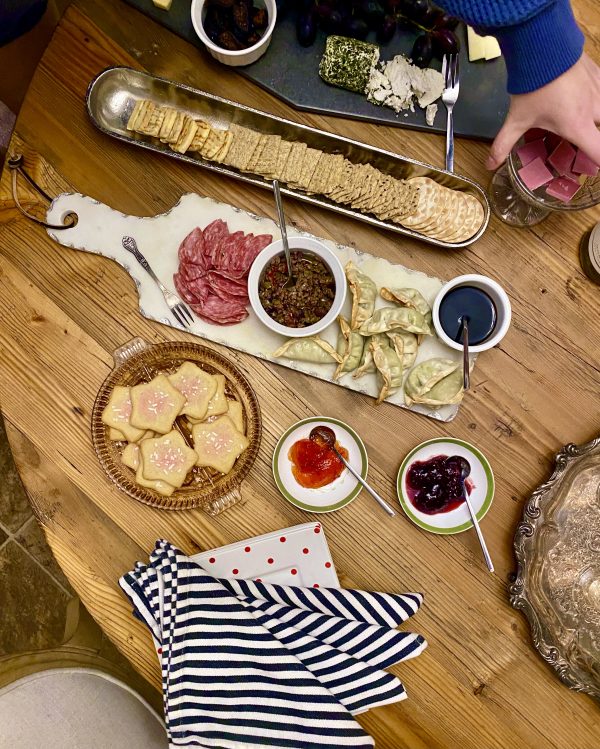 The great thing about building a charcuterie board is all of the possibilities for making it!
Here is the list!
18 month old cheddar cheese
Gouda Loving the red wax color!
Sopressata salami
Concord grapes
Dried figs
Olive tapenade
Muligrain, Triscuits and water crackers
Chinese dumplings with vegetarian filling
Raspberry and grape jellies
Sugar cookies
Chardonnay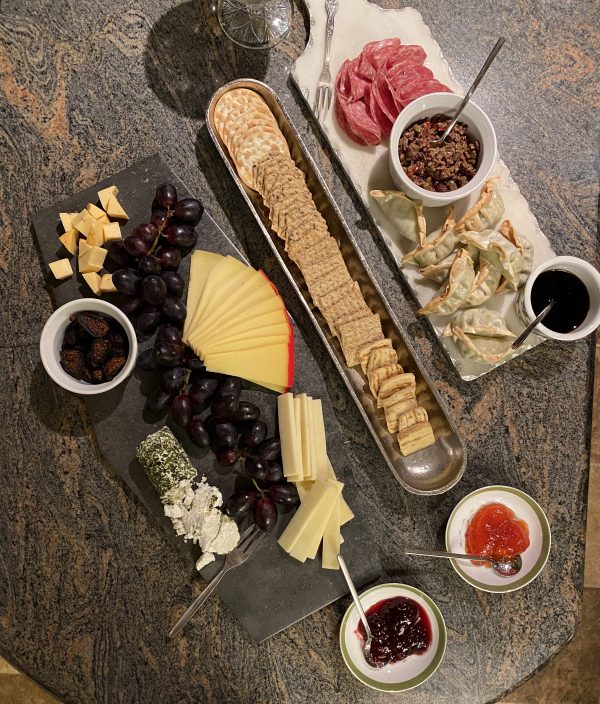 in conclusion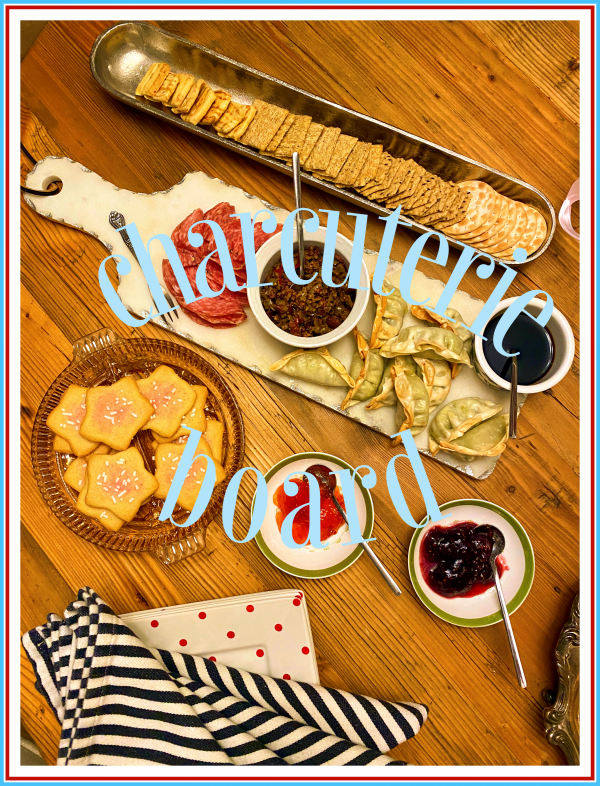 Making charcuterie is not suppsed to be hard. Rules?
You need perserved meat, cheeses, nuts, fruit, chocolates, and maybe some delicious preserves. Take a big platter or plate and make a pretty arrangement.
There you have it!
Disclaimer. Below are affiliate links to products that are similar to ones I use. I may receive a commission for purchases made through these links at no extra cost to you.

~~~~~~~~~~~~~