It was a perfect day to go outside and make some sparkle!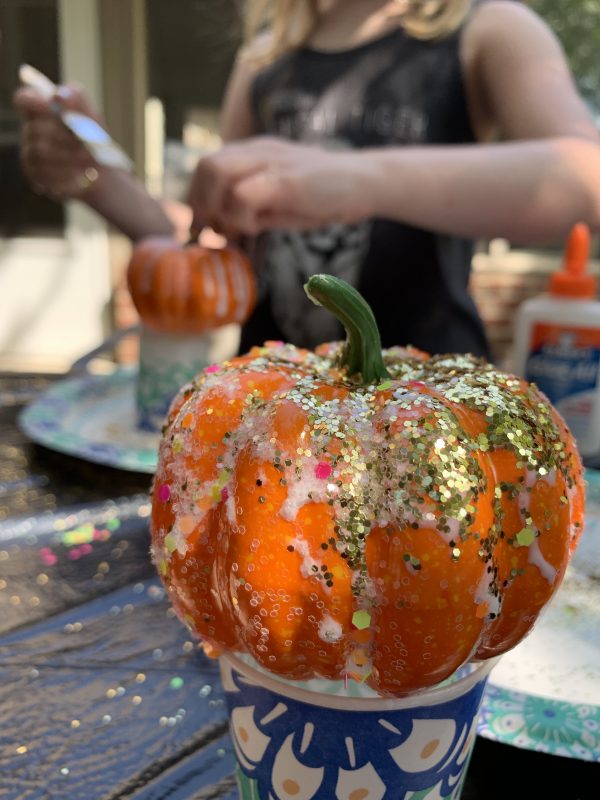 These cute like pumpkin are not sophisticated. However, they are happy and imperfect that will add some very special sparkle and light to your decor. Here's how the sparkle happened.
One beautiful sunny day, I headed over to my daughter's with a box from Amazon full of small pumpkins and small leaves. They were meant to be used for event decortions butI changed my mind. Instead, my grandchildren with me along with thier mom enjoyed decorating them with glitter!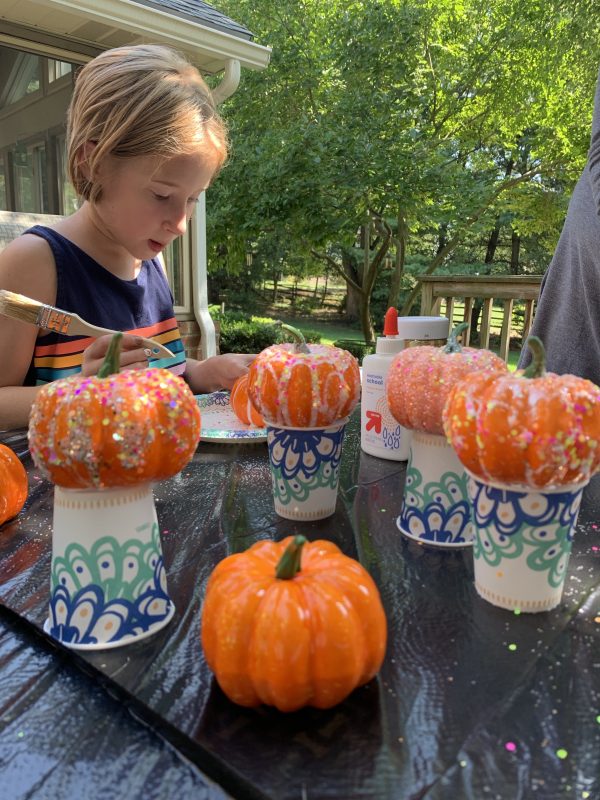 On the way, I stopped by AC Moore forsome extra supplies. Since my girls are off to college, othere asren't many crafts done here any more. Most of the supplies have been bagged up and given to Nancy. She has 5 kids under 9. Can she have to many craft supplies with creative kids in the house? We still have glue, little glitter and artist supplies.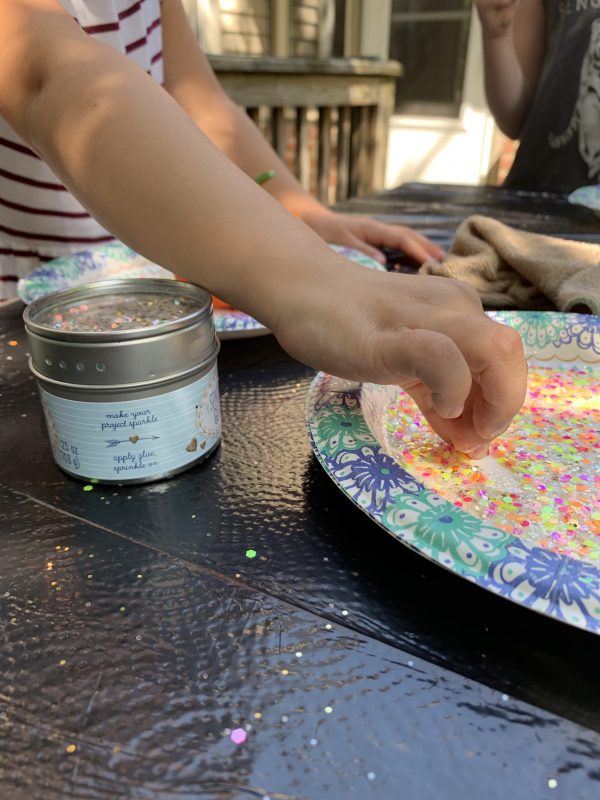 Any time with glitter and gorgeous weather, there is excitement in the air. Nancy covered the picnic table to keep the glue off. She grabbed paper plates and cups. Ready!
It was fun watching the kids jump in to squirt the glue with deliberation or abandon.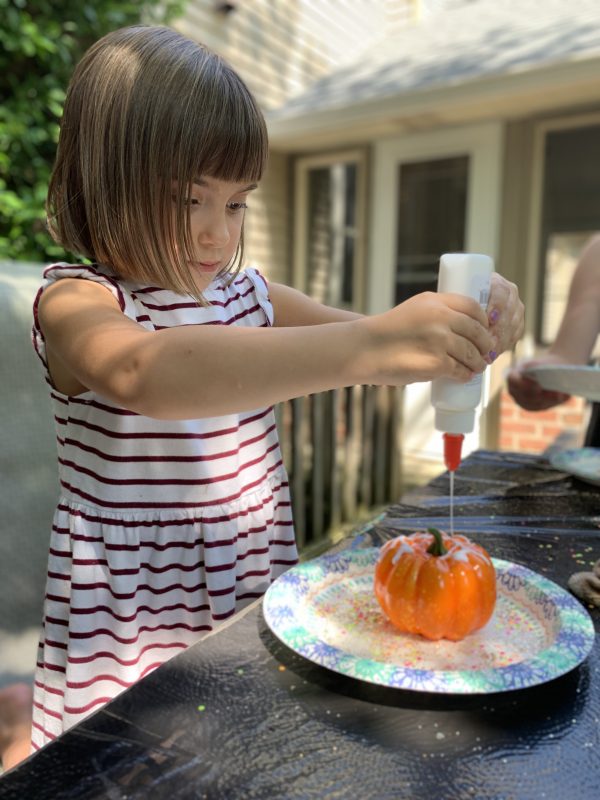 What do you need for this project?
Lots of glitter! White, clear, gold and a mix of yellow, orange, pink and snowy. Several bottles of washable glue. Cheap 1 inch paint brushes Cheap paper plates and cups. Plastic table cover and masking tape. XL plastic trash bag spilt flat and masking tape to secure the bag to the table.
Time to let the dazzling pumpkins and leaves dry.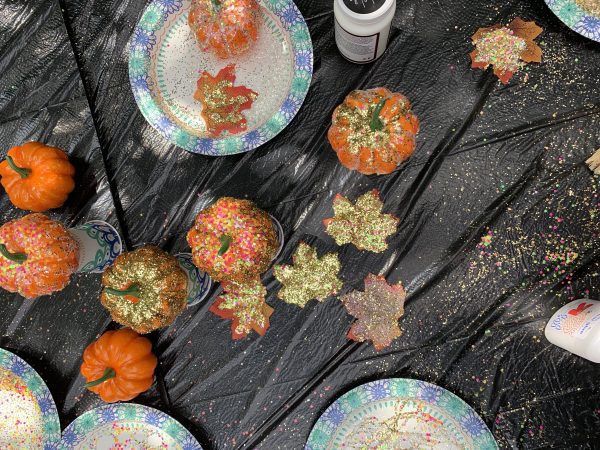 Clean up is easy. Roll up the trash bag with all the papers and trash and toss. Sweep up the extra glitter. There may still be bits of glitter in the groves of the deck.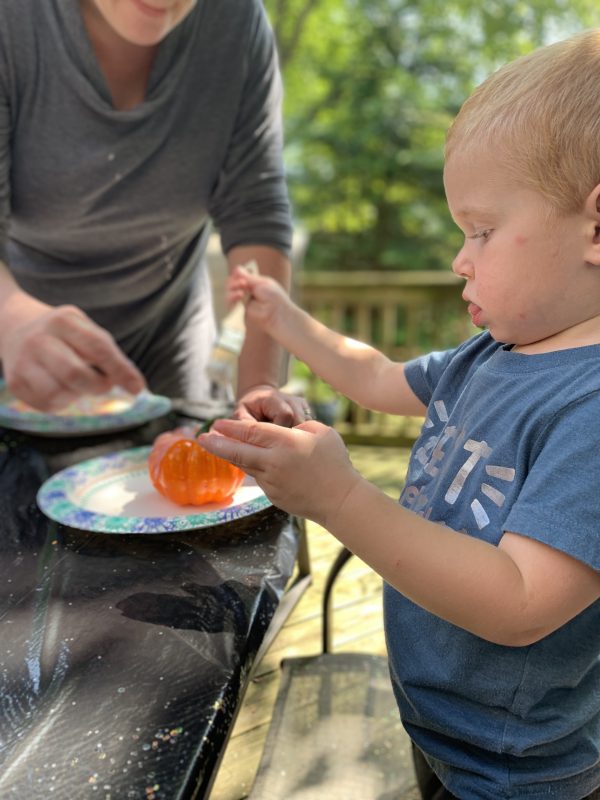 Glitter, Glue and Grandkids!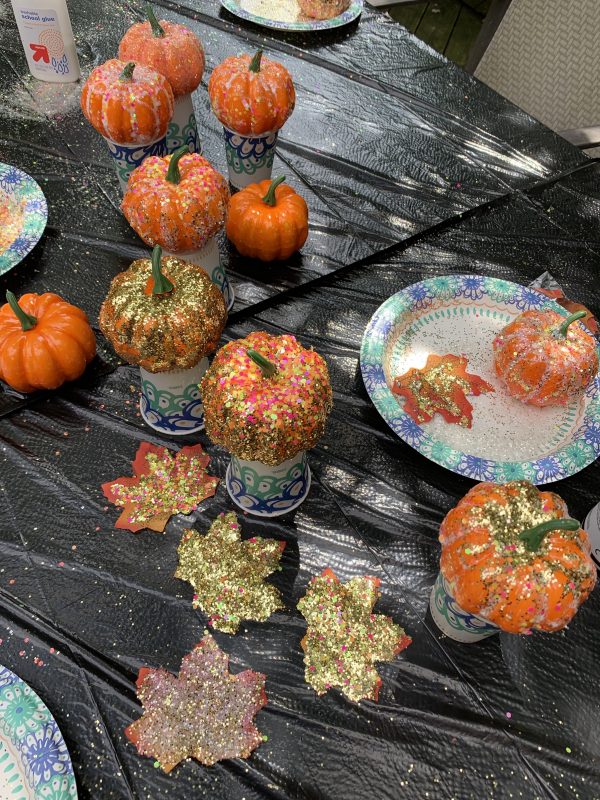 A delightful day with Nancy and the grandkids!
~~~~~~~
Find the pumpkins and leaves here. Other supplies can be found at your local craft stores.
DISCLAIMER: If you click on an affiliate link and buy something, I may receive a very small commission. It does NOT result in additional charges to you or cost you anything extra. Mentions of associated products/services/ businesses within the content of my blog may or may not be noted as an affiliate in every reference. The affiliate money I earn per month helps pay the fees to keep this site up and running. Thanks so much for your support!
~~~~~~