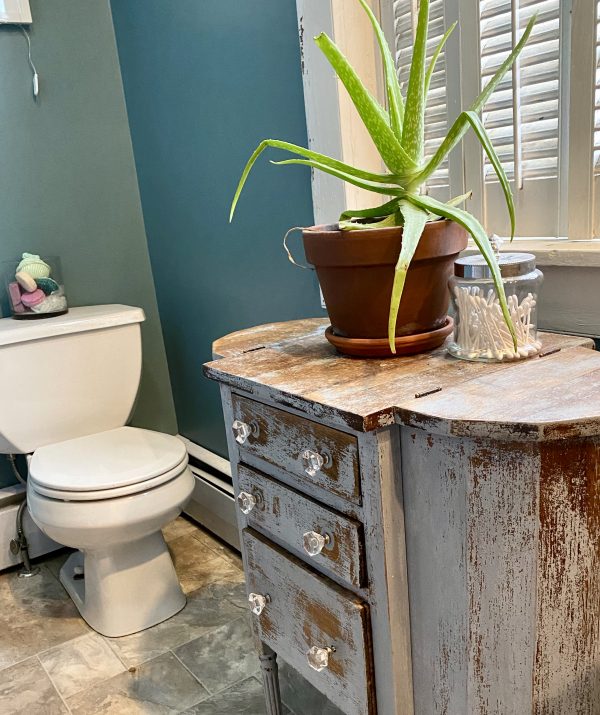 Refreshing the hall bathroom meant new paint. I picked a color that could be a dramatically elegant room with gold and crystal. Don't you love the way color can add drama and invoke emotions? Paint is such an easy way to make everything look new in your room.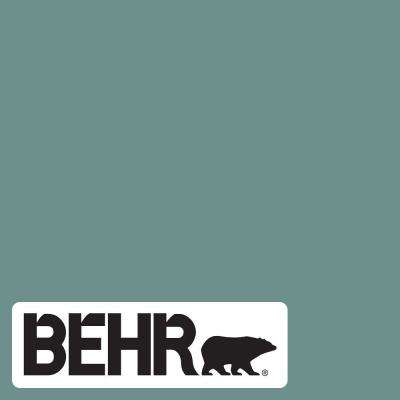 My inspiration for a deeper color was from several bloggers who use color abundantly in their home. I also try to use Amy's ceramics in our home decor. Her style often incorporates earthy colors with a contemporary edge. It actually fits as an accessory easily into any style decor. Check her work out on her instagram. (you can DM her for purchase)
She was willing do the painting. She even offered up her shower curtain, white with textured diamonds. I left her to it.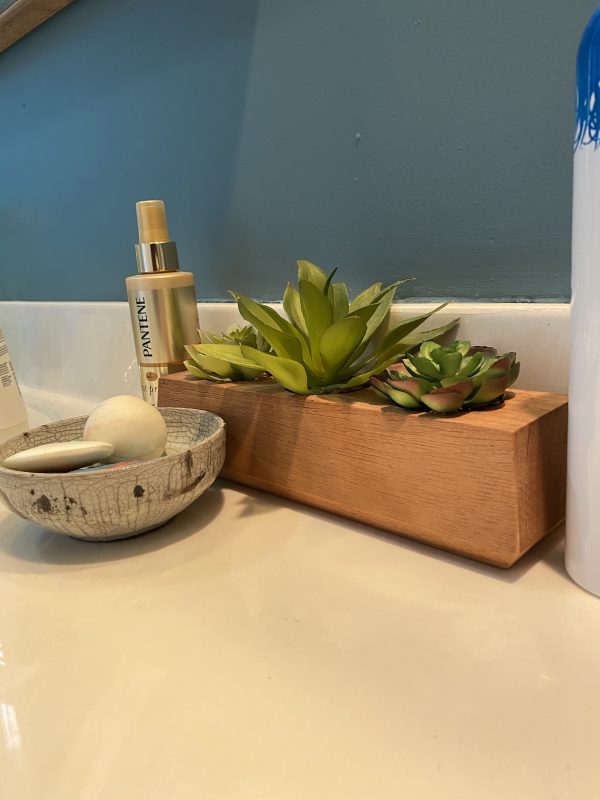 She took it to a more contemporary look with "natural" scents using succulents, a large plant and her hand thrown ceramic bowls. Still elegant and classic. More of her work is on instagram and can be purchased. She chose a shallow bowl for a soap dish.
Candles are a must. The girls like relax in a bath with a bath bomb, candle and a book. The bath bombs even contribute to the decor!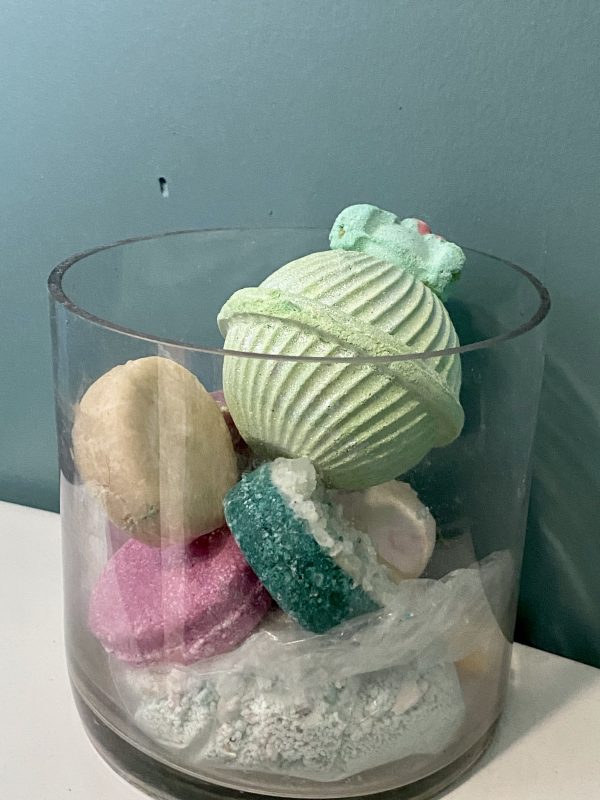 The Marilyn quote was another nab from the college apartment box. Amy loves shoes like her grandmother who I always told her would have loved to take her shoes shopping! These days she rather order shoes than food. Meg added a whimsical touch with fairy lights. Could that ever be wrong?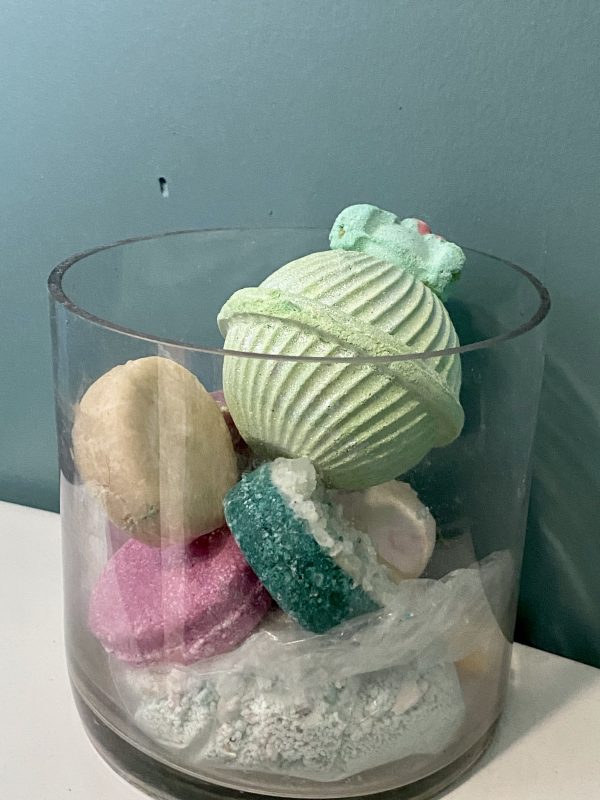 Mom's Martha Washington sewing chest painted in Miss Mustard Seed's milk paint French Blue has faded well with constant use; there are no plans to change it or the mirrors.
The glass jar with a lid stayed. I love it when different texture and style elements come together adding layers of richness to my rooms.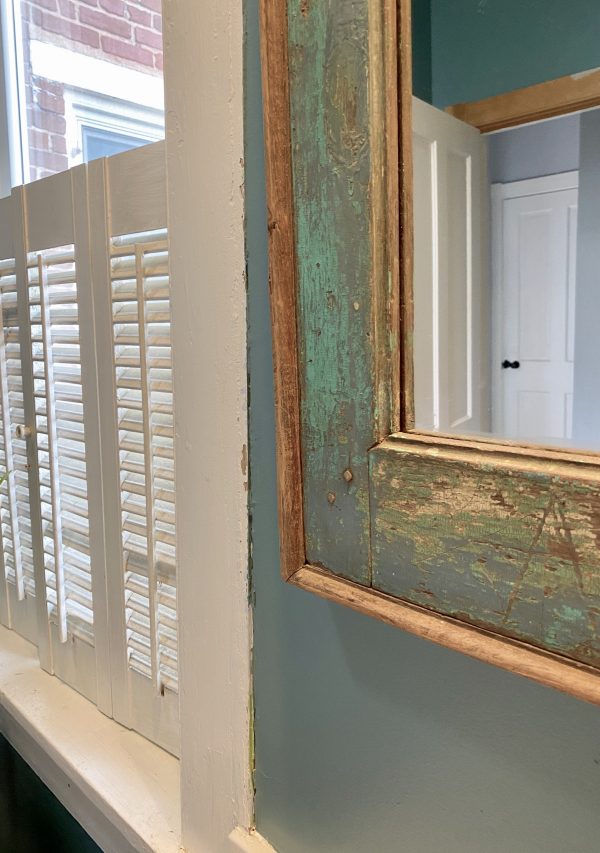 The reclaimed wood mirror is the largest one of three. The others are silver plastic frames from Walmart. Amy wanted to change the fixtures to gold but that would be a major change not planned. This is not only an easy refresh; it's also an inexpensive one.
I couldn't be happier with this new color! The direction Amy took the decorating accessories is perfect for her and Meg for their bathroom. She shopped the house and her college bins for all the accessories. Shopping your home with fresh eyes can inspire.
How perfect are those sort of shabby shutters are! It seems French meets nature. I didn't test paint colors out with different samples like I usually do. It's a small room and if I hated it, my painting staff is still on hand with lots of time to spare.
Doesn't this remind you of southern rooms that use shutters to keep the heat out? I do also love a wall color that changes through out the day and night as time passes by.
Stay safe and healthy friends.
Resources