I stepped out on our back porch and there was a pile of hosta leaves Jim had trimmed. I had hoped to cut some flowers but we were in-between blooms.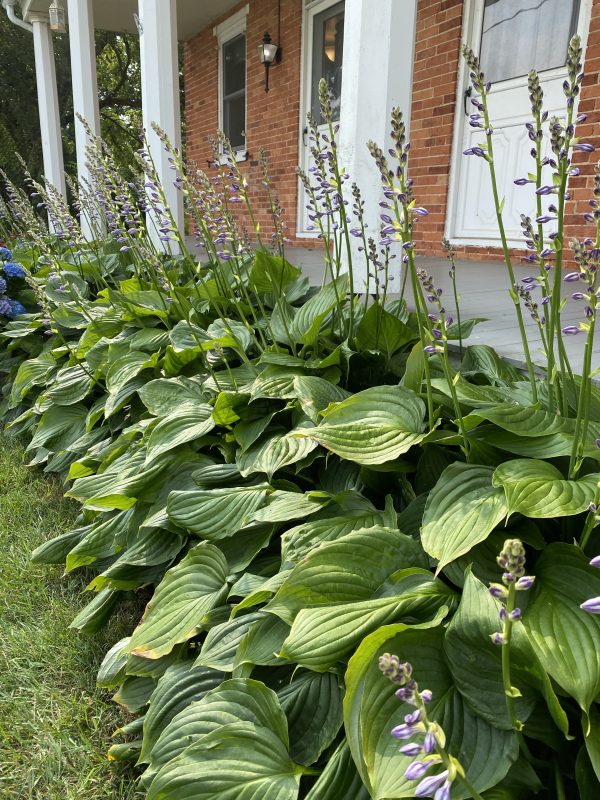 Hostas are easy to grow plants that fill out nicely for borders and color in your yard, large or small. I had not looked at them with an eye to bring those broad green leaves in lieu of flowers in for an arrangement. I usually look to the bushes we have that aren't very pretty or are droopy to use in arrangements so I rarely use them. But when I saw the pile of leaves my husband left on the back porch as he was trimming in the front ad back yards. I saw potential!
Bringing in branches and palm branches is a trend I see in many home interiors. Usually those branches are in graceful tall vases or bottle shaped and other large clear vases. My vase collection and home does't exactly lend itself to that style. But I do have plain cylinder ones.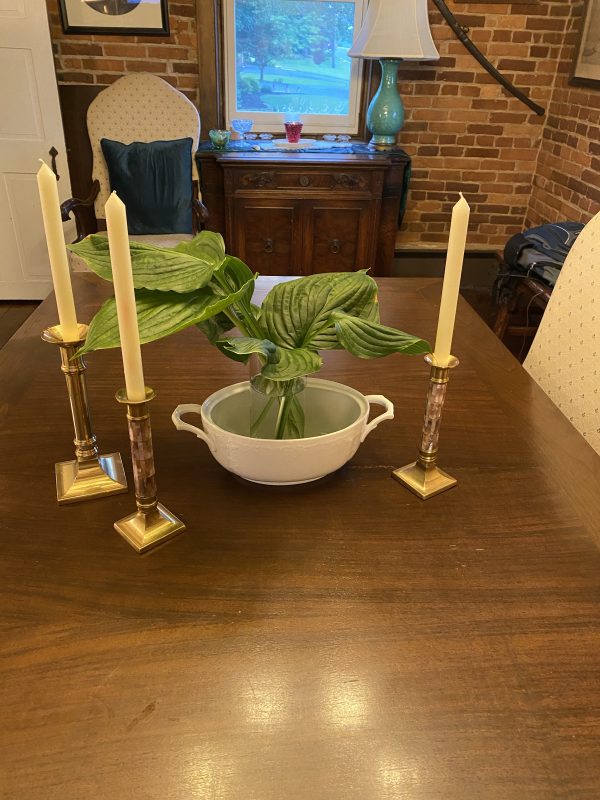 I grabbed one, filled it with water and plopped the bunch of hosta leaves bound for the compost heap in it. Our flower garden was between blooms and my dining room table as looking bare. I liked how it looked.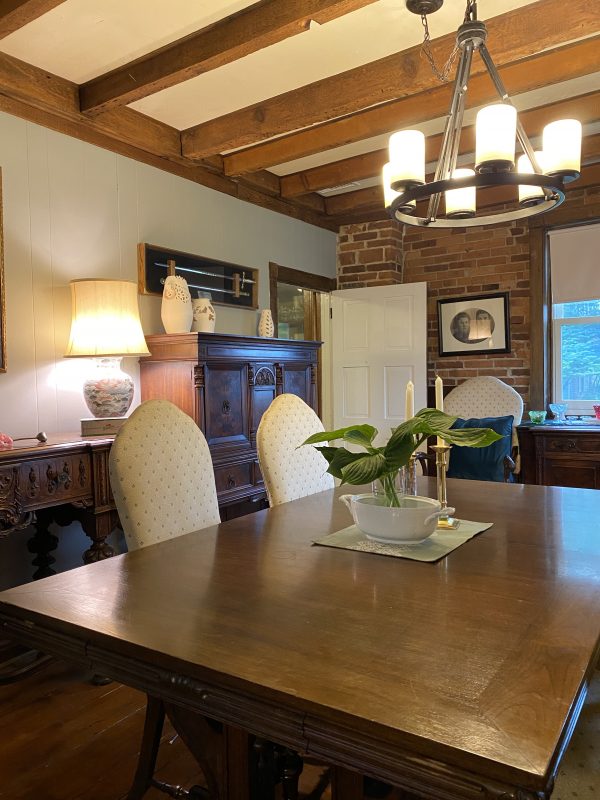 I love our dining room The furniture is in the Italian renaissance style inherited from a great aunt of my husbands. The art are favorites we have added over the years. The lamp is from Hong Kong I bought when we were stationed there. The floors are the original subfloor of our farmhouse home (c.1798 with support beams and exposed brick wall that add to the beauty. Our table is large and long. I typically have some decorative arrangement on the table but it had been bare recently except for a lone white soup tureen.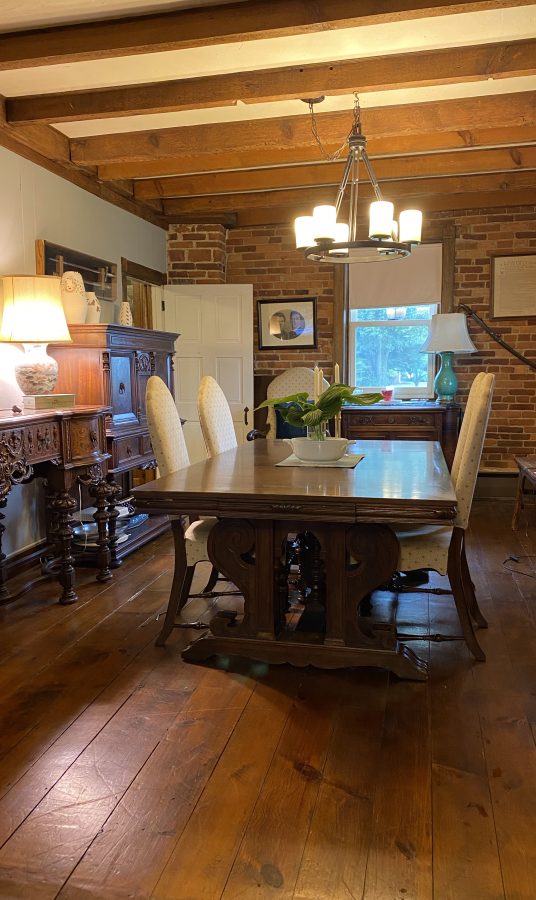 I put the vase in the tureen. More was needed. It looked lost. I began to build it up with texture and layers. I hadn't used the brass candlesticks in a long time. I liked how the 2 heights added dimension. The ivory tapers are from my candle drawer. I rarely buy any other color. I have no idea where my runners are; maybe in the attic which is such a mess right now I wasn't ready to look. Once I get up there, a major project will begin and I only wanted to make my table looks good that day.
So I flipped through the place mats and found this sage green one with the geometric embroidery. I put it all together with the placemat anchoring it.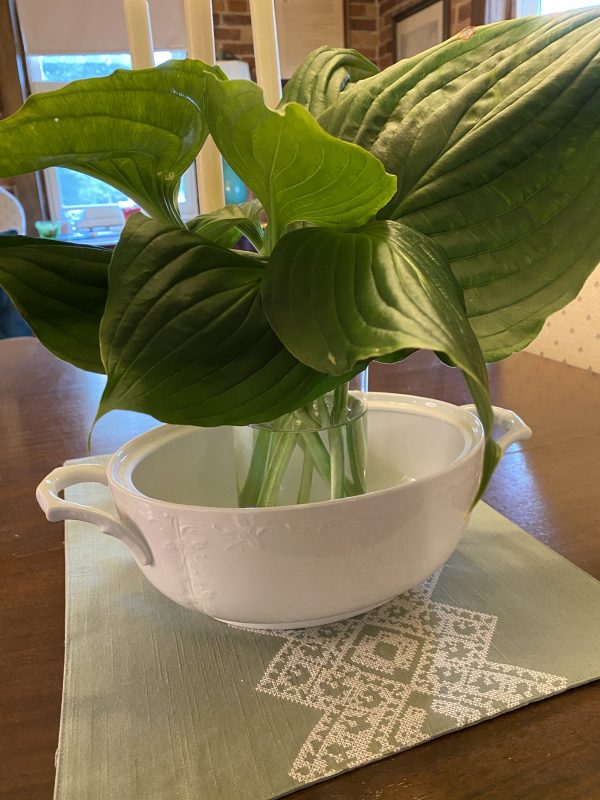 You know sometimes, how we decorate and accessorize in our homes isn't totally perfect but can be very satisfying. Running to our local home decor and craft stores isn't always possible as we all know! I'm making a big effort to use what I have tucked away all over our home, even in the attic. Next big project! I promise myself! But first I have to get rid of the hornets up there. Yikes!
I'm so pleased with how this turned out! Hope you are finding wonderful ways to enjoy your home too!
~~~~~~~~~