It's a beautiful looking sorbet for summer days and the taste is mmm good!!
The fresh cherries are what sets this sorbet apart from others! The rich color is natural. No food color or extra flavoring needed! The taste is exceptional. Totally worth the effort!
Amy made it the night before everyone came over for our Father's Day Party. The weather was perfect! We had dinner and yard games. Lots of fun.
She sat at the counter and pulled the stems off as she pitted each one! Two pounds worth! Earlier in the day she borrowed Nancy's ice cream maker and bought ice.
Frozen would work too. In a pinch, canned. But fresh is best!
If there is one dish that says summer, it is homemade ice cream. Sorbet is a change that no one will complain about!
Church ice cream socials on hot Sunday nights after church were the best. Everyone brought their best. Often that was the traditional peach ice cream. This cherry sorbet rivals that!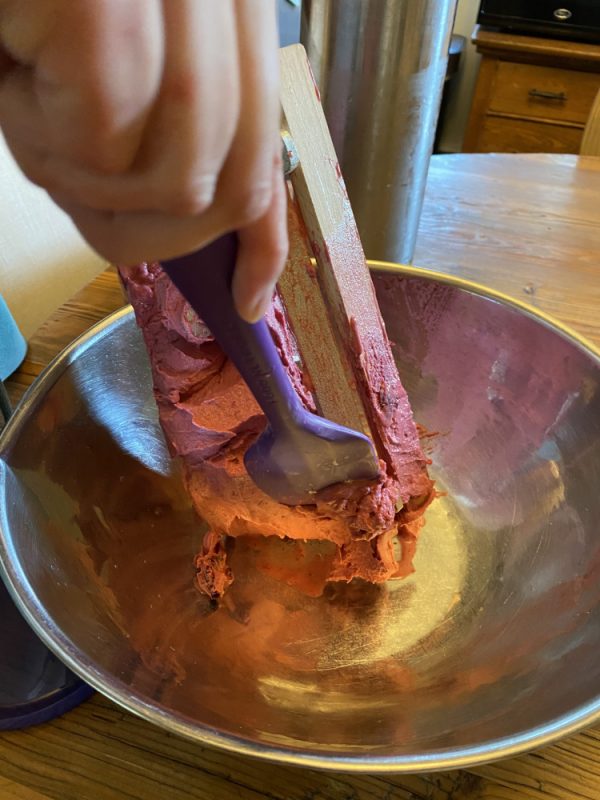 Scraping the paddles clean into a large bowl for serving. Any left? Freeze it for a snack later.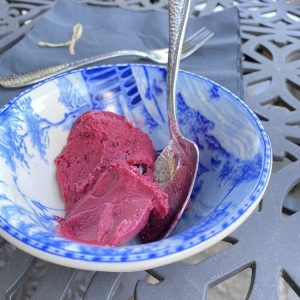 Homemade Fresh Cherry Sorbet
Homemade sorbet with seasonally fresh cherries for a delicious summer treat!
Equipment
knife

measuring cups

fine sieve

sauce pan

blender

ice cream churn
Ingredients
2

pounds

fresh cherries

1

cup

water

2/3cup

sugar

optional: use other sweetness if desired

1

tbsp

fresh lemon juice
Instructions
Pit cherries amd remove stems

Add all ingredients to a medium sauce pan

Cook over medium heat until cherries are soft for 10 -15 minutes

Cool to room temperature then chill throughly in the refrigerator

Remove chilled sauce and blend on puree setting

Put sauce through a fine sieve for a smoother sorbet

Add to your ice cream churn and churn according to the churn's directions or until stiff
It was a perfect summer time together. Food, games, sorbet ending with a evening fire. Hope you enjoy this delicious frozen homemade treat!
~~~~~~~~~~~
This site contains affiliate links to products. I may receive a commission for purchases made through these links at no extra cost to you.

~~~~~~~~~~