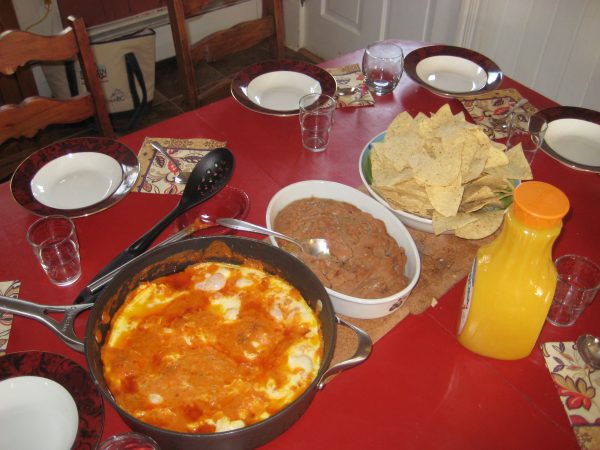 Saturday Table with Soup Plates
Saturday morning breakfast are a big deal in our house!  After a busy week this is often the only time we linger over a meal. When the big kids and their families are here it is a relaxing meal time. It's more fun for the little ones too. We over run the kitchen with  bright eyes and sleepy heads.  PJ's welcomed.  Dogs are underfoot waiting for a scrap or belly rub. Early morning golfers always come off the course hungry! This is a favorite.  It is easy to make and has its own star power!
A very long time ago, when I was a young lieutenant, friends would get together for brunch. officers on Saturday mornings in our little BOQ (Bachelor Officer Quarters) apartments in Germany. BJ, my friend who had been stationed in Texas shared her boyfriend's mom recipe for these Mexican style eggs from her family. BJ ditched the boyfriend but kept the recipe.

Serve with tortilla chips and
refried
beans.  Bacon taste great too! 
Hot coffee and OJ are delicious with this meal.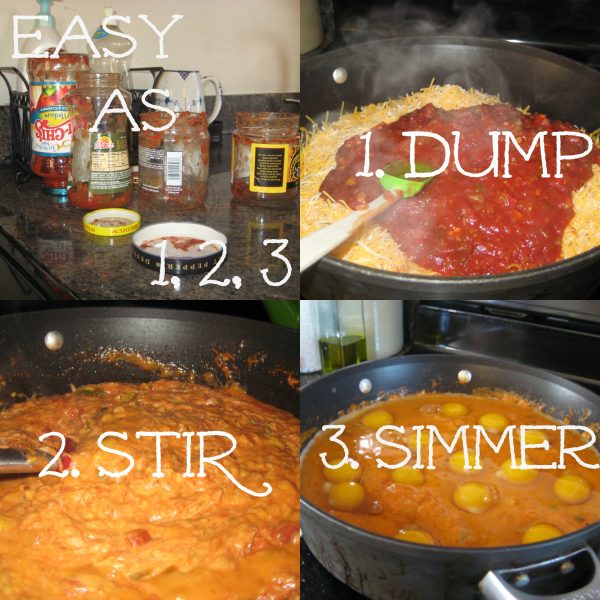 BJ's Mexican Eggs …Great dish for a crowd!
BJ's Mexican Eggs
Ingredients
1-2

eggs per person

shredded cheddar cheese

1-3 packages

salsa

skillet with a lid

use a larger skillet for more than 7 eggs
Instructions
Heat cheese in the skillet on medium.  Non stick or iron are good skillet choices.

Stir frequently as it melts to prevent sticking.

Stir salsa until the color changes to a deeper orange.

Bring to a slow bubble.

Gently break eggs into the mixture.

Cover.

Cook for about 5-7 minutes until almost at desired doneness.

Uncover, turn off heat. Let eggs set for a minute or 2.

Serve.

Add extra cheese mixture on top.
Notes
Don't use nonfat cheese as it doesn't melt well. Use up the odds and ends of cheese. If you add pizza cheeses, there will be a trail of cheese when eating!

I often use a soup plate, perfect for scooping up all that deliciousness! 
Linda's Hints:  Slow heat cheese mixture to prevent scorching.  Don't crowd the eggs. More than 6 -8 in a standard sized skillet is too many. It takes forever to cook those eggs properly!  They turn out too done or too runny. You do want plenty of the cheese mixture for all those chips everyone is going to be eating.  This is a forgiving recipe so use up all the odds and ends of salsa and cheese.
 Enjoy!
~~~~~~~~~~~
Links for your shopping ease
This site contains affiliate links to products that may be the same or similar products I use.  I may receive a commission for purchases made through these links at no extra cost to you.

~~~~~~~~