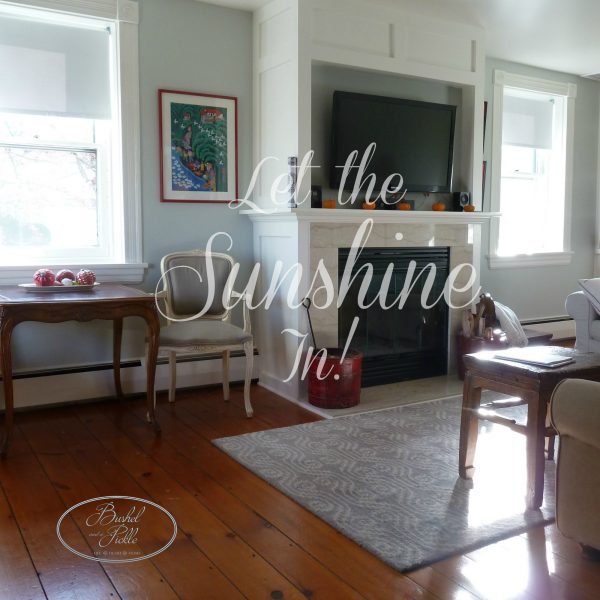 When it came to curtains of drapes in our old house, I was stumped.
Stumped!  For years!  Years!
We did renovations.  But those windows still had me stumped!
I love the Federal look and fine draperies.  It just didn't suit.  I thought maybe shorter panels window sill length.  Nope.   A more comtempory style?   Nope.   Drop clothes?  Rough linen?  Cafe style?  Long ones?  Nope, they would cover up the baseboard heat.
So I let it lay.  And lay.  And lay.
Then there was the bull's eye trim around the windows.
There are so many creative women who have made their homes beautiful. I looked at many blogs finding lots of inspiration and rooms that I loved.  But nothing that suited our old farmhouse and us.
Eventually cues from our historical and unique county we call home spoke to me.
We live in Amish country.  Occasionally there is the clip clop of a buggy going by our house.
Did you know the Amish often use window shades in the living areas of their homes?
Any curtains would be plain.
Tyically, the shades are heavy green ones.  Shades are very affordable.  Shades are simple.
Shades are very affordable.  Shades are simple.
White suits us just fine.  Simple yet sophisticated without being ostentatious.
The sunshine comes in!
The cold and heat is kept at bay.  The bare windows so lovely in the day are covered from the dark night.
Lesson learned.  Find what suits you.
Function and beauty is a basic decorating rule.  And I would add comfort!  Find inspiration from others, not to copy but to inspire.
Because dear friends, our homes should reflect us and our family!
Looks great; don't you think!
linking here