Well,  the Thanksgiving weekend is over and a fresh tree is up but needs to be redone.  It needed to be straightened.  The ornaments were hung by my 4 year old sweet darlings very carefully …right in their reach.  It you don't have little ones who help and take that job very seriously, that means each ornament is carefully place no higher than 4 1/2 feet  max! 
I don't really mind that.  After 35 years of marriage we have
lots more ornaments
to put higher, all the way to the top.
Besides, it was my grandchildren!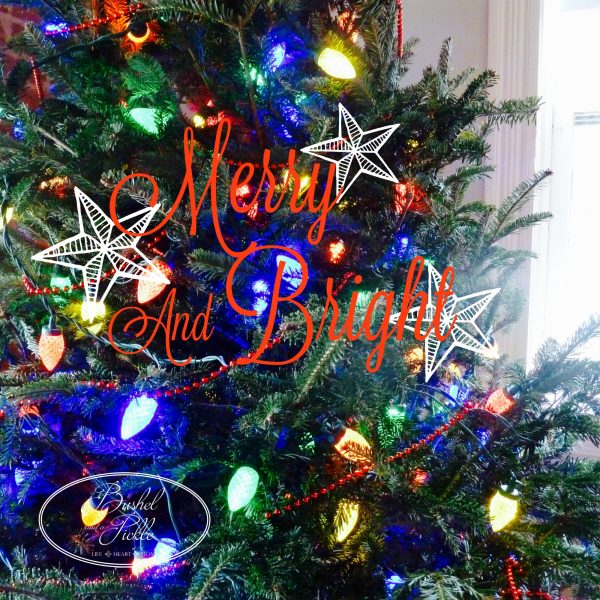 No, the real reason for the redo was the lights.
Those darn lights.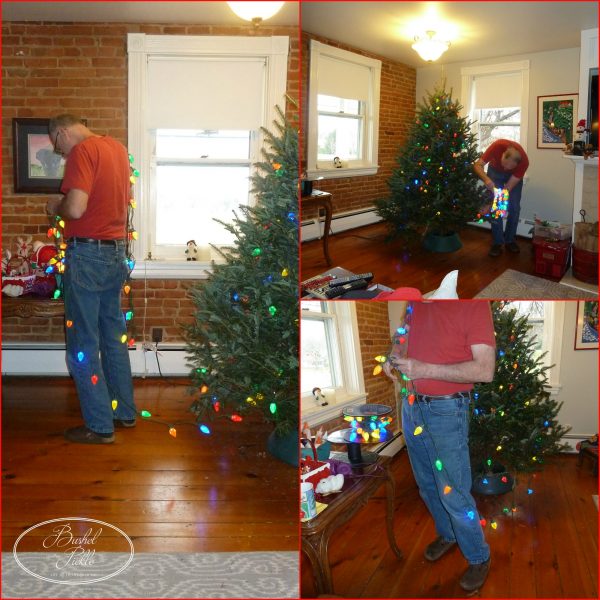 Wads were tossed when they didn't work.   A hodgepoge of styles were left.
Jim went to Walmart  to buy new ones.  He did good!  Bright colors and large bulbs for a retro look.
I asked him if he bought those because of the wheel.  "No, I like the bright colors.  I liked the retro look."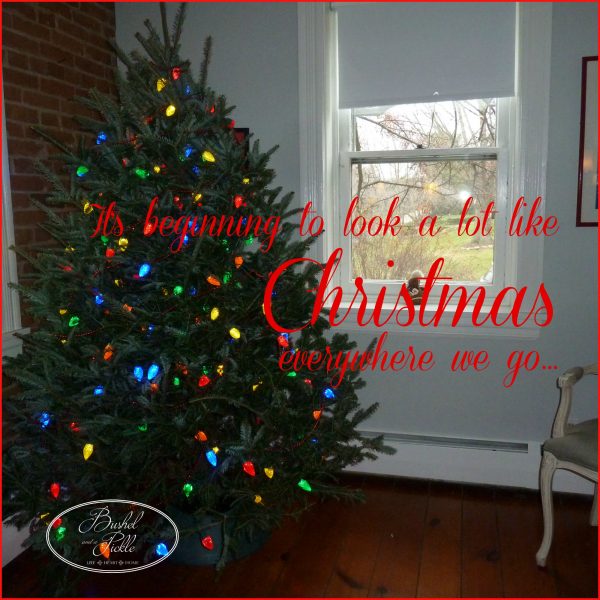 To be honest, it is the look of our very own childhoods.  Sigh.
Our tree will never be the features tree in any magazine but the years of memories made and still being made today make our tree our very favorite one.
Here is a our usual manner of putting on lights in order.
Plug in old lights.
Throw away  broken lights away.
Try to salvage the lighting situation with an assortment of lights bought for other places around the house.
Straighten the tree for the umpteenth time.
Admit the hodgepodge of lights was a mistake.
Go to buy new lights.  Go for the bold big and bright!
Have a tall person around and a cute "elf"  willing to follow said tall person around the tree until you are both dizzy.                                                                                                                                                                                                                                                            Cute elf keeps wires from tangling coming off the spindle while tall person strings the lights.  It also prevents murmuring and muttering.
Admire tree and take pictures.
Drink coffee and plan when to put on the ornaments.
Trimming the tree will gradually happen this week in spurts.  Doing it together takes more preplanning these days.
Because it's not just about the tree. 
linking here
Something to Talk About Link Party