Simple decorations to compliment antique Tibetan buffet with rich carvings.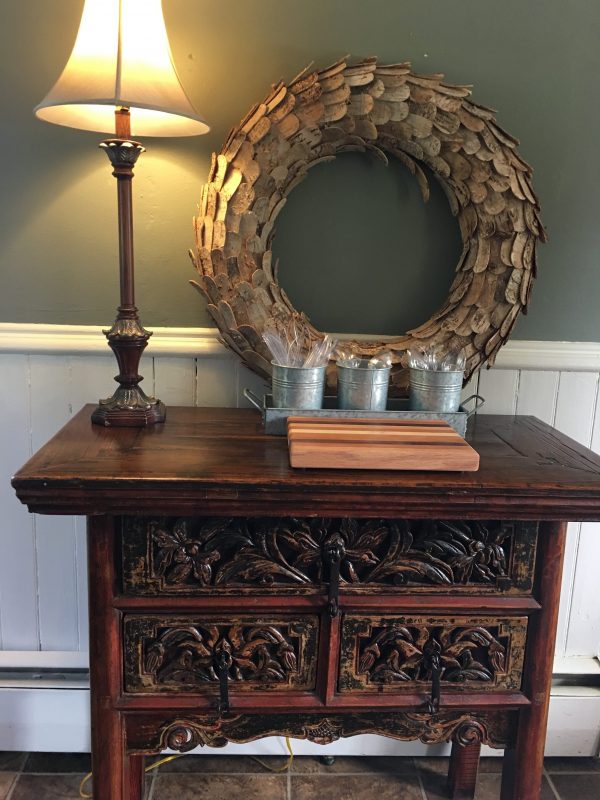 The rich patina of this old wood just stand out with these simple farmhouse accessories. Rich textures work together without overshadowing one another.
The oversized bark wreath is just resting against the wall.  Simple to do because of its size.  I don't have to hammer a nail or put up a hook.
The layering begins.
I love the worn wood on this piece.  The stories it could tell.  We are adding new ones.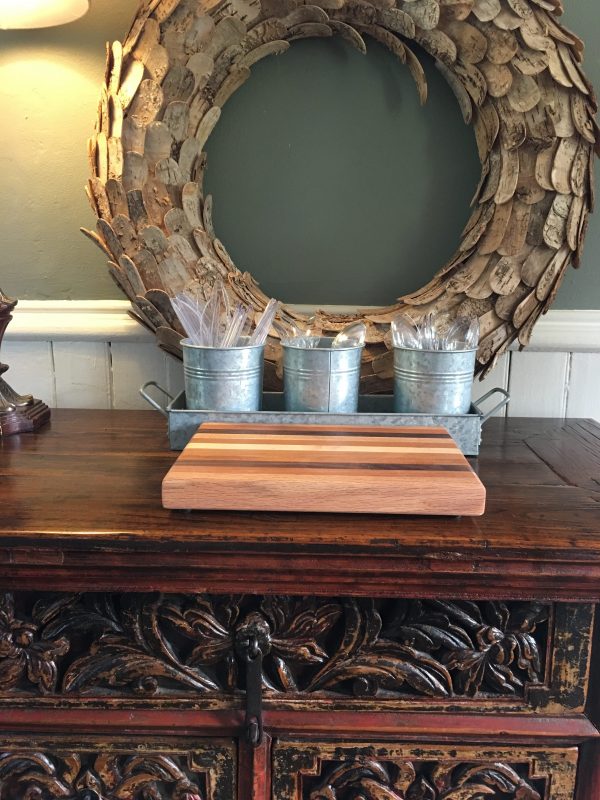 The galvanized tray with pots isn't old.  It's from Amazon.  It was meant to be for herbs but instead holds plastic ware.  One of the best buffet accessories ever!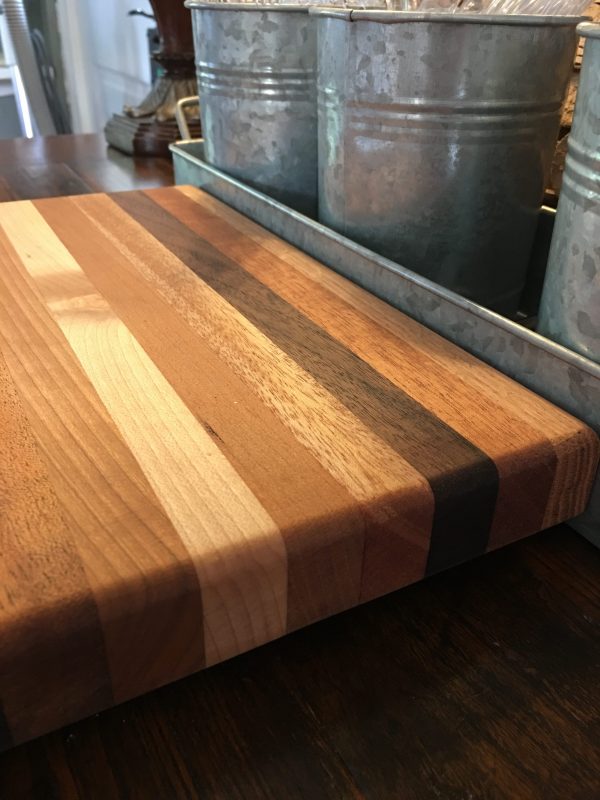 Meg brought this home one day.
It took my breath away!
Natural woods have stunning grains and richness.  Walnut, maple, oak to name a few are in this cutting board.  But I never cut on it!
Where can you get this?
Meg handcrafted it!
My daughter who takes woodworking with a bunch of guys as one of her electives made this beauty!
It's only one of several projects she has completed.
Haven influence!
Meg went with me 2 years ago and loved the Ryobi classes. I have no skill or aptitude to work with power tools or wood.  I do not hammer;  multiple holes with sprays of plaster are not good for walls.
In the Ryobi workshops she used a variety of power tools and loved it!  With the help of her savvy "Aunt" Rosemary whose actually a cousin she came home with 5 tools.  and other fun giveaways.
Rosemary blogs at notjustpaperandpaint.  Drop by for a visit.
Rosemary is good with power tools.  So was my mom.  So is one of my other daughters.  Guess I just didn't get that gene.
It was a great introduction for her.
Now she works with the big stationary tools and machines in an amazing outfitted workshop in her high school.
After Haven she decided to take advantage of the great program our high school offers in woodworking.  This semester she is making a bench with a shoe bin underneath.  She's even thinking about a career in design and construction.
I love a lamp in my kitchen.  It stays on nearly all winter and serves as a night-light year round.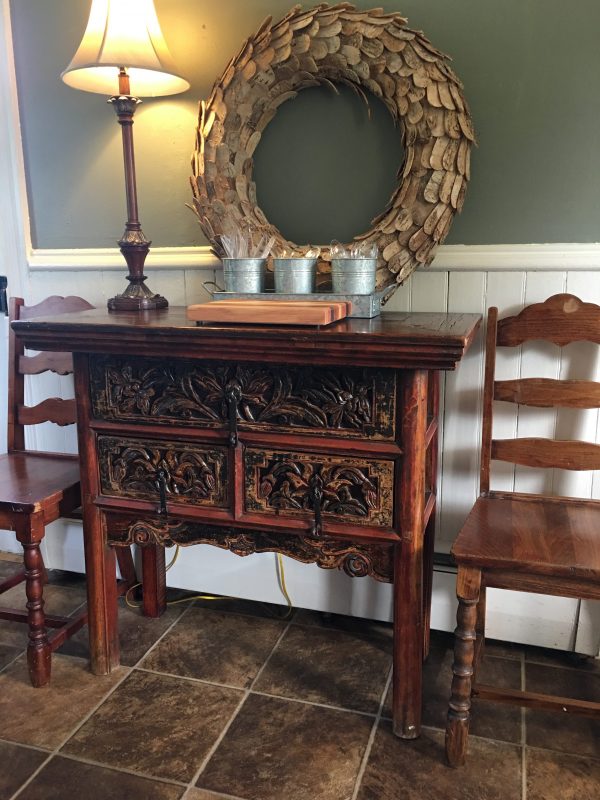 I tried the chairs next to it but the chewed up slates from a teething granddaughter and the need to pull them up to the table every time we ate nixed that idea.  I really like for our home to be both beautiful and practically useful.
Someday I'll fix that chewed up spot but for now I kind of like the story it tells of Emma who chewed on her great-grandma's chair in her grandma's kitchen.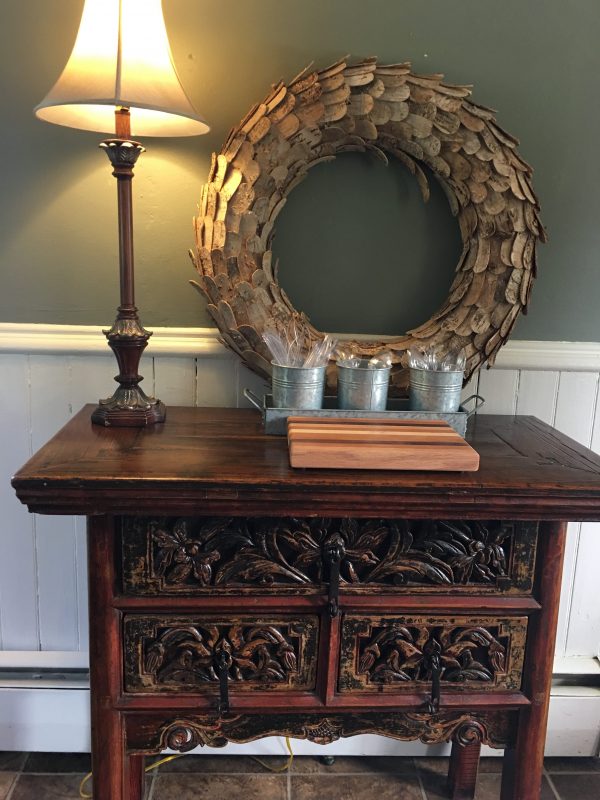 Sometimes simple is best. Sometimes showing off your daughter's handiwork is even better!
Loving this fall season. It's her last one before she graduates from high school.
What makes this fall a good one for you?
Tibetan buffet  Circa Loft
Wreath  Home Goods
Galvanized Accessories  Amazon
Cutting Board  Handcrafted by Meg