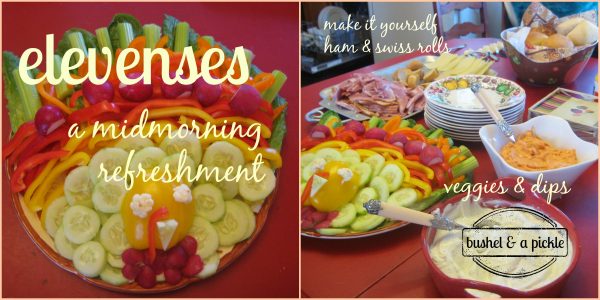 what is elevenses?
(originally posted 24 November 2014, updated 16 October 2021)
I love to read. It is no secret. I like thought provoking and "heavy" reading and I like the entertaining escape reading of cosy mysteries. One mystery series heroine, Daisy who is always ready for a snack, is the curious sort "who falls over bodies" She struggles with the fashion for skinny flappers and wishes she had that sort of figure but likes food. She's actually a healthy woman. Set in post WW1 Britain, the characters often have "elevenses", midmorning break which also helps the plot move along.
Strictly speaking, it is a midmorning refreshment primarily consisting of biscuits or cookies as we Americans call them. When we lived in Germany years ago, many people stopped mid morning for a refreshment usually of a brotchen and cold cuts with cheese.
Our traditional thanksgiving morning
My family loves Thanksgiving! Coming together regardless of who host or whose house it is, we do enjoy the day.
Our Thanksgiving Day usually starts rather early. There is always coffee. Breakfast may or may not be cooked. By midmorning after making pies and cutting up veggies, and watching the parade, it is time for "elevenses" .
Pies and sweets are for later in the day. I usually have several appetizers set out for light refreshments in anticipation of THE meal. We did have a revolt against pies later in the day once so now, no one cares when a pie slice is served Read aboutthat here: https://bushelandapickle.com/pie-tyranny/
The refreshments were ham & swiss cheese on rolls arrangesd on my mom's vintage tray.. I set out the condiments, plates and forks.
Appetizers for Elevenses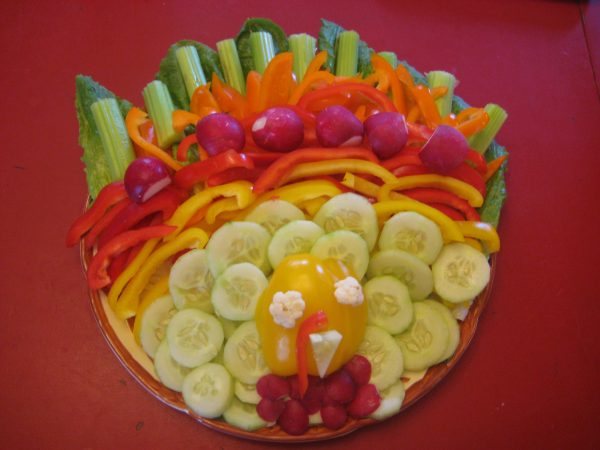 The girls had fun making the veggie turkey with Kathy, our friend! Do you remember it making the rounds last year? A "sure to make you smile" offering. Dips were Ranch and Linda dip. The special ingredient for that is Wishbone Russian Salad Dressing. You can substitute Catalina Dressing.
I used our dedsert Thanksgiving plates and gave you the Amazon link below. I also included one for a paper goods party set in the same pattern. nice paper goods can save you or someone a lot of dish washing!
Here is the very simple recipe! It's the one in the pretty white bowl that is orange.
Linda Dip
Easy delicious vegetable dip with a pop of color!
Ingredients
8

oz

cream cheese softened

1

small bottle Wishbone Russian dressing

Substitution: Though Wishbone Russian more flavorful for this dip it can be hard to find. Use Catalina Dressing as a substitute.
Instructions
Mix the 2 ingredients until blended throughly.

Chill until serving.

Serve with fresh raw veggies especially cauliflower! Great for any large gathering.
Okay, just in case anyone is wondering, there is a lot of grazing that goes on!
How does your Thanksgiving Day begin? Have you started planning yet?
~~~~~~~~~~~~~~~