Meg's carrot cupcakes were a hit. She whipped up a batch for her coworkers for a treat during their early morning meeting.
It's great tasting treat for all sorts of occasions like afternoon coffee or breakfast! Don't know about you but with the cinnamon and cream cheese, it's saying great for autumn!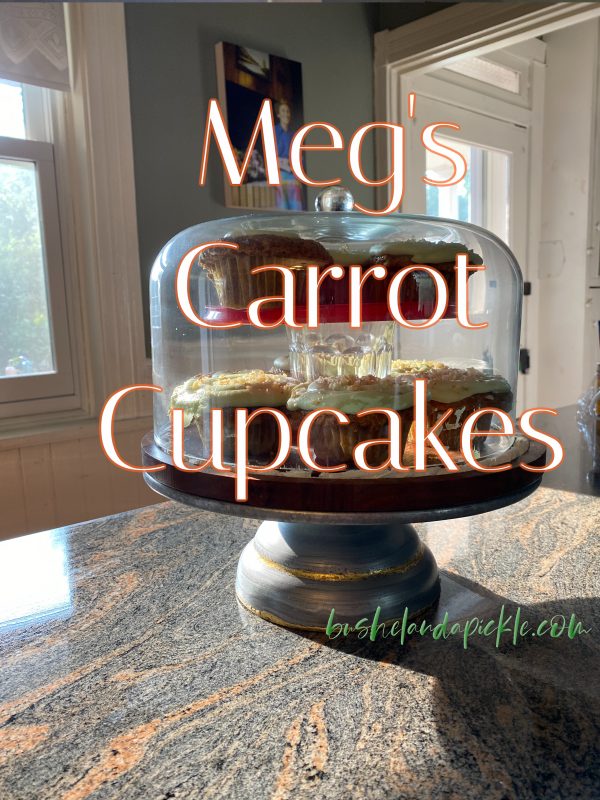 While a layered cake is nice for a dessert when bringing a treat into a place of employment, cupcakes are the better option! Grab, add a napkin…eat.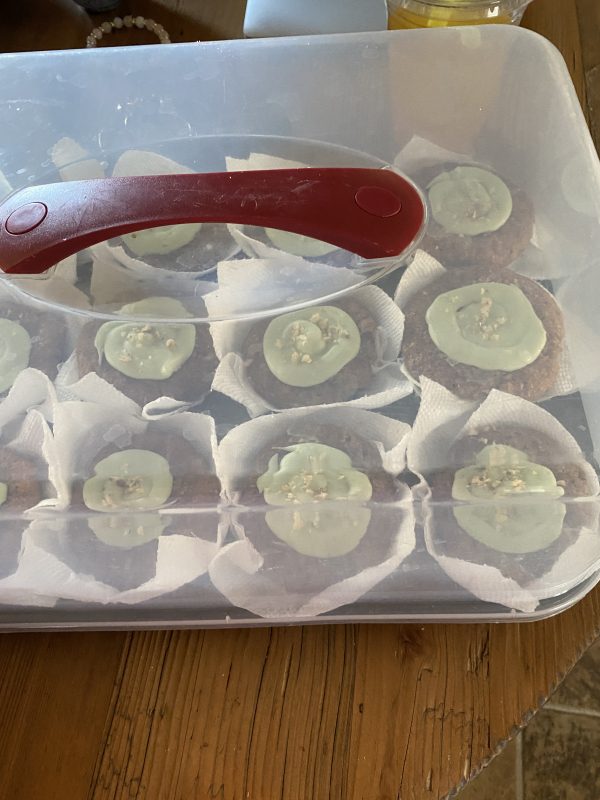 I'll admit it. Carrot cake is a favorite of mine. Maybe that's why she picked it to make. Cream cheese icing on a cupcake disguised as a morning 'muffin' makes perfect sense; don't you think? We love that Meg loves to bake!
Turns out, carrot cupcakes are really versatile. Not only are they delicious and great for desserts, we like them for morning treats. Meg's coworkers did too!
beyond dessert
Cream cheese icing on a cupcake disguised as a morning 'muffin' makes perfect sense; don't you think?
Now, our family has been know to have what you might consider desserts for breakfast. That means fruit cobblers, left over birthday cake or pie will be eaten. We can add carrot cake to the list.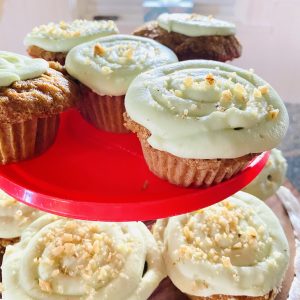 Meg's Carrot Cupcakes
Yummy carrot cupcakes with walnuts
Equipment
large mixing bowl, medium mixing bowl, mixer, knife, small cutting board, spatula, cupcake pan, cupcake liners, sifter, measuring spoons and cups, food processor with grater blade or hand held grater

Icing bag and tip
Ingredients
4

eggs

1 1/4

cups

vegetable oil

2

cups

white sugar

2

teas

vanilla extract

2

cups

all purpose flour or cake flour

2

teas

baking powder

2

teas

baking soda

1/4

teas

salt

2

teas

cinnamon

3

cups

grated carrots

1

cup

chopped walnuts
Cream Cheese Frosting
1/2

cup

softened butter

8

oz

cream cheese

4

cups

powdered sugar

sifted or break up lumps with fork in seperate bowl

1

teas

vanilla extract

1

cup

chopped walnuts

1/8

cup

minced walnuts reserved for top of iced cupcakes

optional

1/2 cup

raisins
Instructions
Cake Batter
Preheat oven to 350 degrees. Line cupcake pan with cupcake liners. Alternate: grease and flour each cup section.

Grate carrots to make 3 cups Option: Buy pregrated carrots in grocery store produce section

In a seperate meduim size mixing bowl stir with a fork to blend sifted flour, baking powder, baking soda, white sugar and salt. Tip: No sifter? Stir with a fork in blend well.

In a large mixing bowl, beat eggs then add oil and vanilla and beat

Next, slowly add while mixing about 1/3 of dry ingredients at a time until all are incorporated together.

Stir in or mix on slow speed grated carrots in cake batter

Fold in 1 cup chopped walnuts. Save 1/8 to mince for dusting decoration on top of icing.
Cream Cheese Icing
Mix together until smooth and creamy butter, cream cheese amd vanilla extract

Slowly add 4 cups of lump free powdered sugar. You msy hsve to sift it

Mix until smooth. Cool the icing to firm up before icing cooled cupcakes Optional: Use an icing bag with different tips for a fun look

Dust top with minced walnuts or cinnamon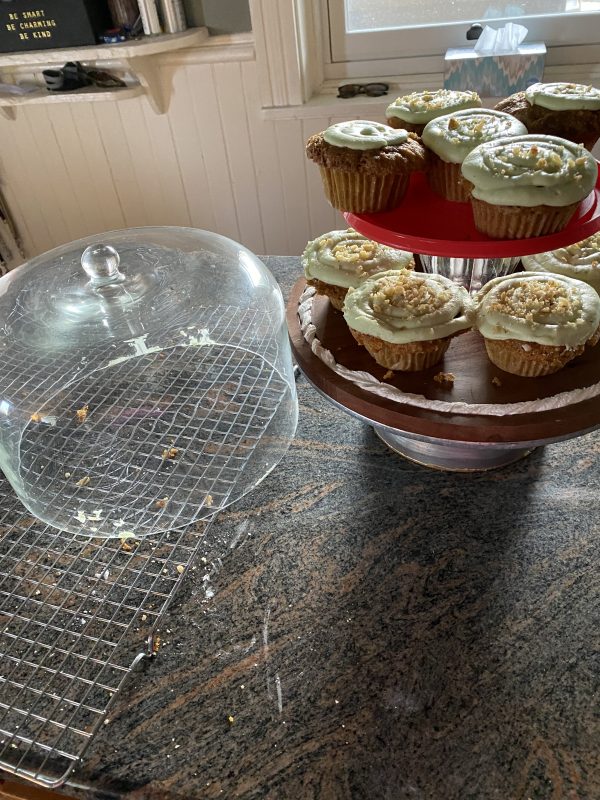 The extra carrot cupcakes sat on our kitchen peninsula counter only for a few days before they were all gone!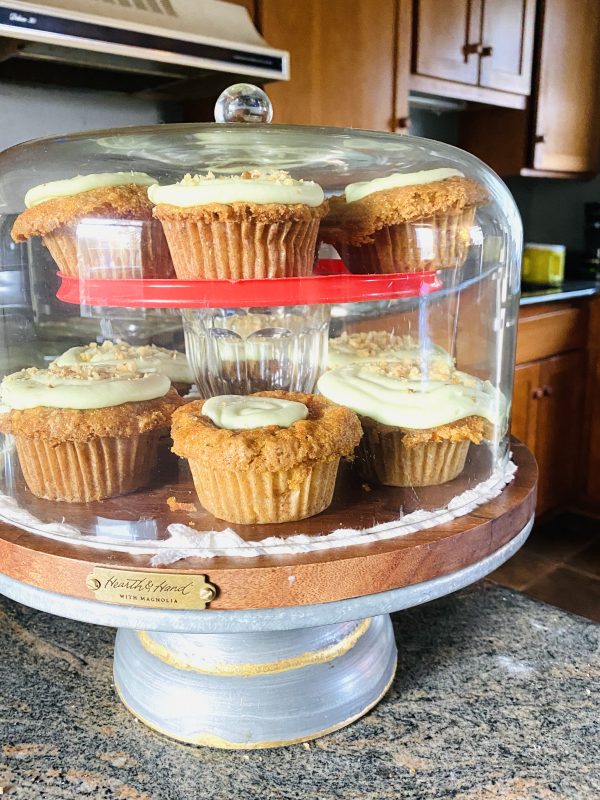 Having cupcakes to grab as a snack with afternoon coffee! Great! A quick grab and go as you blow through the door on the way to work. Coffee and cupcake on the back porch in the morning quiet. Wonderful.
Who knew cupcakes could be so versatile?
~~~~~~~~~~~~~~~~~~~~
This site contains links to affiliate products I may recieve a small commission for when you purchase at no extra cost to you. 
These are similar to the items in the post. Enjoy shopping and thank you for any purchses you make!

~~~~~~~~~~~~~