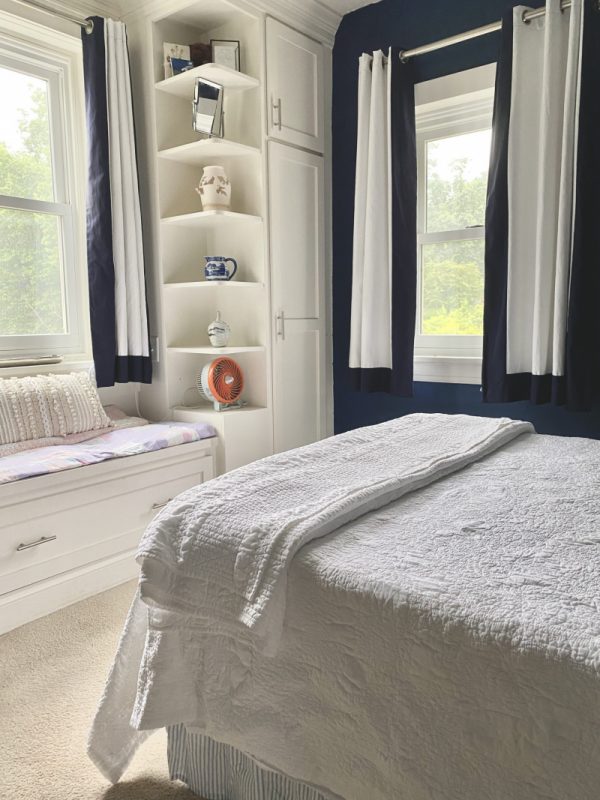 This used to be Meg's room. Now it is a room for our adult kids and familes to sleep when they visit. A place for grandchildren sleep over. Friends. A guest room!
exciting changes
Meg moved out about a year ago to her very own home! The room started to become a dumping ground and a storage room. It was time to do the post-move of a deep clean out and cleaning.
Honestly, it was all just a little emotional for me.
Let's face it; our kids never take every thing when moving. Moving out is far more involved than going to college. Creating a home of their own is huge, huge!
I'll admit, I do love seeing the freshly decorated room when I pass it daily. Some days I do miss the 'Meg Chaos'.
guest room musts!
What are the basics needed?
1. Comfy bed
2. Extra blanket and pillows
3. Functional bedroom lamp
4. Surface space for odds and ends
5. Chair or space to sit
6. Clean of extra 'stuff'
7. Space to hang clothes
8. Says 'Welcome!'
planning the redecorating
During the slow process of empting out the room, it was time for the fun part!. How did I want to decorate this room?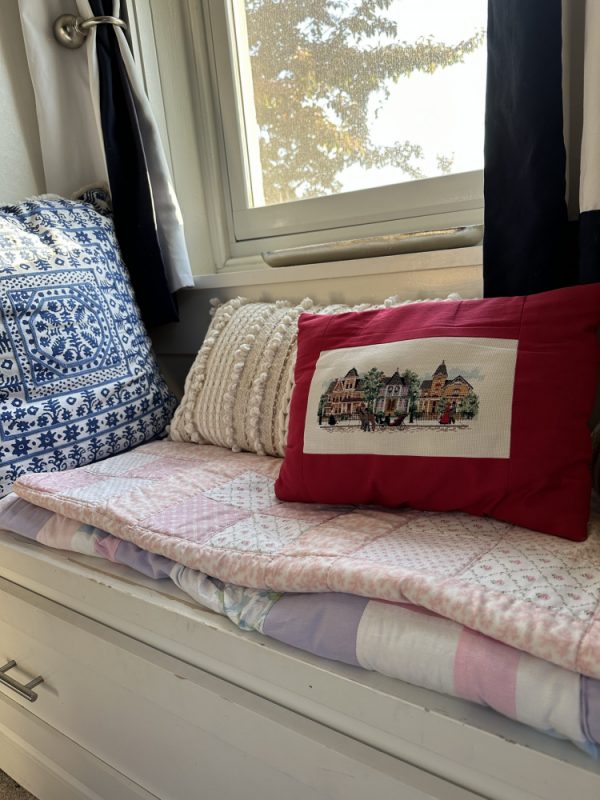 Here were my considerations.
1. Has to be inexpensive
2. Must use items we have.
3. Must be easy to make it guest ready.
4. Paint or not.
5. Buy as little as possible.
I thought about repainting but it would mean new curtains and possibly new bedding,
This was a photo I used for inspiration. I love all those colors, prints and striped. However, the finished room looks nothing like this. Too expensive but oh so lovely!
details, details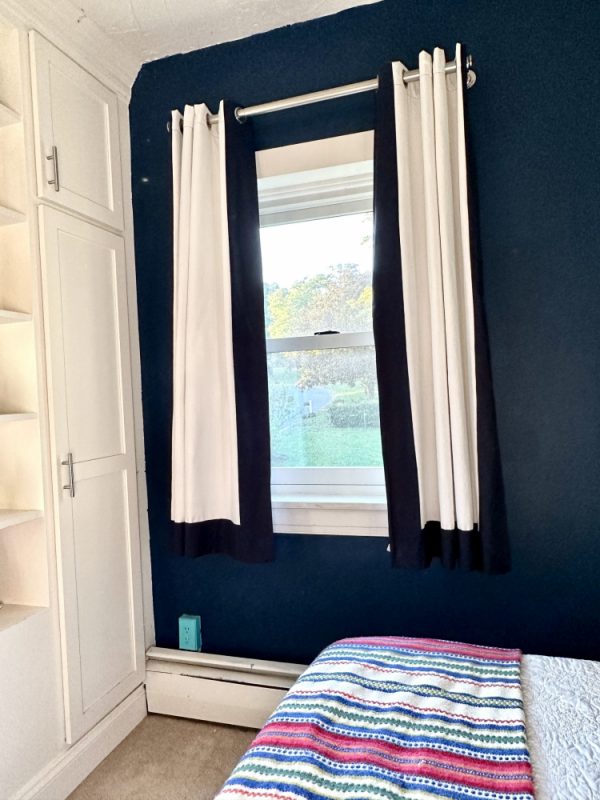 I did not paint the walls. The SW Dress Blue is a pretty navy. With the Behr Swiss Coffee trim and built ins, it looked just right! A great foundation for the look I want.
Whoops! Looks like I need to do some paintings! I forgot about the teal until I saw the photos!
The curtains did not have to be changed. Another example of using what you have! They are blackout curtains from PB Kids. Worth every penny! I tend to check often for PK Kid sales when redecorating.
I love the window seat. It was part of our bedrooms' renovations.
I folded handmade quilts as a cushion then dressed it with pillows. The blue and textures add more visual interest.
A place for dreaming I think, like a porch swing.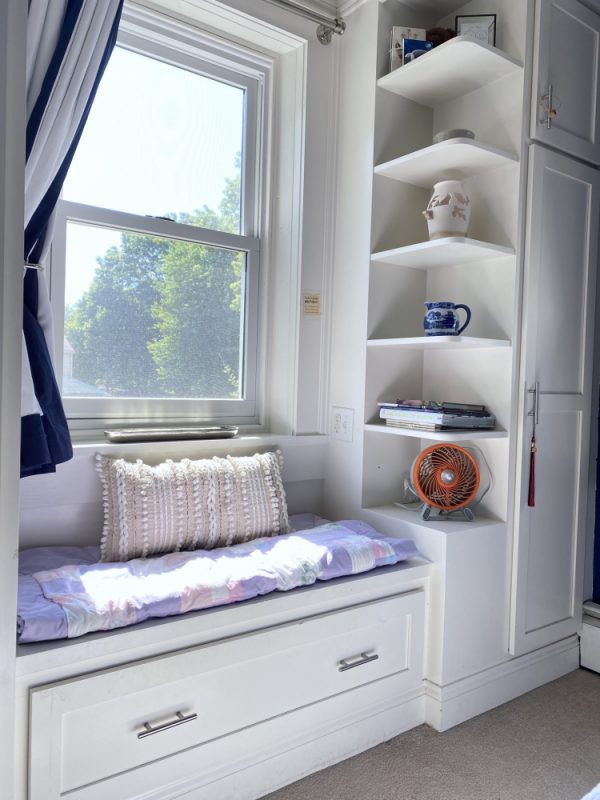 The built- ins have corner shelves. They are styled using an original porcelain vase made by Amy, a small Chinese blue and white pitcher and a few books. The small orange fan is for white noise and to cool the room at night.
It will be fun to switch out these accessories especially during holidays!
bedding and such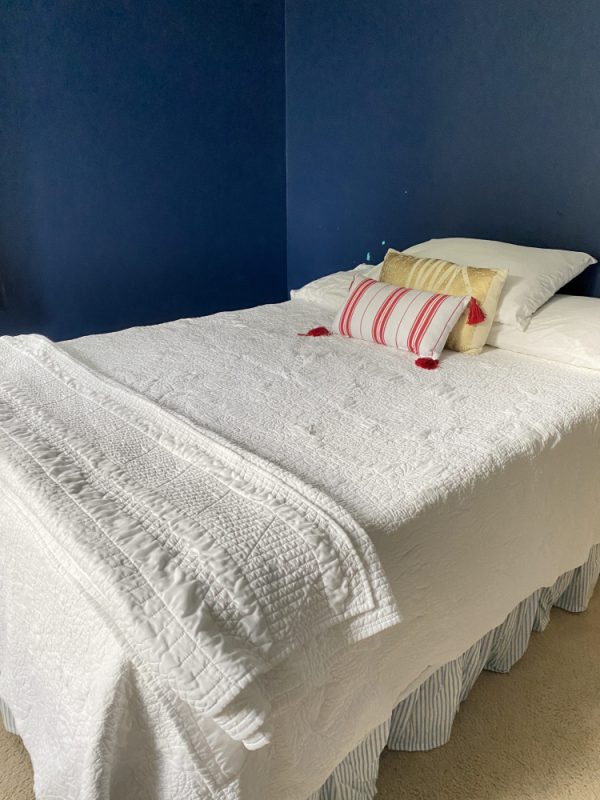 I did purchase a blue ticking bed skirt to hide the black metal legs of the bed frame for a finishing touch.
We have several white comforters that have been used at college and in bedrooms. When we replaced 3 bedrooms' mattresses, I started to buy all white sheet sets over time according to when they were on sale. The 400 count sheet sets from Target. Please note, they frequently are on sale.
It only took about 30 minutes to clean out mismatched bedding. Having the same colors, brand and size is so much easier to manage!
finishing touches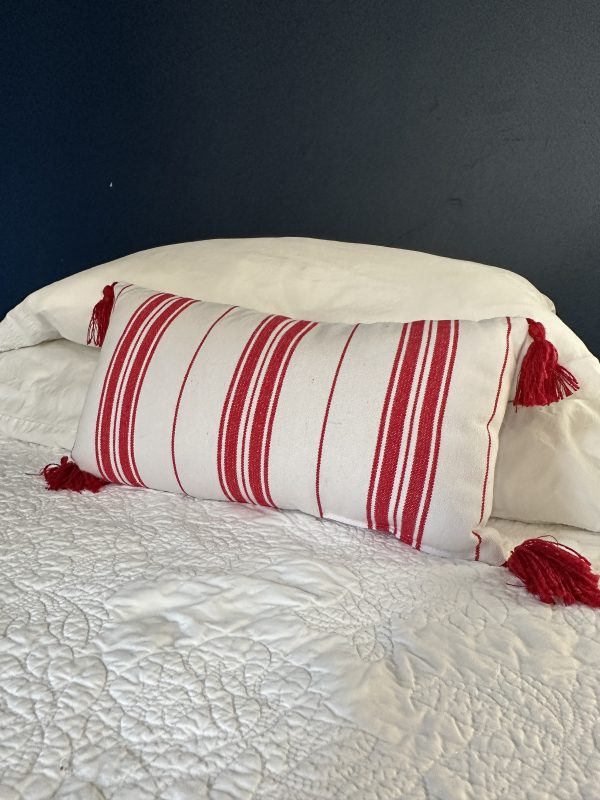 I checked out my throw pillow stash. There were plenty of blue ones but no red! When I tried the blue, let's just say they looked underwhelming. The room needed a touch of red.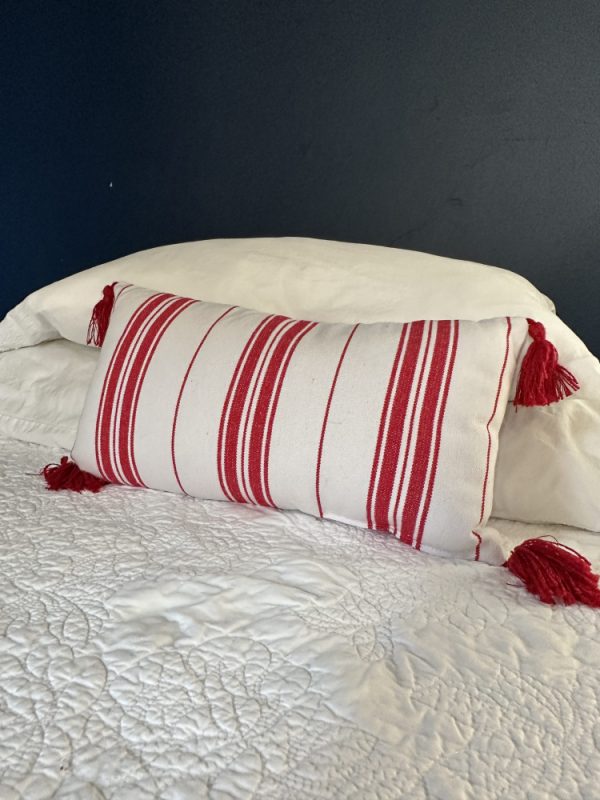 One day at Target, there it was a cute pillow with red farmhouse stripes and tassles!
Turns out I did have a red pillow! In our bedroom! It's now on the window seat.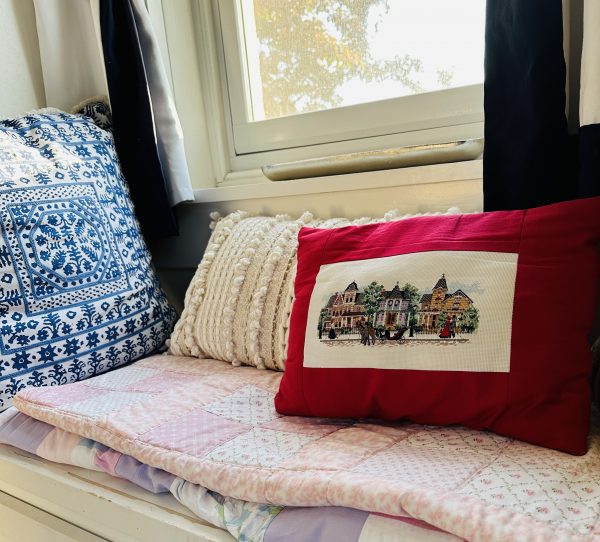 Guests need a spot for toiletries and other items. There is a mirror on the door. Eventually, I'll have another chair. A work in process.
I found the desk on super sale. It was damaged so very affordable. The white desk lamp was Amy's college days.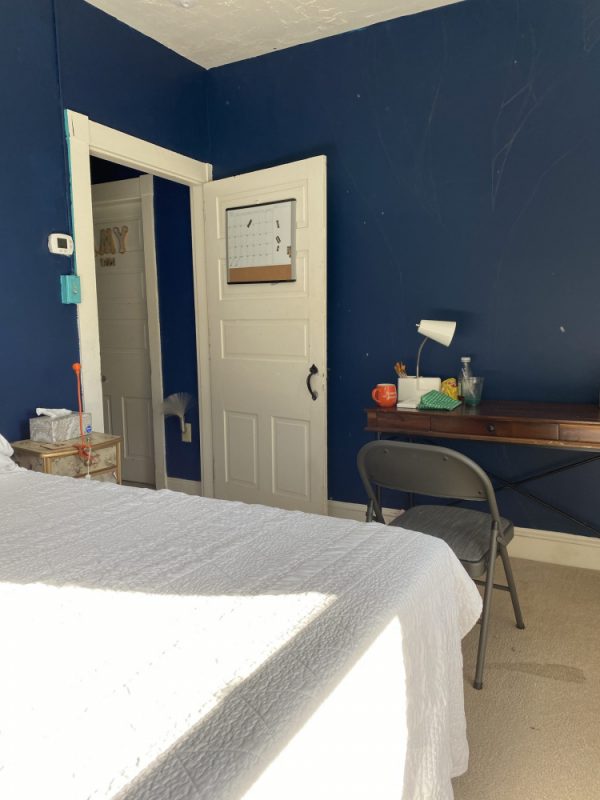 Amy replaced an orange goose neck clip lamp with this pretty lamp from Marshall's.
Having a bedside lamp is a must for our bedrooms. What makes it a good one? It needs to cast more light than a night light!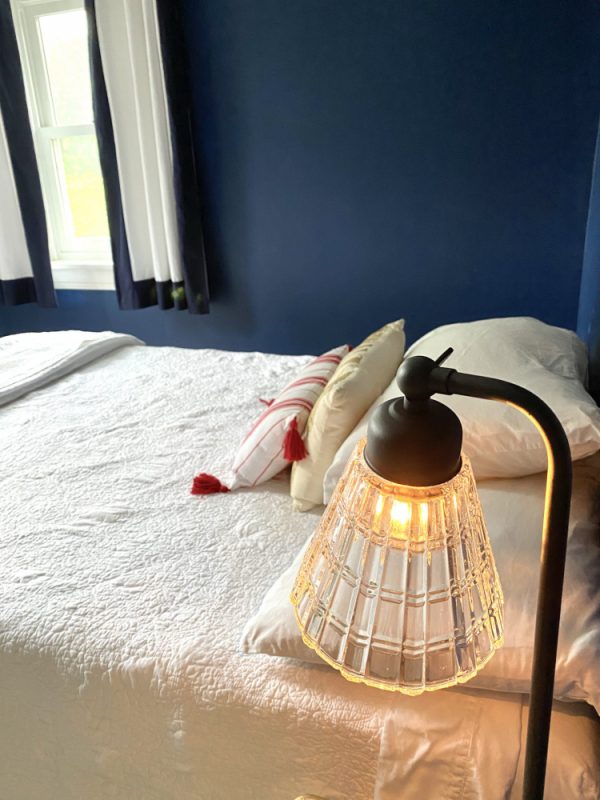 The shelves are styled with a hand thrown porcelain vase, a Chinese blue and white small pitcher and a few books. The small orange fan is for white noise and to cool the room when the door is shut at night.
guest ready
Eventually I'll find the perfect chair for the desk. I don't know how long it will take to find that chair or wall art. I am satisfied with this totally 'new' room pulled together by using what I had with the purchsed lamp and desk that were damaged and on sale. Plus that cute farmhouse style pillow with red stripes and tassles.
And there you go…guest ready!
~~~~~~~~~
This site contains affiliate links to products. I may receive a commission for purchases made through these links at no extra cost to you. Thank you for any purchases you make.

~~~~~~~~~~