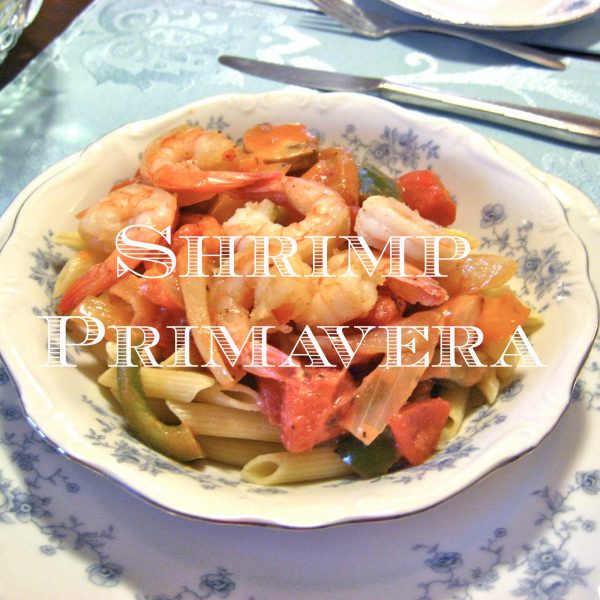 Shrimp Primavera is a dish for all seasons and all occasions!
It is a delicious dish with fresh vegetables and yummy shrimp. Bonus is it's and easy to make entree. We call it Meg's because it is one of her favorite dishes.
garden vegetables
Are your garden sweet peppers ready yet? How about tomatoes? This is just the dish for them. Shrimp, tomatoes, fresh colorful peppers, sweet onions, sautéed mushrooms with pasta.
Is your mouth watering yet? Shrimp Primavera is one of those dishes that you can dress up or down. In other words, it is versatile and it is easy to prepare.
Entree for all occasians
This red polka dot large individual square bowl is an option for several holidays or to use just because they make me smile.
The first time I made this entree was for a formal Christmas Eve dinner. We loosely follow the common tradition to have seafood on Christmas Eve.
I like the festive look with all the brightly colored sautéed vegetables in the intense red tomato sauce for the holidays. Top with sautéed shrimp, it's a color explosion. Serve over a bed of linguine or your pasta of choice with freshly grated Parmesan cheese.
We had this with sauted chicken last night. Jim can't eat shell fish. It was a delicious option!
soup plates and tablescape

Simple but elegant table comes together with an all white bouquet from Giant, our local grocery store. The light blue brocade monotone placemats are from Home Goods.
Doesn't it look pretty with our Blue Garland Haviland china?
I like to use a variety of shapes of the large bowls I have especially soup plates. Shallow soup bowls or larger ones with different shapes and sizes but not red are better than plates. I do have all red ones but they dull the color of tomato sauce entrees so I don't use them.
This informal look is a bit rustic and contempory with the stripes and polka dots. Black and red is a winning combination!
recipe
Shrimp Primavera
delcious pasta dish with shrimp, diced tomato sauce and fresh peppers
Equipment
3 quart sauce pan, pot, large skillet

cutting board, knife

measuring cups and spoons
Ingredients
4

Tbls

butter or olive oil

1

Tbls

minced garlic

32

oz

can unseasoned diced or crushed tomatoes

1 1/2

Tbls

fesh lemon juice

1/4

teas

dried red pepper flakes

1/2

teas

basil

1/4

teas

marjoram

1/2

teas

black pepper

1/2

lb

white mushroom

1

green bell pepper

1

red bell pepper

1

half

yellow onion

2

Tbls

butter or olive oil for sautéing

1

lb

fresh linguine

optional penne

1

lb

large shrimp fresh or frozen, devained and peeled

option. sauted chicken bite size pieces

1

teas

Old Bay seasoning

fresh grated Parmesan cheese

1/2

Tbls

water

1

Tbls

cornstarch

can use flour

1/2

teas

milk or cream
Instructions
Cook fresh linguine or other pasta according to package directions and drain

DICED TOMATO SAUCE INSTRUCTIONS

Mix cornstarch, milk or cream with water in small bowl until smooth. Set aside.

Melt 2 Tbls butter or olive oil in sauce pan

Add minced garlic, cook one minute

Add red pepper flakes, basil, marjoram, black pepper

Stir in cornstach mixture until blended

Cook on medium heat appx 10 minutes

Cut peppers and onions into 1/2 inch squares

Sauté vegetables in a skillet in oliive oil or butter appx 3 minutes. Vegetables should still be crisp

Add to sauce and simmer for about 5 minutes without overheating. Vegtables should still be undercooked

Option 1: Cook raw devained and peeled shrimp using Old Bay Spice Seasoning and follow cooking instuctions on container and drain

Option 2: Quickly sauté thawed drained shrimp in butter or olive oil seasoning with Old Bay for warming and flavor

When linquine is almost done, stir in shrimp to completed sauce just before serving

Spoon primavera sauce over hot linquine. Sprinkle with Parmesan cheese on top. Serve
conclusion
Doesn't this look yummy with the rich tomato sauce with flavorful fresh vegetables and shrimp!
Sometimes, we have leftovers. Making a quick pot of pasta or even white rice is no trouble for our next day lunch. It's asy to grab and heat up for each person. With 4 adults coming and coming during the day, having grab and heat food makes lunch easier!
This delicious dish is a regular for us! Hope you enjoy it.
Though this is a dish I often serve this for special occasions, I made it last night for dinner. No special occasion; it's nice to have those special dishes for dinner too!
~~~~~~~~~~~~
Making these special days for my family and friends is a blessing!
How do you make your special even more special?
Come by soon for another visit! Please sign up to follow
bushel and a pickle
to recieve regular notices of new posts.
this post includes affliate links that I may receive a commission from when a purchase is made at no extra cost to you.