Linda's Fancy Stuffed Chicken Breast is a new item that will be repeated for our meals. It's oven baked and easy to make! My kind of dish! Oh, it has to be family approved!
It was still moist for Amy who came home late after teaching her pottery class! I covered the casserole dish with foil and put it back in the warm oven that was turned off. The foil covering kept the dish moist.
what type of chicken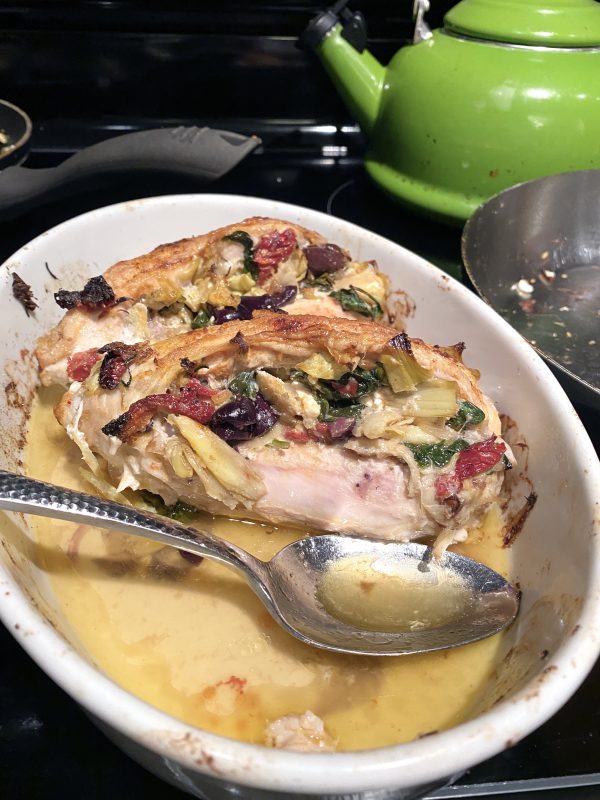 There was a lot of good juices since I used bone in chicken breast with skin.
We typically buy local organic chicken. Recently, there has been a limited choice. No plump boneless breast were available. Amy said she liked boneless bettter. There was a shorttage today I told her.
They spilt the same. You to have to take care to not just butterfly or cut them into 2 pieces when splitting. Pat the seasoning of salt, pepper and smoked paprika on top.
I sprayed the casserole dish with cooking spray first. Place chicken in casserole dish, then stuff. When you stuff them, use your fingers to stuff it nice and full! I have found just using a spoon doesn't fill the space completely.
I took note of which one was for which person. Drizzle lightly with olive oil. It help brown the chicken.
adapt for taste and diet needs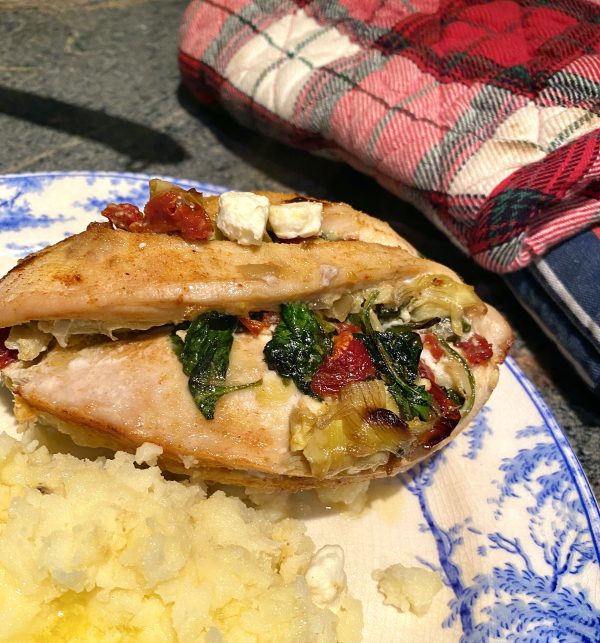 I don't like olives, I don't like capers.
Jim and Amy love them but wait! That's not all. Jim cannot eat dairy on his restricted diet. That plays havoc on serving our usual favorite dishes; I rarely make them these days. He only eats chicken and non shell fish.
Amy eats it all! She doesn't care for blueberries.
Ingredients
The ingredients are ones I typically keep in my pantry and refrigerator.
Artichokes are something I also use in a favorite hot dip. My recipe is here. It is a pantry staple. Drain them well. I break the hearts up then chop into dlightly pieces Do not chop into small and tiny pieces.
Sundried tomatoes are popular for many dishes. They add a zing to the dish. I do not chop them.
Usually sun dried tomatoes are found in the produce section, at least that's true at my regular store. I buy the vaccum package that gives me enough for two dishes. They also come in jars with oil. The reseable package is best for me.
Fresh spinach is my preference though frozen with the water squeezed out works absolutely just as well! I do freeze the extra from our garden but it gets used up fast! You don't need to chop it before sautéing. Pinch off extra long stems.
Who doesn't have onions in their pantry? Currently, the ones I am cooking with are from our garden. Diced the onions.
Black olives are well liked by several family members. Maybe all of them but me! So I keep a jar in the fridge. I also keep black olive snack packs for when the grandkids come to visit.
Roughly chop the black olives. Roughly chopped is not even sized or minced.
Do your kids put one on each finger? I don't get it but I do love their laugh when they do!
Feta cheese is also a staple. Slice up cucumbers and tomatos, sprinkle on feta cheese crumble for a yummy Greek salad. Spinach and feta is a great omelet filling. See Here for other traditional dishes with tomato recipes. Keep scrolling for this recipe.
Making adjustments for everyione
Seasonm the chicken after splitting it. Drain the artichokes and mash out as much of the liquid as possible. Gently seperate into pieces. Drain the olives. Don't smash them, chop only!
Sautéed the onions, spinach, artichokes, and sun dried tomatoes first. Then I put 2/3's into another skillet. To that one I added the chopped black olives.
In the larger skillet, after removing it from the heat, I added the feta cheese and tossed. In the split and seasoned chicken breast I stuffed one with this olive free batch. To really make that full I pushed it in using my hand so I could add more of this deliciousness. That one was mine.
Next I stuffed the mixture without the feta but with olive mixture from the smaller skillet into the chicken breast. That one was Jim's.
Then I added feta to the remaining olive mixture, tossed and stuffed in the other piece of chicken. That was Amy's.
I used 2 skillets and a casserole dish. Of course there was the usual chopping board and knife. Easy clean up.
simple menu
I chose to served this dish with mashed potatoes. I made them earlier in the day. If I can pre-prepare a dish earlier I will. Of course, not all dishes can be cooked early for the best taste.
Mashed potatoes is one dish that holds up!
With exceptions, I don't want to spend over an hour tops to make dinner for us. Freshly prepared for much of what we eat inculde simple sautéed chicken with different add ons like sliced apples and onions.
Did you pick up on there are vegetables for this dish in the filling? Add a strach and crusty bread for a delicious meal.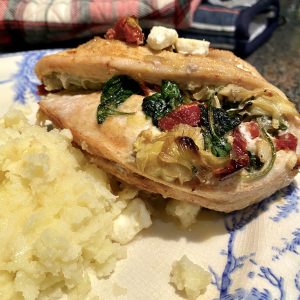 Linda's Fancy Stuffed Chicken
Split chicken breast stuffed witth mixture of spinach, feta cheese and other flavor filled ingredients
Equipment
2 skillets

1 sharp knife

1 spatula

1 cutting board

1 medium baking dish

1 strainer, optional
Ingredients
3

chicken breast

boneless or bone in

salt, black pepper, smoked paprika to taste

2

cups

fresh spinach

frozen in lieu of fresh

1

small

onion

1/2

cup

black olives

optional

1/3

cup

feta cheese crumbles

optional

1

can

artichoke hearts

or jar

1/2 plus

cup

sundried tomatoes

not packed in oil is best

1 1/2

tbsp

olive oil

one for skillet and extra to drizzle over chicken

cooking spray
Instructions
Split chicken breast without cutting through making a pocket for stuffing

Sprinkle and pat salt, black pepper and paprika to taste on top of chicken breast

Spray baking dish with cooking spray

Preheat oven to 375 degrees

Drain well the artichokes and break up the hearts

Drain optional black olives

Roughly cut artichokes and black olives into smaller pieces

Sauté onions in olive oil

Add spinach to skillet and stir until cooked

Add artichokes, sundried tomatoes to the skillet. Stir and cook for 2-3 minutes until heated

Divide mixture in half and put into the second skillet

In one skillet stir in black olives

The mixture will stay warm. No extra cooking is needed

Stuff olive mixture into one chicken breast according to taste preferences

Stir feta cheese into remaining black olive mixture

Stuff into another chicken breast

Stir feta cheese into mixture that does not have black olives

Sttuff the last chicken breast

Lightly drizzle chicken with olive oil

Bake uncovered for apps 40 minutes until chicken is fully cooked
This is a chicken dish packed with extra flavors for all occasions and easy to prepare! It's easy to add and take away ingredients for diet needs and taste preferences. Your family and guests will enjoy it!
~~~~~~~

~~~~~~~~