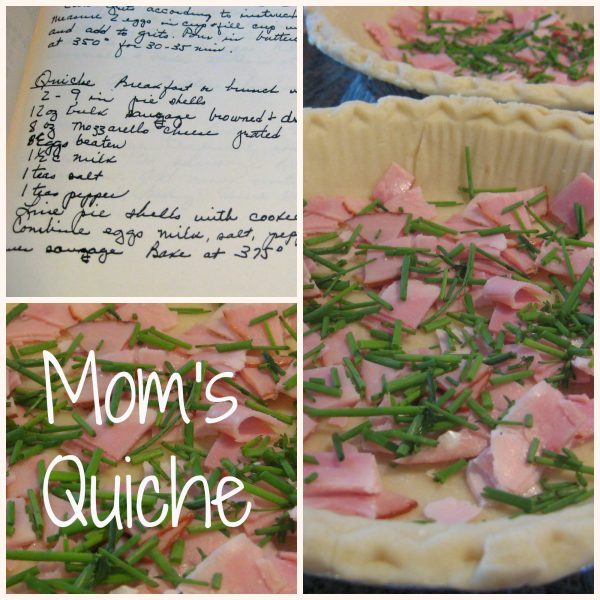 After years of marriage, travel, friends and family, I have quite the collection of recipes to share!
This one is Mom's.
Do you remember when quiche was thought to be a girly food so much so that there was a book called Real Men Don't Eat Quiche?
Guess they had not seen Cary Grant in "To Catch a Thief" serving and eating Quiche Lorraine for lunch. Oh la la. The French coast!  Movie trivia..Alfred Hitchock loved Quiche Lorraine.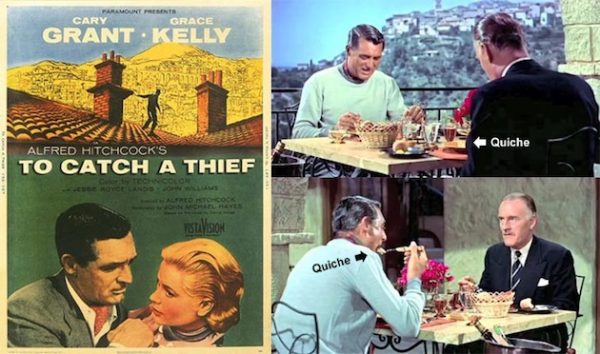 Mom made this in pairs. It freezers beautifully. She adds that at the end of the recipe. She was efficient and hospitable. I learned a lot about hospitality preparedness from Mom.
Her recipe calls for sausage.  This morning I skipped over the frozen roll of sausage! I was looking for easy and used deli Virginia ham with chives.
Hey, it was SNOWING!  The only people stirring were me and the snow plow guy!  Thank you to all those folks who clean up Mother Nature's messes this winter.
It is simple to make. For this ham and chives quiche I used frozen pie shells. Tart shells would be delicious as well.
Other combinations are pre-cooked vegetables like broccoli. Sautéed mushrooms. How about some crab?  Or smoke salmon. Add finely chopped sautéed onions. Crisp bacon pieces with a touch of finely chopped onion is good too.
It can be a grazing kind of breakfast for those sleepy head teens. How about an easy to make and serve breakfast with fruit. It makes great lunch with a crispy green salad. Versatility!
Mom's Quiche
Mom's Quiche
Ingredients
2 9

inch

pie crusts

8

eggs

2

cups

milk or heavy cream

2 -3

large sliced of Virginia ham coarsely chopped

3

Tbls

chopped chives or 1/4 scant cup of finely chopped onions

sautéed

12

oz

of swiss cheese

1

tsp

salt

1

teas white pepper

2 -3

dashes of Tabasco or 1/8 tsp red pepper flakes
Instructions
Prepare pie crust.

Mix well eggs, milk and seasoning together.

Coarsely chop ham and chives.

Spread to cover the bottom of the pie shell.

Liberally cover the ham and chives with cheese.

Pour half of the egg mixture in each pie shell.

If using aluminum frozen pie shells, place on a cookie sheet before putting in the oven.

Bake at 375 for 30 minutes or until knife comes out clean. Serve warm.
blessings, linda
sharing here  designsbygollum.blogspot.com      www.simplelivingeating.com     thepaintedapron.com