This rustic Autumn tablescape is built around the hand thrown bowls Amy has created with a future Friendsgiving in mind!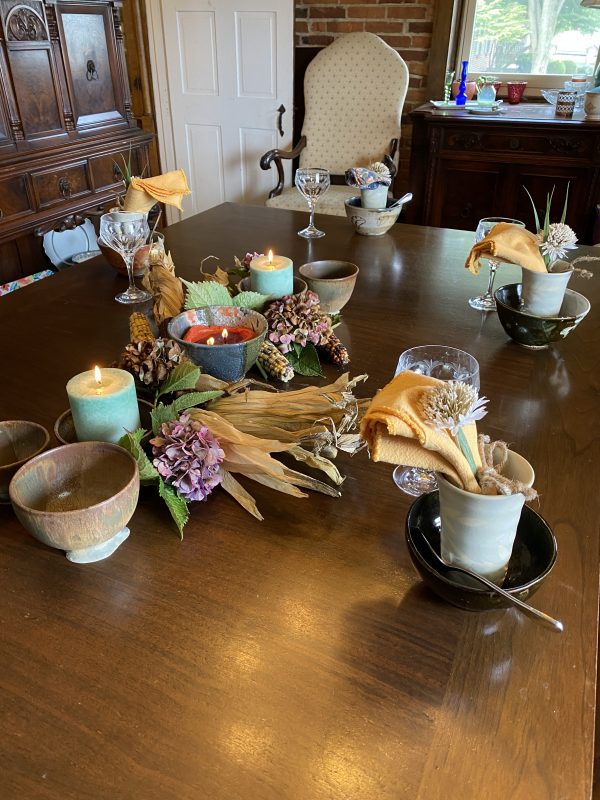 I tried using a tablecloth that I thought would be a great base. Nope!
Off it came! The wood of the beautiful table was definitely the right choice.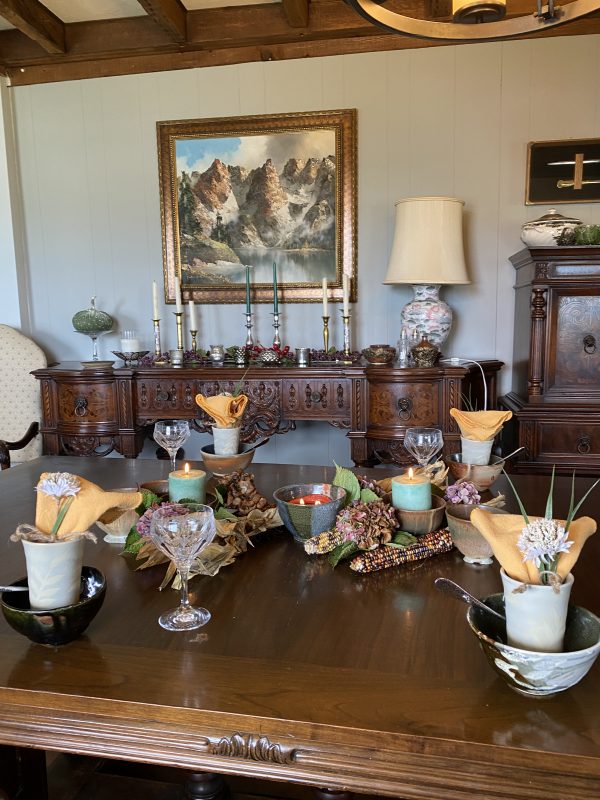 Don't try to make something work that after adjustments still is not working. Get rid of it or totally re-envision!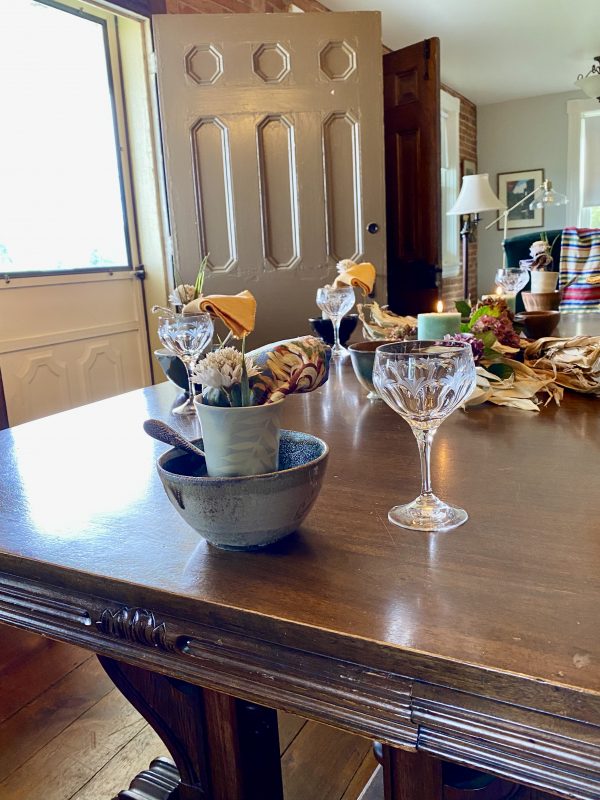 Now the fun part. I collected the bowls for 6 place settings and the ceramic tumblers. Amy made the bowls with the thought of having a Soup Friendsgiving. I thought that was an inspired idea for our family too. Soup is definitely a family seasonal favorite.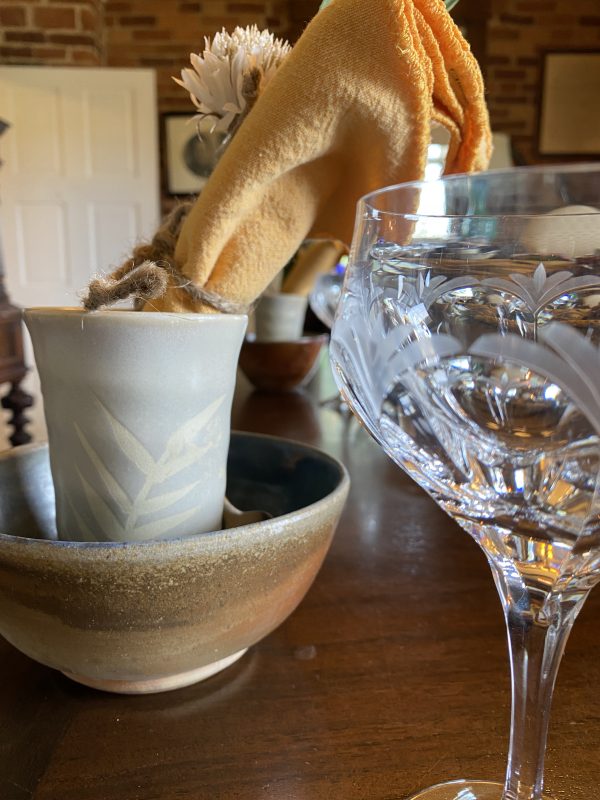 I absolutely love the look of old world elegance with the old American Farmhouse bare brick look. Using the hand thrown bowls with different designs and sizes on the formal dining room table mix is so pretty.
In a local Chinese market(when we lived there) where I frequently shopped for 10 lb bags of popcorn kernels and dishes, I found the tumblers. They reminded me of the cups that were used by my host for morning coffee when I visited Japan. The delicate leaf design makes them even more distinctive.
Napkin details
Usually I buy at least 6 – 12 napkins. If I think they could be used in many different settings I will buy more for up to 18. The gold napkins were lovely with the Indian dried corn and natural earthy colored bowls but there were only 4. I went through the cloth napkins and found the subdued blue floral ones to use.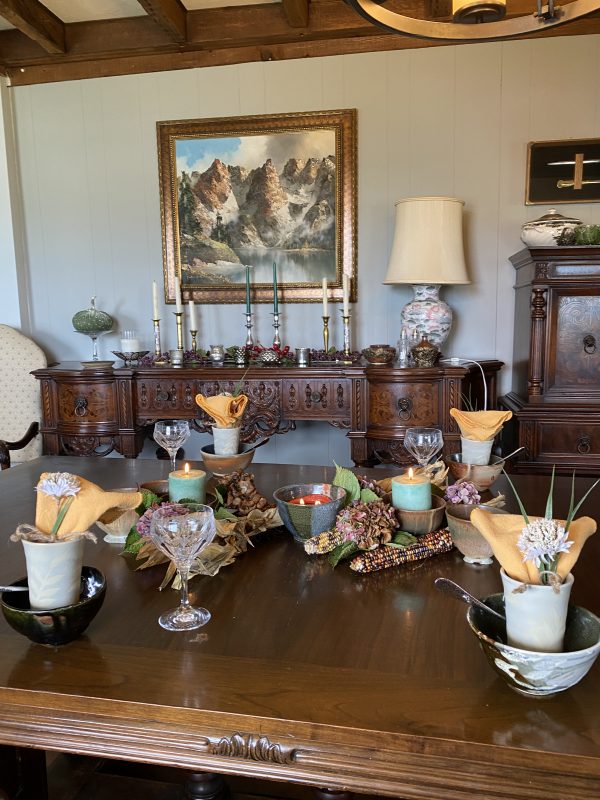 For napkin rings twine from packaging from the tablecloth was a nice addition. There was enough twine for 4 so I used my older wooden napkins rings from the 80's for the blue floral napkins.
Don't they look pretty tucked in the tumblers with a single neutral small flower? I added the spoon to the setting inside the bowl. Just for that old world touch, I placed red wine crystal glasses at each placesetting.
centerpiece elements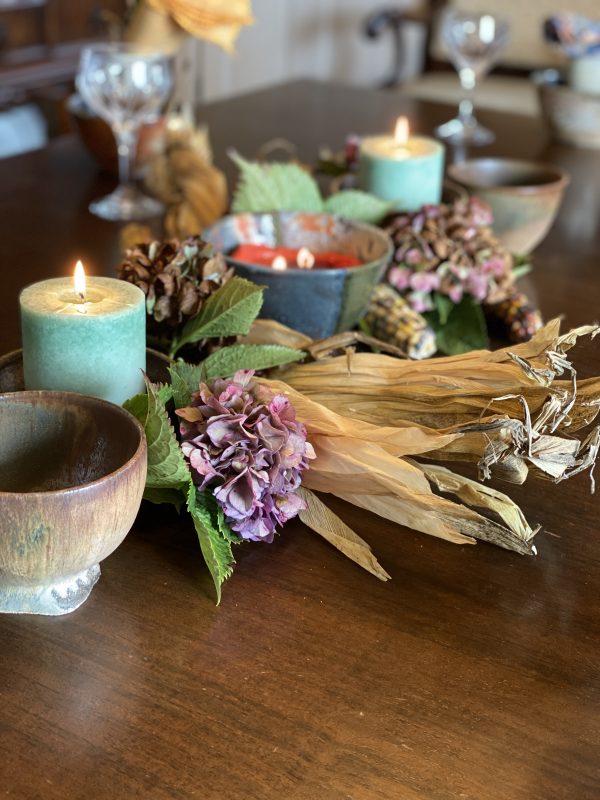 For the centerpiece I put more bowls of various sizes down the center of the table with sage pillar candles and aone bowl one. I places 6 ears of dried corn through the bowl arrangements. It was lacking.
I looked out the front window. It had rained hard for several days; I wasn't sure if there would be any hydrangeas that survived. Thankfully, there were more than enough to snip.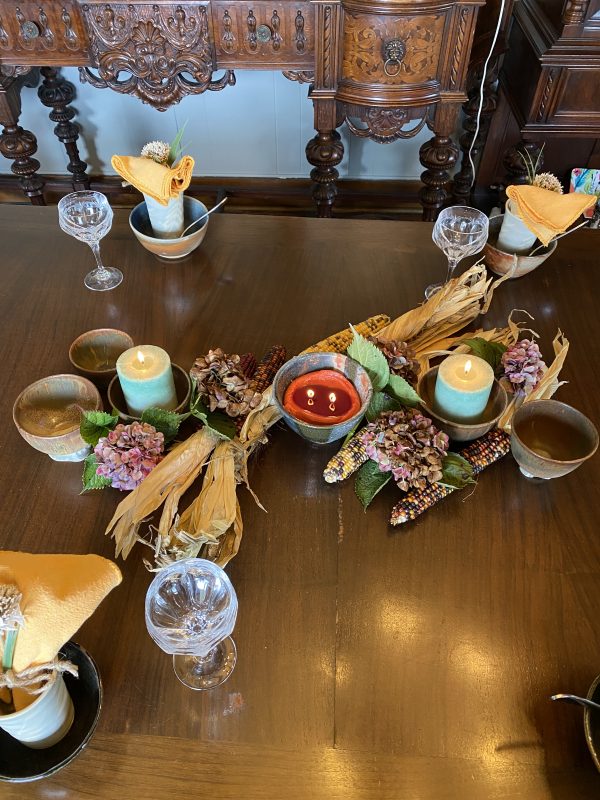 Tucking in the faded blooms around the bowls and Indian corn did completed the arrangement.
set for soup and friends
Now, to make some soup! I've included links for a couple of our recipes for soup below.
It was a joy to use Amy's cermaics for this tablescape. Can't wait to use it for her Soup Friendsgiving in a few months. Hope this inspires you for a soup dinner with family and friends!
~~~~~~~~~~~~~~~~~~~~~~
This site contains affiliate links to products. I may receive a commission for purchases made through these links at no extra cost to you.

~~~~~~~~~~~~~~~~~~~