Summer refresh of our living room was needed so I added a rug. Actually, it is for all seasons but a few more things were done to make this summer refresh.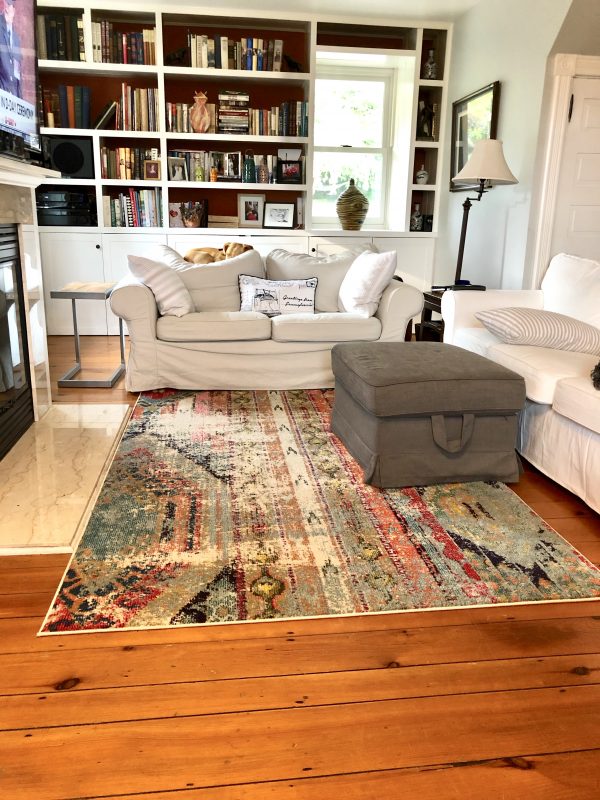 For weeks I pondered how bring a refresh to our living room. Without costing LOTS of money! What was needed to bring out the color from our Chinese peasant paintings and other art we collected from Asia? Also how to showcase Amy's ceramics?
The grey had to go! Not the paint; we love our BM gray owl; it's a great neutral. It was the couches and rug that needed to be changed. We had the white and stone ones in the attic so that was easy.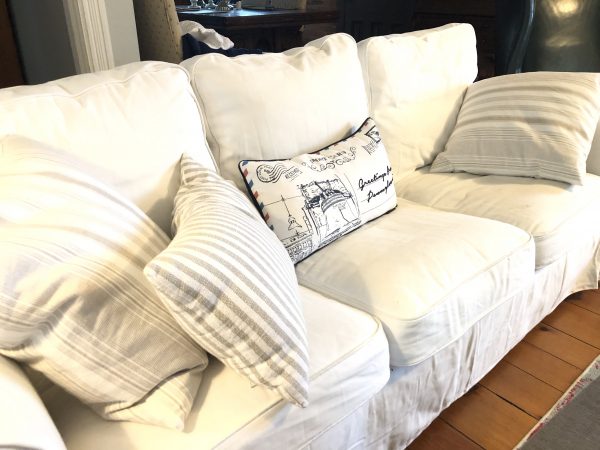 I picked up pillows in neutral with some texture at Home Goods. They are soft enough for napping which is a must at our house.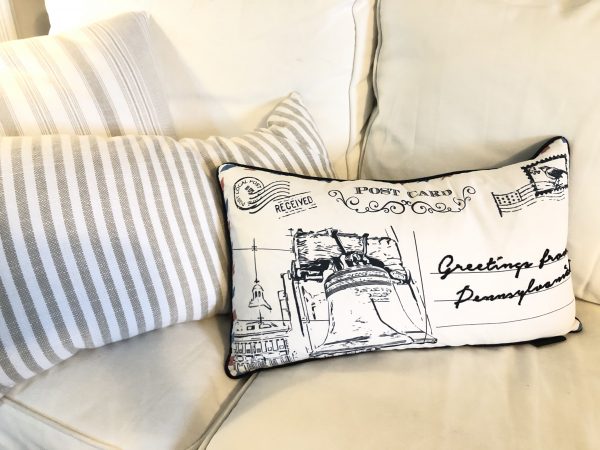 I looked at this cute novelty pillow but didn't buy it on my first trip. When I went back later, I looked again to see if I really did want in. So much ponderance over a cute pillow!  t's not exactly my norm but I just  loved its cute look with the touch of black.  Lately I seem to be drawn to soft accents with place names we've visited or live.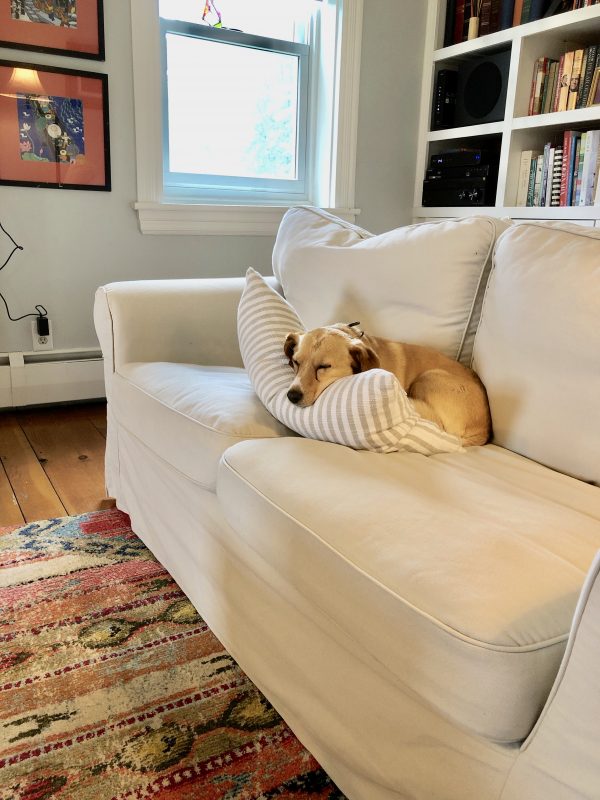 Peach approves of the nappability of the pillows.
I also replaced the tattered French side chairs with a pair I spotted in Home Goods. They are sturdy enough for the big guys in our family and stable enough for the little kids to wiggle around on. The new ones are the right size for my family for game playing and drawing.  The weathered wooden box is full of crayons.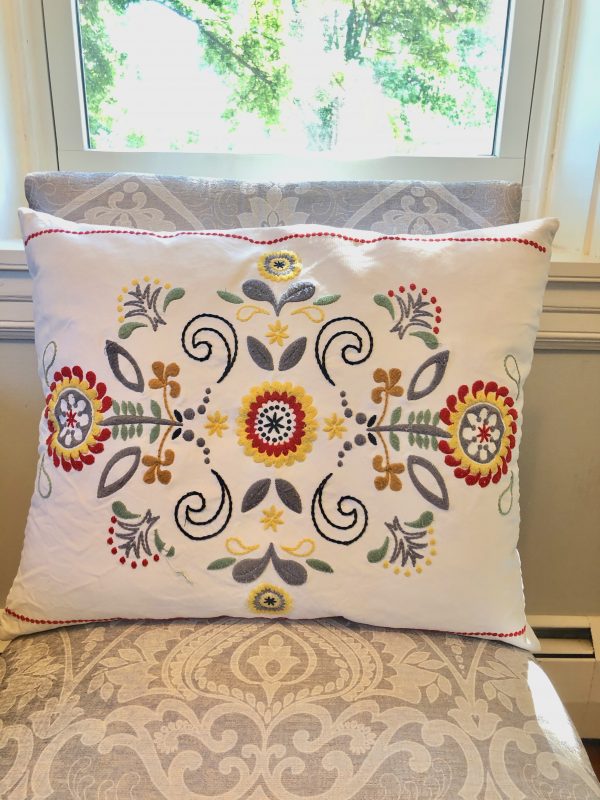 \
A spot of color was added with these IKEA pillows from several years ago pulled out of storage.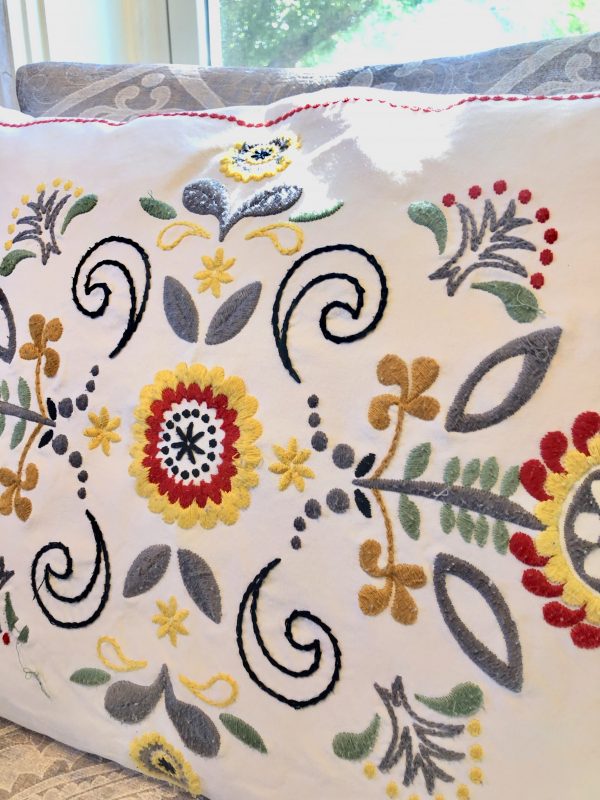 The primary colors compliment our Chinese peasant art. Plus I usually have a a touch of red in our living rooms regardless of where we live.
Next, that tired grey one with fire ember burns had to go! I wanted a rug that brought all the colors in the art and pillows together.  It also had to be a updated style with a nod to traditional designs.
I liked this design.  Though it is a distressed southwest pattern it is reminiscent of styles we saw in SE and Central Asia. We lived there for several years. It's colorful without being over the top and similar to an over dyed one. It's from Home Depot! And very affordable. I spotted it on Jennifer Allwood's blog in her office. HERE
 All my daughters were here when it arrived which is a rarity. We rolled it out. We hummed and hawed trying to decide if we liked it. Not a good sign. Then Nancy said, "Let's rotate it."
That did the trick! Placement counts just like when arranging your rooms.  I ordered the 5×8 online HERE 
The rug was the final big change.  It anchors our living space perfectly.  If you can make a century old floor look better, this rug is does.   Low cost to change a room for a fresh look can happen!
By the way the ottoman and dogs are staying.  After all they live here too!
~~~~~~~~
This site contains affiliate links to the same of similar products. I may receive a commission for purchases made through these links at no extra cost to you.  Thank you so much for your support! 
~~~~~~~~~~