It was a dreary rainy Saturday but that didn't stop us having a wonderful time together. It was a special day to celebrate Mother's Day but the truth is we get together often but today, this particular day it was just the four of us; my three daughters and me. We dressed up a bit for the lunch.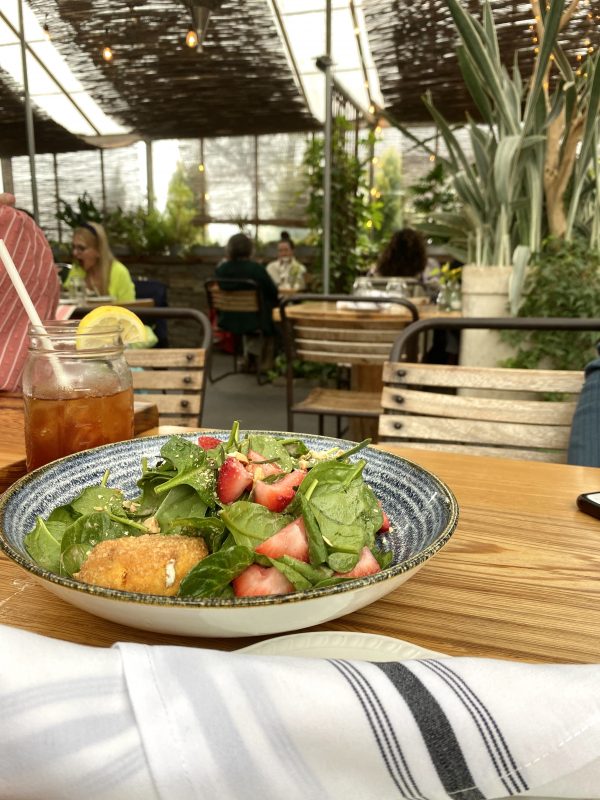 We went to a restaurant café called Terrain Cafe and Garden. The menu has something for everyone whether you're a hamburger loving person or a more inclined toward vegetarian.
After navigating puddles and wind, we were glad the greenhouse structure as warm! We were surrounded by plants and beautiful and unusual light fixtures. Do you see the very large one with the beautiful pierced design?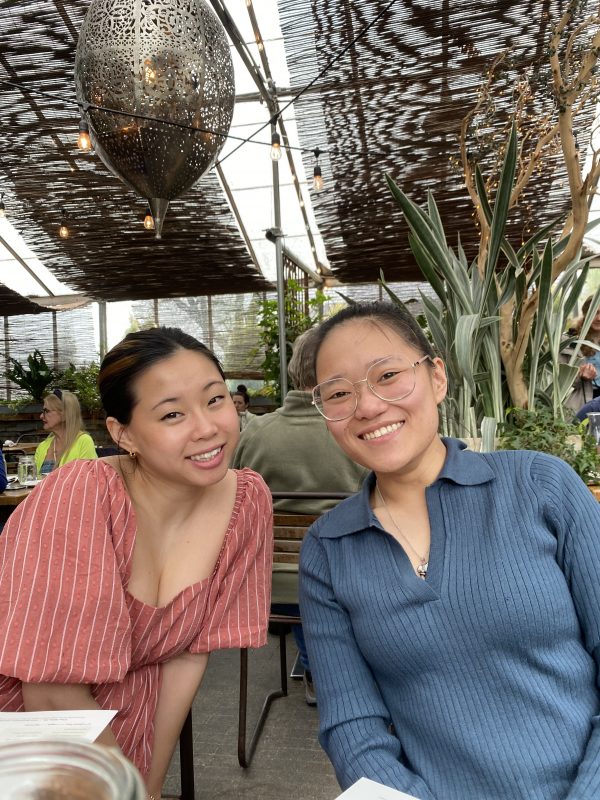 Amy and Meg made a reservation which is recommended especially different holidays with just about any restaurant.
What did we order?
Like to try different dishes? Since we couldn't actually settle on which dishes we wanted, we all ordered something different.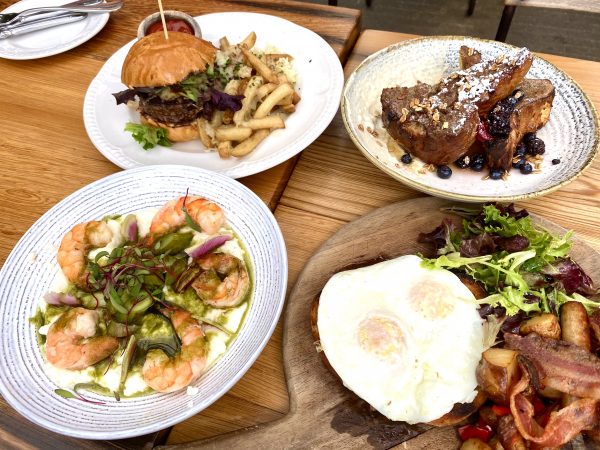 First we ordered the strawberry salad with a goat cheese croquette. Nancy cut it up and spread it around so we all had a share.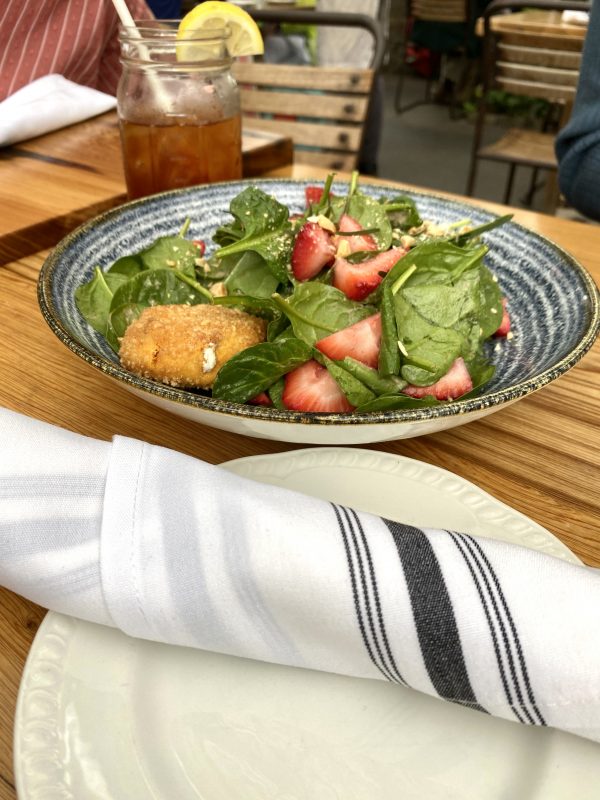 Warm bread was served in cute little flower pots with roasemary flavored whipped butter. Yummy.
Our main dishes came. Amy, surprisingly, ordered the hamburger; she's usually the one that goes with the more vegetarian entrees. I usually go for the burger. The balsemic onion jam was the ingredient that made the taste zing!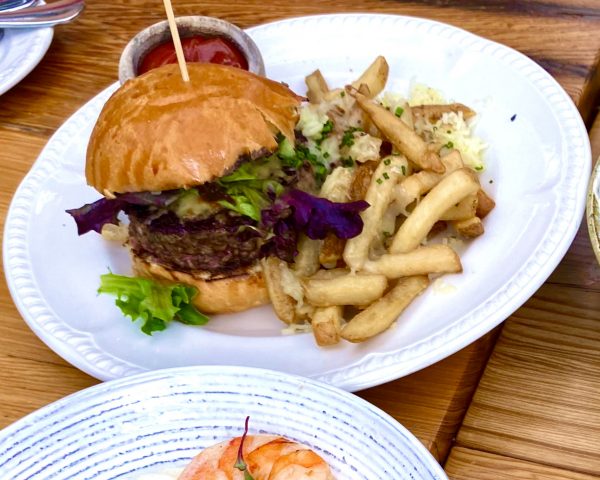 Meg ordered French toast. Just look at those thick slices of bread topped with berries and powdered sugar. So delicious looking and just a little bit decadent!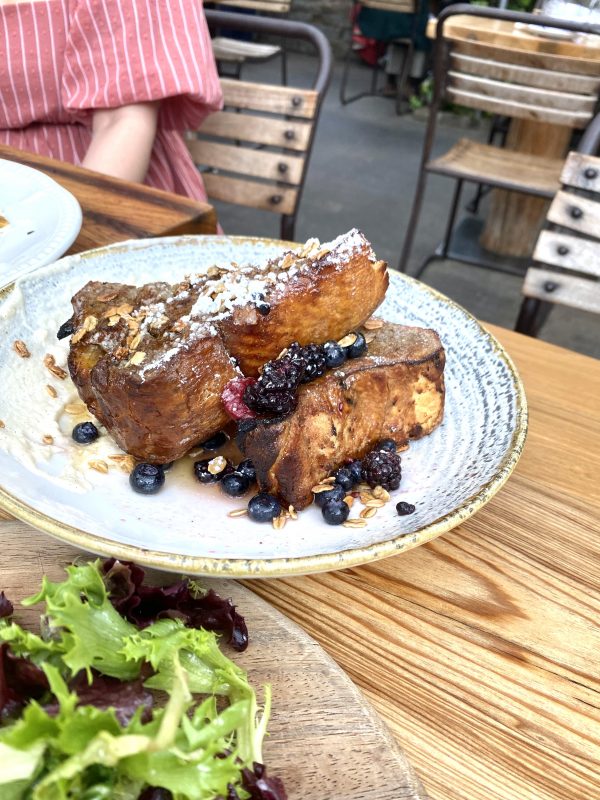 Nancy ordered the Shrimp & Heirloom Grits, They were 5 0r 6 jumbo shrimp. I ordered the breakfast platter which was served on a recylcled wood cutting board. Stylish plating makes everything more delicious! Everything looked wonderful.
Carrot cake to finish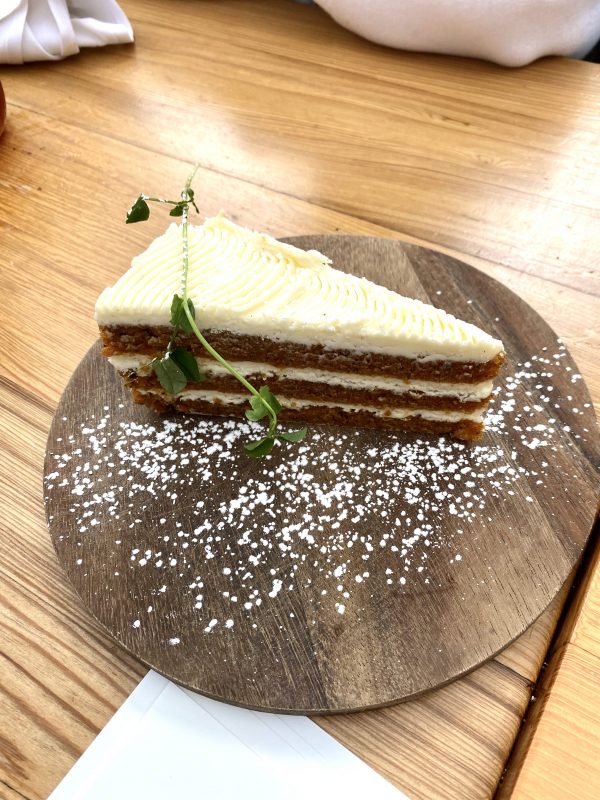 Of course we had dessert. Being practical women, we ordered one and if that wasn't enough, well, we could always order more! Carrot cake came with oh's and ah's. The coffees and cappuccino completed the dessert course. Although the cafe was busy we didn't have to rush. We were well taken care of by our servers.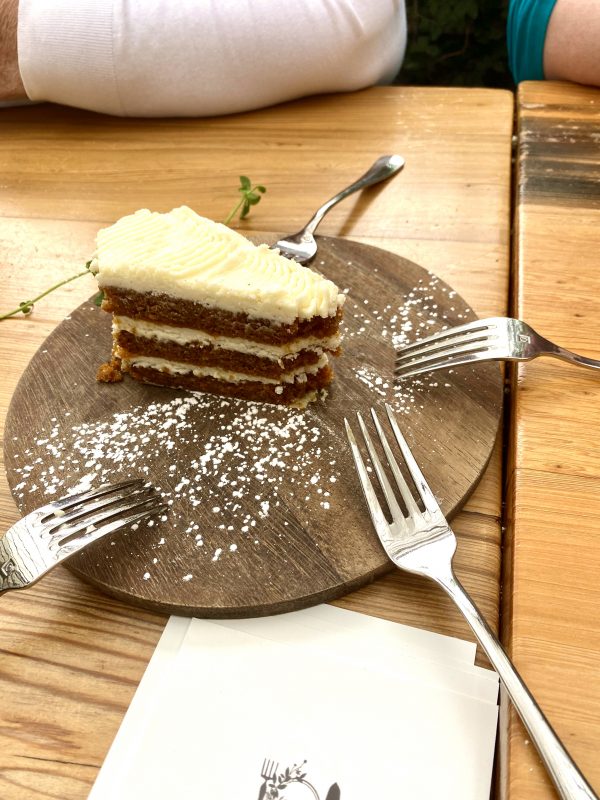 After lunch, we were wandered around the garden store taking note of many interesting and beautiful items for home and garden!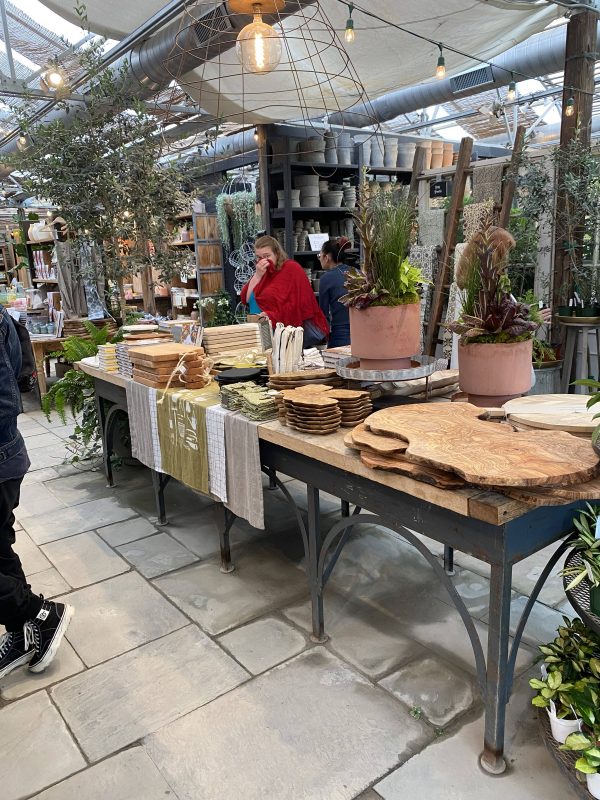 Terrain Cafe and Garden is part of Anthropologie. It offers a stylish boutique experience with an excellent food and service plus a great garden shop with accessories and plants! We went to the Gleen Mills location in the Brandywine area and passed Longwoods Gardens on the way. It is a beautiful garden to visit, Make a day off it! When it isn't raining that is!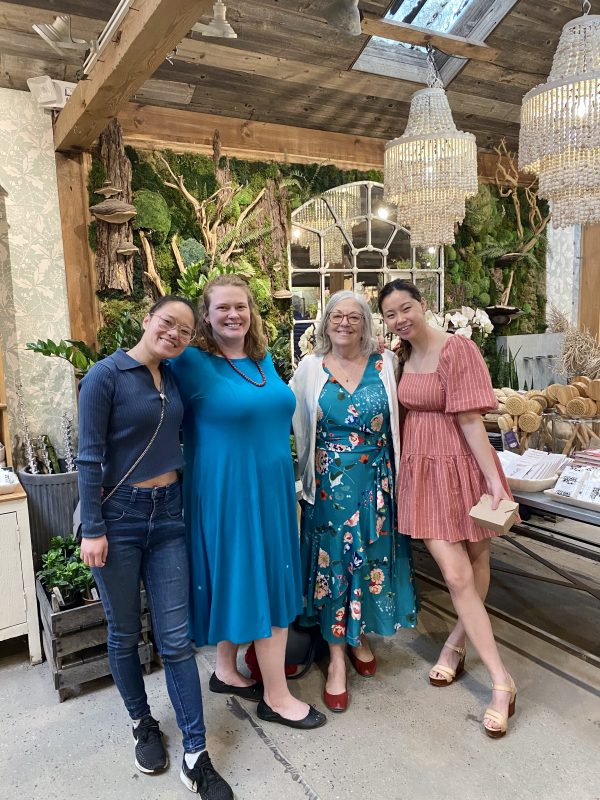 By the time we left, the rain has stopped. There were puddles to jump over as we went to the car. We headed home in our warm car and with warm hearts. It was so nice to take some time to go for time together over a special meal.
Hope you have times of enjoyment with family and friends this week!
~~~~~~~~~~
This site contains affiliate links to the same or similar products in this post. I may receive a commission for purchases made through these links at no extra cost to you. Thank you! PS. I included a few items we frequently enjoy we regularly enjoy that arethe same or similar. Thanks again.


~~~~~~~~~~~