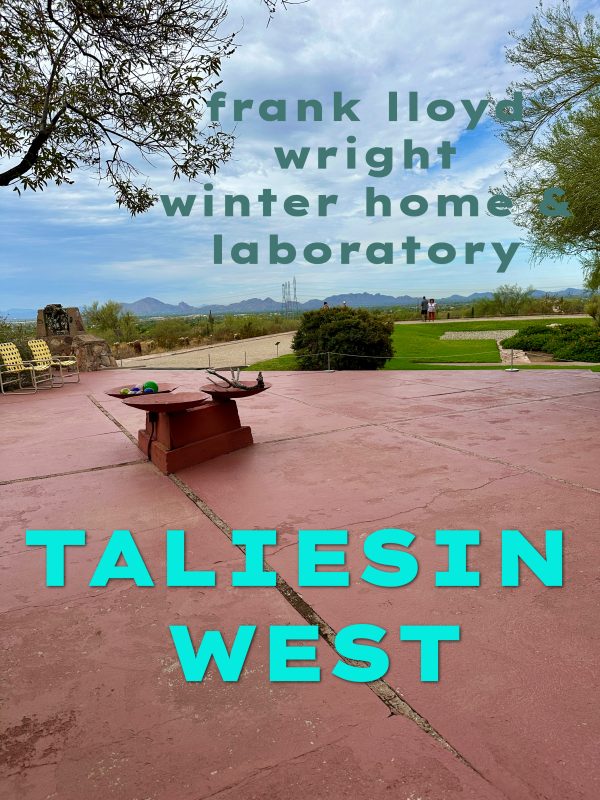 'Taliesin west is a look over the rim of the world'
Frank Lloyd Wright above quote tells us how much he loved this area. In 1937 he purchased several hundred acres in the foothills of the McDowell Range overlooking Paradise Valley, Scottsdale, AZ.
Reflecting the landscape this home and others, Wright used native material and colors in its construction. Tailesin West was a family home and studio where Wright offered apprenticeships. They lived and worked here during the winter season.
Working with Apprentices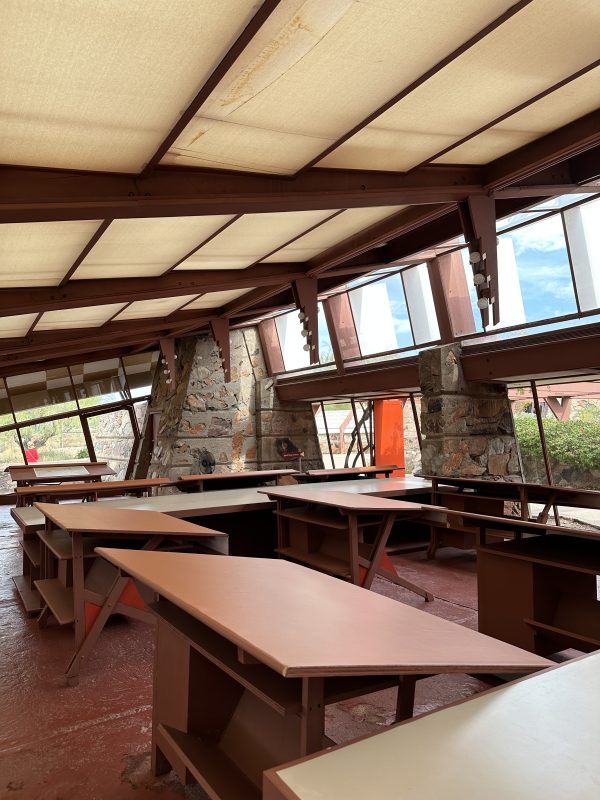 Over the years, Wright and his apprentices built this home and studio over the years. The windows and roofs were original covered with canvas. Glass and steel frames replaced that as the property was improved. The light is still diffused overhead with canvas and glass.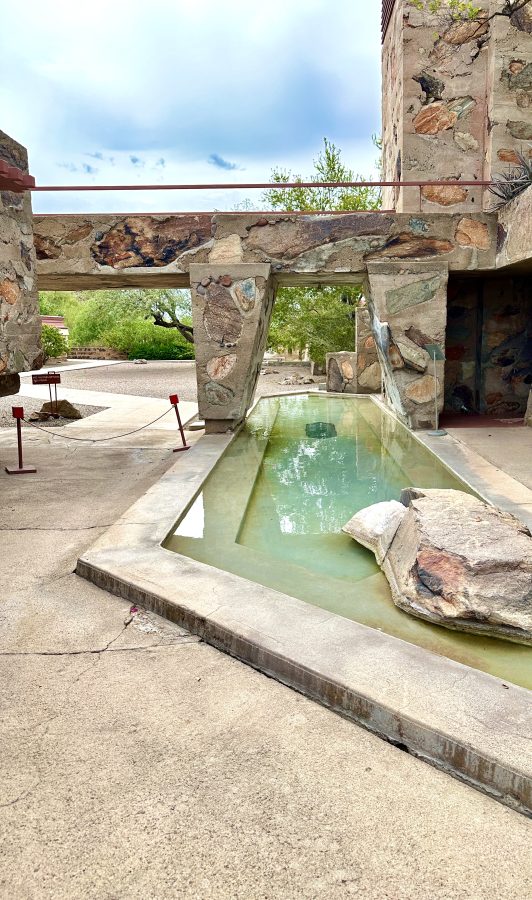 This pool at the back living room door is fed from underground water. Local stones and other material were sourced locally. Concrete plus necessary materials were also used. Wright's aim was to merge these buildings with the landscape.
Blend Into the ENVIRONMENT
The front is designed to mirror the mountain range overlooking the property. The natural reds of the region are used for steps and terrace and doors.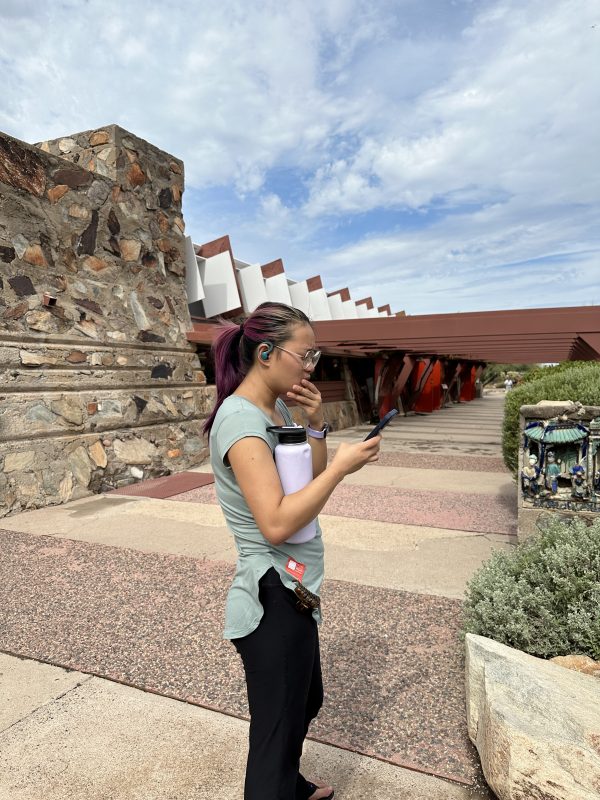 Meg is standing on the back walk way that is in the middle of Taliesin West. Just gives you an idea of the massive size. Notice in the right corner the Chinese porcelain in the stone work. Wright appreciated Asian art and had several of these pieces at entry ways as markers.
center Front TERRACE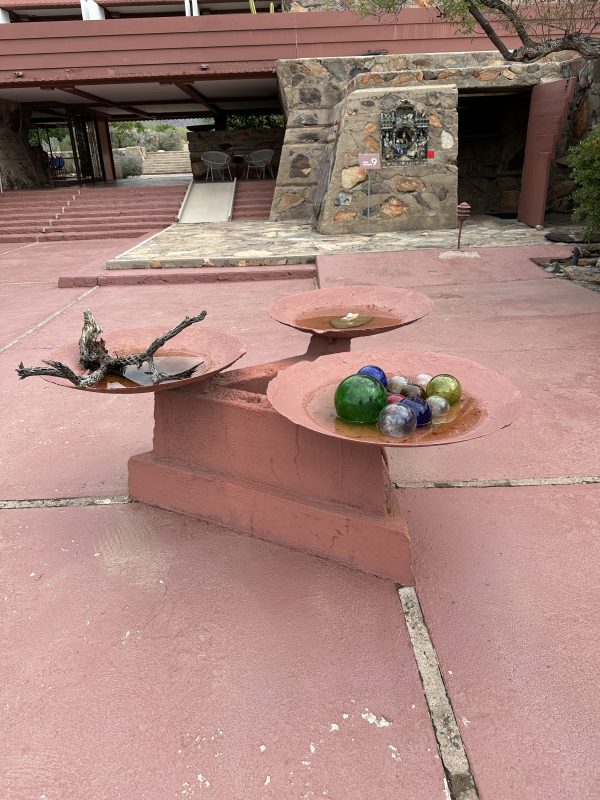 Wright included several terraces overlooking the valley with sculptures and seating for his family and the staff. Why live and work in a beautiful loction and not take the time to enjoy it?
tour information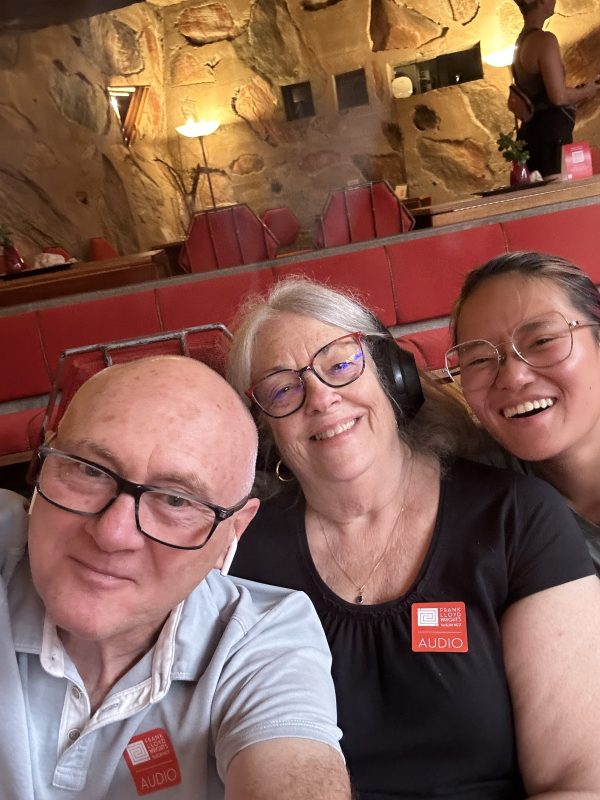 The audio tour we chose is 60 minutes. There is a 90 minute guided tour too. Since we panned to connect with friends and nap before the wedding we opted for the audio. Bring your own ear pugs or head phones. Prebook your tour ahead on line. I got Meg's headphones.
Upcoming is a post of the interiors of Taleisin West. It is a massive rambling place; too muich for one post! This is my 3rd post about some work. Other are:
The Guggenheim in NYC here.
Kentuck Knob in central PA's Laurel Highland's here.
Upcoming is a post of the interiors of Taliesin West. It is a massive rambling place; too much for one post!
Hope you enjoyed this one and will come by for Taliesin West interiors!