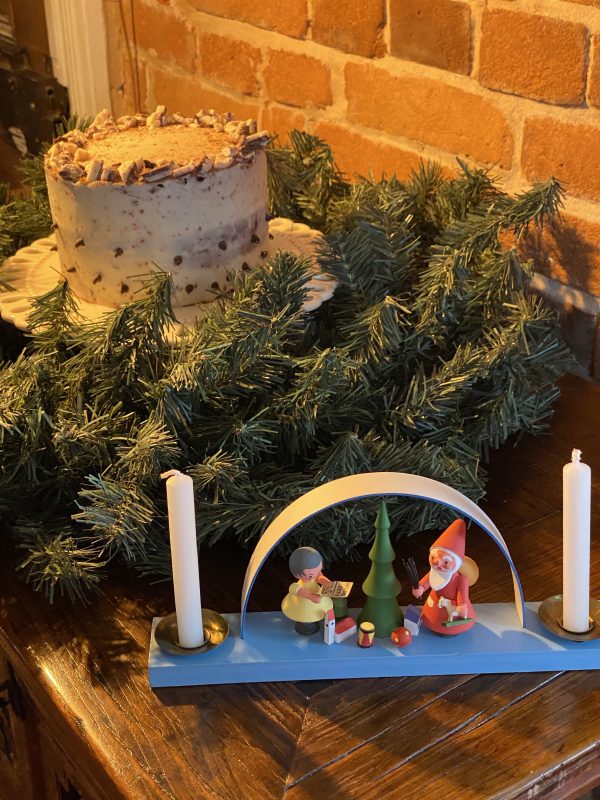 Yesterday was our "Christmas" with our daughter and family. It was early. This is the year they make the drive to visit our son in law's family for Christmas. We are so blessed that we all agree to flip years for Christmas and Thanksgiving.
I made the red velvet cake Saturday night. I knew it would be a busy morning preparing for our lunch, wrapping presents and just having fun! Guess what! I used a box mix. I do have my mom's make from scratch recipe that she and my dad brought home from a big work banquet at the old Nashville Maxwell House. It was mimeographed. Who remember's that? The head chef shared the recipe. In those days, it was not a common cake or well known. If you served it, you were the hostess with the most'ess. It included the cooked icing. I made cream cheese icing.
Meg is our usual baker. She was working at the mall until 11 PM. "Go retail". Amy's the fancy cake and cookie decorator. She got home from college around 11. That's why I was up baking a cake.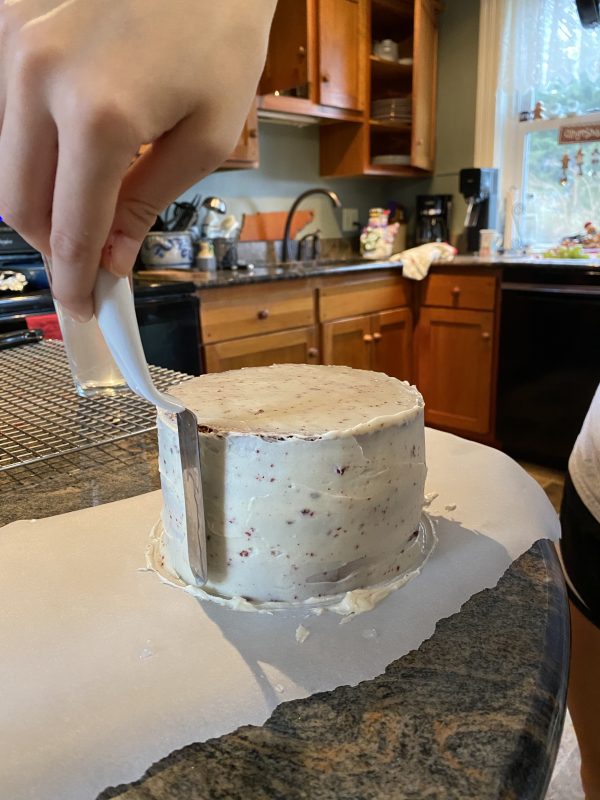 I made the icing. It's easy.
Cream Cheese Icing. 1 box for powdered sugar 1 stick of softened butter 1 8 oz block of cream cheese 1 teaspoon vanilla 2 tablespoons milk Beat softened butter and cream cheese together well. Slowly add powdered sugar mixing after each half cup. Mix in at a lower speed slowly increasing. This is to avoid a cloud of sweetness! Add and mix in vanilla. Add milk one tablespoon at a time then mix. Add more if needed to make the icing spreadable. Ice your cake. Chiil any leftover icing. It freezes well too.
Do you love the taller cake? I used 6 inch cake pans with removable bottoms. When using fill both pans evenly. It take a little bit longer to bake because of thickness. I baked according to box instructions for 8 in and monitored for doneness. It took less that 5 extra minutes to bake. Because I didn't get the better perfectly level, Amy trimmed the tops and split the taller one making the cake 3 layers.
Even fancier! She added mini chocolate chips on top of the first iced layer. Extra chocolate is almost never wrong. To ice the sides smoothly, Amy filled a tall glass with warm water to dip the icing knife into then using it to smooth out the sides and tops. Using those mini chips again she studded the bottom layers. With the thinner icing and chips, the cake mimicked a birch tree. For the top, after unwrapping the individual peppermint bark pieces she broke them up in a plastic bag and rolling pin. Then she trimmed the out edge with the roughly broken pieces. Next she sprinkled chocolate powder lightly on the top. We didn't have a small sifter so I handed her the old fashioned tea strained spoon for loose tea. It worked great. She gently blew the loose chocolate powder from the parchment paper on the sides.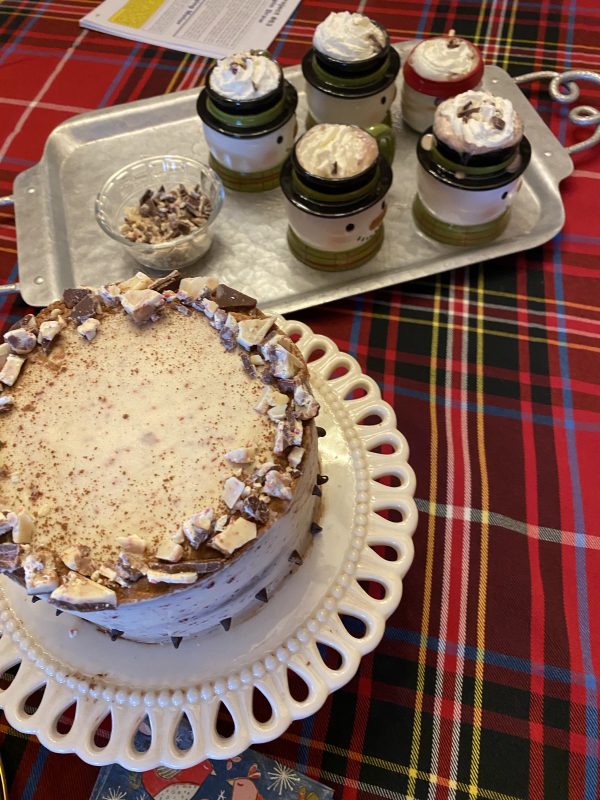 Special occasion gathers can be made extra special without long hours and extra work (unless you love it and want too). Box mixes work and purchased does too. Our time in the kitchen which we enjoy was stress free and easy. The main meal was simple too. I'll share that in another post.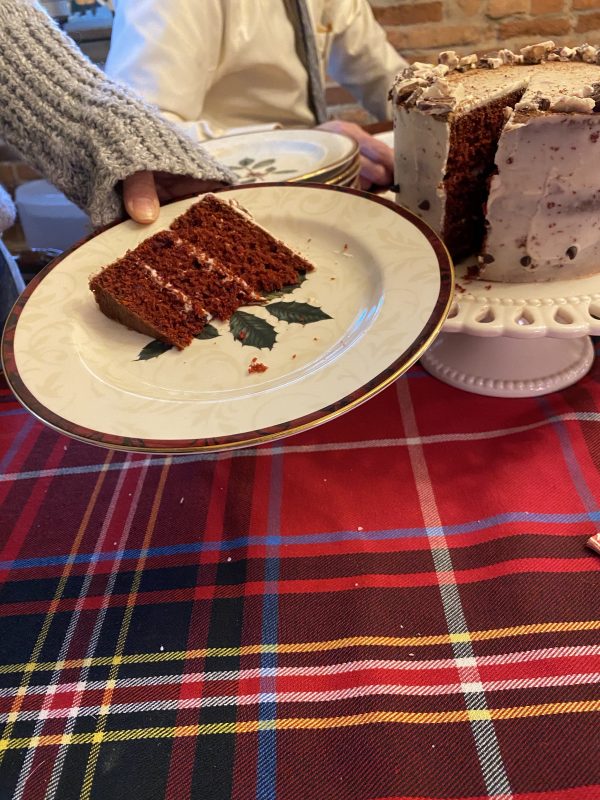 Add ice cream and hot chocolate for extra specialness.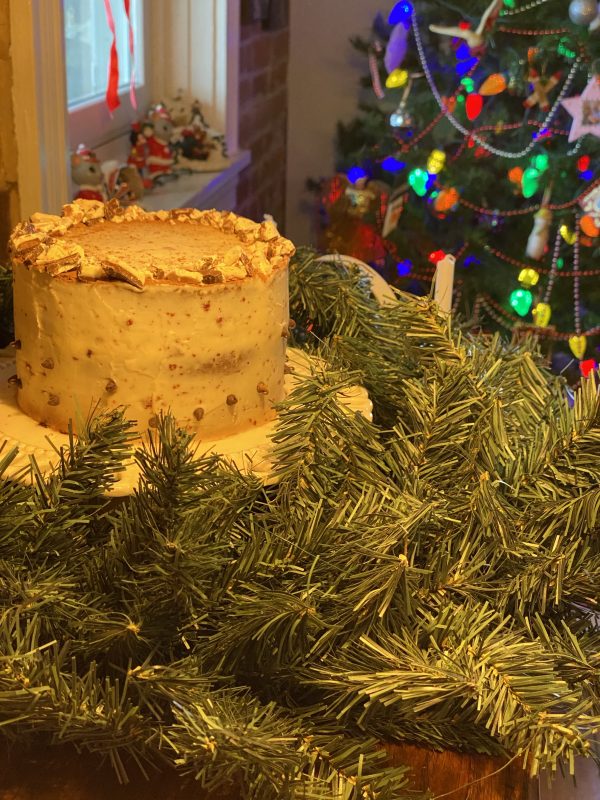 Hope your Christmas meals are merry and delicious!
~~~~~~~~~~~~~~~~~~~~~~~~
Disclosure Policy
If you click on an affiliate link and buy something, I may receive a very small commission. It does NOT result in additional charges to you or cost you anything extra. Mentions of associated products/services/ businesses within the content of my blog may or may not be noted as an affiliate in every reference. The affiliate money I earn per month helps pay the fees to keep this site up and running. Thanks so much for your support!