This site contains affiliate links to products. I may receive a commission for purchases made through these links at no extra cost to you.
We went camping this weekend. Nope, this was not something we had done for years! We rented a camper trailer. Nope, we have never done that. My husband wanted to give it a try.
The Elk Neck State Park was beautiful. Lots of woods and space for each camp site along with the Elk Neck River added to this special time for our family.
why camp?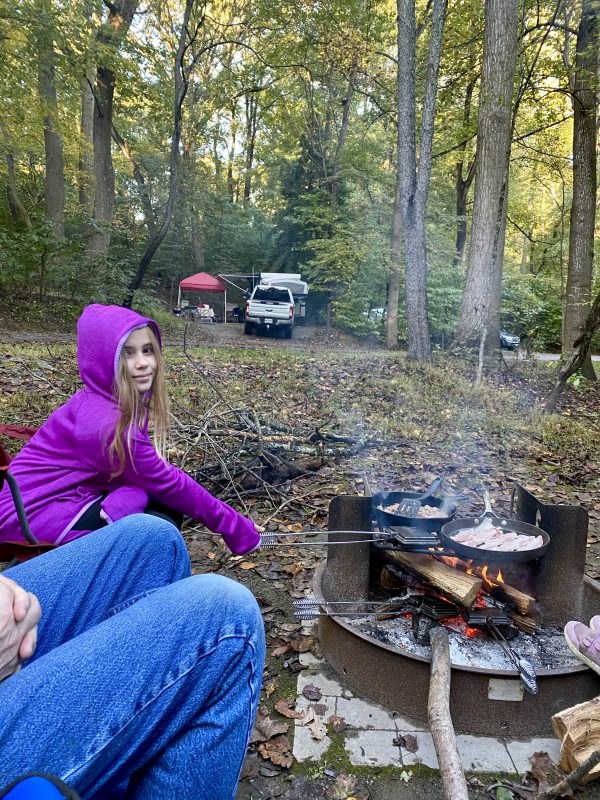 Why did we decide camp after all these years? Our older kids asked us.
Why would your family like to camp?
1. Lots of fresh air
2. Inexpensive
3. Many locations options
4. Lots of activities and space for everyone of every age to enjoy
5. No (or low) stress
6. New places to visit
7. Best of all…great memories made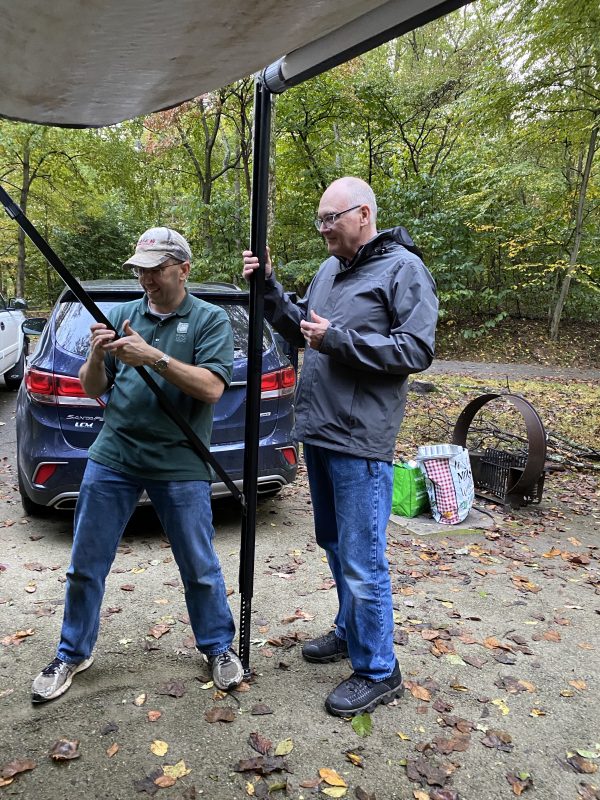 Our sites did not have hook ups for RV's. It was a last minute decision to rent the RV trailer. No problem. We recharged the battery using our car. The propane stove worked well; the water tank was full so we were good to go! Having the RV was a real plus for us grandparents.
honor system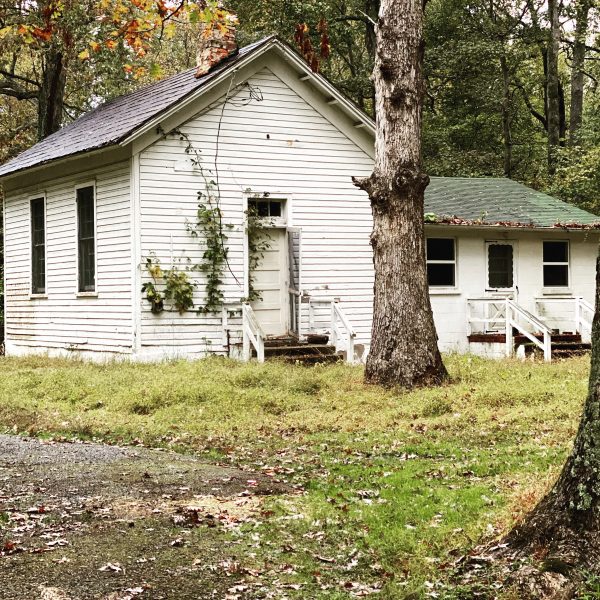 The crude wood sign leaning against a lock box with a slot advertises $5 a stack is along the highway near the park. No outside of state firewood was allowed in an attempt to prevent a lantern fly infestation. The helpful campground host directed us back to place along the entrance road we had seen coming in to buy some. We loaded the back of our car, stuffed the money in the box and drove off. Don't you love that the honor system still exists?
Having a big fire for a weekend takes a lot of wood! We wanted to be prepared for all the cooking and fireside fellowship. We like big fires and it was cold at night.
cousins together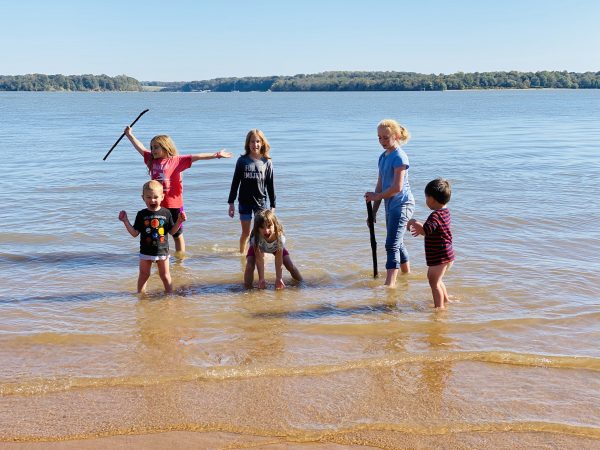 What a blessing it was to watch 'the cousins' play together. The ages range from ten to one. They haven't been together for months! Months!! Seeing the little guys especially enjoy each other just made me smile!
Our one toddler was fascinated by the fire. We had to keep a close eye on him. He was pretty determined to get close. Thankfully, he was pretty snuggly!
camp food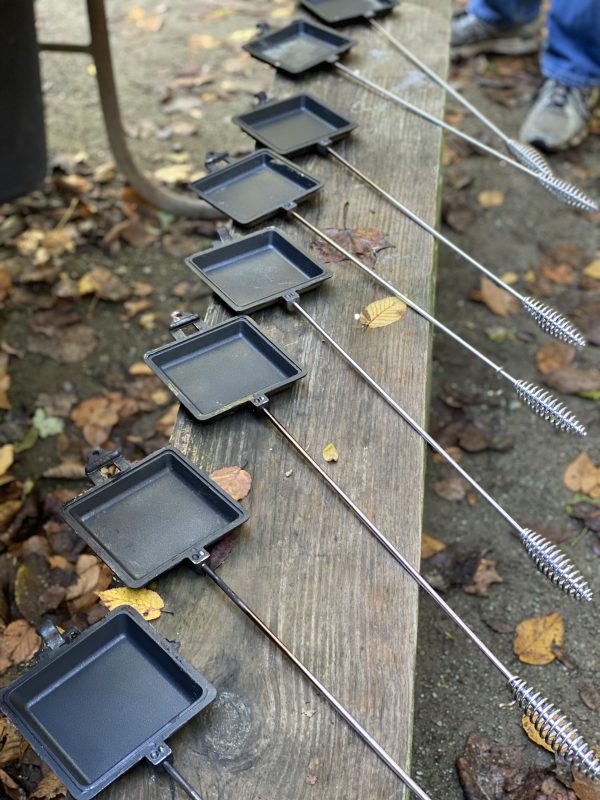 Food was simple.
The pancakes made in the cast iron sandwich makers were just yummy Saturday morning. I was glad for the Complete Aunt Jemima mix. I forgot the eggs.
After coating the sandwich makers with butter and oil, each one was filled and put in the fire coals to cook. Oh my goodness! The fluffy thick pancakes were so good; one was enough with the bacon and sausage.
Sandwiches in the iron makers made great sandwiches. Now you understand why we needed lots of wood!
It was so nice to not be in a hurry! Just hanging out by the fire and watching the little kids play was bliss. Unhurried conversations connecting with each other, wonderful.
Will and Hailey's delicious chili's in the covered Dutch oven tucked into the hot fire pit ws served in paper cups. Hamburgers and hot dogs were cooked on the Coleman stove. Chips and broccoli salad rounded our meals out.
afternoon by elk river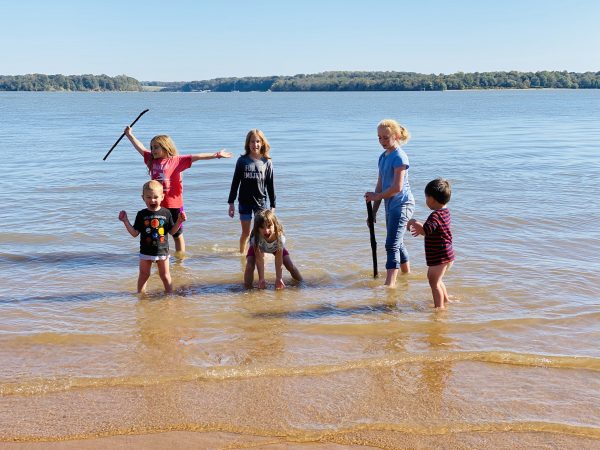 After lunch we made our way down to the Elk River beach. It was a beautiful warm afternoon. The water was still warm enough for the kids to kick off shoes, roll up their pants and play, play and play!
It was a perfect afternoon like only fall afternoons can be. Only us grown ups kept our shoes on. The sand was the good soft kind. Lots of large pieces of drift wood gave inspiration for imaginary boats, pirates and dugouts.
s'mores and night by the firelight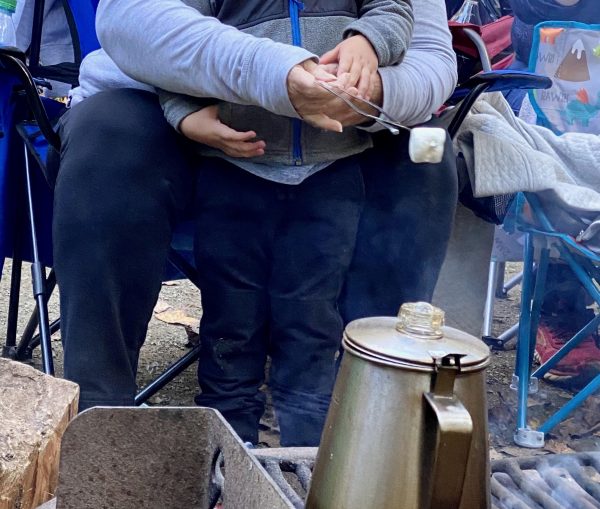 Can you go camping with kids and not have S'mores? No! Nancy's family has metal roasting sticks. We brought some wooden skewers too.
Sitting around the fire after the kids all went down was so nice. It was quiet and the conversation flowed. Soon we all headed to bed. I was thankful we had a real bed that was warm on a very cold night!
Breakfast made over an open fire is extra delicious. Coffee in a percolator was good and hot! Jess brought eggs so Sunday breakfast was eggs, hash brown, sausage and bacon.
Everyone left for Turkey Point Lighthouse after breakfast. Three of us just hung around the fire; do you detect a theme for our weekend? Food and hanging out!
Planning tips
Make a reservation! Campgrounds fill up fast these days! Check out the number of vehicles or people allowed on each site. Often there are limits.
Plan arrival time near check in times. Often you can get in your reserved spot early.
Plan simple menus. Use a cooler for all perishables.
Set up for cooking on the fire or on a Coleman camp stove. Bring a flat grill pan or skillet for hamburgers and other foods that can be used over an open fire. I like Lodge cast iron cookware.
Bring extra gear for cooking and lights at night as needed.
Don't forget a lighter or matches!
do it again?
Absolutely!
Tuns out for our family, it's a fun way for our multi-generational family to be together. Having the cousins all together made our time especially wonderful!
would you go multi-generational camping?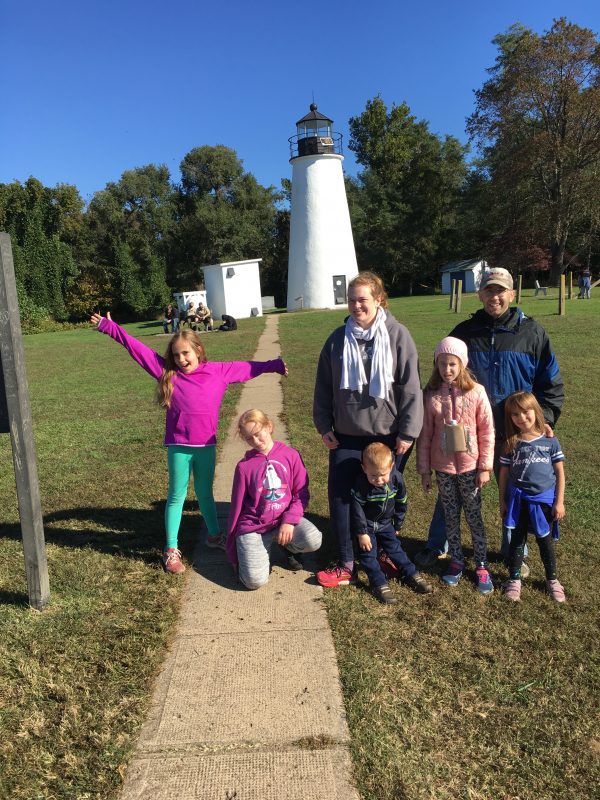 where we camped….
https://dnr.maryland.gov/publiclands/Pages/central/ElkNeck/River-Camping-Area.aspx
https://www.alltrails.com/trail/us/maryland/turkey-point-lighthouse-trail