We had chili last night.  It is an easy meal to prepare and easy to serve to the girls who were coming and going last night.
This is Mom's recipe minus the beans. I didn't have any and the girls aren't crazy about them anyway.  Just a few, please.
Growing up we had it regularly once cool weather came.  It was one of the go to meals Mom made for company too.
Of course I have made it my own.
The key to good chili or any dish with ground beef is to brown it well and completely. Don't season it except for onion, garlic and salt before it browns. Please.  Because you can't tell if it is done enough.
Chili is an economic meal though with beef prices these days…
A benefit to being a military family is the introduction to regional food preferences including how to serve chili!
I read  a post here this morning. I didn't know Southerners didn't put beans in their chili. Mom did but she was from Arkansas so that might put her roots into question as southern.  I mean, Southerners eat a variety of beans a lot or at least country ones do.  They knew about protein and healthy way before it was the thing.
Anyway, I use tomato juice and diced tomatoes.
Shelly, the Wild Side blogger makes a fancy Texas chili.  It looks like it would be pretty good.
It has a nod to the Mexican influence, cocoa.
I have  chili powder added to chocolate cake. It was in an Italian restaurant in China owned by a Chinese business woman who had a Thai – American chief train her chiefs.  It was wonderful. I just had to throw that in to show how different regional foods make their way across the global.
So what not the reverse? Sometimes she tells us if you don't have cocoa add a kiss or two. Now, that would take care of the sugar part.
That recipe also called for beer. Now I love beer added to BBQ sauce especially for ribs. I just don't know about in my chili.
I usually don't add sugar.  Never have added beer but will try the cocoa.
Some folks do add sugar.
A fellow lieutenant always added jalapeños to everything including chili during the cooking. I love the hot from jalapeños but I'll add my own after I spoon it up,  thank you very much.
Years ago, a Sunday school lady brought us a meal since I was recovering from surgery.  My kids loved it.  Her secret ingredient? Ketchup!  Tomato and sweet. I don't know where this military wife was from except from the school of making food your kids will eat.
Friends from Puerto Rico introduced rice as the base for serving chili like a rich sauce.  My kids like it but I always skip it.
In China the midwest family we worked with served us chili for dinner with hot gooey homemade cinnamon rolls. Now that was a bread I could get behind!  I serve the Pillsbury type.
Yes, we serve cornbread too but only the sweet kind. Since I can't get Marie Callander mix here, I buy Jiffy whenever it is on sale.  The traditional skillet non-sweet cornbread isn't as good with chili.
I am thinking sweet is important to a lot of people with their chili!
I love sour cream and shredded cheddar cheese as a topping. Sometimes I'll add salsa.  Chips on the side.
Chili powder is of course a must! Once I bought chili powder at the international store in China.  A big container of it. The chili just wasn't right.  Remember, it was an international store in Asia.  The chili was of the Indian variety.  No, it did not make good chili.  I gave the container away and learned my lesson. Read labels and never assume even if you are speaking the same language because there are just too many chilis out there in the world!
Well, that is a lot of different ways to serve and make chili.  However you make it, make it delicious for your family and friends!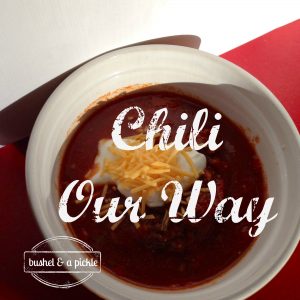 Chili Our Way
Familiar dish made with ground beef
Ingredients
1

pound

browned ground beef

drained

1

small to medium chopped onion

1

clove

of garlic chopped

1

scant teaspoon salt

2/3

can/ jug Campbell's or other quality tomato juice

i small can unseasoned diced tomato

1 - 2

tablespoons

of chili powder

Kidney beans optional
Instructions
Using a heavy bottomed pan, brown meat until dark

Drain well

Add onions, garlic and salt to the meat while browning

Stir to blend

Add juice, tomatoes

Add bean is desired

Stir

Add chili powder making the mixture darker

Bring to light boil, lower heat to low

Simmer uncovered for several hours. Chili should be much darker in color and thicker. Add remaining juice if needed
Chili is delicious!  A stand by family meal for cooler nights.
How do you make your chili? 
link:
Related articles across the web