This site contains affilate links to products. I may receive a commission for purchases made through these links at no extra cost to you, They may be similar but not exact products I used.
Do you like easy but looking really good for the season? I sure do!
This post will take you through our middle room, kitchen and powder room that is decorated simply for fall! Next week I'll share our living and dining room.
decorate for welcome and Pretty
Who is my helper? Miss O who always wants to decorate! She's my youngest granddaughter.
This post will take you through our middle room, kitchen and powder room that is decorated simply for fall!
She already has her own personal philosophy for decorating. It warmed my heart to hear because it does reflect mine. At the core is hospitality for both of us.
In her own words, she said 'It has to look good, pretty. You know so people want to be here and feel welcomed when they walk in this room. It's what they see first. It has to have a little heart too.'
She is 6, has an amazing vocabulary and thoughts of her own!
what to use for easy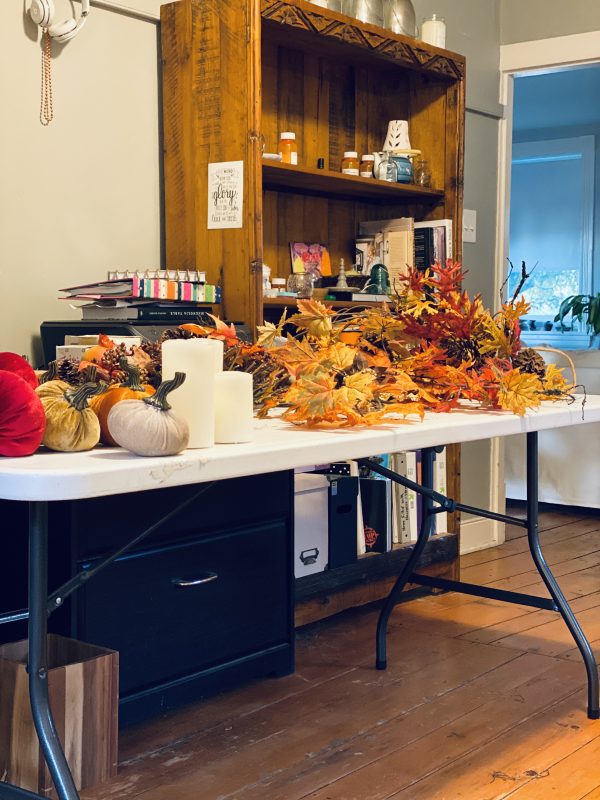 The portable table is a good place to sort it all out! We used this and the other pieces I collected from around the house.
I don't keep a lot of fall decor in storage. To keep it simple I use:
velvet pumpkins
fall looking stems of leaves, berries and flowers
dried flowers and corn that I replace regularly
dried twig plaque with clusters of fall leaves and pinecones.
my collection of seasonal salt and pepper shakers and figurines
I keep the above items in the bins. The other items are ones I grab from the bookshelves, cabinets, candles and candleholders. Here is a lists of items I may grab from around the house:
mercury glass and fall colored votives
items like dishes or figurines or books
vases, dough bowl
Here is a storage tip…don't over stuff the bins so that the crushable items stay nicer longer.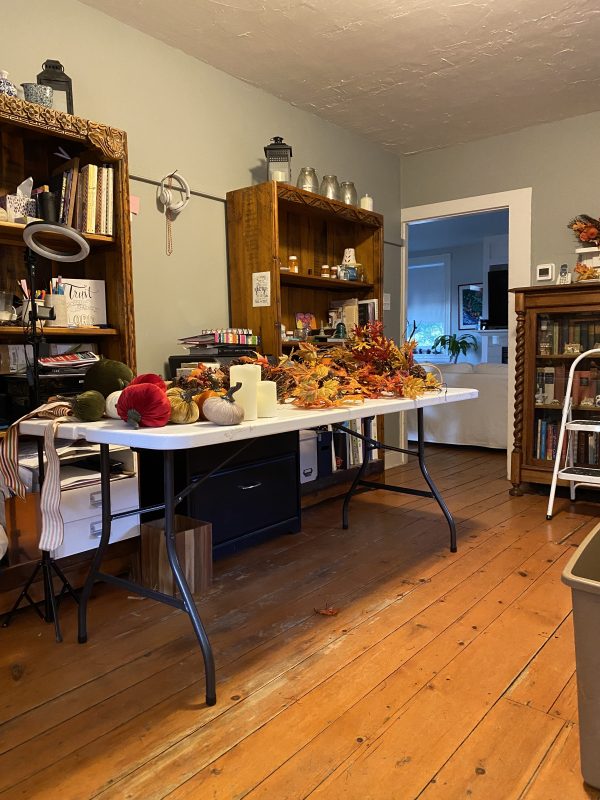 I set up the portable table in front of the bookcases to spread all the stems and other items. I'm not sure why we didn't buy one before now. It was so much better than spreading it all over the dining room and spilling over into the living room. Our middle room is kind of a dual purpose one. It can be messy with family life
the middle room
We don't actiually have an entry. The front and back doors open directly into the rooms. That's why Miss O said this is what folks see when they come in to our home. The main piece is this stunning glass faced book case. It sat in Jim's grandfather's office where he practiced medicine in a small upstate New York town.
She arranged 2 large stems of foliage over lapping them around a flat serving dish, tucked in battery candles and the gold and red velvet pumpkins. The BLESSED sign is from Target's dollar aisle. 99 cents!
She put the semicurved plaque on the clock shelf. I had to look up what to call this piece made of woven twigs decorated with leaves and fruits. The Entertaining Ideas From Williamsburg book on my shelf shows a plaque typically has a hard surface like mine with the heavy woven twigs adorned with foliage and other decorative elements and are hung over doors.
tall book shel

f

There also 2 tall bookcases. They hold books, odds and ends, office supplies. It is the 'drop' zone for stuff!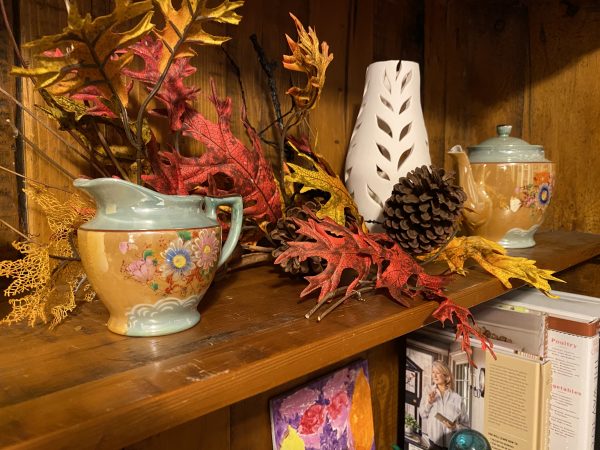 I cleared off one shelf to decorate. It is one of the large stems. They are full and not only the colors rich; there are a few pine cones with glitter edging. Just a touch! I spent a little more for them but have found it was worth it. There are 6 of them. Stems work better than garlands for my home main rooms furniture and surfaces.
The tall white porcelain cut out vase by Amy adds height and a break to all the wood and similar fall color to highlight the arrangement. I used the vintage tea pot and creamer from Japan . The sugar bowl is in my kitchen window by the coffee pot full of sugar.
The Japanese tea pot and creamer are part of a tea set with cups and saucers I bought over 10 years ago at our local auction. When I bought them I wasn't thinking wow, that will look great for decorating in the fall! Recently I saw sets in a vintage and antique store at affordable prices.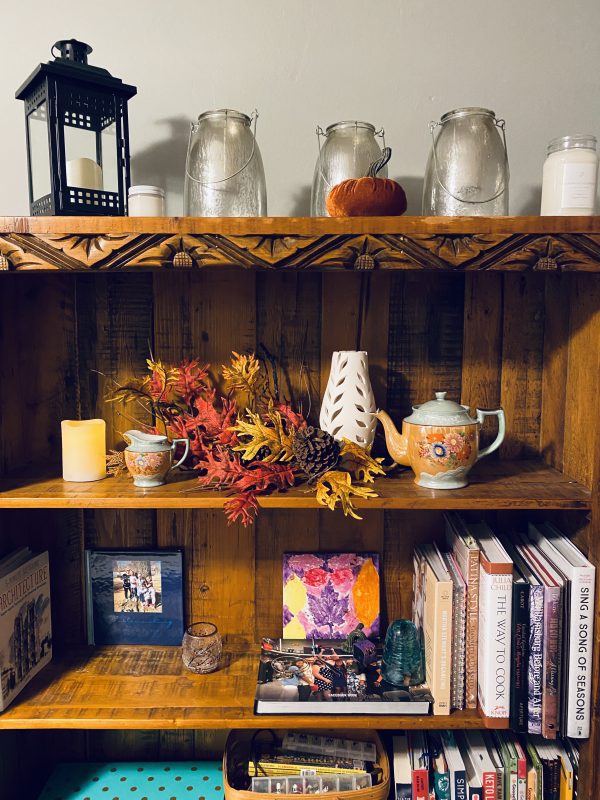 And of course, a candle. The tops have assorted candle holders and a small velvet pumpkins. So simple and it works!
The cosy corner side chest and window sill were easy to decorate. Acorn salt and pepper shakers are on the long cracker tray. The turkey votives are a fun touch. The small scarecrow and scented candle with a pumpkin candy dish look good too. The hedgehog was added this year. Meg loves them so when I saw this, I bought it. Isn't it a pretty vignette?
The powder room
Our powder room has this funny closet with odd shelves. We took the accordion door down when we moved in. Food was stored here. Nope, no food storage in the bathrooms please. Remember this post about our half bath?
Now it is where I store vases and metal candle sticks. The end of the shelves that are visible is where I put pretty collected items and fancy soaps.
This year I used neutrals.
The corner shelf is next to the toilet. The cream orb with the single stem of cream berries laid next to it with the stem hidden behind looks so pretty against the grey walls and white curtains.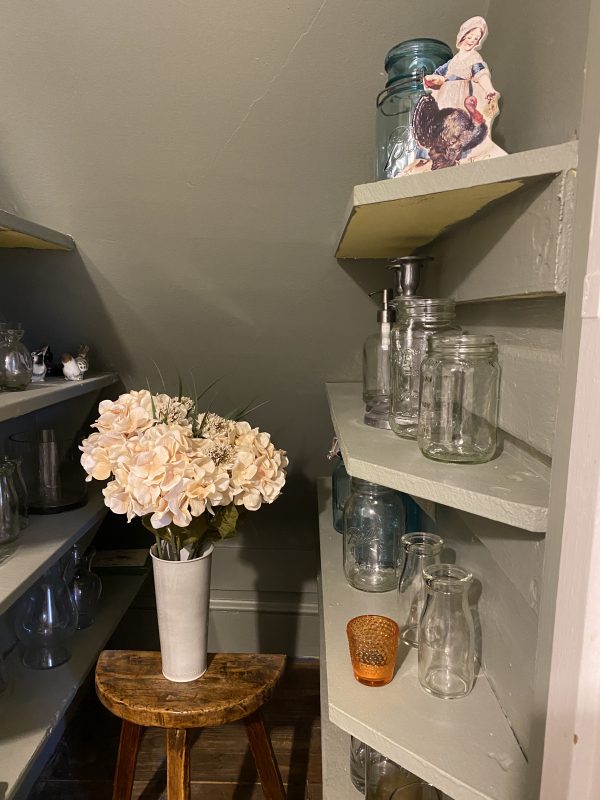 On the antique farmer stool the florals were changed to use only cream ones in soft grey metal container.
farmhouse kitchen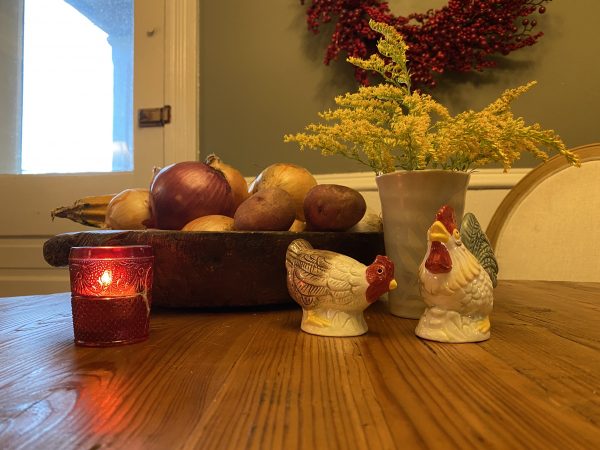 Walk through our back door right into the kitchen. What to fill the antique dough bowl with? Roots vegetable including red potatoes from our garden. I used the Japanese ceramic tumblers for a sprig of foliage. Remember them for the autumn pottery soup bowl post? The chicken salt and pepper colors are a wonderful addition. The red glass votive adds warmth.
Do you feel welcome? Hope so.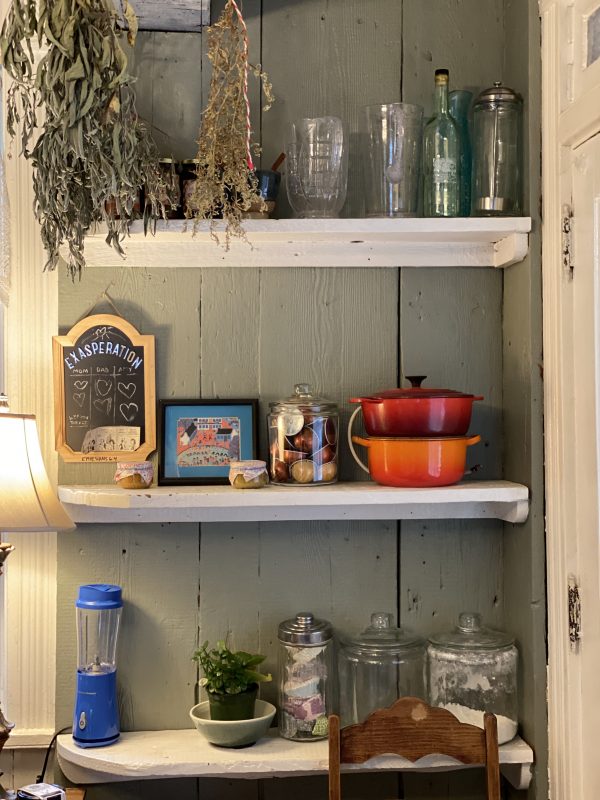 The shelves and wooden wall are made from the barn on the property that was torn down years ago before we owned the house.
It's fun to decorate these shelves that provide extra space for canisters and other things I use frequently.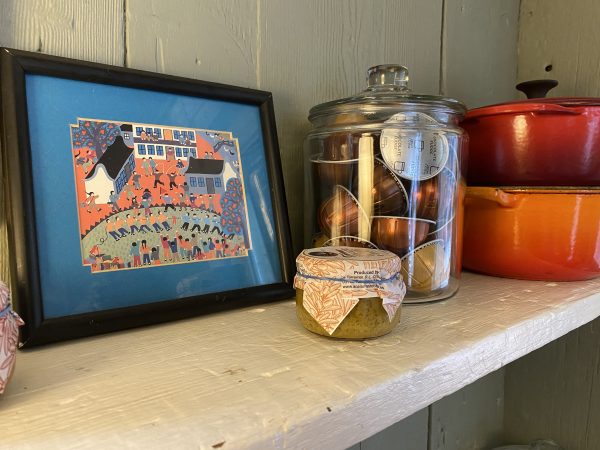 My Le Ccreuset pans are orange and red so I pulled them out to put on the shelf. Looking around, I spotted the Nespresso pods in earthy tones. Perfect in the glass canister. The art is a Chinese peasant painting from China. My youngest son gave it to me one Christmas when we lived there. The jar of a bread spread is from Home Goods. Jim picked several up without a thought of how they would be part of the fall decorations!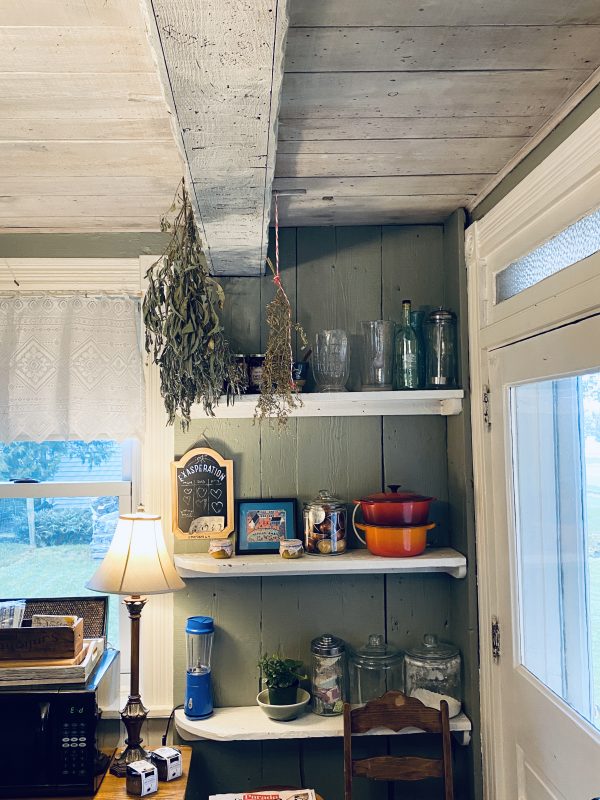 Thyme and sage hang on pegs from a beam are from our garden. After all it is a farm house kitchen.
Seeing it every morning, makes me smile.
coming up soon
Next week, I will share our living and dining room decorations. I hope you were inspired for your own home and enjoy what I have done this year.
~~~~~~~~~~~~~~~~~~~~~~~~~
This site contains affilate links to products. I may receive a commission for purchases made through these links at no extra cost to you, They may be similar but not exact products I used.